How to Have a Gluten Free Thanksgiving: Your Ultimate Gluten Free Thanksgiving Recipe Guide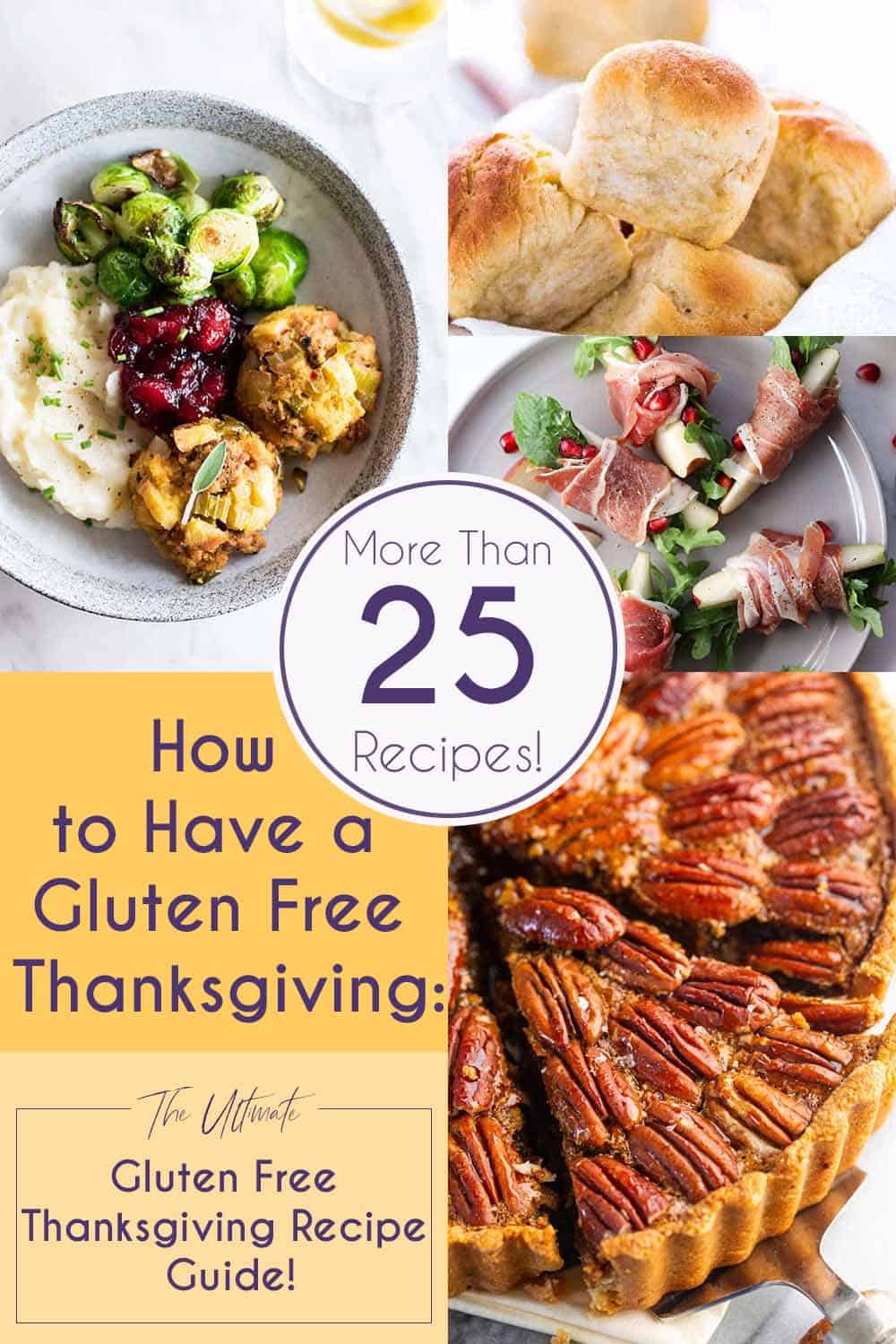 With the approach of Thanksgiving, those living a gluten free lifestyle are left wondering how do I have a gluten free Thanksgiving? "What am I going to eat?" "Am I going to get glutened?" "Do I really just have to stick with the salad?" "Is this dressing even ok to have?"
I'm here to ease those thoughts and show you that Thanksgiving can be as customize-able as you would like, and that the options truly are endless.
Every family is different. Maybe this year you are hosting Thanksgiving. Perhaps Thanksgiving is virtual for some of you. Or, like many families, maybe each of you have your own favorite dish that you are known for and all pitch in to bring something.
Living a gluten free lifestyle might entail a bit more forethought and some coordination on your end, but by no means does it mean you can't thoroughly enjoy yourself
Gluten Free Thanksgiving Appetizer Recipes:
Photo Credit: cookathomemom.com
This is the perfect no-cook appetizer for your next holiday party or get-together! Prosciutto Pears with Arugula Salad are deliciously sweet AND savory – plus they're Whole30, Paleo & Gluten Free!
Photo Credit: www.paleolowcarbkate.com
Creamy delicious and healthy vegan Hokkaido pumpkin (also known as red Kuri) and apple soup. This easy recipe can be made ahead and frozen for later, making it great for busy weeknight dinners.
Photo Credit: dancingthroughtherain.com
These fun turkey eggs are the best deviled eggs for Thanksgiving, and all of your guests will comment on them. They are incredibly cute, but also incredibly easy. The perfect combination!
Photo Credit: debraklein.com
Gluten-free stuffed mushrooms. Vegan recipe that is low calorie, low carb, paleo and Whole30 compliant. All that and tasty too! Everything you want in a hard working appetizer and nothing you don't!
How to Host a Gluten Free Thanksgiving
•If you are hosting this year, then perhaps plan to cook the main dish, one dessert and one side dish.
Prep, and often the dessert and side, can be done fully ahead of time, so don't feel intimidated by doing three things. This does not mean you need to do all of them at the same time!
•Traditionally, as the host you have the biggest say in coordinating who brings what dish. Early on maybe send out an email or text with a heads up that some people need to eat gluten free diet. Let them know that you will be sure the main dish is gluten free, but perhaps they could coordinate some of their dishes as well? A great way to do this is to send them the link to a variety of recipes that you know are safe (like this Thanksgiving recipe roundup). Or perhaps start a Pinterest board where you can put your favorite recipes for people to choose from/share their own.
Gluten Free Main Dishes & Gravy:
Wether you are hosting a gluten free Thanksgiving or being a guest, these dishes make for delicious main course options to share with others!
Photo Credit: jz-eats.com
A fun way to change things up from the traditional turkey and and still a lovely presentation when hosting for just a small group.
Photo Credit: eatthegains.com
An easy marinated and grilled turkey, this Spicy Grilled Citrus Turkey Breast cooks in 1 hour and is perfect for your small holiday gatherings. Whole30, paleo, and gluten free!
Photo Credit: pinchandswirl.com
Turkey Roulade is a guarantee for tender, juicy, flavorful turkey! It's a beautiful addition to your holiday table that isn't very complicated and, best of all, you put it together the day before you plan to eat it. And with all of the fresh herbs and garlic, this turkey roulade is not only wonderful hot – leftovers make exceptional sandwiches!
Photo Credit: thekitchengirl.com
Herb Roasted Turkey Breast is a bone-in turkey breast half, coated with herbed butter and baked to perfection. Learn how to cook a turkey breast that's perfect every time! Serve roast turkey breast for holiday meals or weeknight dinner!
Photo Credit: smallfarmbiglife.com
This air fryer turkey boneless breast recipe is a healthy way to enjoy the best turkey dinner! The recipe is gluten free and easy to make. You can have a large boneless turkey breast on the table for dinner fast.
Photo Credit: www.theorganickitchen.org
If you are going to serve gravy, it should be the best gravy, and the best gravy is made from scratch using those turkey drippings! That savory concentrated goodness left in the roasting pan makes the most flavorful gravy on the planet, and it's easy.
•Don't expect every dish to be gluten free. If Aunt Milly is dedicated to her favorite roll recipe, then skip the roll on your plate. If you are dedicated to rolls then make that a side you cook.
• Cooking a gluten free main dish, side and dessert gives you the most immediate variety. You can then fill in the gaps on your plate with salad, sweet potatoes or other things you may know are safe that the guests brought.
Gluten Free Thanksgiving Side Dishes:
Photo Credit: www.therusticfoodie.com
These Roasted Maple Mustard Brussels Sprouts are an easy and healthy side dish. This recipe is vegetarian, gluten free, and made with a sticky Dijon maple syrup dressing!
Photo Credit: sunkissedkitchen.com
A great Thanksgiving side dish — gluten free Sausage Stuffing Balls. Transform your stuffing into an elegant side dish for your holiday table or into a seasonal dinner for any day. I've used my grandma's gluten free cornbread stuffing recipe, and jazzed it up with apples, chicken sausage, and lots of fresh sage.
Photo Credit: www.whattheforkfoodblog.com
These Gluten Free Dinner Rolls are the soft, yeasty rolls that you've been craving. They've got a wonderful doughy texture like Parker House Rolls and are easy to make!
Photo Credit: sundaysuppermovement.com
Made from scratch and full of fresh green beans and button mushrooms, this Gluten Free Green Bean Casserole recipe is the perfect easy Thanksgiving side dish!
Photo Credit: whatagirleats.com
Cranberry pecan wild and brown rice makes a nice gluten free alternative to holiday stuffing.
Photo Credit: raiasrecipes.com
This real food, refined sugar-free homemade cider elderberry cranberry sauce has quickly become a favorite holiday treat at my house! 
Photo Credit: www.faithfullyglutenfree.com
This Classic Gluten Free Bread Stuffing combines cubes of bread, onion, and celery with seasoning to make the perfect side to your turkey meal.
Photo Credit: eatwithclarity.com
The only thing your Thanksgiving menu is missing is this kale and apple salad with wild rice and a simple dijon dressing. It's easy to make and adds a beautiful pop of color to any dining table! It's gluten free, and can easily be made vegan.
Photo Credit: pinchandswirl.com
Mashed Red Potatoes are delicious enough to serve as a holiday side dish, but easy enough to make on a busy weeknight. Lightly salty and rich with olive oil, butter and garlic, you'll want to serve these potatoes with everything!
How to Be a Gluten Free Guest at Thanksgiving
Sometimes being the guest with dietary needs is harder than hosting.
•As a gluten free guest, the first step is to decide which dish is the most meaningful to you. This is what you will plan to definitely bring. Thanksgiving always leaves leftovers, so feel free to bring a side and a dessert, or multiple small sides if you know you will want them. No need to get stressed out and go huge, just pick a couple small things that you know you will enjoy.
For me, Thanksgiving has always been about dessert. My family has always done the big turkey, and there has always been a million delicious sides. Every year, the dish always gives me those cozy, "get together", memories is that pumpkin or pecan pie slice. Combine that with some mulled cider and I'm set!
Gluten Free Thanksgiving Desserts:
Photo Credit: wheatbythewayside.com
Nothing says pumpkin season like Gluten-free Pumpkin Bars with Cinnamon Cream Cheese Frosting! This is the perfect fall dessert with warm pumpkin spice throughout a deliciously moist cake!
Photo Credit: www.faithfullyglutenfree.com
Indulge in this gluten free Pumpkin Cheesecake, with its velvety texture, warming spices, and nutty crust, everyone is sure to ask for another slice.
Photo Credit: senseandedibility.com
The thrill of the dessert comes in the serving of it. A flourishing flip of the pan to release the flan from its baking vessel along with a flood of caramel produced from its time in the fridge. Serve flan on its own or with a handful of fresh berries…and coffee. You must have coffee. 
Photo Credit: mountainberryeats.com
Often, converting your favorite holiday pie recipe is as simple as just making the crust gluten free. Tender, flaky, AND delicious, this Ultimate Gluten Free Pie Crust recipe works for it all! 
Photo Credit: www.allergyfreealaska.com
This Gluten Free Apple Pie would be a wonderful addition to your holiday dessert line up (hello Thanksgiving!), but please don't limit this deliciousness to just a holiday recipe. Gluten-free pie should be served year-round – for birthdays, holidays, celebrations, or simply just because.
Photo Credit: www.asaucykitchen.com
Rich, buttery and insanely delicious – this Gluten Free Pecan Pie has just the right amount of gooeyness and crunchiness in every bite! Make this recipe as is to keep it both grain and refined sugar free, or use your favourite gluten free pie crust for a more traditional approach. Once you've got your crust ready this pie comes together in a pinch!
Photo Credit: www.whattheforkfoodblog.com
This is an easy and simple recipe for Gluten Free Pumpkin Pie. Creamy filling, crisp pie crust, and warm spices make this pie perfect.
Photo Credit: www.keep-calm-and-eat-ice-cream.com
Move over pumpkin pie, there's a new pumpkin spice dessert in town and its giving pie a run for its money. This pumpkin spice ice cream takes the flavours of pumpkin spice latte and elevates it to a whole new level. Who knew pumpkin could taste this good?
Photo Credit: www.breesveganlife.com
This chocolate sweet potato pie will make the perfect Thanksgiving dessert and the best part is that it's whole-foods plant-based. Nothing but healthy ingredients, and completely free of added oil.
• Understand that your health is very important and the majority of people are very understanding. Don't feel bashful about asking if something is gluten free.
•If you can, ask your host ahead of time if the Turkey or main dish will be gluten free. Depending on your relationship, it may be as simple as just asking if the stuffing could be a separate dish and not cooked inside of the turkey. Be sure to avoid any gravies made with traditional flour.
•If you are not able to determine if the main dish is gluten free, then I would recommend bringing a personal amount of a protein dish to enjoy instead of the Turkey. Otherwise, if you will be arriving soon before dinner, you can eat your main dish ahead of time and enjoy beverages and the other options with everyone else.
Some people like to break up their Thanksgiving get-together times. If you are completely uncomfortable being a gluten free guest for the big meal, you can always coordinate to join in somewhere just for beverages and appetizers (bring your appetizer of choice). Alternatively you can always enjoy your day elsewhere and join up for dessert, just bringing your favorite dessert with you.
Gluten Free Thanksgiving Beverage Recipes:
Photo Credit: thymeandjoy.com
This thanksgiving punch recipe has all the flavors of fall. With a few simple easy ingredients, you can make a holiday thanksgiving cocktail or mocktail that will be a crowd pleaser for kids and adults. 
Photo Credit: www.keep-calm-and-eat-ice-cream.com
This mulled apple cider is easy to make and is a wonderful warming drink for colder months and festive occasions. This version is made with non alcoholic cider making it a kid friendly treat the whole family can enjoy.
Photo Credit: www.tastygalaxy.com
This healthy and delicious Instant Pot Cranberry Apple Infused Water tastes so amazing! It has so much flavor and such a fabulous, festive color. The best thing is, it will take you just a few minutes to make it!
Photo Credit: www.whattheforkfoodblog.com
This Cranberry Orange Moscow Mule is a refreshing twist on a traditional Mule. It's the perfect drink all winter long.
A Few Notes to Remember When Dining with a Crowd:
Feel free to bring your own salad dressing if needed.
Try ahead of time to help the host see that each dish has its own serving utensil.
Most cross contamination from a buffet happens when a pie server is just passed from dish to dish. Be sure to bring a serving utensil withe the dish(es) you provide!
Nothing is set in stone. Perhaps you will be joining in with people you are close to, and coordinating with friends and family really isn't too big of a deal. If this is the case, then happy coordinating!
If this is not the case, then try out some of the tips and recipes here to help make things easier.
Most importantly, be sure to enjoy yourself and those around you more than the food! 😊