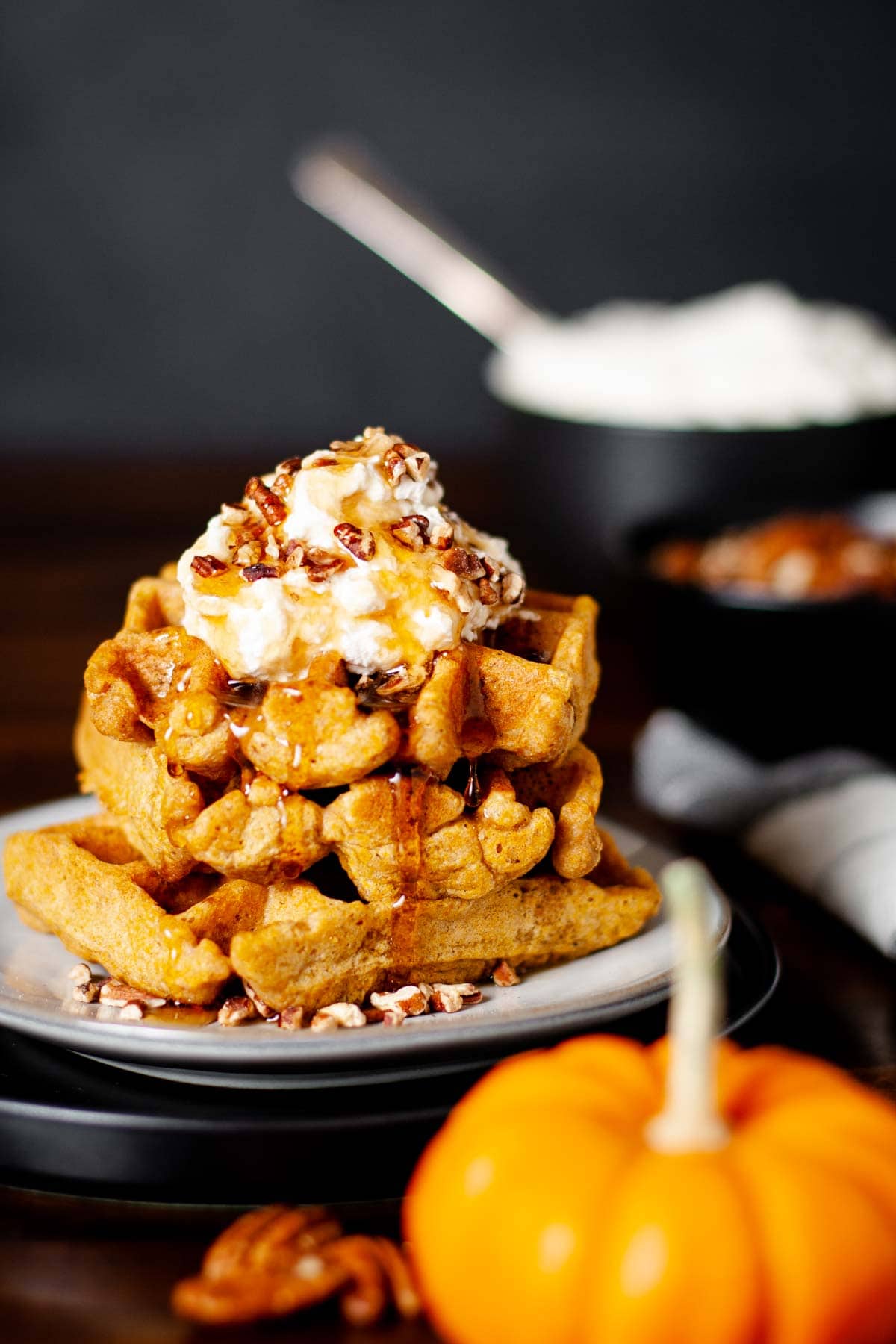 Waking up Saturday morning to the smell of Pumpkin Belgian Waffles, and savoring that hot cup of coffee while the scent of pumpkin spice tantalizes the taste buds, makes for the ideal brunch wake up call when the weather turns cold.
This fluffy pumpkin waffle recipe boasts tons of flavor and gluten free goodness while still being simple enough to throw together for an easy weekend morning.
How do You Make Pumpkin Waffles From Scratch?
•The key components of this pumpkin spice waffle recipe is of course achieving delicious pumpkin flavor and color, while also having plenty of pumpkin spice…but just the right amount. 😉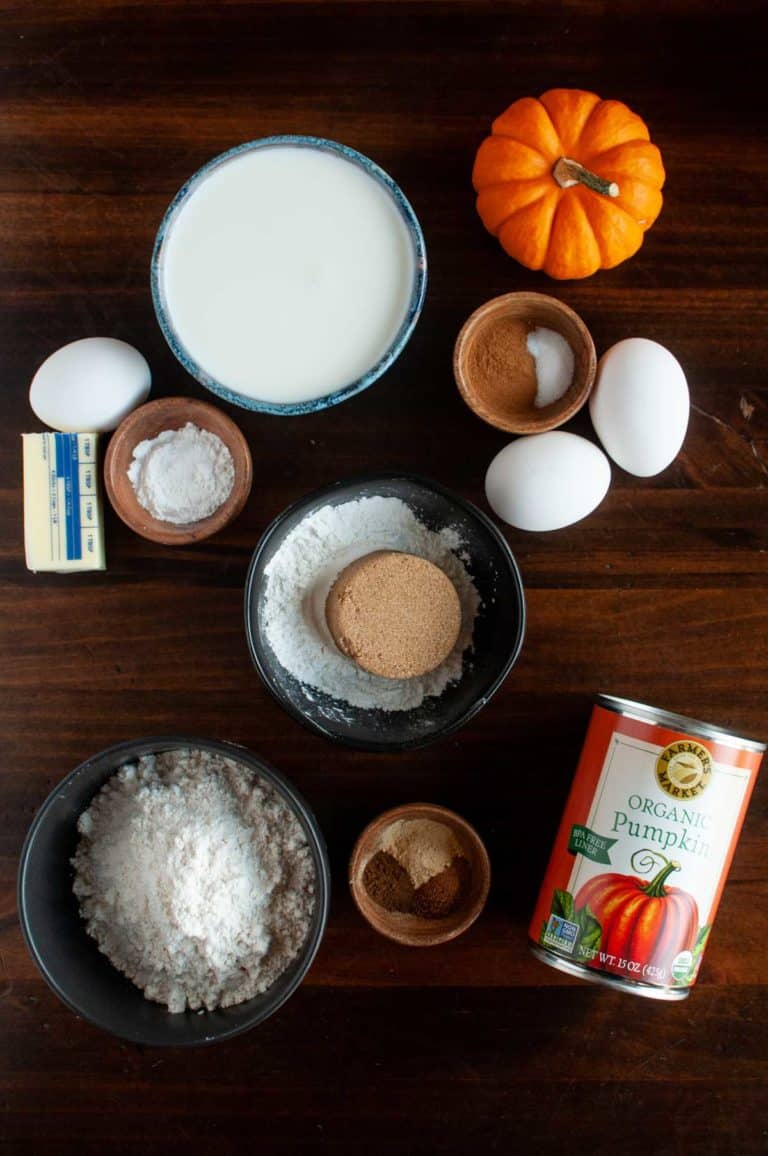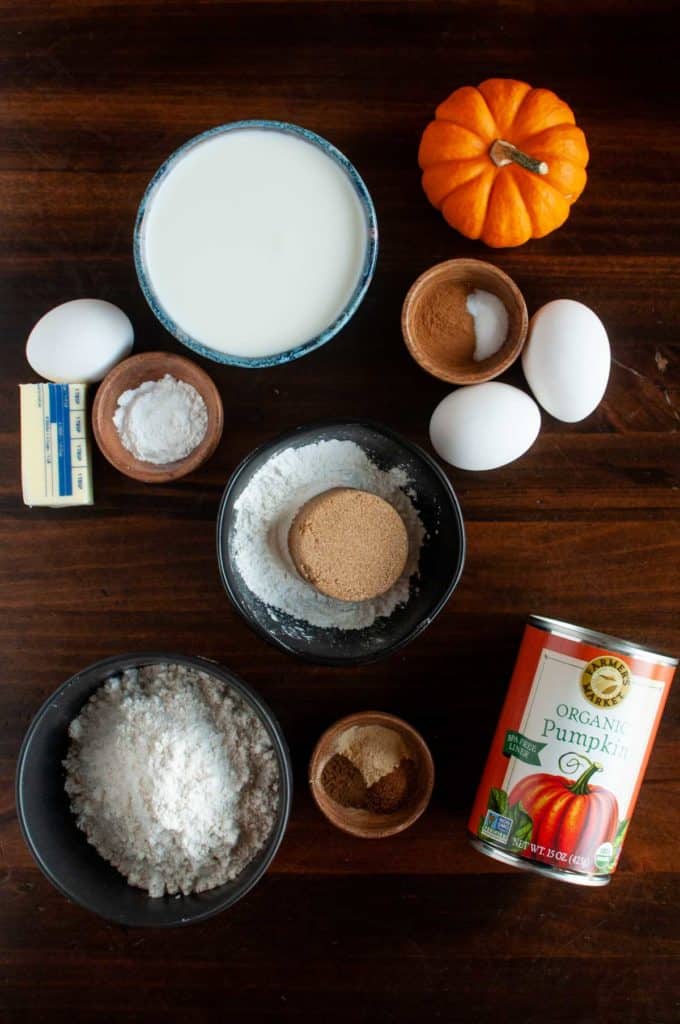 •To make the pumpkin waffles it's as simple as mixing your dry ingredients in one bowl, and whisking the wet ingredients in another.
•The secret to making these waffles fluffy and light is to use whipped egg whites that are gently folded into the batter at the end.
This recipe uses buttermilk in the batter which I suppose would make them buttermilk pumpkin waffles. This recipe works using either gluten free flour or traditional flour. I personally like to use the "Bob's Red Mill 1 to 1 Baking Blend" for my flour and it includes the xanthan gum right in the blend. If your gluten free flour blend does not have xanthan gum, then you will want to add ¼ teaspoon in with your dry ingredients.
What Does Buttermilk Do to Waffles?
Buttermilk not only adds an additional flavor to your waffles, but the acid in the buttermilk reacts with your leavener to help make your waffles fluffier and crisper.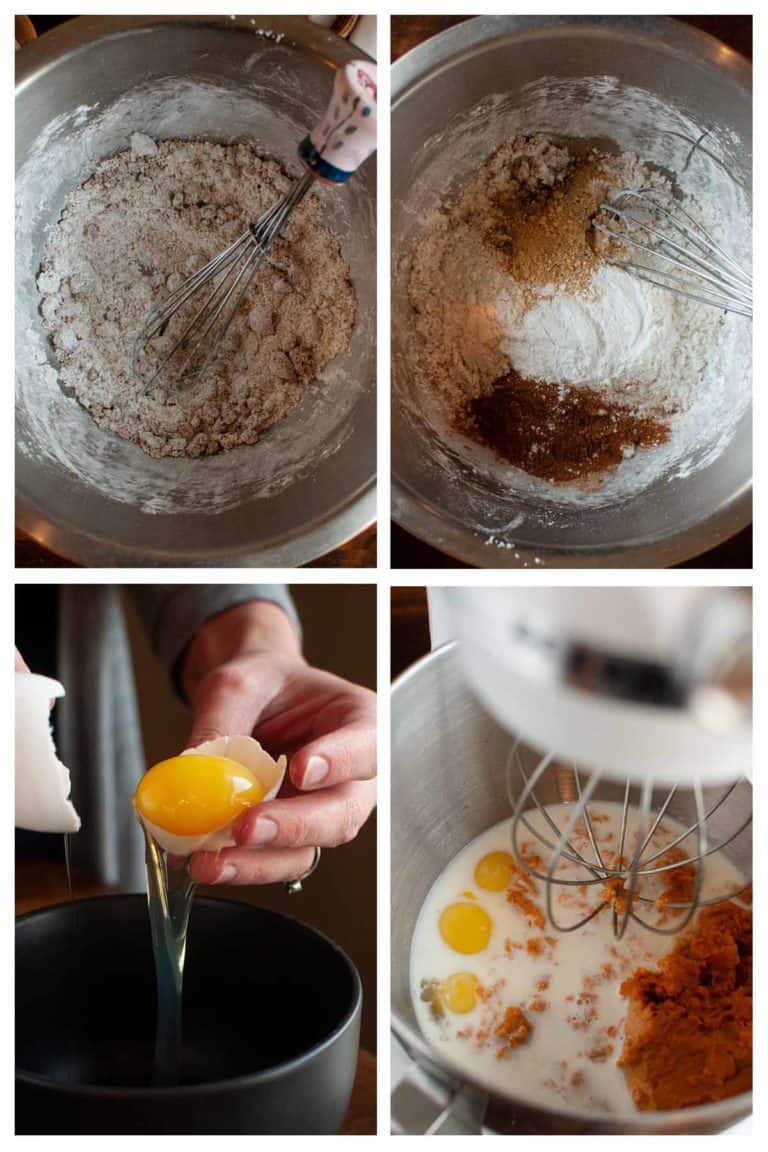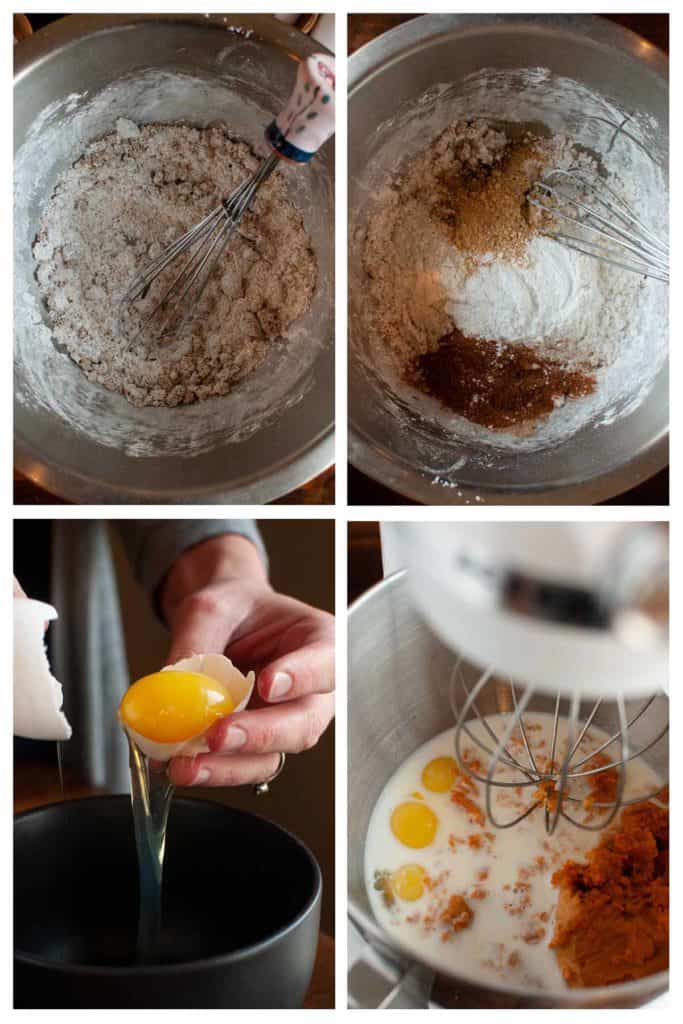 Can I Substitute Milk for Buttermilk in Waffles?
For most waffle recipes you can substitute regular milk instead of buttermilk. Especially with the addition of pumpkin, the buttermilk flavor isn't a key ingredient so I often use whole milk. You may also substitute a dairy free milk if you prefer.
Can I Use Oil Instead of Butter in My Waffles?
If you want to make these into gluten free, dairy free waffles, then in addition to using dairy free milk (like almond or oat) you can substitute a light oil like canola or vegetable oil in place of the butter. If you are substituting oil for the butter, then you may want to keep in mind that the waffles may not be quite as crisp since the butter adds to the crisping. You will need to adjust your cooking time some to compensate.
Are Pumpkin Belgian Waffles Better Than Regular Waffles?
I am a huge pumpkin fan! Not a pumpkin spice in my beverages fan, but in baked goods? Yes please!
Belgian waffle irons have the deep holes, requiring slightly more batter than traditional waffle irons, but the end product is absolutely gorgeous. I personally prefer the deep belgian waffles to regular waffles, but that is purely personal preference. In addition, to getting deep pockets for all your butter and syrup, I find that these waffle irons allow more room for the batter to rise, resulting in fluffier waffles. And who doesn't want fluffier waffles?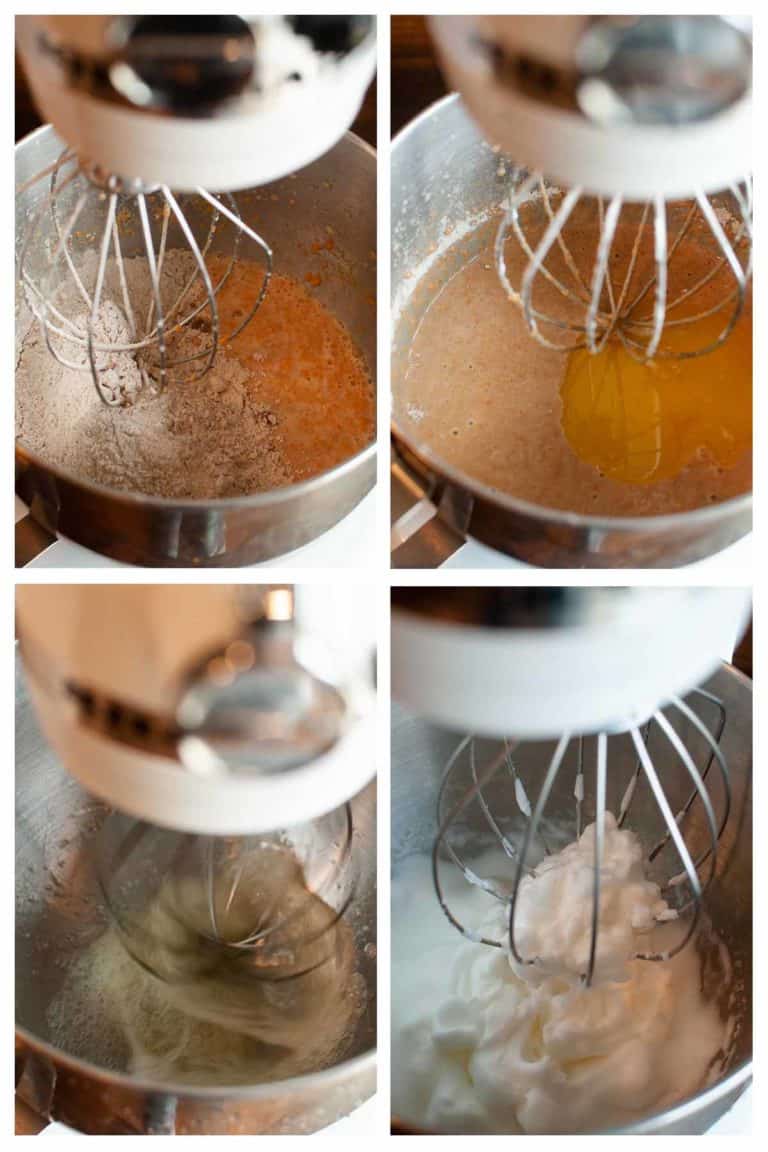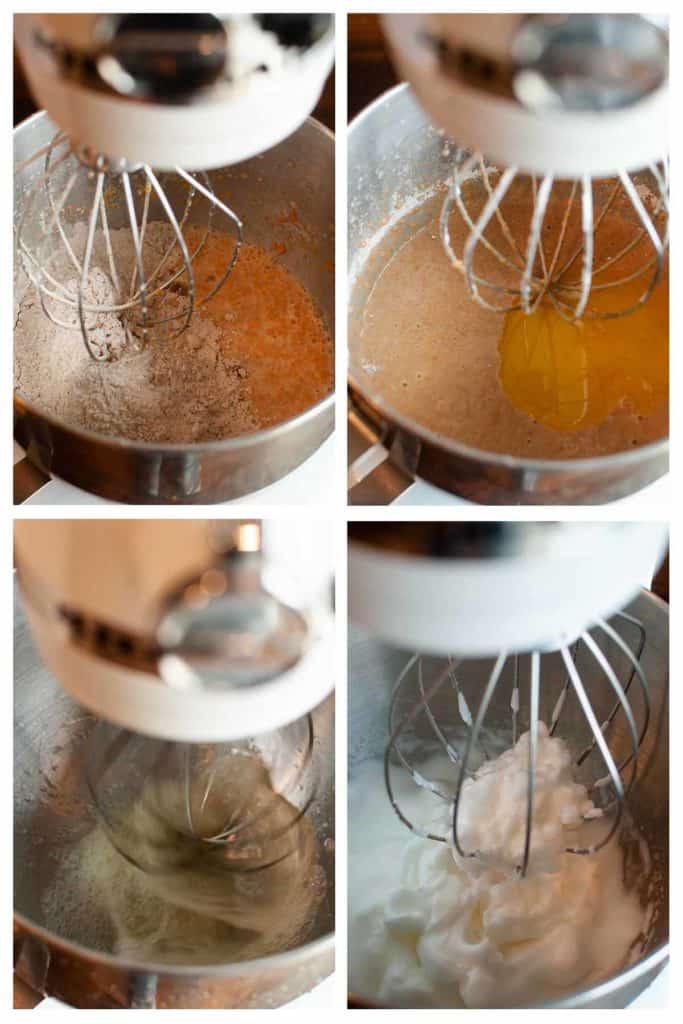 Why are My Homemade Waffles Not Crispy?
•If your waffles are not getting crispy then start off your trouble-shooting by noticing if you used any substitutions. If you used oil instead of butter, then this will affect the crispness.
• Another thing to keep in mind is the kind of waffle. Do your waffles use buttermilk or have additions such as pumpkin? This waffle recipe has the addition of pumpkin in it, which can also affect them crisping up quite as much. To keep these easy pumpkin waffles from being too soft, the addition of a little bit of cornstarch helps to maintain the structure and help them crisp up.
•The third thing to keep in mind is cooking time. Every waffle iron seems to vary a bit on cooking time so if a recipe says 3 minutes, yours might really need 5 minutes to get to the same crispiness level.
Is it OK to Make Waffle Batter the Night Before?
Since this gluten free pumpkin spice waffle recipe uses whipped egg whites to make them so fluffy, the egg whites would deflate if you made them the night before. However, you can make the waffle batter up to the stage right before whipping the egg whites, then put the almost finished batter in the fridge overnight. In the morning you can just whip the egg whites while the waffle iron is heating and proceed with the recipe from there.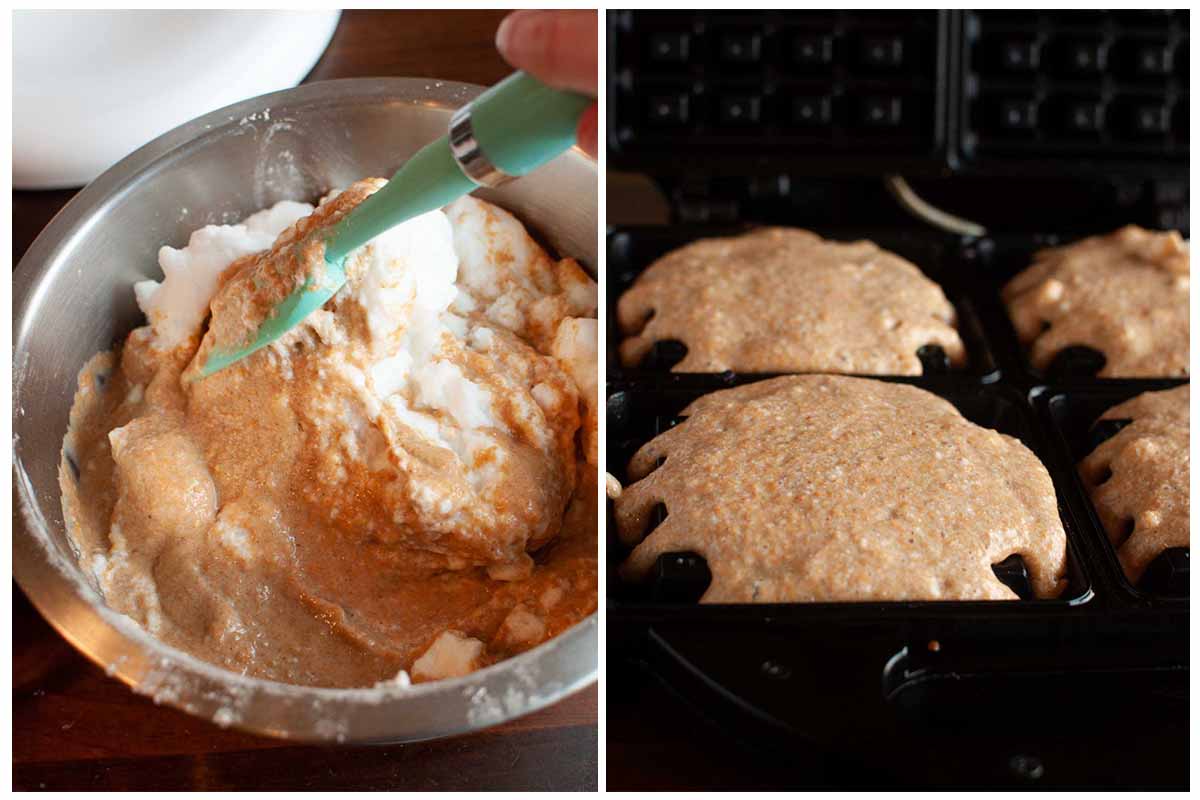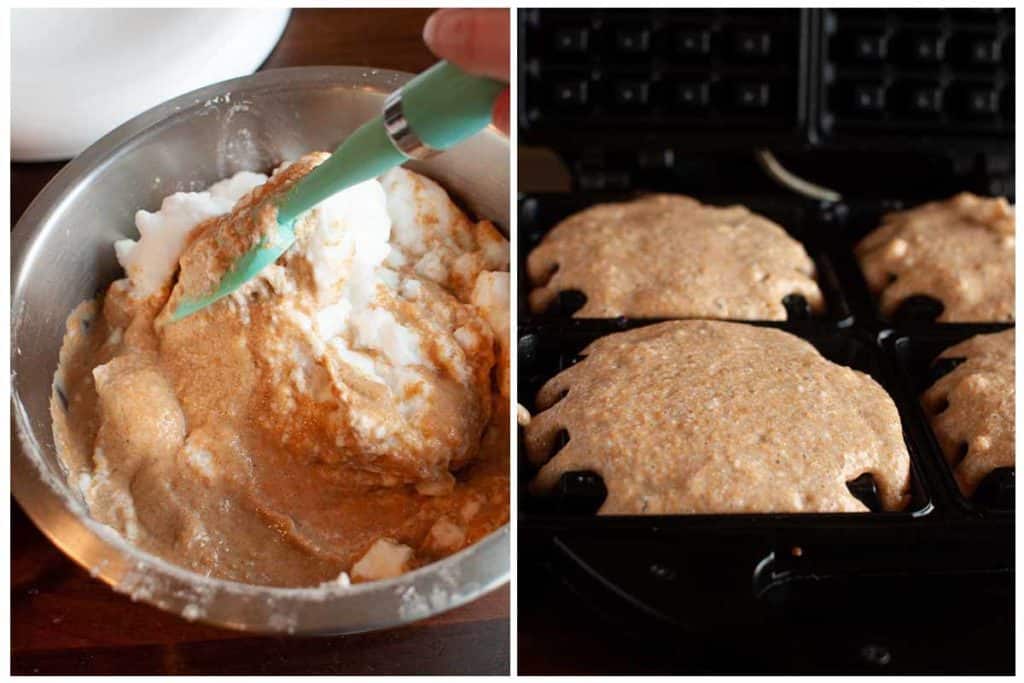 How To Reheat Leftover Waffles:
These pumpkin Belgian waffles soften as they sit so if you have leftovers you can reheat them in a toaster. Alternatively, just heat the oven to "broil". Once the oven is hot then place the waffles on a baking sheet and place in the oven for 2-3 minutes per side until just beginning to crisp.
What Goes Well With Pumpkin Spice?
This question is a doozy. So many things go well with pumpkin spice!
These gluten free pumpkin waffles have become a family favorite served with brown sugar whipped cream and toasted pecans. Mmmmm
Some other flavors that would be delicious with pumpkin spice are:
•Good ol" Butter and Maple Syrup
• Sauteed Apples with Honey
•Caramelized Pears
•Most any kind of nut (though personally peanuts are too strong of a flavor with pumpkin spice in my opinion)
Need More Recipe Inspiration? Try These Reader Favorites:
Are you a pumpkin fan? I'd love to hear from you and what your favorite way to enjoy pumpkin is. Leave me a comment below and let me know your favorite pumpkin waffle topping!
Yield: 5
Pumpkin Belgian Waffles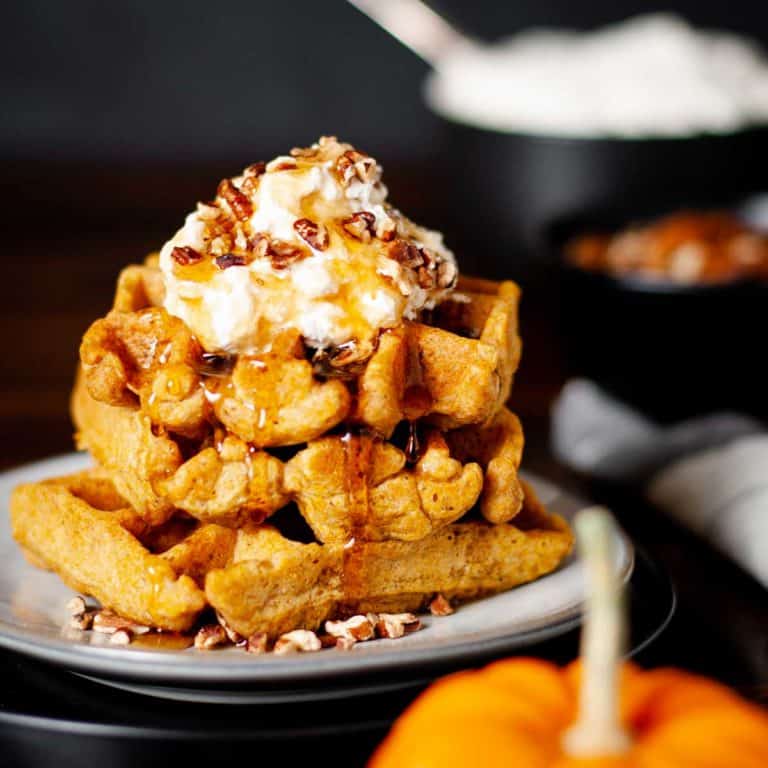 The ultimate weekend breakfast, these gluten free Pumpkin Belgian Waffle recipe have just the right amount of pumpkin spice and come together quickly. You can use either traditional or buttermilk in this recipe to make them buttermilk pumpkin waffles. Brunch it up by serving these with whipped cream and pecan pieces!
Ingredients
1/4 Cup Light Brown Sugar
1/4 Cup Cornstarch
1 1/2 Cups (7 oz.) Gluten Free Flour Blend With Xanthan Gum* (I use Bob's Red Mill 1 to 1 Baking Blend)
2 teaspoons Baking Powder
1/2 teaspoon Salt
2 teaspoons Ground Cinnamon
2 teaspoons Ground Ginger
1/4 teaspoon Ground Cloves
1/4 teaspoon Ground Nutmeg
3 Eggs, Separated
1 Cup Buttermilk (or Regular Milk)
1 1/2 Cups Pumpkin Purée
4 Tablespoons Butter, melted
Instructions
Lightly oil and heat your waffle iron according to manufacturer's recommendations.
In a small bowl, combine brown sugar and cornstarch. mix until most of the clumps are broken up.
Add flour*, baking powder, salt, cinnamon, ginger, cloves and nutmeg in with the sugar mixture and stir to mix. Set aside.
If you haven't already, then separate your eggs, setting aside the egg whites for later use.
In a large bowl, whisk together the egg yolks, pumpkin and milk until thoroughly combined.
Add the dry ingredients to your pumpkin mixture and whisk until smooth.
Finally, whisk in melted butter.
In a clean mixing bowl, whisk your egg whites with a mixer until light and fluffy and "soft peaks" have formed.
Gently transfer the egg whites into the bowl with the pumpkin batter and gently fold until evenly distributed and most of the egg whites are stirred in. A few white lumps will remain, and that is fine.
Depending on the size of your waffle iron, use a 1/3 or 1/2 Cup measuring scoop to scoop the batter onto the waffle iron.
Close waffle iron, and cook 3-4 minutes until golden and beginning to crisp.
Serve with whipped cream and pecan pieces.
Enjoy!
Notes
*If your gluten free flour blend does not include xanthan gum, then add 1/4teaspoon.
*For consistent measurement of gluten free flour: If you don't have a scale to measure your flour, then be sure to stir your flour well with a fork then gently spoon it into the measuring cup. Finally, gently level off the measured flour with the smooth edge of a knife. Repeat the Process for each additional measuring cup needed.
*This recipe can be made with traditional flour if you don't need gluten free.
Nutrition Information:
Yield:
5
Serving Size:
1
Amount Per Serving:
Calories:

383
Total Fat:

14g
Saturated Fat:

8g
Trans Fat:

0g
Unsaturated Fat:

5g
Cholesterol:

140mg
Sodium:

556mg
Carbohydrates:

55g
Fiber:

4g
Sugar:

12g
Protein:

11g
*Nutrition information is automatically calculated and may not always be accurate.
Latest Recipes: