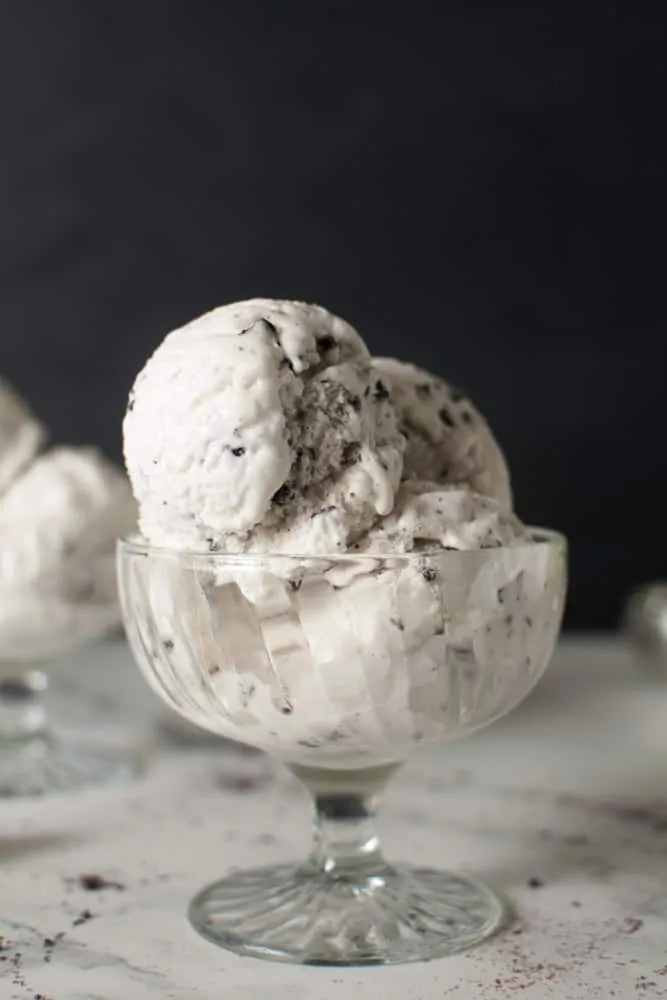 We have always been complete suckers for ice cream at my house, especially during the summer. This Keto Mint Chocolate Chip Ice Cream recipe definitely has become a family favorite!
Though we don't normally eat a Keto diet, this recipe is one we enjoy frequently. Substituting the traditional whole milk with almond milk lightens up the calorie load a bit.
In addition to cutting back some of the calories, we also cut out the sugar. I use an Erythritol blend instead of sugar. This recipe works with regular sugar as well, or whichever sweetener you choose.
I have found that every brand of sugar substitute seems to have it's own flavor. If you have a favorite sugar substitute, with minimal after-taste, I would love to hear what you use!
I was recommended the "Trim Healthy Mama, Gentle Sweet" blend, and have found it our favorite for flavor so far. Though it is definitely a bit pricey, it lasts awhile and works perfectly in this Keto MInt Chocolate Chip Ice Cream! For baked goods I just use "Swerve", as the after-taste seems to be fairly minimal when used in small quantities.
Over the past year, our sugar consumption as a family has dropped drastically! I rarely make a recipe with the full amount of sugar anymore, as we find most recipes taste great with less!
We used to use a large ice cream maker that required a-lot of ice and rock salt. But since we've been making ice cream more frequently ourselves, in order to cut back the sugar, I recently bought the smaller size. The smaller one uses the pre-frozen bowl and no ice. This has been soooo much simpler, and i'm not sure how I waited so long to get one! The larger size is still hiding in my garage for those summer get-togethers when you want to have enough for a crowd!
With Summer's approach, this will be a recipe we will be pulling out again more frequently on those hot days!
Yield: 6
Mint Chcolate Chip Ice Cream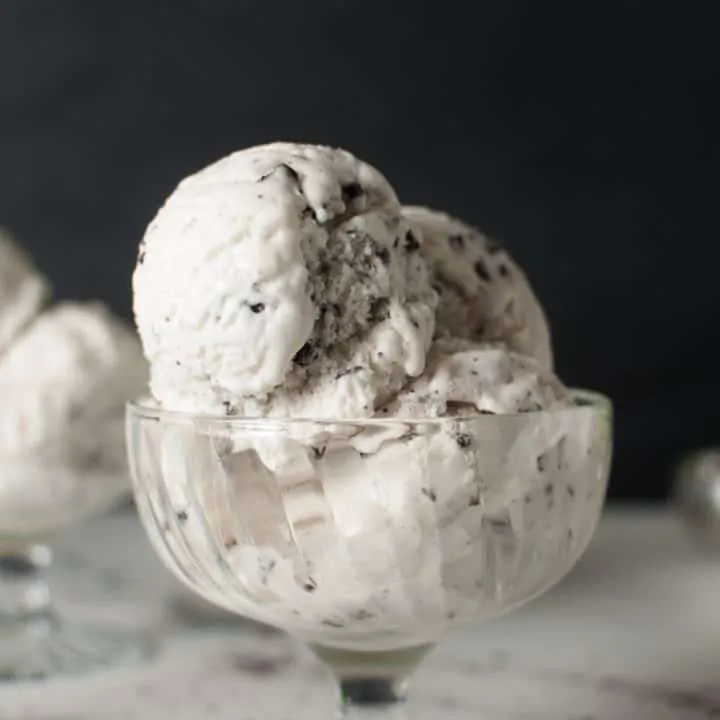 Smooth and creamy, this Mint Chocolate Chip Ice Cream Recipe is perfect for summer! Naturally gluten free, this recipe also has Keto options making it perfect for enjoying whenever the mood strikes!
Total Time
3 hours
45 minutes
Ingredients
1 1/2 C. Heavy Whipping Cream
2 C. Almond Milk* (or whole milk if not staying low-carb, see note)
4 Tbsp. Erythritol or Sweetener of choice* (use sugar-free option if making Keto)
Pinch of Salt
1 tsp. Vanilla Extract
1 1/2 tsp. Peppermint Extract
1/2 C. Dark Chocolate, 70% or higher, Chopped (Stevia sweetened if Keto)
Instructions
Combine all ingredients, except chocolate, in a large bowl and mix well until sweetener is dissolved.
Freeze according to your ice-cream makers specific directions, about 40 minutes.
Pour into an air-tight container and place in freezer for 1 hour.
Remove from Freezer and gently fold in Chocolate Pieces.
Place back in Freezer, and freeze 2 More hours, until just soft frozen but still scoop-able.
Homemade ice cream is best eaten day-of for best texture, as it freezes much harder than store-bought ice cream. If you have left-overs then let sit out on counter-top 20-30 minutes before scooping the following day to allow to soften.
If making to store for multiple days, I recommend following the directions in the notes to help with texture and hard freezing.
Notes
To keep this lighter on calories we use almond milk for part of the recipe. This makes it slightly icier since it has less fat content. If you want more traditional creamy ice cream, then use whole milk instead.
We tend to use an Erythritol blend for sweetener, as we've found this to have the least amount of after-taste.
An optional solution to help prevent this ice-cream from freezing as hard: Add 1 Tbsp food grade, Vegetable Glycerin to the liquid mixture. This doesn't affect the taste at all, but helps to keep it from freezing as hard.
Nutrition Information:
Yield:
6
Serving Size:
1/2C
Amount Per Serving:
Calories:

344
Total Fat:

30g
Saturated Fat:

18g
Trans Fat:

1g
Unsaturated Fat:

10g
Cholesterol:

68mg
Sodium:

51mg
Carbohydrates:

2g
Fiber:

2g
Sugar:

9g
Protein:

4g
*Nutrition information is automatically calculated and may not always be accurate.