Chicken & Cheese Stuffed Jalapeños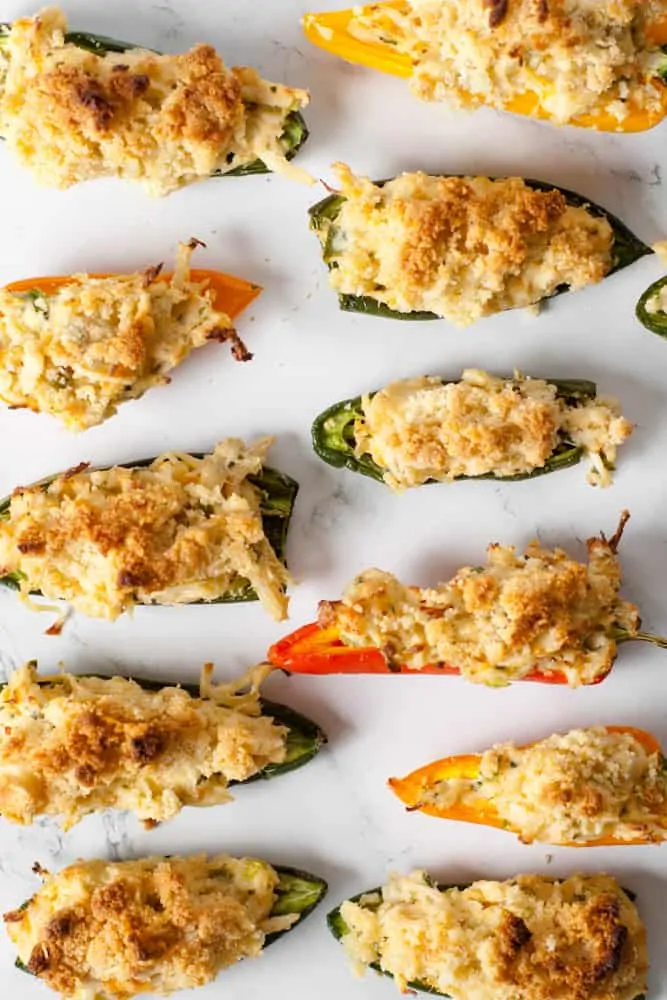 These chicken and cheese stuffed jalapeños pack a good bit of protein, and re-heat extremely well. This makes them a prime candidate for prepping ahead to have for lunch during the work week!
The combination of the cream cheese and chicken in this recipe work together perfectly to mellow out the heat from the jalapeños. Although, if you really don't care for spice, you can make this recipe using mini bell peppers. I do a mix of both jalapeño peppers and mini bell peppers.
Using both jalapeños and mini bell peppers adds a fun splash of color as well as giving the option of heat or no heat. My kids will only eat these in bell-pepper form as they aren't fans of spicy food yet. I usually enjoy a mix of fifty-fifty and my husband is all about the heat. This combination makes everyone happy!
This stuffed jalapeño recipe also make for the perfect party food! If you need a summer appetizer recipe, then this is a good stand-by. The bright fun colors are always a welcome sight at a BBQ, not to mention a platter full of these is always a crowd pleaser!
To keep these gluten free, the stuffed jalapeños are sprinkled with a delicious parmesan/almond flour combination. They are then broiled at the end of baking. This crisps the topping up perfectly giving these just the right amount of crunch!
If we choose to make this recipe for our dinner, I like to pair them with a big salad to help round it out as a full meal. (Because anything works as a meal if you add salad, right!?)
If you make this recipe I'd love to hear your thoughts on it!
Leave me a comment below, or tag me on Instagram @mountainberry_eats to show me what kind of appetizers you're whipping up for this barbecue season!
Need More Recipe Inspiration? Try These Reader Favorites:
Yield: 4
Chicken & Cheese Stuffed Jalapeños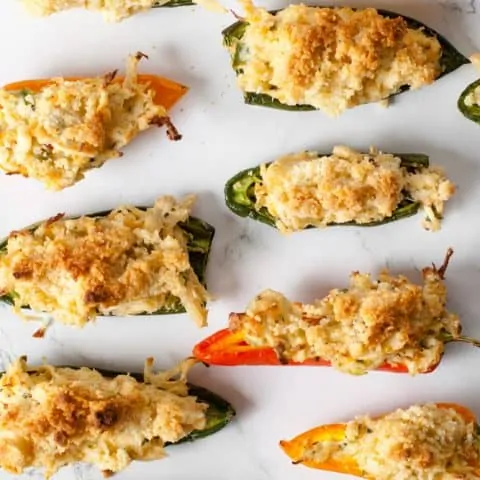 Ingredients
12-Jalapeños or mini sweet bell peppers
1/2lb Cooked, Shredded Chicken
8oz Cream Cheese
2 Cloves Garlic. Minced
4 Scallions, Chopped
2 Tbsp. Parsley, Chopped
1 C. Shredded Cheddar Cheese
1/4 tsp. Salt, to taste
Pepper, to taste (only if using just mini bell peppers)
Topping
3/4 C Almond Flour
1/4 C. Parmesan Cheese, Finely Shredded
3 Tbsp. Butter, Softened
Instructions
Preheat oven to 450° F. Line a baking sheet with parchment paper or non-stick mat.
Halve the peppers, length-wise, and remove any seeds.
If using Jalapeños: pre-cook jalapeño halves in microwave to slightly soften, about 3 minutes. (not necessary for bell peppers)
Combine chicken, cheese, scallions, garlic, parsley & cheddar in a large bowl.
Using a mixer, mix on medium speed until just evenly combined. Add in salt to taste, & pepper if using.
Fill each jalapeño half with cheese and chicken mixture.
Topping:
Combine almond flour, parmesan and butter in a small bowl. Mix until butter is evenly distributed.
Divide topping between the filled peppers.
Bake the stuffed peppers for 10 minutes, or until hot through.
For final toasting, turn the oven up to "broil" and toast 1-2 minutes until topping is toasted and brown. Watch them closely at this stage as they brown very quickly on "broil"!
Let cool 5 minutes.
Serve and Enjoy!