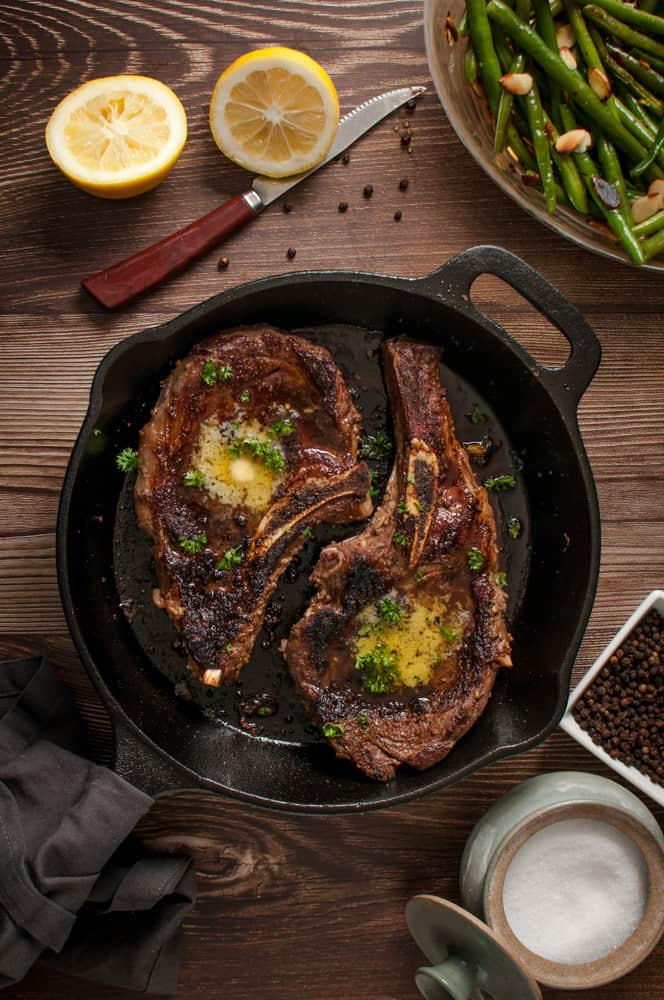 If you haven't discovered sous vide cooking yet, this sous vide ribeye recipe is the perfect way to get started!
If you're still looking for the perfect Father's Day gift, I've shared how to mix it up with something a bit more out of the ordinary. When shopping for a dad that's any sort of foodie, or grill master, then this is sure to be a hit. So keep reading!
My husband kept telling me that we should try sous vide steak sometime, and to me the method just sounded weird. After looking up how it actually worked then it began to make sense.
I finally gave in and the girls got a sous vide cooker for Pierce on Father's Day. After trying it out, this has definitely become our go-to method for cooking steak! Not to mention the features for controlling it from your phone appealed to the nerd side in us as well.
What is sous vide cooking?
To cook sous vide steak, you seal your ingredients in an air tight bag and cook in a water-bath. (We love using the reusable silicone bags, as heating food in plastic does make me a bit nervous. 💁) The cooker circulates the water keeping it at a constant, ideal temperature. That's it!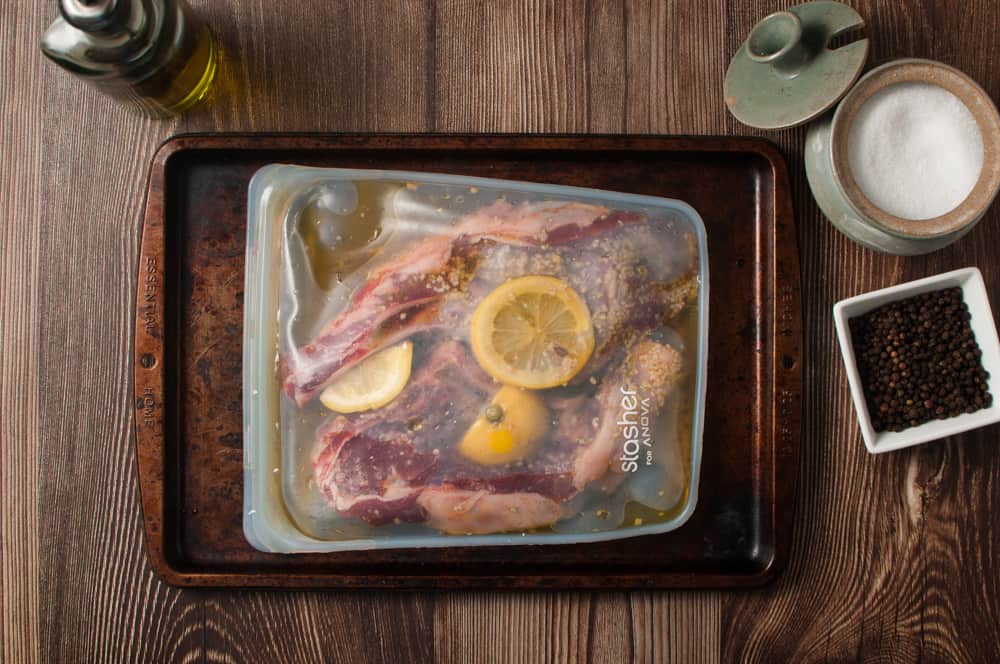 Cooking it in this water bath method allows you to set the cooker to the temperature you want and walk away. Our cooker included a handy dandy chart, listing the ideal temperatures for the various meats!
This means we can have a great steak dinner without having to worry about getting it perfect! I inevitably over-cook steak when using the grill. With so many uneven hot spots, I feel like it's hard to master pulling the meal all together at once.
Once you are ready to pull dinner together then begin by heating your skillet super hot. A cast iron skillet is ideal! Sear for just a minute or two in each side, and Voilá, perfectly cooked steak! Top with just a bit of good quality butter and you are golden.
This delicious Ribeye recipe pairs perfectly with this Roasted Asparagus with Parmesan and Lemon for a veggie side. Add some Gluten Free Cornbread Muffins to make it a complete meal!
Yield: 2
Sous Vide Ribeye Recipe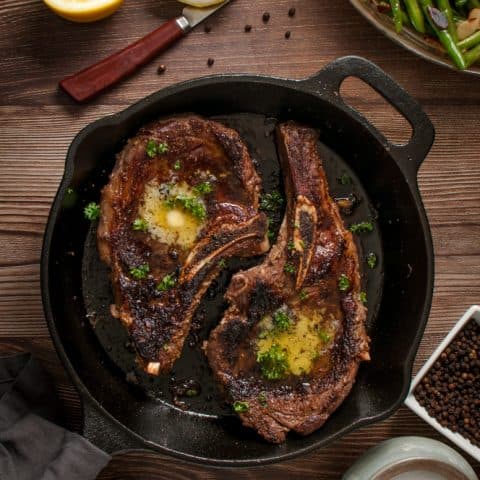 Cooking steak with this sous vide method takes out the guesswork, giving you perfectly cooked steak every time! To keep day-of prep simple, meat can be prepared and place in bags with marinade up to 24hrs in advance.
Additional Time
10 minutes
Total Time
1 hour
15 minutes
Ingredients
2 (8oz) Ribeye Steaks. Or other quality beef cuts of choice.
1/2 C. Olive Oil +2 Tbsp.
1/2 a lemon
4 Fresh Rosemary Sprigs
2 Cloves Garlic, cut into slices
Coarse Sea Salt to taste (About 1/4+tsp per side of steak)
Fresh Cracked Pepper to taste (about 1/4+tsp per side of steak)
2 Tbsp. unsalted, good quality butter.
Instructions
Prepare Your Meat:
Juice the lemon half and put in a small bowl.
Cut the juiced lemon rind into quarters and set aside to add in with marinade.
Add 1/2C olive oil to the lemon juice and mix well.
remove your meat cuts from their packaging and blot dry with paper towels.
Place the meat cuts into 2 large resealable silicone bags.
divide the lemon oil between the two bags, pouring over the meat.
Into each bag add 2 sprigs of rosemary, 1 garlic clove (sliced), and 2 of the quartered lemon rind sections.
Can be cooked immediately or refrigerated up to 24hrs at this point.
Set Up Your Cooker:
Using hot water, fill your water container up as full as it will go without spilling when adding the meat cuts. If you don't have a specific container, choose the largest pot you have preferably able to hold 2-3 gallons.
following your specific cookers directions, screw or attach the cooker onto the side or a corner where it will have room to circulate the water.
Determine the temperature you will need based on how you like your meat cooked. I like beef steak medium rare and set our cooker to 130°F (final sear adds a bit more heat.)
To Seal Bags and Cook:
Seal the bags to be airtight, if you don't have a pump to vacuum the air out, use the water dispersion method.
Water Dispersion Method: Seal the zipper on your bags, leaving one corner un-zipped.
Starting at the corner opposite of the open corner, slowly submerge your bags into the water, leaving the open corner out of the water.
As you submerge, work your way towards the open corner, allowing any air pockets to escape through this corner. Once all the air is out, seal the remaining corner and submerge fully sealed bag.
repeat with second bag.
Set cooker to desired temperature (in my case 130°F) and cook at this temperature for at least one hour, and up to four hours.
Since the temperature is constantly maintained, cooking the meat up to four hours allows you to start the process ahead of time. It can be super helpful to start the meat earlier in the day, this way you only have to prepare your side dishes later.
To Sear:
When you are 10 minutes out from eating:
Heat large cast-iron-skillet on high heat with 2 Tbsp. Olive Oil.
While pan is heating, remove steaks from bags and blot dry with paper towels.
Season both sides of your meat with coarse sea salt and fresh cracked pepper to taste.
When pan is hot and beginning to smoke then add meat cuts.
Cook on each side just until a nice crust appears, only 1-2 minutes per side. Watch them closely at this stage! (I like to have a splatter screen fo this part.)
As soon a they are seared, top with reserved butter.
Serve immediately and enjoy!



Nutrition Information:
Yield:
2
Serving Size:
1
Amount Per Serving:
Calories:

667
Total Fat:

54g
Saturated Fat:

21g
Trans Fat:

0g
Unsaturated Fat:

28g
Cholesterol:

175mg
Sodium:

468mg
Carbohydrates:

4g
Fiber:

1g
Sugar:

1g
Protein:

41g
*Nutrition information is automatically calculated and may not always be accurate.