Corned Beef Sandwich With Russian Sauce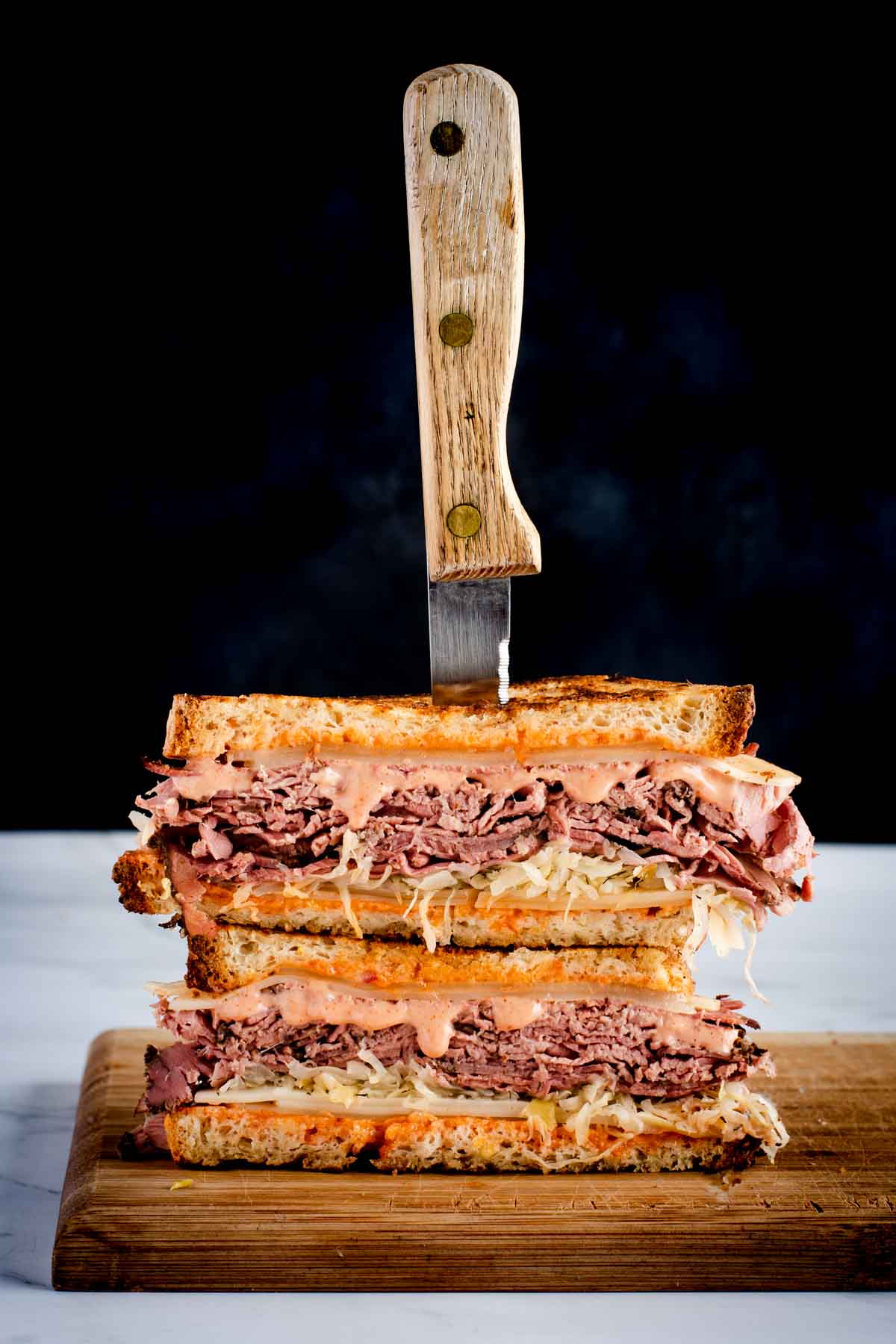 This corned beef sandwich with russian sauce is a fun favorite in our house that is delicious all year round, not to mention perfect for Saint Patrick's Day!
With layers of corned beef or pastrami, sauerkraut, swiss cheese and a russian dressing worth bragging about, dare I say that this is indeed the best gluten free reuben sandwich recipe?
What's On a Classic Reuben Sandwich?
Beef Pastrami or Corned Beef
Depending on personal preference you can choose which meat you prefer for a reuben. If you choose to use pastrami, then get a good quality brand and make sure it is a beef pastrami.
If using corned beef, then just prepare the corned beef according to package directions or try this recipe for slow cooker corned beef and cabbage. Double check your labels to purchase gluten free if needed! We like to make the fresh corned beef meal for Saint Patrick's Day, then use the leftover corned beef for the ultimate corned beef and sauerkraut sandwich. Other times of the year we typically make our reubens with beef pastrami. For a fun "green dessert" serve this easy Gluten Free Key Lime Pie.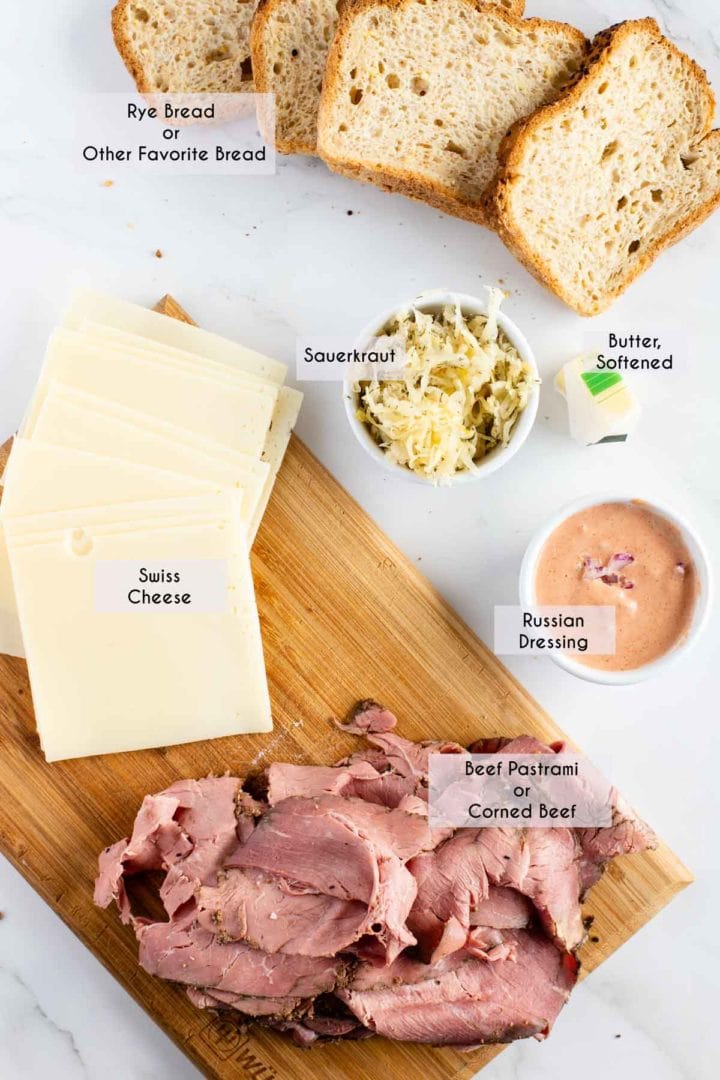 Rye Bread
The best bread for a reuben sandwich is a good quality rye bread. The best place to get this is probably a local bakery, otherwise you can find a more generic rye bread at most supermarkets. If you are making a gluten free reuben, then Canyon Bakehouse sells a great gluten free rye bread, that I have been able to find in our local stores, but can also be ordered online.
Russian Dressing
Russian Dressing is a necessity for reuben sandwiches. Going with straight up store bought thousand island dressing just doesn't cut it. Though the ingredients for both russian dressing and thousand island dressing are similar, you just can't beat the fresh stuff. Every russian dressing recipe has their own variations, but begin with a mixture of mayonnaise, ketchup, and horseradish and a combination of spices. For my russian dressing recipe I put in some of the juice from pickled jalapeños. You can make the sauce without it, but it makes a difference if you can get some!
Swiss Cheese
For a good quality reuben then you will want to choose a good quality medium-thick sliced swiss cheese.
Sauerkraut
I never used to be a sauerkraut fan, but ruebens changed that for me. As a fermented vegetable they also provide some great probiotics as a nice bonus, and it's personal preference on brand/quality here. We personally like the Woodstock Organic Sauerkraut. They also have a variation with dill in it, which is a fun way to mix it up if you want.
How Do You Make a Reuben Sandwich From Scratch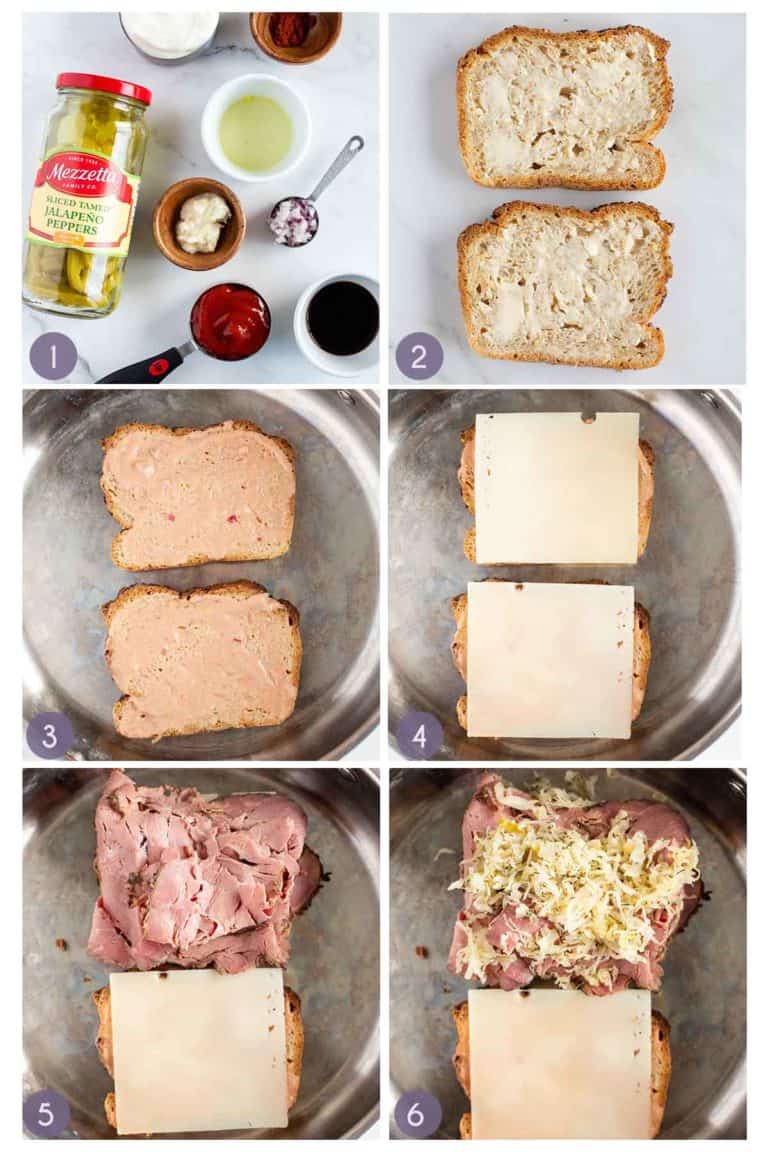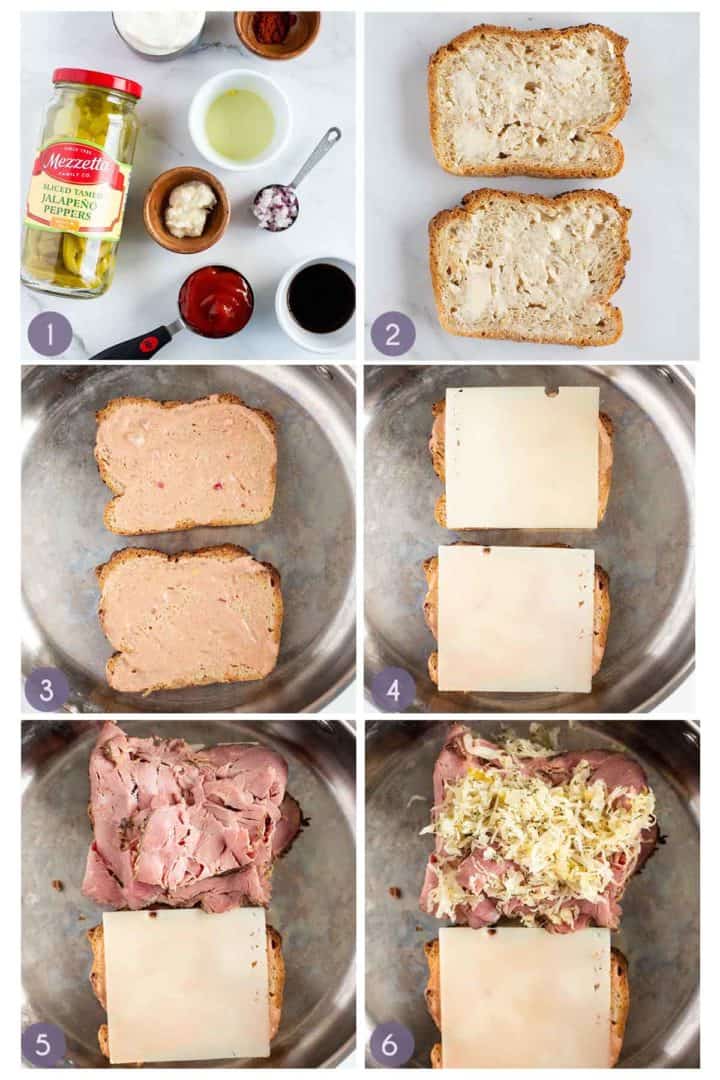 Spread softened butter on one side of 2 pieces of rye bread. Then toast, buttered side down on a heated pan or griddle.
Add a spread of russian dressing on the side facing up of each bread slice.
Next, layer cheese on each slice of bread.
On one slice, after the cheese, layer the corned beef/pastrami, then sauerkraut.
Cook until cheese begins to melt, then top with remaining toasted, cheesy bread slice.
Slice diagonally and enjoy!
How to Make Russian Dressing for a Reuben
Russian dressing is simple and easy to make. Just mix the ketchup, mayonnaise, horseradish, paprika, shallot or purple onion, worcestershire sauce, pickled jalapeno juice and paprika in a small bowl to combine. That's it!
Be sure to mince the shallot or purple onion quite small so you don't get a mouthful of onion, but rather a complimentary flavor.
This corned beef sandwich with russian sauce is my all time favorite way to use russian dressing and makes for an authentic homemade reuben that has officially won me over…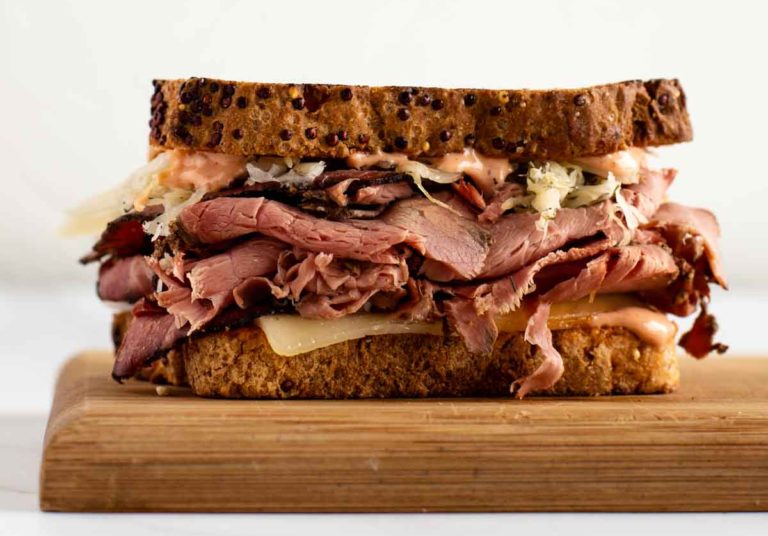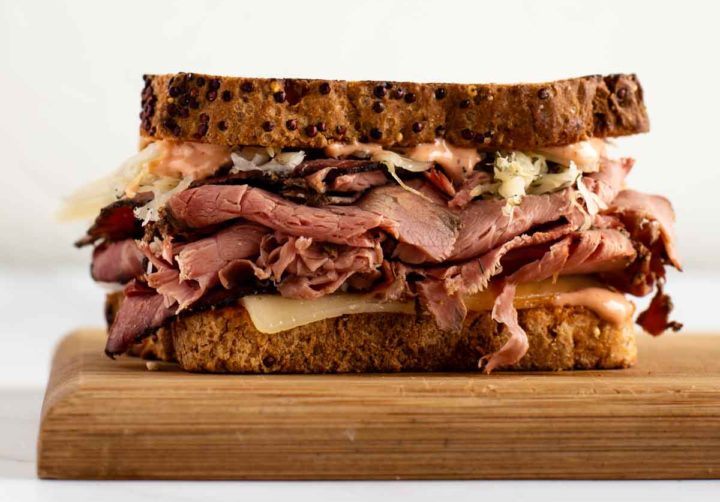 Try pairing this sandwich with a fun side like these Oven Baked Zucchini Fries!
Looking for More Fun Recipes? Try These Reader Favorites:
Yield: 4
Corned Beef Sandwich with Russian Sauce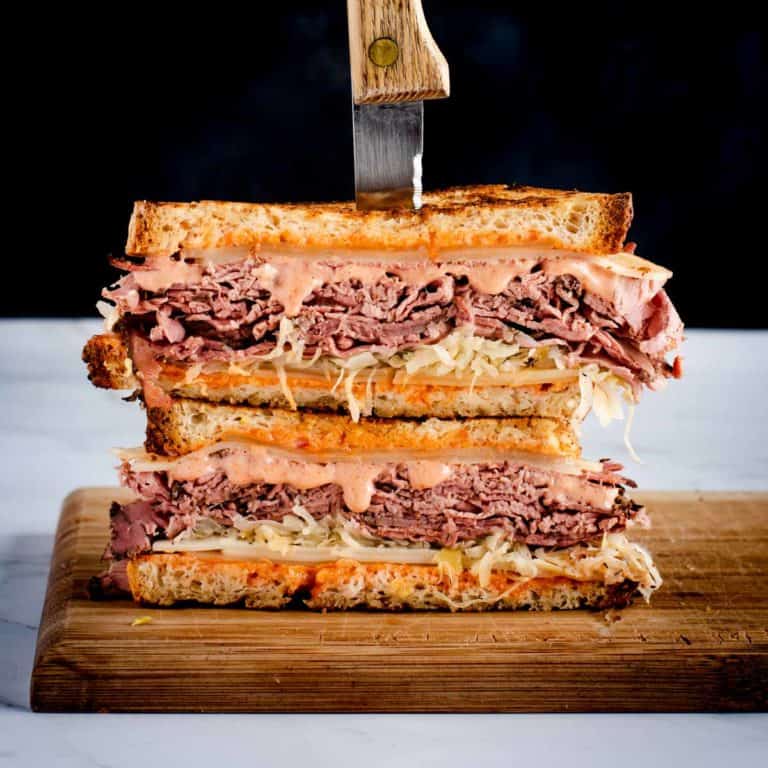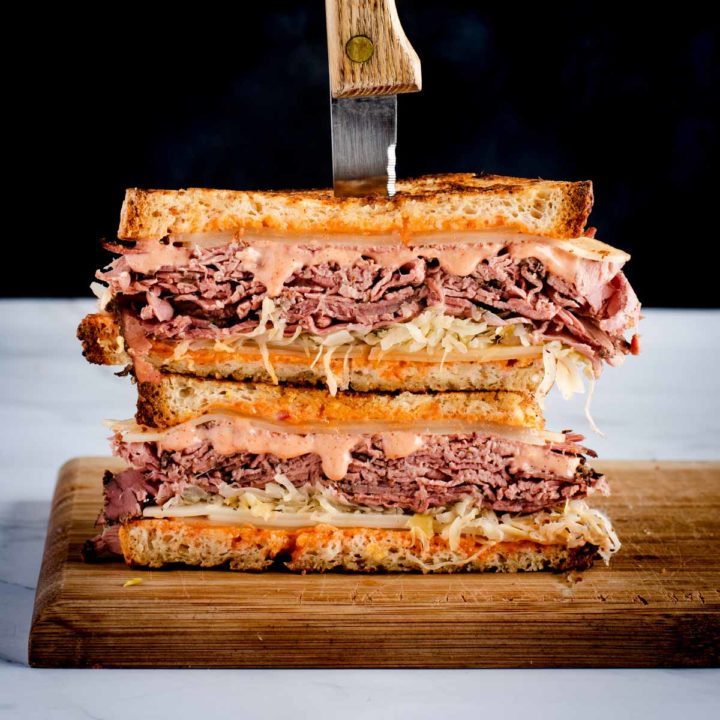 Ultimate reuben sandwich recipe complete with russian dressing recipe and gluten free reuben sandwich variation! Can use corned beef or pastrami in this classic reuben recipe.
Ingredients
8 Slices Gluten Free Rye Bread
4 teaspoons Butter, softened
1/2 Pound Good Quality Beef Pastrami
8 Slices Swiss Cheese
3/4 Cup Sauerkraut, Drained
Russian Dressing
1/2 Cup Mayonnaise
1/4 Cup Ketchup
1/2 teaspoon Paprika
2 teaspoons horseradish
1 teaspoon Worcestershire Sauce
1 Tbsp Minced Shallot or Purple Onion
2 teaspoons Pickled Jalapeño Juice
Instructions
In a small bowl combine all ingredients for the russian dressing and stir well to combine. Set aside.
Heat a griddle or large, non-stick, pan over medium heat.
While pan is heating, butter one side of each piece of bread and spread a layer of russian dressing on the opposite side.
Place the bread, butter side down on the hot pan and layer a piece of swiss cheese on each slice of bread, on top of the Russian dressing.
While the cheese is melting, layer pastrami or corned beef, then sauerkraut onto one piece of bread, on top of the cheese.
once the bread is toasted and the cheese has melted then flip the second piece of bread onto the pastrami layered side.
Repeat with remaining three sandwiches.
Cut diagonally and serve with additional russian dressing.
Enjoy!
Notes
See notes in blog post for corned beef recipe or gluten free rye bread options.
Nutrition Information:
Yield:
4
Serving Size:
1
Amount Per Serving:
Calories:

812
Total Fat:

56g
Saturated Fat:

21g
Trans Fat:

1g
Unsaturated Fat:

30g
Cholesterol:

135mg
Sodium:

1247mg
Carbohydrates:

39g
Fiber:

4g
Sugar:

15g
Protein:

39g
*Nutrition information is automatically calculated and may not always be accurate.