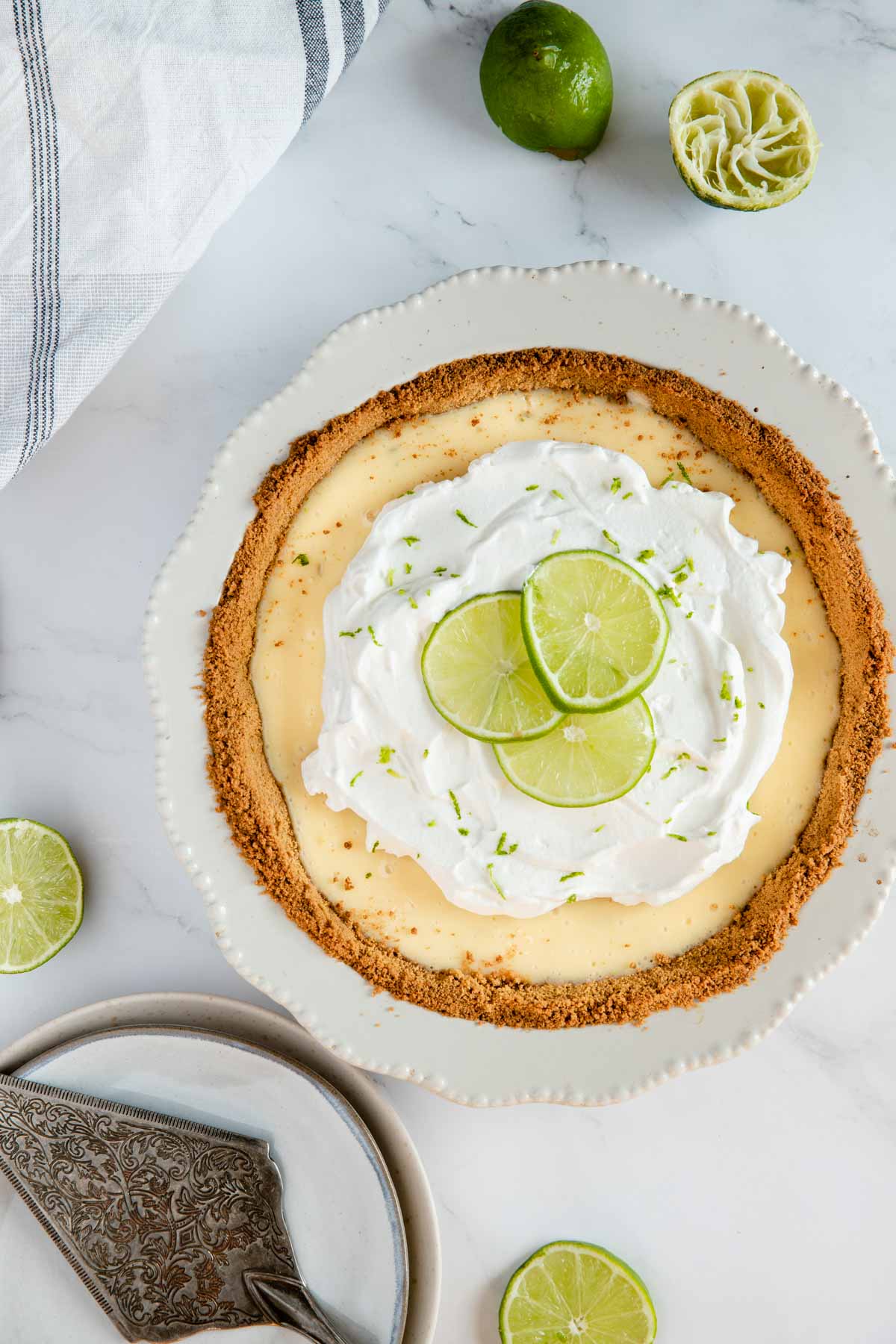 This gluten free key lime pie is smooth and creamy and bursting with lime flavor, accompanied by the rich sweetness of condensed milk. Top with whipped cream for the perfect slice of pie!
Ingredients
The filling for Key lime pie filling is naturally gluten free, typically using a mixture of lime juice combined with egg yolks and sweetened condensed milk. However, the crust is where you will find the gluten, but it is as simple as substituting gluten free graham crackers and you have an easy pie that comes together in just 10 minutes!
I have adapted this from Paula Deen's key lime pie recipe to increase the amount of lime juice, and zest, to make a pie that has plenty of flavor without being overwhelmingly sweet.
In addition to changing the quantity of lime used, I found that adding an extra bit of creaminess with just a touch of sour cream helped pull this key lime pie together.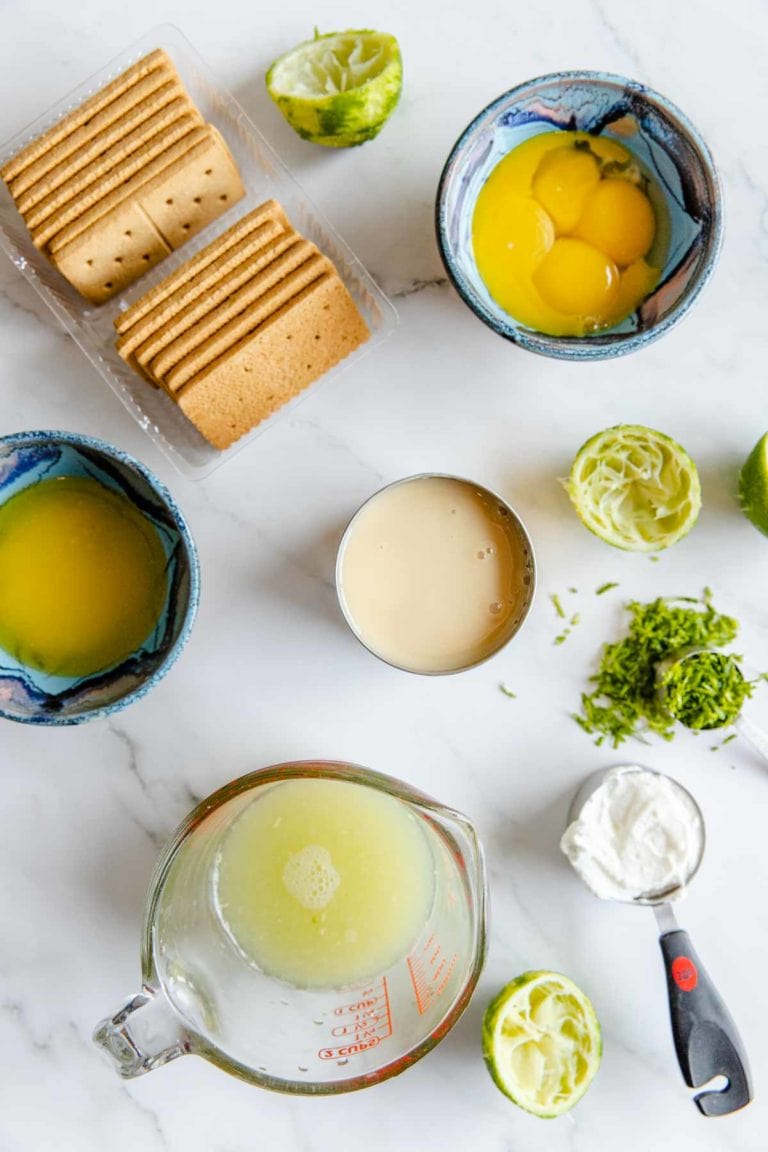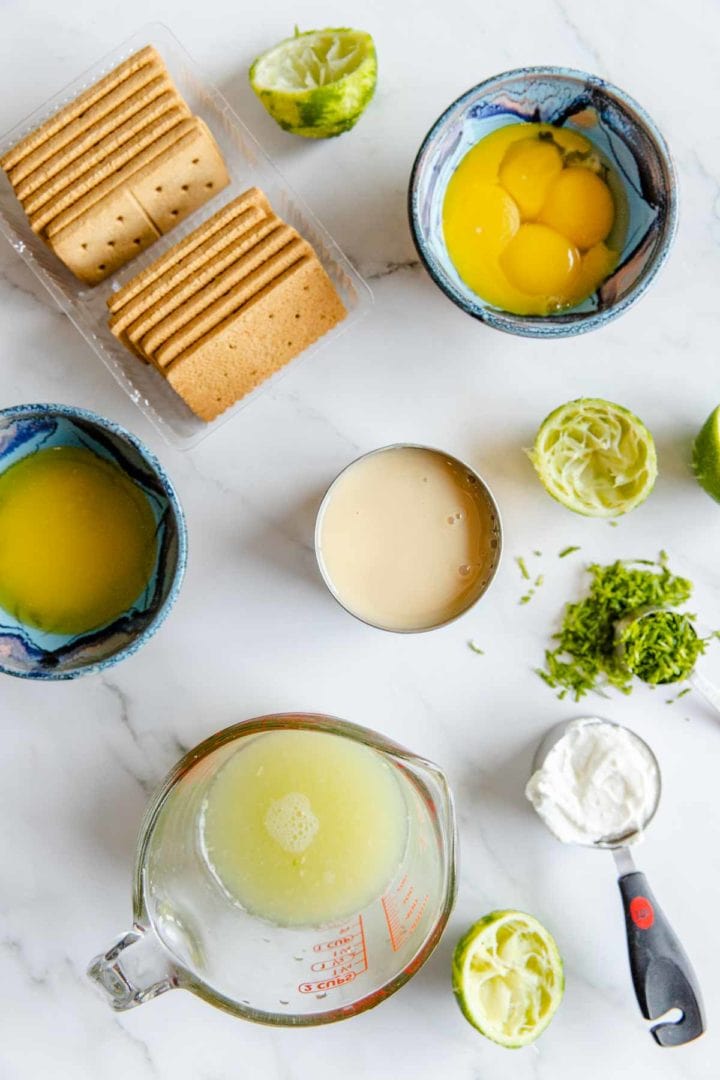 Can I Use Regular Limes In Place of Key Limes?
Yes! 
Key limes are much smaller than traditional limes, but they also have a very distinct boldness and flavor. However key limes are typically much harder to find in most grocery stores than traditional limes, so this recipe is actually developed using the juice and zest from traditional limes. 
If you do happen to find key limes then the variations on quantity are shared in the recipe card.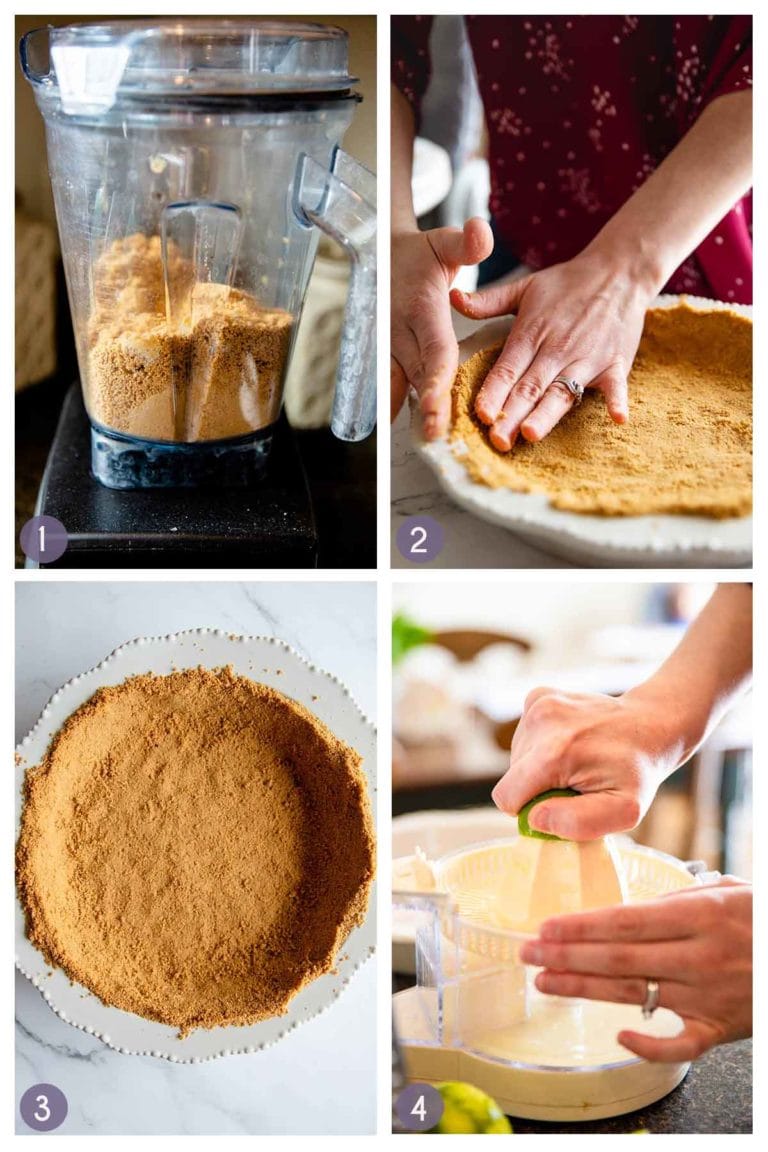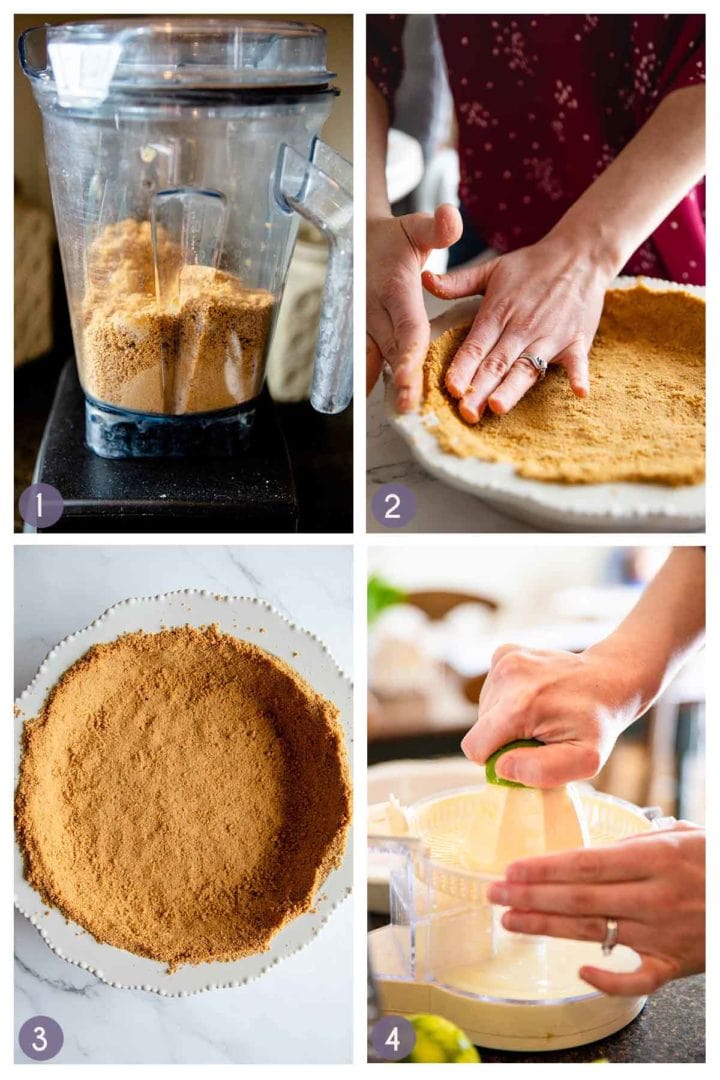 How to Make Key Lime Pie from Scratch
Begin by making and pre-baking a gluten free graham cracker crust. My favorite graham crackers to use, that can be found in most grocery stores, are Pamelas GF Graham Crackers or Kinnikinnick brand graham crackers.
In a medium size bowl, Whisk the egg yolks until they begin to lighten.
Whisk in lime zest, salt, sweetened condensed milk and sour cream.
Lastly add in the lime juice and whisk until smooth.
Pour into the pie shell and bake at 350°,  for 15 Minutes until just set!
Once chilled, serve with whipped cream and enjoy!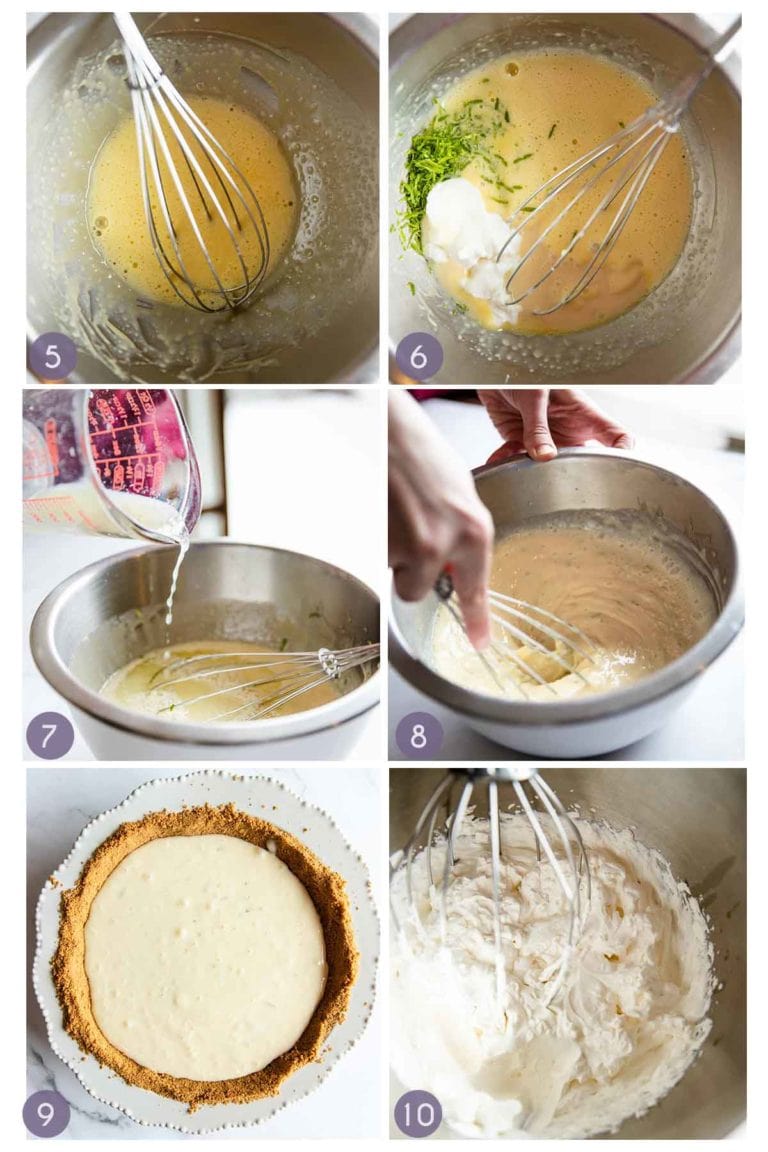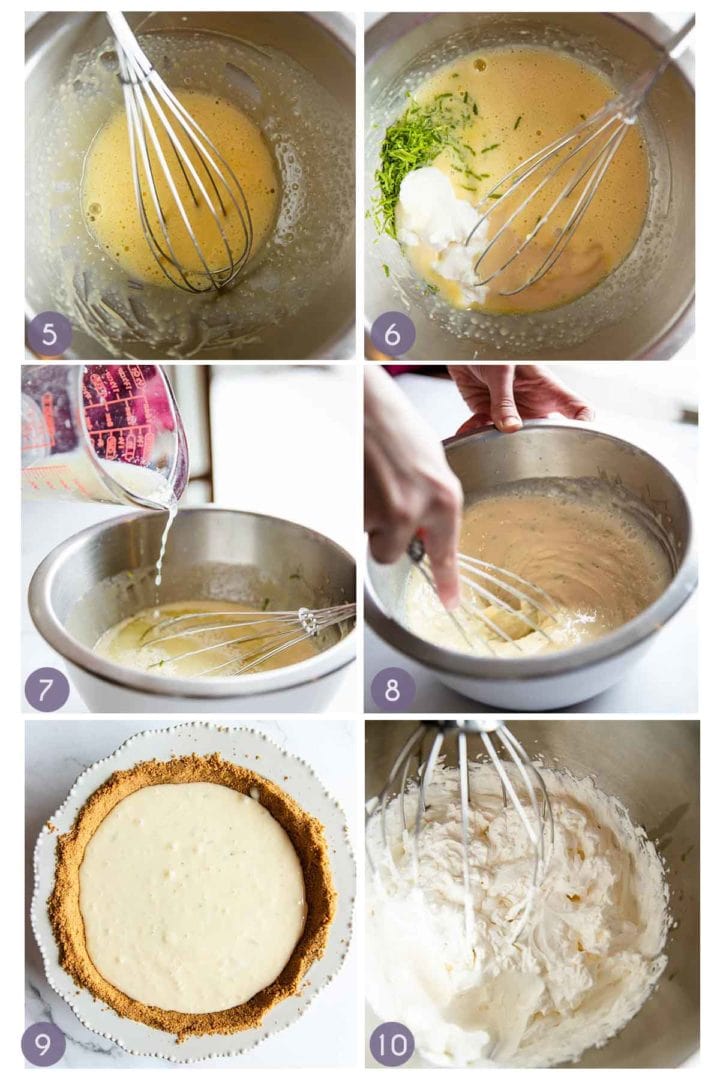 Why Isn't My Key Lime Pie Setting?
Many people wonder why their key lime pie get's runny or doesn't set up. I find that doing a baked key lime pie is the key to getting it to consistently set up, and making sure you use enough egg yolks in your filling. This recipe for gluten free key lime pie uses 4 egg yolks to make sure that the pie will set up into a nice custard as it bakes. 
You will want to be sure and bake your key lime pie until it is just set, which takes from 15-20 minutes depending on your oven. Mine took 15 minutes. If you over-bake the pie it won't have that luscious creamy texture in the same way, but the flavor will still be great.
Be sure to make the pie far enough in advance to allow for the key lime pie to fully chill and be sure to set up. Often not allowing for enough chill time can be a key factor in how your pie sets up.
Storage
Gluten free key lime pie can be made up to 48 hours in advance and stored in the fridge until ready to serve.
It is best to keep the whipped cream separate then top the pie with whipped cream just before serving.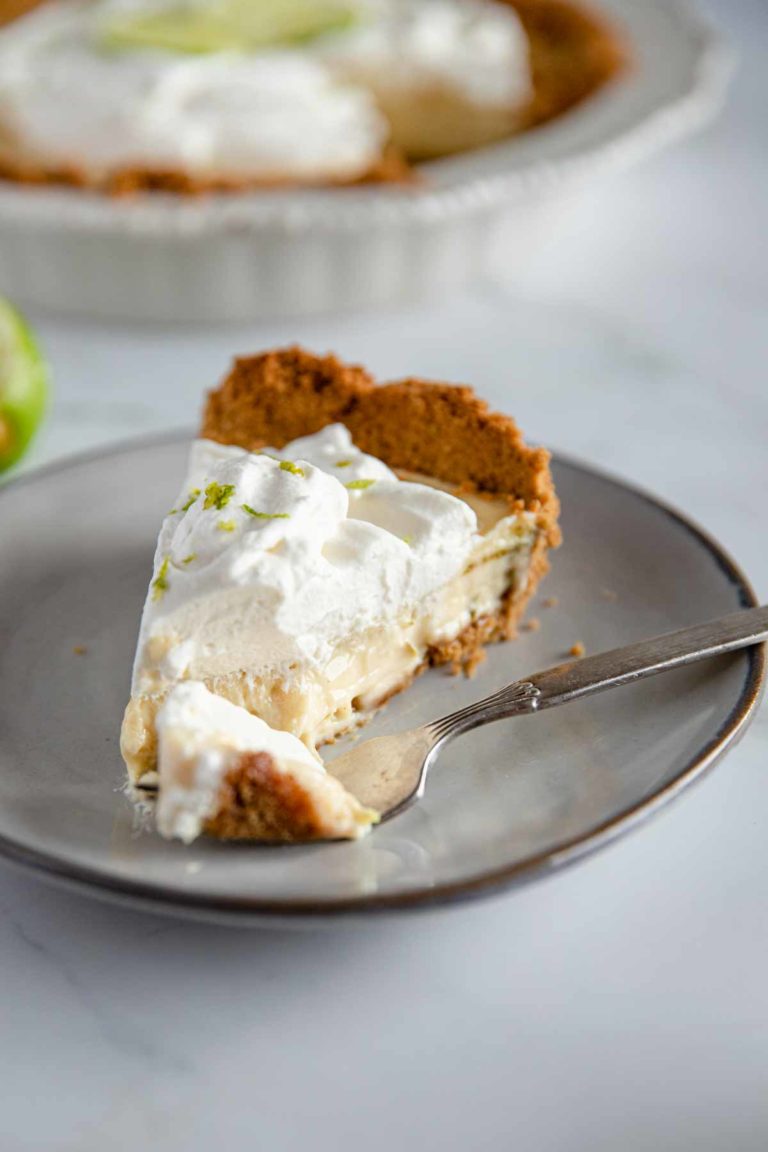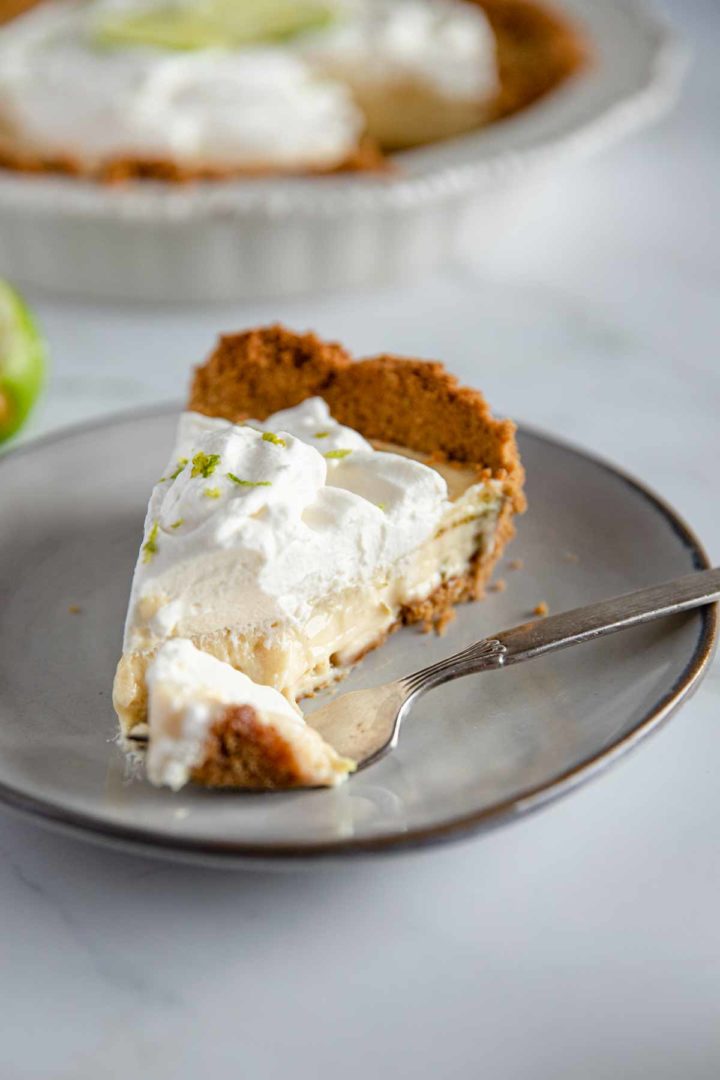 Can You Freeze Key Lime Pie?
Once the key lime pie has been fully chilled, then it can be wrapped in plastic and frozen for up to one month. 
To freeze key lime pie with the whipped cream on it, then place in the freezer, uncovered, to fully harden and freeze. Once the pie is frozen then wrap tightly with plastic to store for up to one month.
When ready to serve from the freezer, unwrap the key lime pie and place it in the fridge to thaw about 24 hours. Once thawed, cut and serve!
This is a fun citrus dessert that can be enjoyed year round or pulled out for a fun spring recipe. We love to have this as a "green dessert" on Saint Patrick's day to accompany our favorite Reuben Sandwich made with corned beef. Make a fun green breakfast with an easy Green Breakfast Smoothie!
Need More Recipe Inspiration? Try These Other Pie Recipes!
Yield: 8
Gluten Free Key Lime pie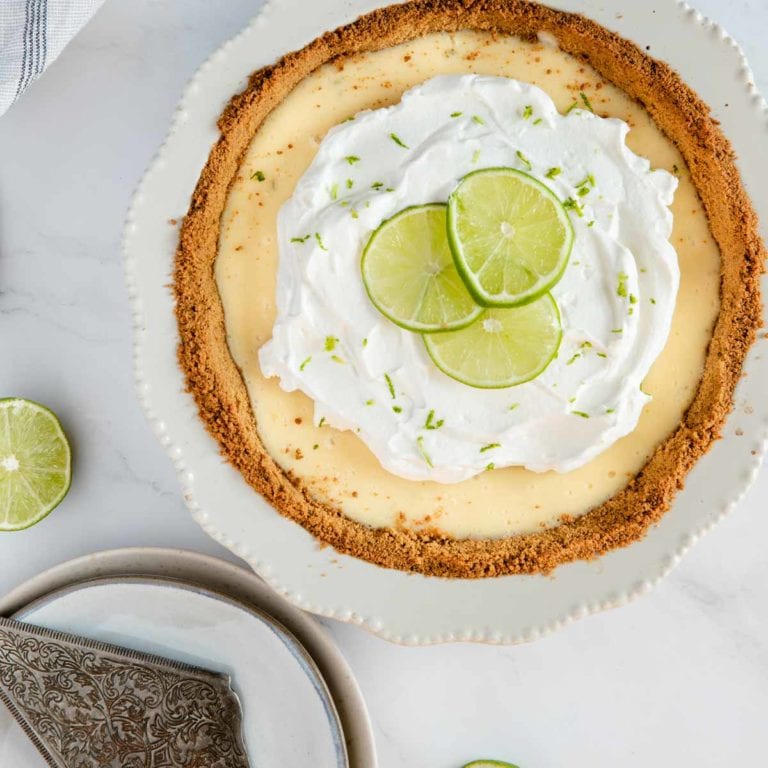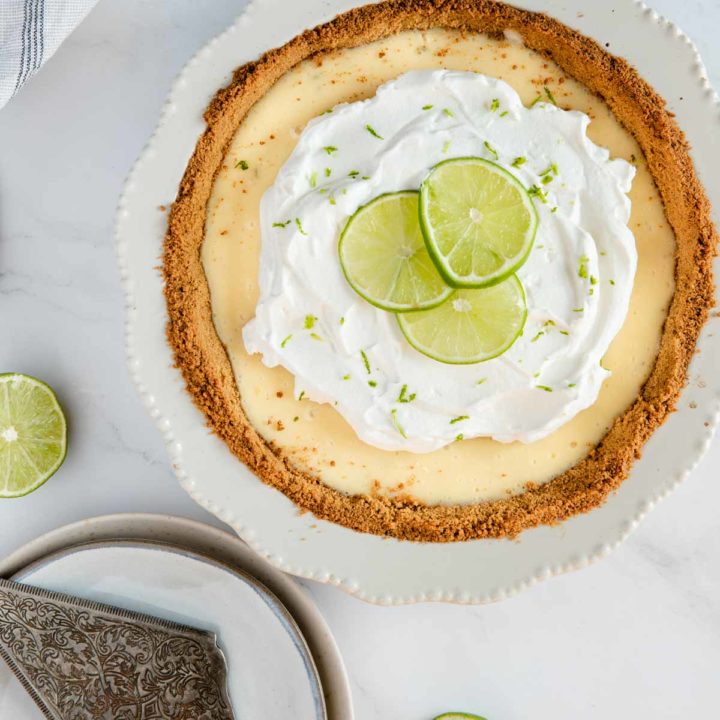 This gluten free key lime pie is smooth and creamy and bursting with lime flavor, accompanied by the rich sweetness of condensed milk. Top with whipped cream for the perfect slice of pie!
Total Time
6 hours
35 minutes
Ingredients
Graham Cracker Crust
12 oz Gluten Free Graham Crackers
4 Tablespoons Butter, Melted
Key Lime Pie Filling
4 Egg Yolks
1 1/2 Tablespoons Lime Zest, minced (If using Key Limes, Then Just use 1 Tablespoon Zest)
1 - 14 oz Can Sweetened Condensed Milk
1/8 teaspoon Salt
1/4 Cup Sour Cream
3/4 Cup Lime Juice, From About 4 Limes (if using Key limes, then use 2/3 Cup Key Lime Juice)
Whipped Cream to Serve
Instructions
For the Crust:
Preheat oven to 350° F.
Place graham crackers in a blender and pulse until fine crumbs. (Alternatively, you can crush them by placing them in a resealable bag and use a rolling pin to crush the crackers.)
Add butter and stir with a fork or pulse to combine.
Pour graham cracker mixture into a 9" pie pan and press evenly all around, and up the sides, to pack the crust.
Place in the pre-heated oven and bake 8 minutes to set.
Set aside and prepare filling.
For the Key Lime Pie Filling:
In a medium bowl, whisk the egg yolks until they begin to lighten.
Add the zest, sweetened condensed milk, salt and sour cream. Whisk to combine.
Lastly, pour in the lime juice and whisk thoroughly until smooth.
Pour filling into prepared crust.
Place in pre-heated oven and bake for 15-20 minutes until just set but still jiggly.
Remove from oven and cool to room temperature.
Once the pie has cooled to room temperature, then chill, uncovered, in the fridge for 6-8hrs. Pie can be made to this point up to 48 hours ahead.
Serve with whipped cream and enjoy!
Notes
See blog post for additional notes on storing and freezing key lime pie.
Nutrition Information:
Yield:
8
Serving Size:
1
Amount Per Serving:
Calories:

496
Total Fat:

20g
Saturated Fat:

10g
Trans Fat:

0g
Unsaturated Fat:

9g
Cholesterol:

134mg
Sodium:

364mg
Carbohydrates:

72g
Fiber:

2g
Sugar:

48g
Protein:

10g
*Nutrition information is automatically calculated and may not always be accurate.