Spaghetti Squash Pad Thai
Posted on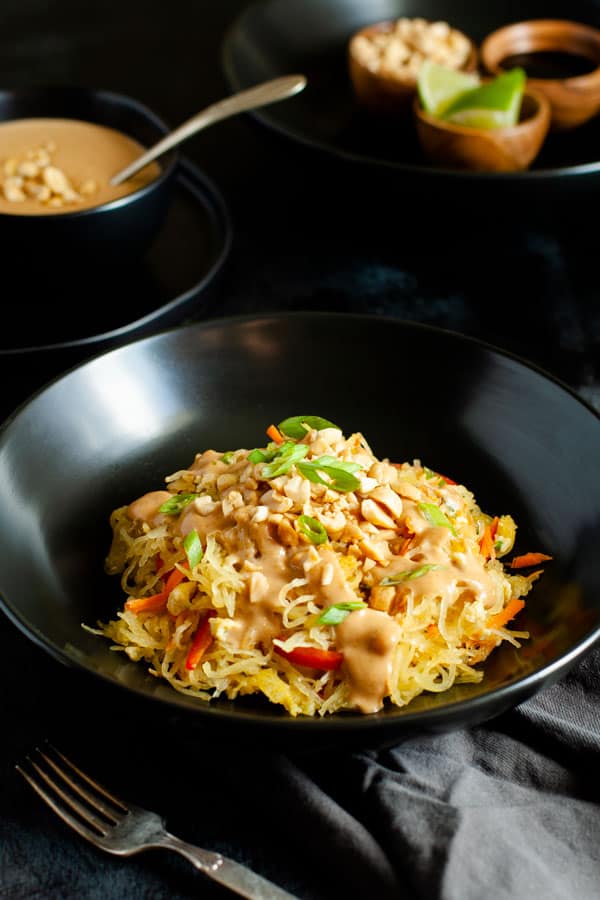 Spaghetti Squash is so versatile! One of my favorite uses for it is this spaghetti squash pad Thai recipe that is topped with a coconut milk peanut sauce. We make this all year round and love that it is naturally gluten free, not to mention it is also dairy free and vegetarian. This makes it perfect for a "Meatless Monday" recipe, or ideal if you are wanting to add in more plant based meals.
As squash season is picking up and my spaghetti squash is ripening, I know this is a recipe that will be pulled out a bit more frequently. With the pairing of all the fresh vegetables, this is a perfect garden produce recipe!
A combination of sweet, tangy, and salty, the flavor pairings in Pad Thai always call my name. Whenever I begin the process, the sweet smell of lime juice is always tantalizing me. Teasing so many of the senses, I do think limes are one of my favorite ingredients!
How Long Does This Recipe Take?
The most time consuming part of this recipe is the veggie prep. You can slice, shred and prep the veggies before-hand and even make the sauce ahead of time. Doing the prepping ahead allows the dish to come together effortlessly in about 15 minutes!
Without prepping ahead of time, this meal can be pulled together in about 1 hour, while the squash is roasting.
Short on time? Roast your spaghetti squash the day before, or if you are in a real time rush then I have added instructions for how you can microwave the squash if needed.
How to Cook Spaghetti Squash:
If you are using spaghetti squash for noodles, then you get much longer noodles by cutting the spaghetti squash in half, width-wise.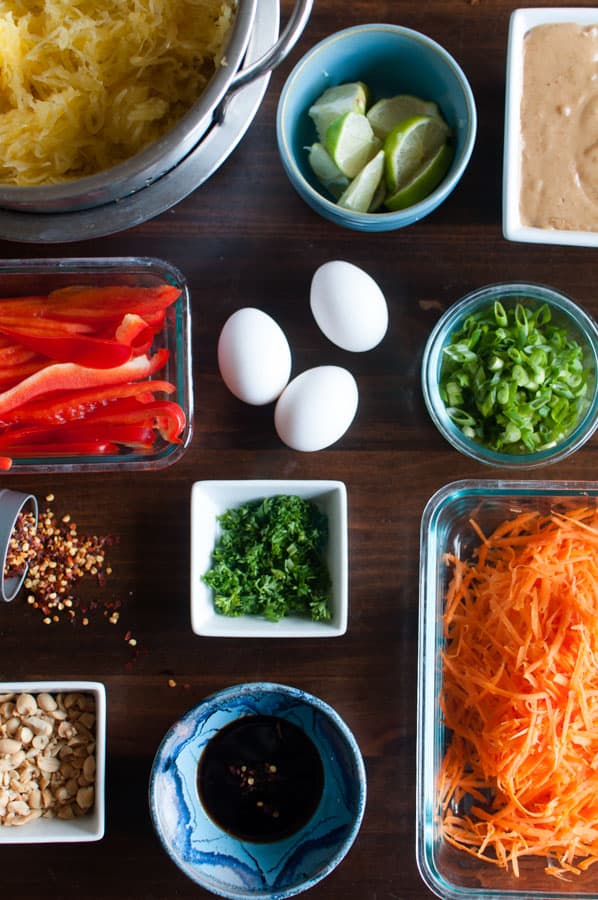 Once the squash is cut in half, scrape out all the seeds and middle residue.
Now that your squash is prepared, you have the option to roast or microwave it. Roasted is always better in my opinion, but you do have the option of microwaving it if you are pinched for time.
To Roast the Spaghetti Squash:
• Heat the oven to 425°F
• Divide 1 TBSP of Olive oil between the inside of the squash halves and spread it around.
• Sprinkle a little salt and pepper inside of the squash
• Place the squash halves, face-down, on a foil or parchment lined baking sheet.
• Roast for 45min-1hr or until soft when the inside is poked with a fork.
Easy Peasy!
To Microwave the Spaghetti Squash:
Instead of oil, you will need water.
• In the bottom of a 9×13" glass baking dish, place about ½ cup of water to cover the bottom.
• Place the squash face down in the water and microwave in 10 minute increments.
• The squash is cooked when you can pierce the inside with a fork and it is soft. My microwave takes about 20 minutes, but check the squash every 10 minutes.
• Microwaved squash retains more moisture so I do like to place the "noodles" in a colander to drain a bit while I prepare the rest of the pad Thai recipe.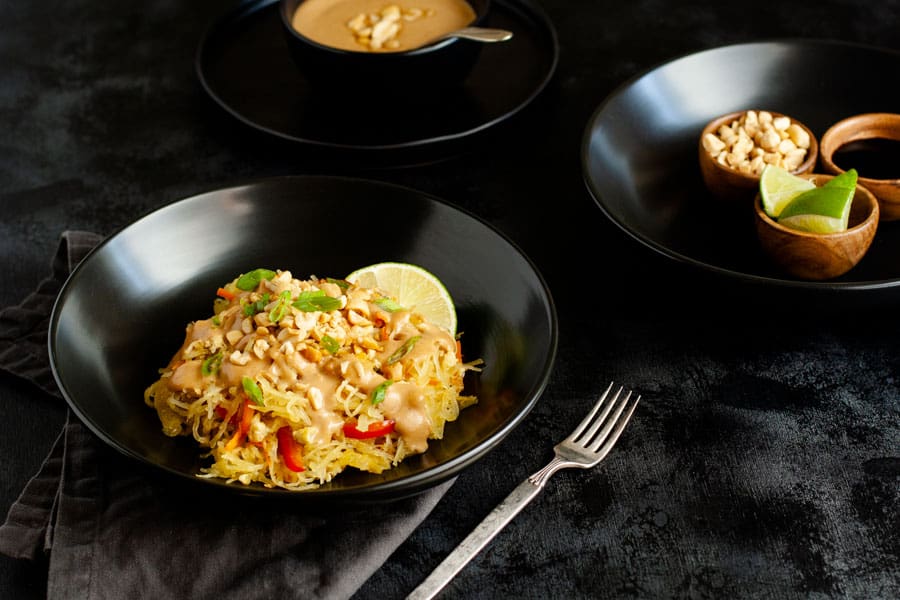 Adding Peanut Sauce to your Pad Thai
Though spaghetti squash pad Thai is delicious on its own, one of the biggest highlights of this recipe is the coconut milk peanut sauce. This sauce is super easy to make and adds, both an extra punch of protein and, a pig punch of flavor! It also comes together effortlessly in about 5 minutes and can easily be reheated.
Peanut sauce is incredibly easy to make. Many people make peanut sauce using just water instead of coconut milk but I love the creamy Thai flavor that the coconut milk provides for this recipe.
If you don't have curry paste then no need to buy a bunch of curry paste just for a single teaspoon. This peanut sauce recipe is still delicious without it! If you feel that you like your peanut sauce sweeter or saltier then just adjust the sugar and soy sauce as desired!
This peanut sauce works with both natural and and non-natural peanut butters. However, most hydrogenated peanut butters contain added sugar which will make for a slightly sweeter (and still delicious!) peanut sauce. You may want to start by omitting the brown sugar to see if you still need it in the end.
Happy Cooking!
Yield: 6
Spaghetti Squash Pad Thai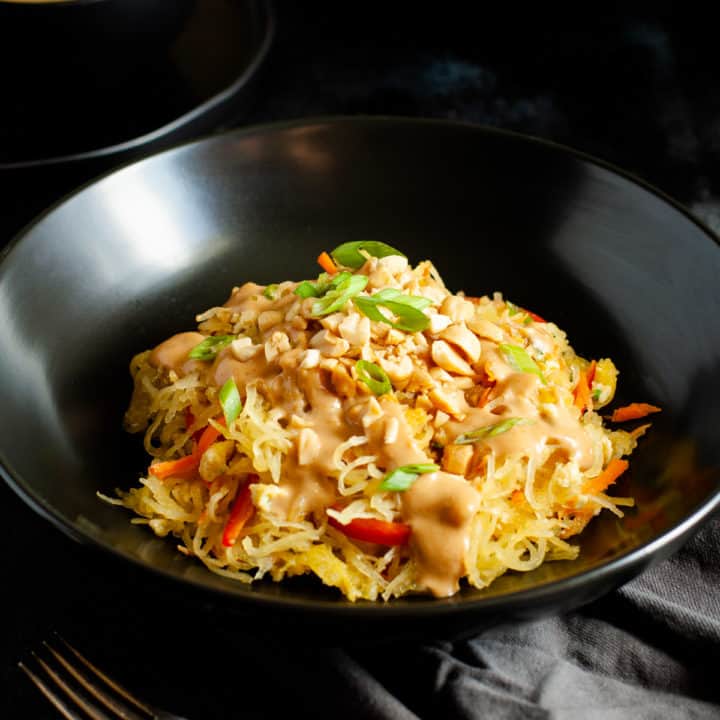 Spaghetti Squash is so versatile! One of my favorite garden recipes, is this spaghetti squash pad Thai. This pad Thai recipe features a coconut milk peanut sauce adding extra protein and a whole lot of flavor! This spaghetti squash pad Thai is naturally gluten free, dairy free and vegetarian. This makes it perfect for a "Meatless Monday" recipe, or ideal if you are wanting to add in more plant based meals.
Ingredients
1 Large Spaghetti Squash (2 if small)
1 Tbsp. Olive Oil
1/4 tsp. Salt
1/4 tsp. Ground Pepper
1 Red Bell Pepper, Thinly Sliced
3 carrots, Shredded
2 tsp. Sesame Oil
2 Garlic Cloves, Minced
1 Bunch of Green Onions, Sliced (reserve half for garnish)
4 Eggs, Whisked Together in a Bowl
Juice From 1/2 of a Lime (reserve other half for garnish)
1/4 C. Soy Sauce (gluten free or Tamari)
1/4 C. Sweet Chili Sauce
1 Tbsp. Fish Sauce (optional but recommended)
1/4 tsp Red Pepper Flakes (optional)
1 C. Chopped peanuts for Garnish
For The Peanut Sauce:
1/2 C Creamy Peanut Butter
1 C. Coconut Milk
1/2 C. Hot Water
1 tsp. Curry Paste (Optional but highly recommended)
1 Tbsp. Soy sauce
1 tsp. Brown Sugar
Instructions
For The Squash:
Preheat the oven to 425°F
slice your spaghetti squash in half width-wise and scoop out all the interior seeds and stringy filling.
Divide the olive oil between the inside of the squash halves and spread to coat.
Sprinkle the inside of the squash with the salt and pepper.
Place squash face down on a foil or parchment lined baking sheet and roast until tender when poked with a fork. About 45 min to 1 hour depending on size.
Once squash is cool enough to handle: hold one squash half upside down over a dish and gently pull out the "noodles with a fork, working your way through until all the squash filling has been removed. Repeat with other squash half.
While The Squash is Cooking:
If you need to prep and slice the veggies, then now is the time to do so.
To make the pad Thai sauce, combine the soy sauce, juice from half the lime, sweet chili sauce, fish sauce and red pepper flakes if using in a small bowl.
Stir well to combine and set aside.
You can also make the peanut sauce while the squash is cooking and set it aside.
Making the Pad Thai:
Once the squash is finished cooking, then heat the sesame oil or additional olive oil in a large skillet over medium heat.
Once the oil is hot, add the garlic clove and half of the green onions. Sauté for about 1 minute.
Add in the Red Bell pepper and continue cooking for another 2 minutes to just tenderize the bell pepper.
Push the peppers to the side and pour in the eggs. Stir, while cooking, until the eggs are cooked and scrambled.
Add in the shredded carrot and the squash noodles.
Pour the reserved soy sauce and sweet chili mixture over the noodles and stir to thoroughly combine.
Portion into bowls and serve with peanut sauce, chopped peanuts and remaining green onions.
To Make the Thai Peanut Sauce:
Combine all ingredients for the peanut sauce in a small saucepan and stir over medium heat until smooth and hot. If mixture becomes too thick, add additional coconut milk, or water, until desired consistency is reached.
Notes
See additional notes in the blog post for how to microwave the squash if you are in a hurry.
Nutrition Information:
Yield:
6
Serving Size:
1
Amount Per Serving:
Calories:

528
Total Fat:

38g
Saturated Fat:

13g
Trans Fat:

0g
Unsaturated Fat:

21g
Cholesterol:

124mg
Sodium:

1386mg
Carbohydrates:

36g
Fiber:

7g
Sugar:

15g
Protein:

19g
*Nutrition information is automatically calculated and may not always be accurate.
Did you make this recipe? Leave me a comment below, or tag me on Instagram @mountainberry_eats to show me what's cooking in your kitchen!
Need More Recipe Inspiration?