Gluten Free Chicken Enchiladas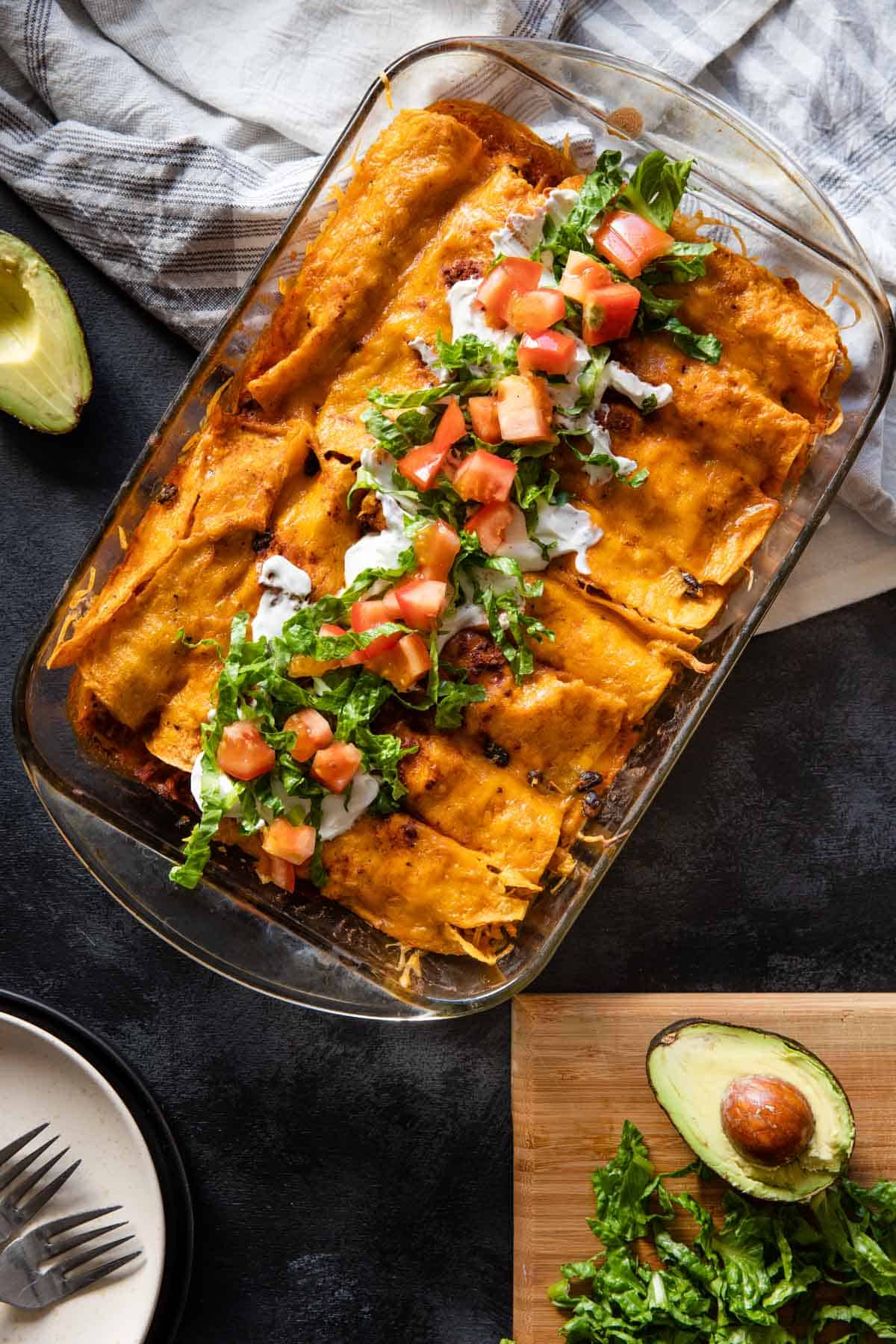 Gluten free chicken enchiladas are a regular go-to in our house and can be customized with your favorite toppings! These freeze very well and work perfectly in large batches to either feed a crowd or have a meal or two on hand in the freezer.
What Do You Put in Enchiladas?
Enchiladas feature a spiced ground or shredded meat, a Mexican enchilada sauce and a few additional add-in's of choice. Tortillas are then filled with the meat mixture, rolled, topped with cheese and baked. They are delicious hot and topped with your favorite toppings!
This recipe is made with shredded chicken and diced green chiles to make for delicious green chile chicken enchiladas.
You can prepare your own shredded chicken by boiling the chicken breast as described in the recipe and shredding it. This recipe also works well with store-bought rotisserie chicken for an easy convenience!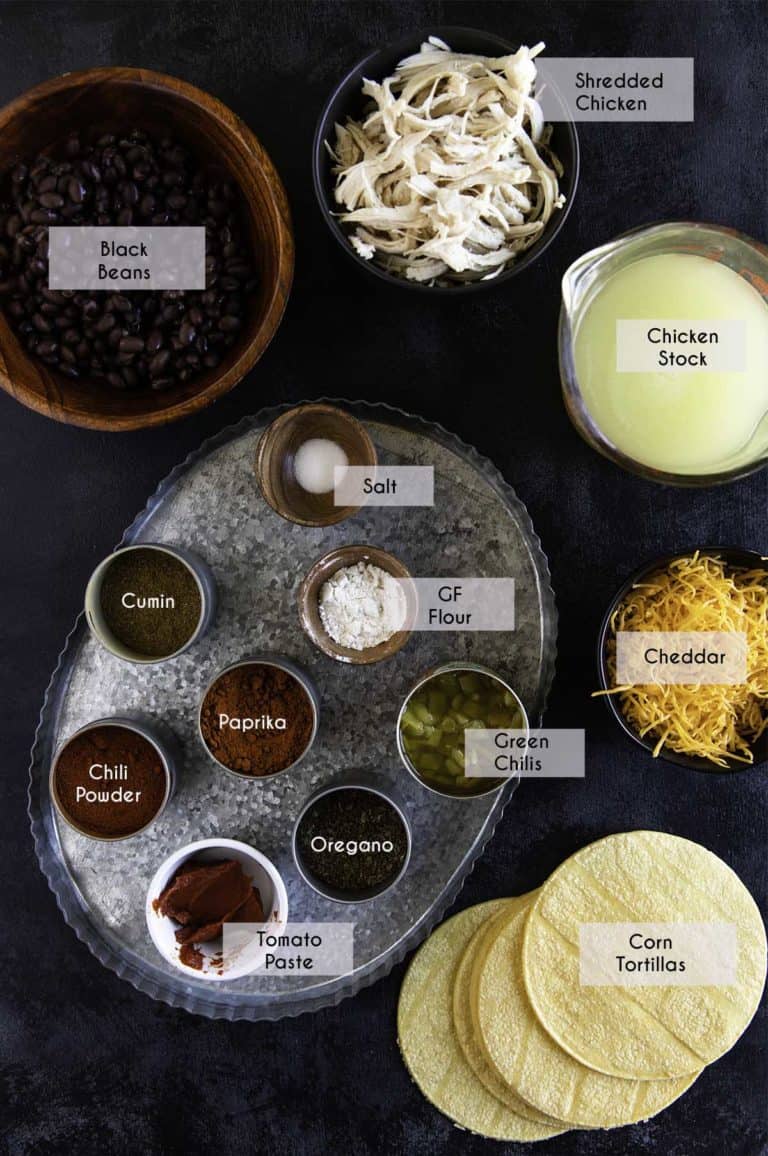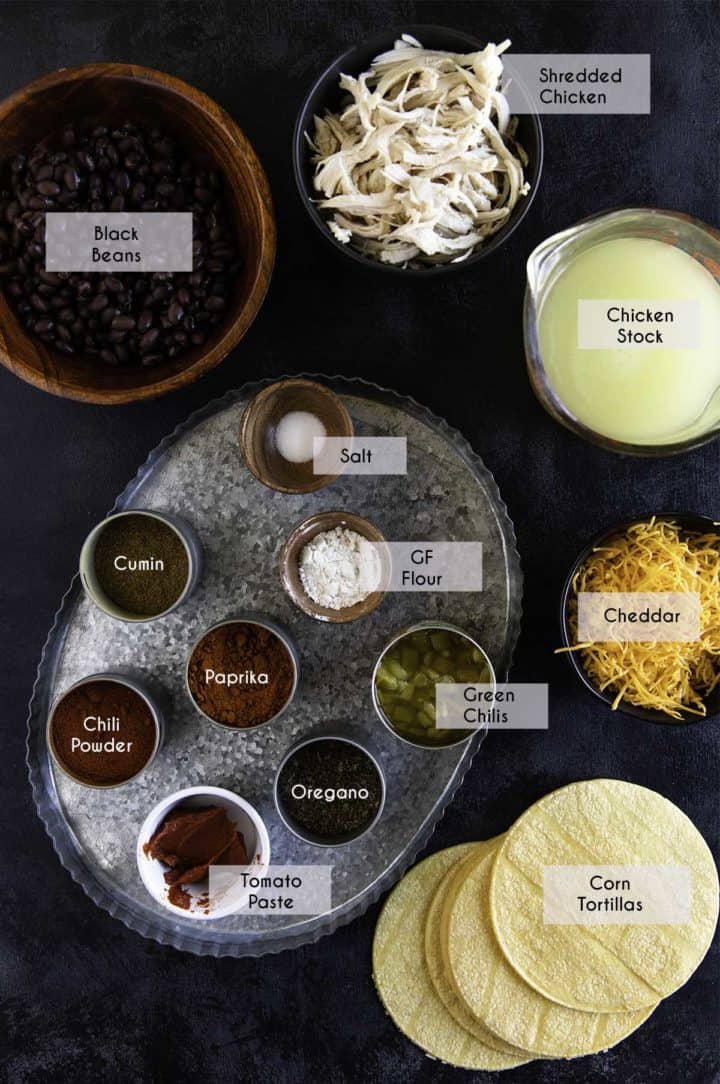 Tortilla Considerations:
Is It Better to Use Corn or Flour Tortillas For Enchiladas?
Since this recipe is for gluten free chicken enchiladas, I find that corn tortillas are more authentic tasting as well as easy and more affordable. Gluten free flour tortillas tend to end up very mushy when used for enchiladas. Most brands of corn tortillas are naturally gluten free and come in large packages perfect for making enchiladas!
How Do You Prepare Tortillas For Enchiladas?
To keep enchiladas as quick and easy as possible I have found that you do not need to fry the tortillas. Just warm your stack of tortillas in the microwave lightly to help them roll easily for filling. This also makes for much more healthy enchiladas by cutting out the frying.
How to Keep Tortillas From Breaking
Though you don't need to fry the tortillas for enchiladas, they are more fragile to roll if you don't fry them. When you are assembling the enchiladas, place the tortillas into the warm enchilada sauce to coat. Let the tortilla sit and soak up just enough sauce to help it remain pliable during the rolling process. Once all the tortillas have been filled and rolled then you spoon on the remaining sauce and add a layer of cheese before baking. If any have split or broken in the rolling process you can't even tell with the final product!
If you are determined to not have any cracking tortillas, then you probably want to keep the frying step by adding the hot oil to the beginning of your assembly line. Cook each tortilla for about 30 seconds per side before proceeding with the dipping, filling, rolling process.
How Do You Make Mexican Enchilada Sauce From Scratch?
Making your own enchilada sauce is surprisingly easy. There are many different types of enchilada sauces. This recipe is more traditional with a chicken stock base, with the addition of some tomato and spices.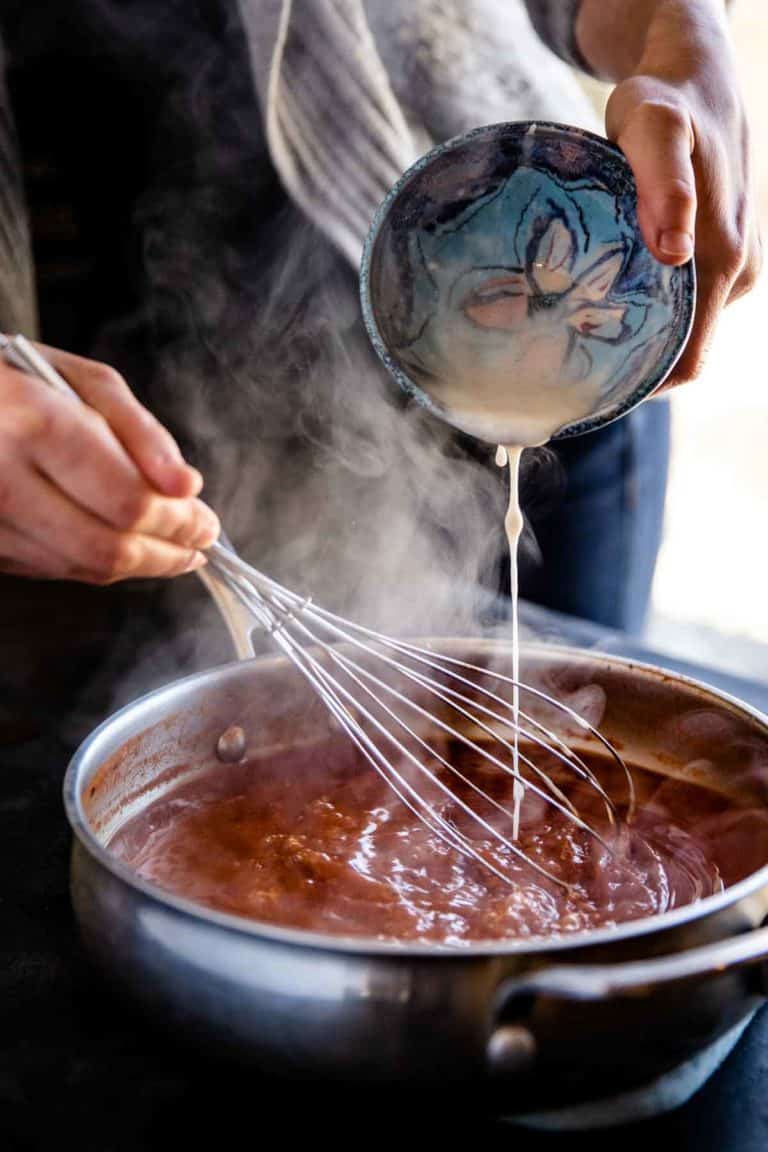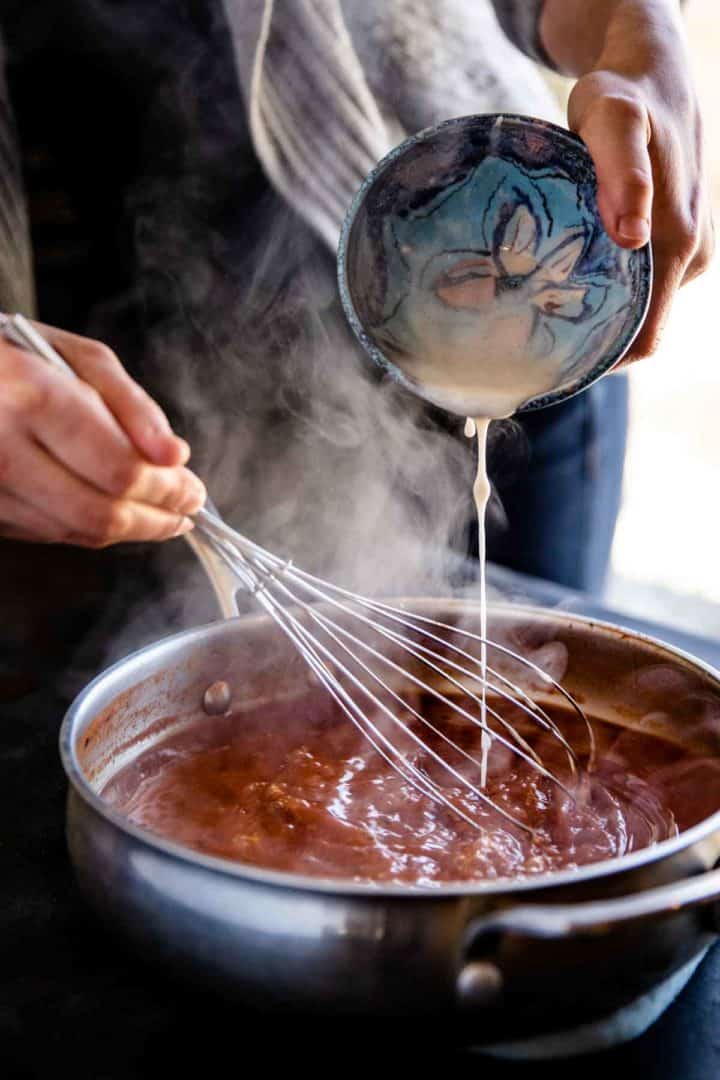 For gluten free chicken enchiladas you will want to make sure the enchilada sauce stays gluten free as well. I use a mix of gluten free flour and water to slightly thicken the sauce. You can also use cornstarch and water if you would like.
If you have the time, it is best to let the enchilada sauce simmer for a while and the flavors to fully develop.
You can make the sauce up to 48hrs ahead of time and store in the fridge until ready to use. Bring to a simmer before enchilada assembly.
How to Make Green Chile Enchiladas from Scratch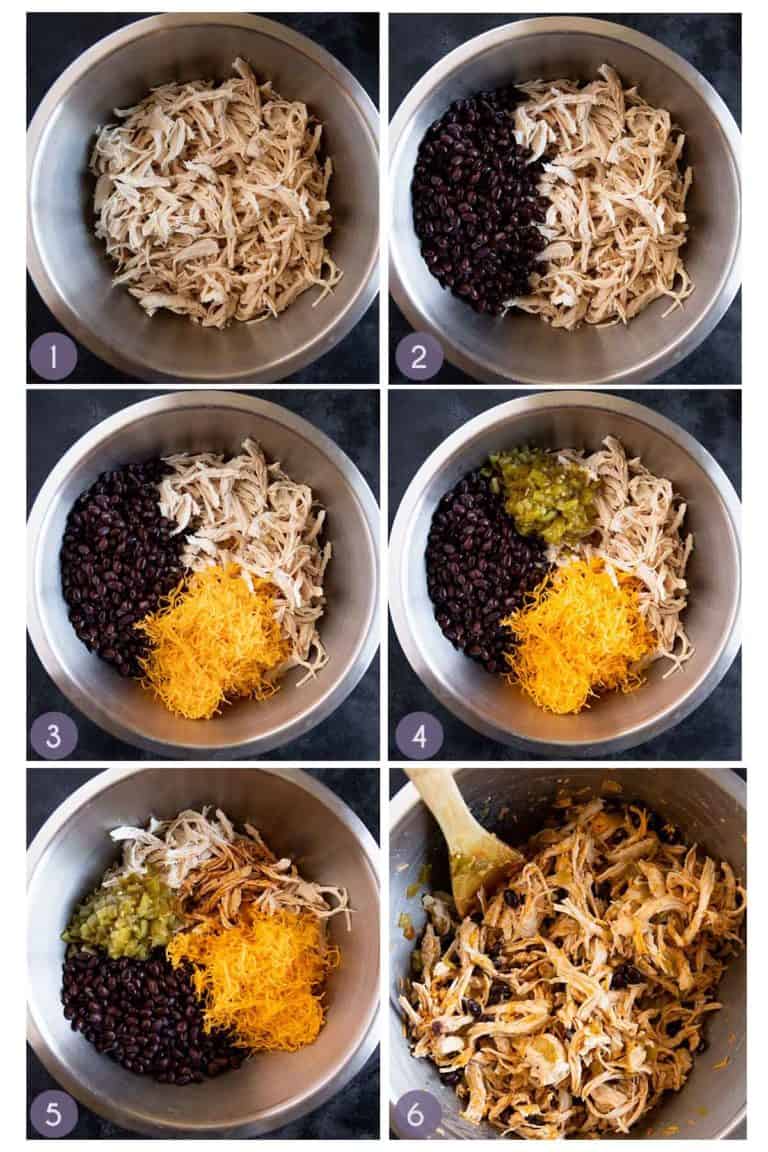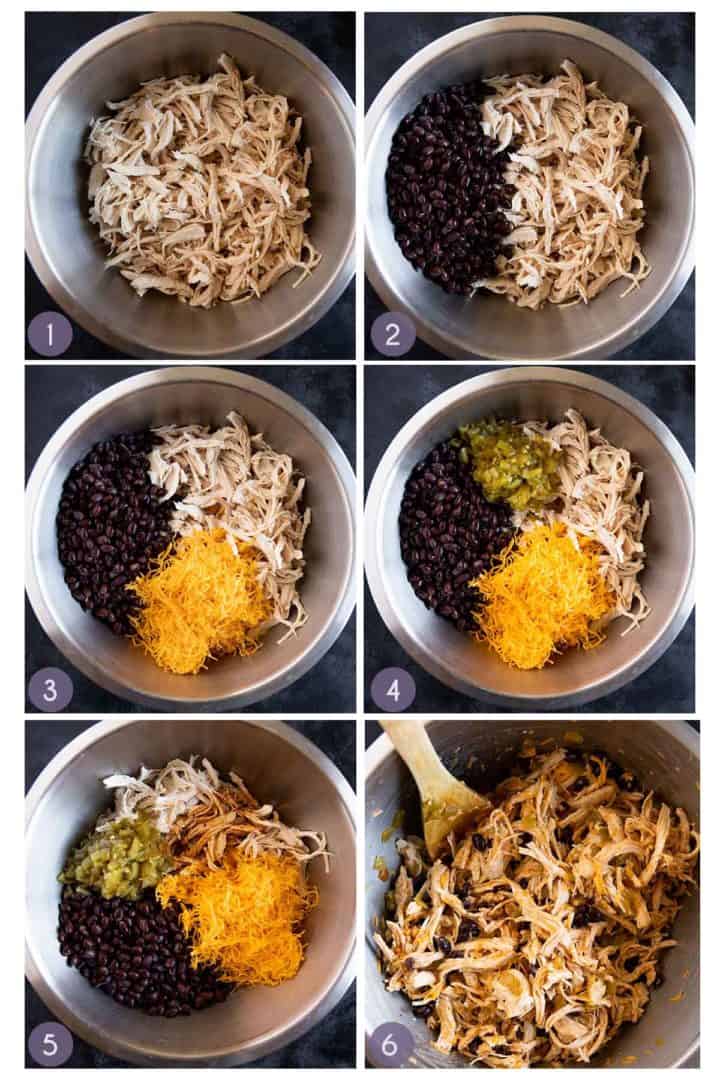 Prepare Enchilada Sauce
Shred your cooked or rotisserie chicken
Mix together shredded chicken and remaining filling ingredients
Fill Enchiladas
Add remaining sauce
Sprinkle On cheese
Bake
To Assemble the Enchiladas:
It is easiest to make an assembly line to fill enchiladas.
The first thing in the line should be your warmed tortillas
Next should be your skillet of hot enchilada sauce
Third in line should be your baking pan
4th in line should be your bowl of enchilada filling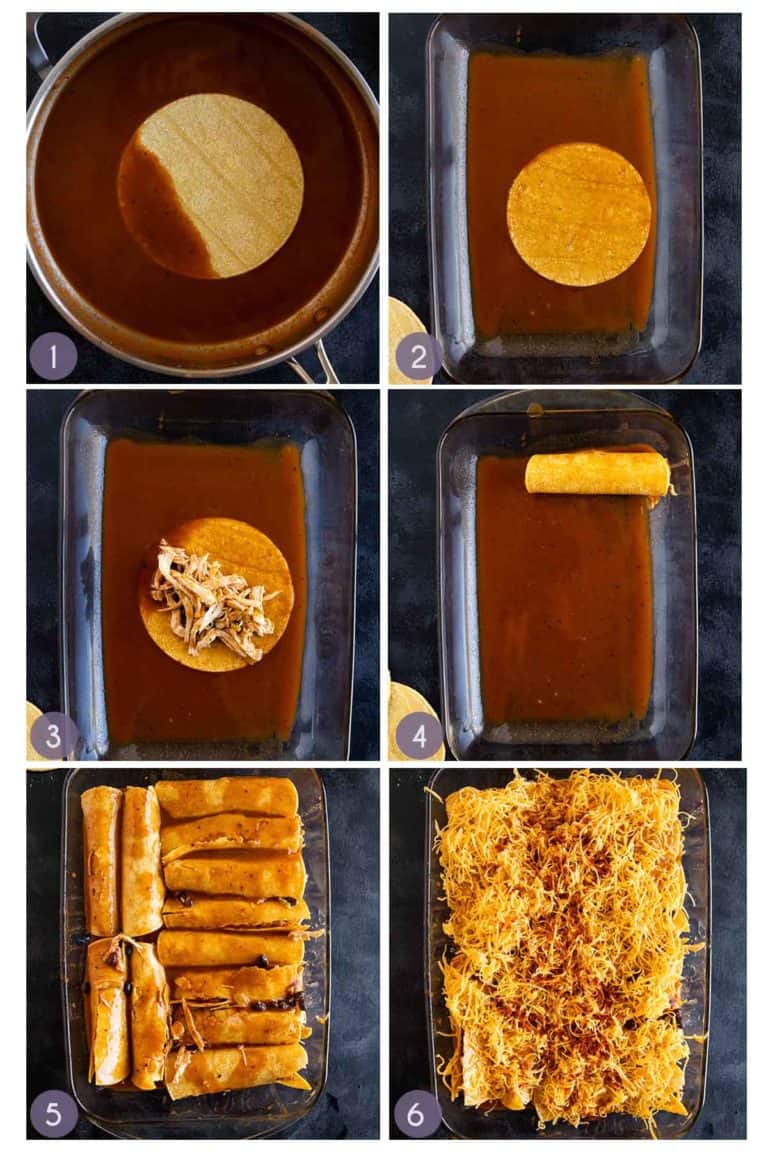 To Fill the Enchiladas:
Begin by placing a scoop of enchilada sauce into the bottom of the baking dish to coat the bottom.
Next, Place one tortilla into the hot enchilada sauce and flip it to coat thoroughly and let it sit long enough to slightly soften and become pliable.
Using tongs, place the dipped tortilla into the baking dish and using your hands, add a line of enchilada filling to the tortilla.
Gently roll the tortilla up and place against the corner of the pan with the seam down.
Repeat with remaining 11 tortillas placing them tightly against each other, 12 to a pan.
Spoon remaining enchilada sauce over the top of the assembled enchiladas and top with shredded cheddar cheese.
How To Freeze Enchiladas:
Enchiladas are the perfect freezer meal. Whenever I make these I double the recipe to keep one in the freezer for when I need a quick dinner that is also healthy and satisfying.
After assembly, before baking, just cover the baking dish with aluminum foil. I like to label the foil with the date, recipe name and baking instructions. On top of the foil I like to add a layer of plastic wrap to thoroughly seal it and keep out any freezer burn.
Freeze for up to 6 months
Before baking just pull out of the freezer, remove the layer of plastic and let thaw. Cook as directed at 375° F for about 30 minutes until hot through and cheese is melty. Remove foil for the last 10 minutes of baking.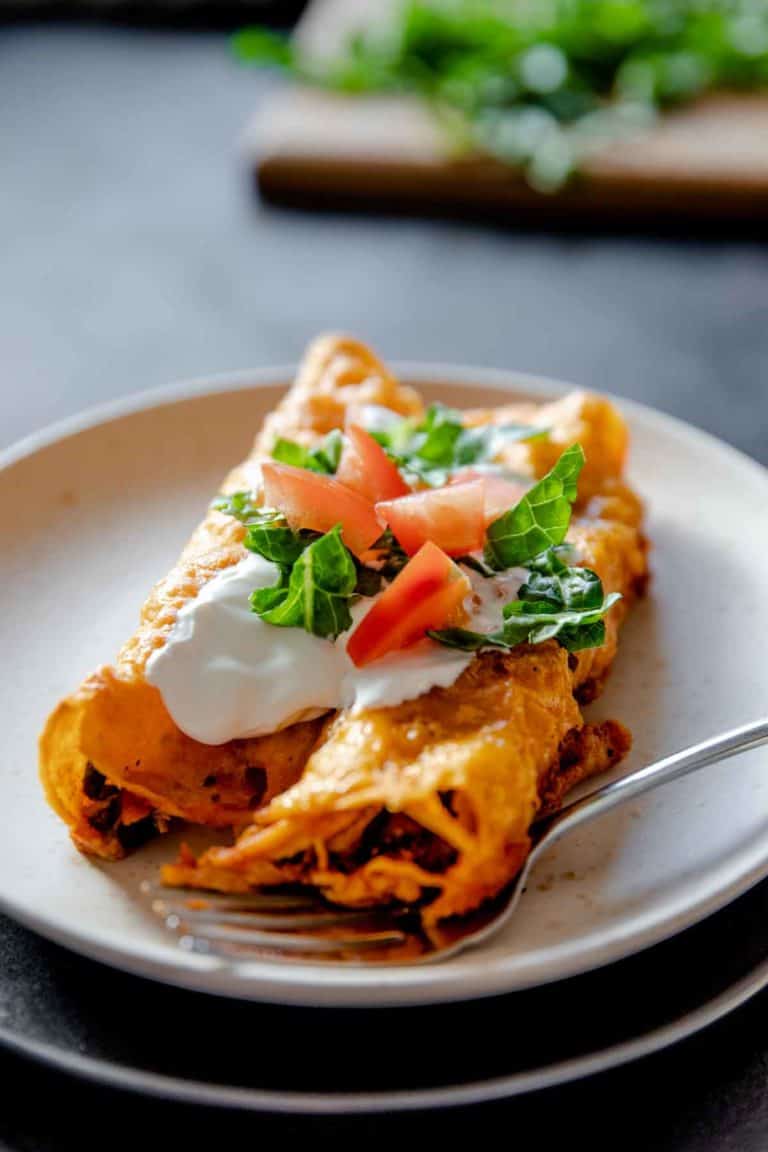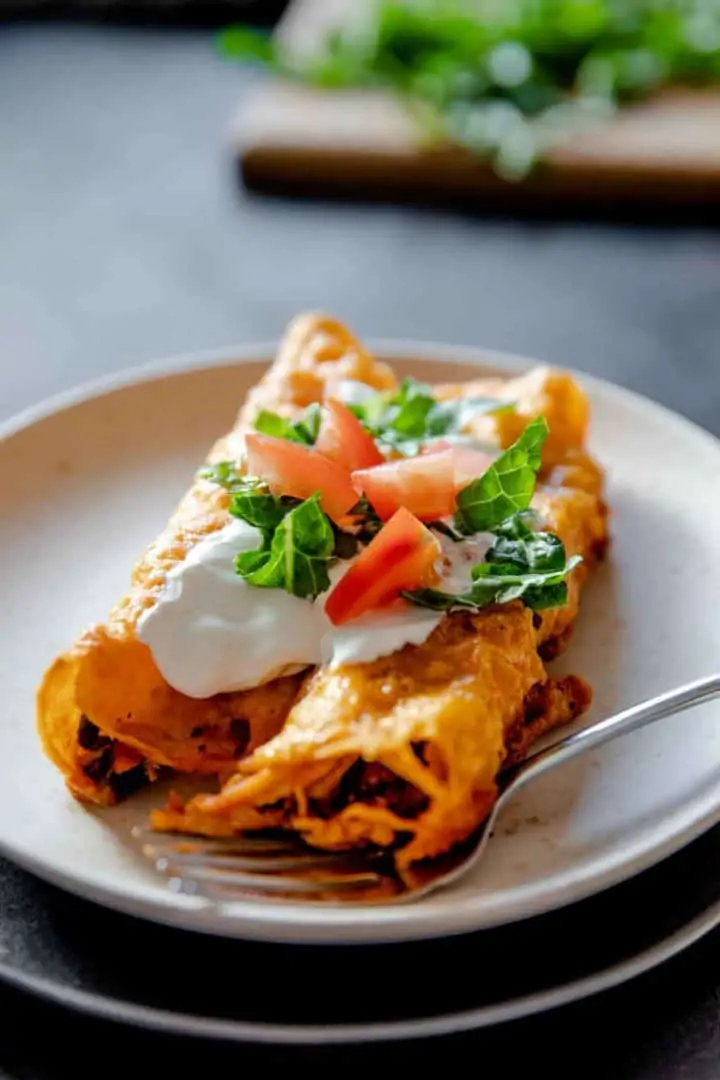 What to Serve With Enchiladas
Green chili enchiladas are best served hot with your favorite toppings. We like to top with shredded lettuce, diced tomato and onion, salsa, sour cream and guacamole! We love to serve fresh fruit and pineapple as a side dish with this meal.
Need More Recipe Inspiration? You Might Also Like These Similar Dishes:
Yield: 6
Gluten Free Chicken Enchiladas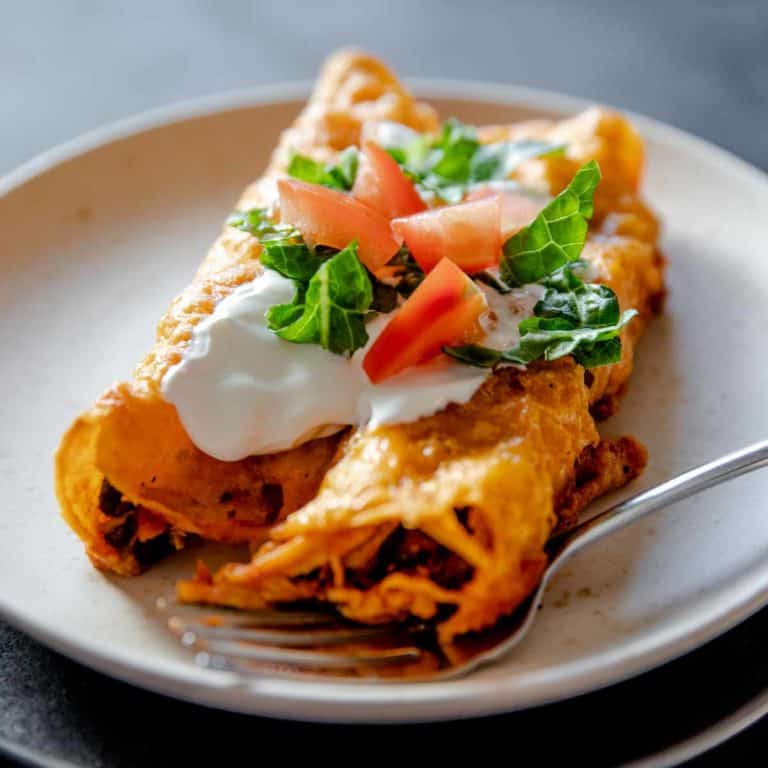 Gluten free chicken enchiladas are a regular go-to in our house and can be customized with your favorite toppings! These freeze very well and work perfectly in large batches to either feed a crowd or have a meal or two on hand in the freezer. The perfect make-ahead meal!
Additional Time
15 minutes
Total Time
1 hour
5 minutes
Ingredients
Enchilada Sauce
5 Cups Chicken Stock
1 1/2 teaspoons Cumin
4 teaspoons Chili Powder
2 teaspoons Paprika
1/2 teaspoon Oregano
1 Tablespoon Tomato Paste
1/2 teaspoon Salt
2 Tablespoons Gluten Free Flour
2 Tablespoons Water
Enchilada Filling:
1 1/2 pounds Chicken Breast, Cooked and Shredded*
1-15 ounce Can of Black Beans, Rinsed
2 Cups Cheddar cheese, Shredded and Divided in Half
2-4 ounce Cans of Diced Green Chilis
12 Corn Tortillas
Instructions
If you need to cook and shred the chicken, then follow notes and start it cooking while you prepare enchilada sauce.
For the Enchilada Sauce:
Place a deep skillet or medium saucepan on the stove-top, over medium-heat, and add the cumin, chili powder, paprika and oregano. Toast for 1 minute until fragrant.
Pour in the chicken stock and tomato paste, whisking to combine.
Add salt to taste.
Reduce heat to medium-low and let simmer for 20-25 minutes if time allows.
Prepare filling while enchilada sauce simmers.
In a small bowl combine gluten free flour and water and mix until smooth.
Bring enchilada sauce up to a boil and, while it is boiling, slowly pour in the flour mixture while whisking.
Whisk until mixture begins to slightly thicken, about 1 minute, then remove from heat.
To Make the Enchilada Filling:
In a large bowl, combine shredded chicken, black beans, 1 Cup of the cheddar cheese, and green chilis.
Remove 3/4 Cup of the enchilada sauce from the saucepan and add it to the enchilada filling.
Mix all ingredients to thoroughly combine.
Assembling the Enchiladas:
Preheat the oven to 375° and place 1/2 Cup enchilada sauce in the bottom of a 9X13 baking dish.
Lightly warm 12 corn tortillas in the microwave.
Make and assembly line of tortillas, then sauce, then baking dish, then filling.
Using tongs, place one tortilla into the enchilada sauce and flip it to thoroughly coat.
Remove the coated tortilla from the sauce over into the bottom of your baking dish.
Using your hands, add a line of filling (aprox 1/3C.) down the middle of the tortillas. Gently roll the tortilla up and place the enchilada, seam side down against the corner of the dish.
Repeat for remaining tortillas and filling, placing each completed enchilada tightly against the next.
in a 9x13 dish you will get 8 enchiladas, side-by-side, down the width of the pan and need to layer the remaining 4 lengthwise in groups of 2. (see photos in blog post if needed)
Spoon remaining enchilada sauce over the top of the rolled enchiladas.
Sprinkle the remaining 1 Cup of shredded cheddar evenly over the top of the enchiladas. Add a sprinkle of paprika if desired.
From here you can either bake immediately before serving or store in fridge (up to 24hrs) or freezer until needed.
Bake for 20-25 minutes until hot and bubbly.
Serve with your favorite toppings of sour cream, salsa, diced tomato and onion, shredded lettuce and guacamole!





Notes
*To cook the chicken breast for shredding: place the chicken breast in a large sauce pan and cover with hot water. Place a lid on the saucepan and bring to a low boil over medium heat for about 25-35 minutes until the internal temperature of the chicken is 165° F and no longer pink. Remove cooked chicken from water and let cool enough to shred and pull apart with your hands or two forks.
To Freeze Enchiladas: Prepare the enchiladas until right before baking. Once the enchiladas are finished, then place foil over the top of the baking dish, followed by a layer of plastic wrap. Freeze for up to 6 months. When ready to use, thaw and bake as directed.
Nutrition Information:
Yield:
6
Serving Size:
2
Amount Per Serving:
Calories:

648
Total Fat:

25g
Saturated Fat:

10g
Trans Fat:

0g
Unsaturated Fat:

12g
Cholesterol:

128mg
Sodium:

873mg
Carbohydrates:

54g
Fiber:

11g
Sugar:

6g
Protein:

53g
*Nutrition information is automatically calculated and may not always be accurate.