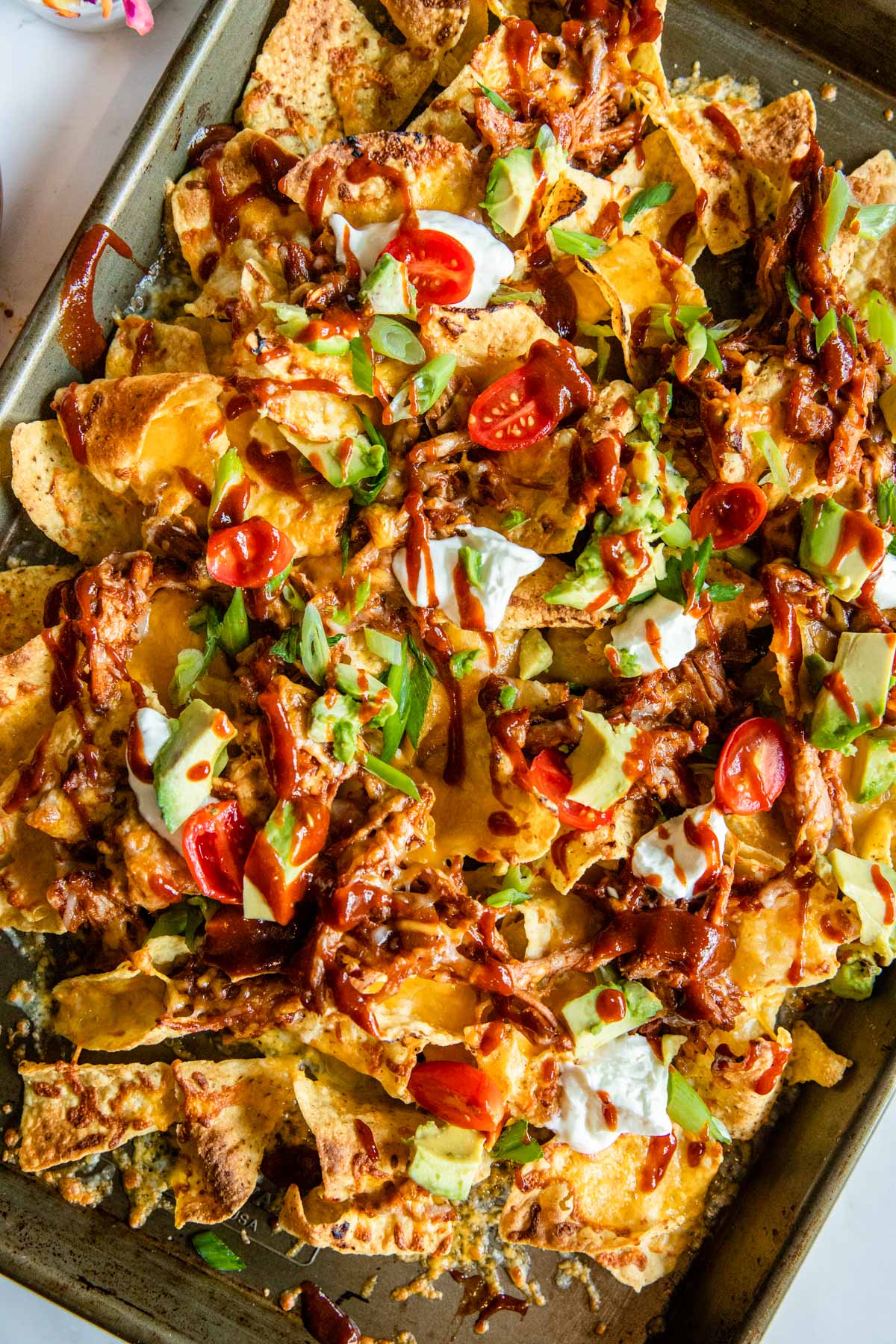 These easy shredded pork nachos are insanely simple but oh so delicious! Naturally gluten free, this nacho recipe comes together in just 10 minutes and is the perfect way to use up leftover pulled pork, and makes for the perfect party food.
Ingredient Notes
Tortilla Chips
Though the majority of tortilla chip brands are naturally gluten free you will want to double check your brand, if gluten is a concern for you, as there are a few outliers that may contain gluten. It seems everyone has their own preference to which tortilla chip is the best. It's all about getting the perfect amount of crunch, versus the lovely air bubbles from the frying process or the ideal amount of salt. Our go to tortilla chips for nachos are the Calidad restaurant style tortilla chips but any brand will work well for these.
Cheese
I personally love sharp Cheddar for my homemade nachos. That bittersweet tang with just enough bite to keep you going really pairs nicely with the pulled pork. If you are going for a bit creamier or want to spice things up more, then substituting a bit of shredded Pepper-Jack cheese or Monterey Jack cheese, in addition to the Cheddar, would work well in this recipe. Just make sure your total cheese amount is still approximate to the 2 cups listed in the recipe.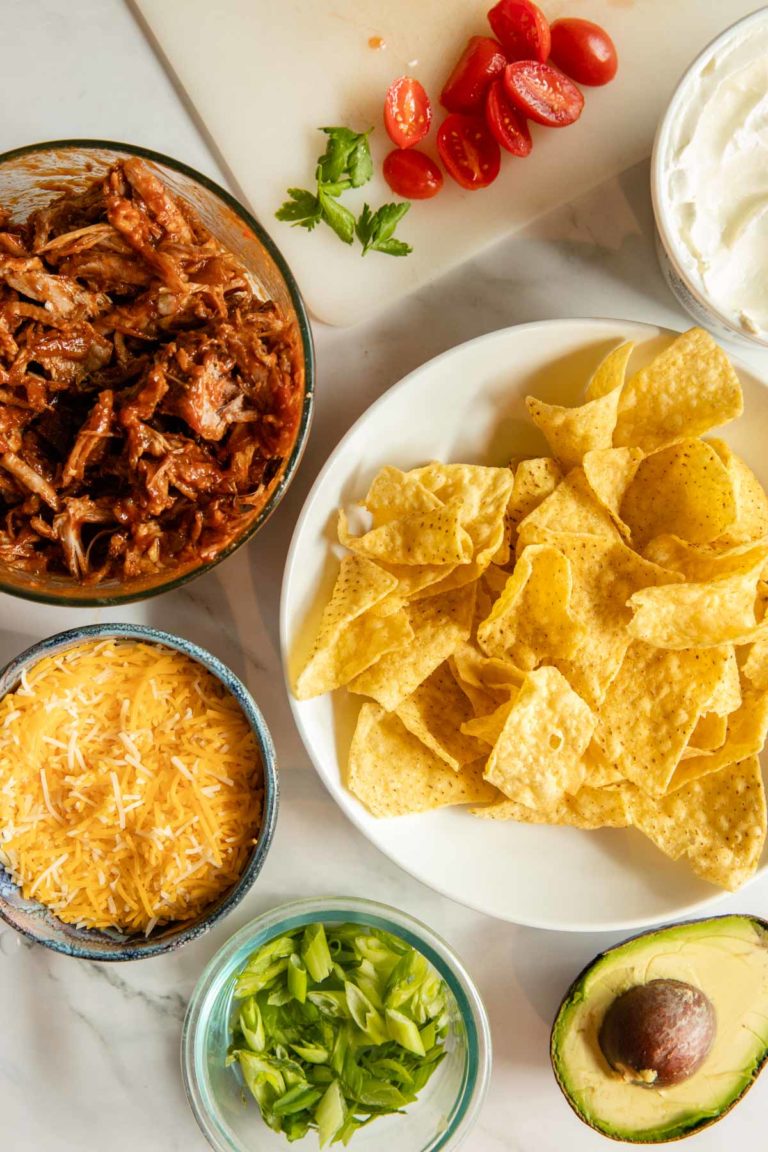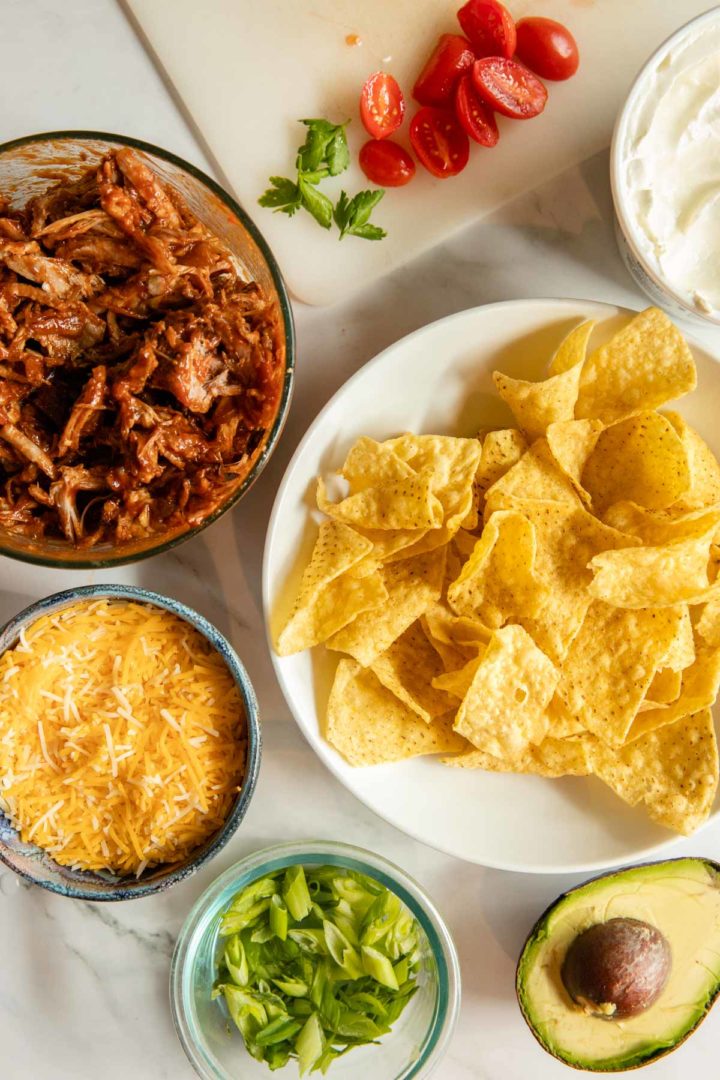 Pulled Pork
The easiest way to make these shredded pork nachos is to use leftover pulled pork. It makes meal planning easy for the week as a convenient and fun way to use up leftovers without having the same dish on repeat. This delicious barbecue pulled pork recipe is perfect for using with nachos.
If you don't have leftover pulled pork, you can often purchase shredded pork in the pre-made meal section of your grocery store, or roast a small pork roast in the oven or slow cooker using the recipe mentioned above.
Nacho Toppings
In my opinion, no nacho recipe is ever complete until it is fully loaded with all the toppings, and that includes putting toppings on these pulled pork nachos.
I like to top my nachos with shredded lettuce, diced tomato and onion, guacamole and sour cream. If you want to add additional toppings then be sure to customize this however you want.
More ideas include adding black beans, jalapeno slices, cilantro,salsa, green chilis or a squeeze of lime. Really the options are endless!
Step By Step:
Homemade nachos are incredibly easy to make and just take minutes!
Begin by heating your oven to 400° F
Spread half of your tortilla chips in a single layer on a large baking sheet.
Sprinkle 1 Cup of cheese across the tortilla chips.
Sprinkle 1 Cup of shredded pork across the tortilla chips, on top of the cheese layer.
Repeat by adding a second layer of chips on top of the pulled pork.
Distribute remaining 1 Cup of shredded cheese across the top layer of tortilla chips, then the remaining 1 Cup of pulled pork.
Place the pulled pork nachos in the pre-heated oven for 5-6 minutes, watching closely until the cheese has melted.
Remove from the oven and top with all your favorite toppings.
Divide onto plates and enjoy!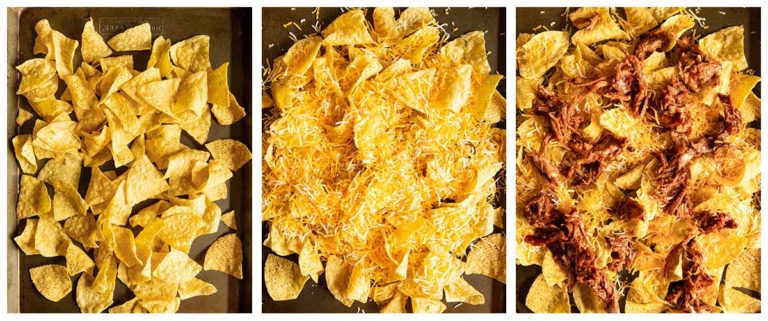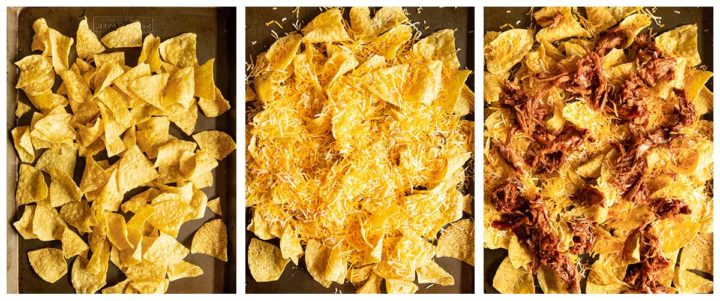 Storage
Like any nacho recipe, these pulled pork nachos are best eaten hot and fresh. If you don't think you will eat an entire batch, then this recipe is very simple to just eyeball and make just how much you will use. Simply start with the desired amount of chips, then eyeball how much cheese you like and how much pulled pork looks good to you. You really can't go wrong! If you really want to re-heat any leftovers then they will re-crisp slightly if you re-heat them in the oven instead of a microwave, but any very soft chips will remain soft.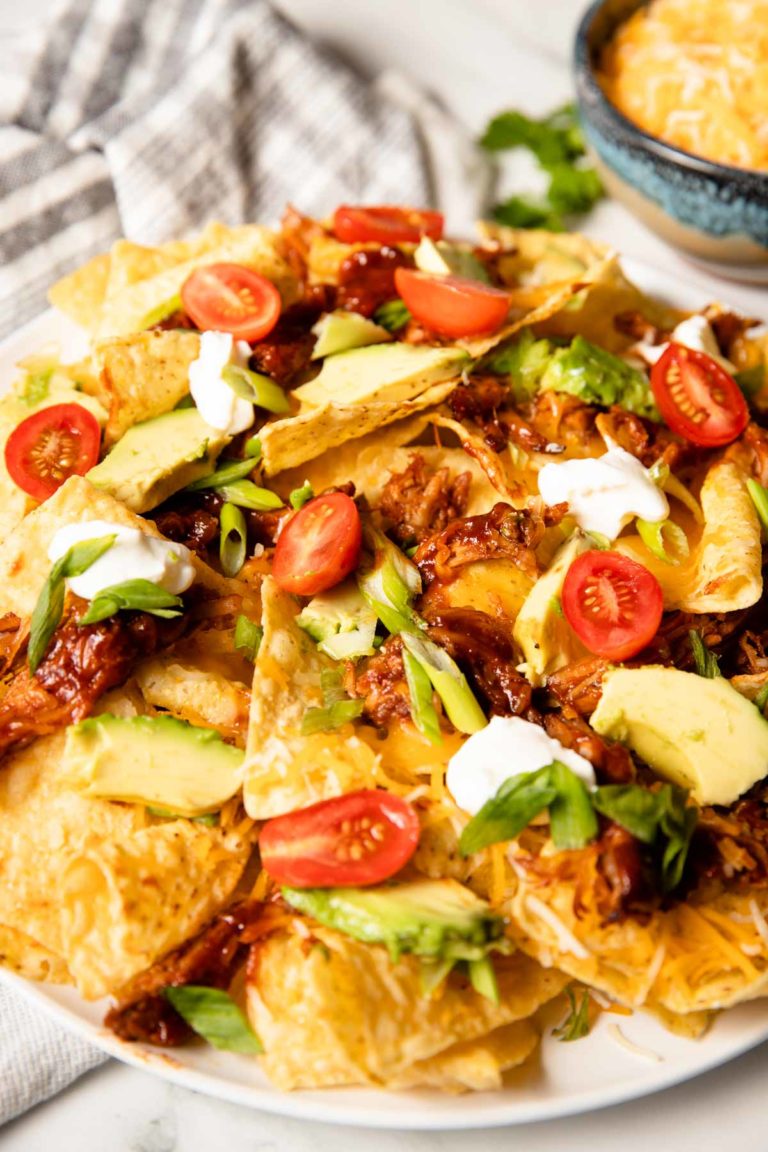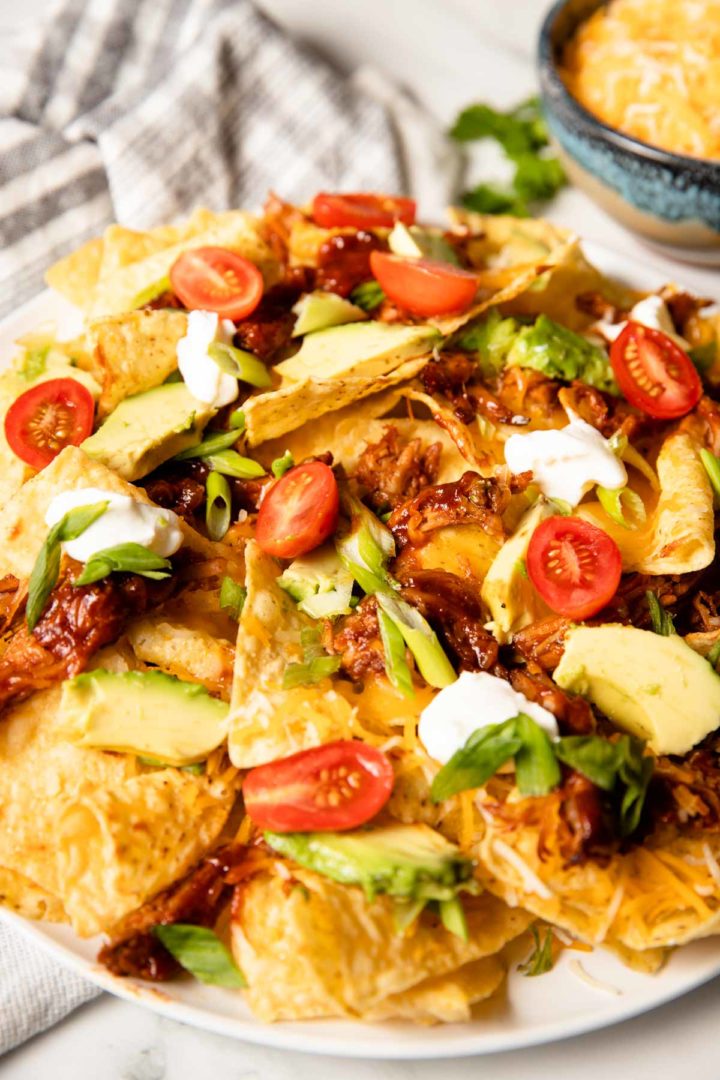 Recipe FAQ'S
What is the best combination for nachos?
Nachos can truly be customized however you want. We love bbq pulled pork nachos using leftover pulled pork and topped with cheddar, lettuce, tomato, onion, guacamole, sour cream & additional barbecue sauce!
Should I broil or bake nachos?
of layers then baking is better for more consistent melting without scorching the top layer of cheese. If you only have a single layer, then broiling is quick and easy but you will want to keep a close eye on the nachos as the cheese can go from melted to burning in a matter of seconds!
How do you assemble nachos?
Nachos are typically assembled by starting with your layer of chips, then adding your layer of cheese, then any protein you will be adding. If you are making very much then you will want to create multiple layers so most every chip gets a delicious cheesy bite!
How to keep nachos from getting soggy?
The key to keeping your nachos crunchy and from getting soggy is to just make what you need and plan on eating them hot and fresh. Don't add any of the additional toppings until the nachos are removed from the oven, as many of the toppings, like tomatoes, salsa, sour cream etc will just add moisture and soak into the chips if left sitting on the nachos while baking.
Serve With
Pulled pork nachos are delicious served with a large side of this sweet and tangy coleslaw and some fresh cut pineapple! Add additional bbq sauce to top the nachos if desired.
Need More Recipe Inspiration? Try These Reader Favorites!
Did you make this recipe? It would be wonderful if you could leave me a comment with what you thought of it, and a ⭐️⭐️⭐️⭐️⭐️ rating below!
Yield: 6
Shredded Pork Nachos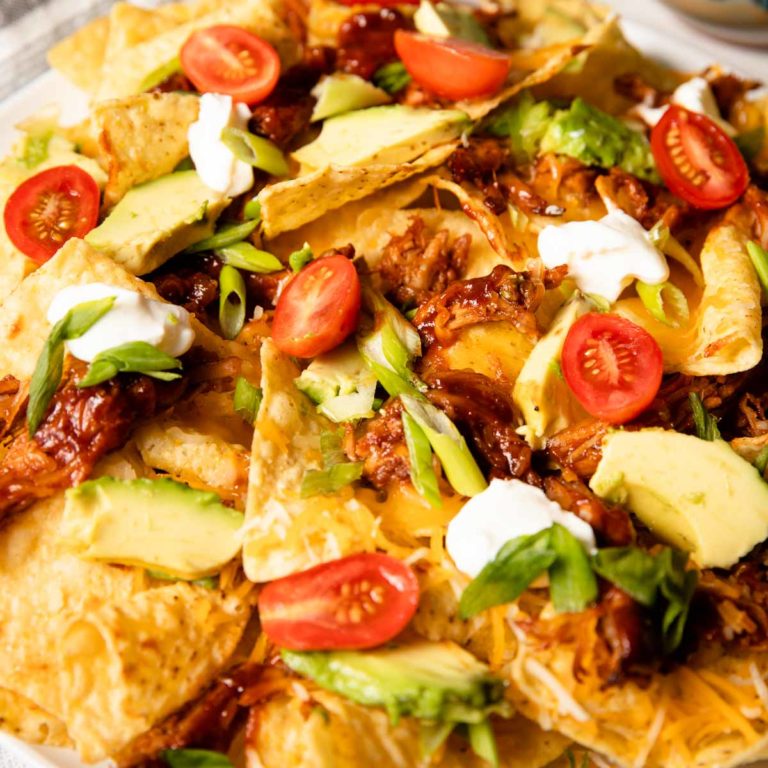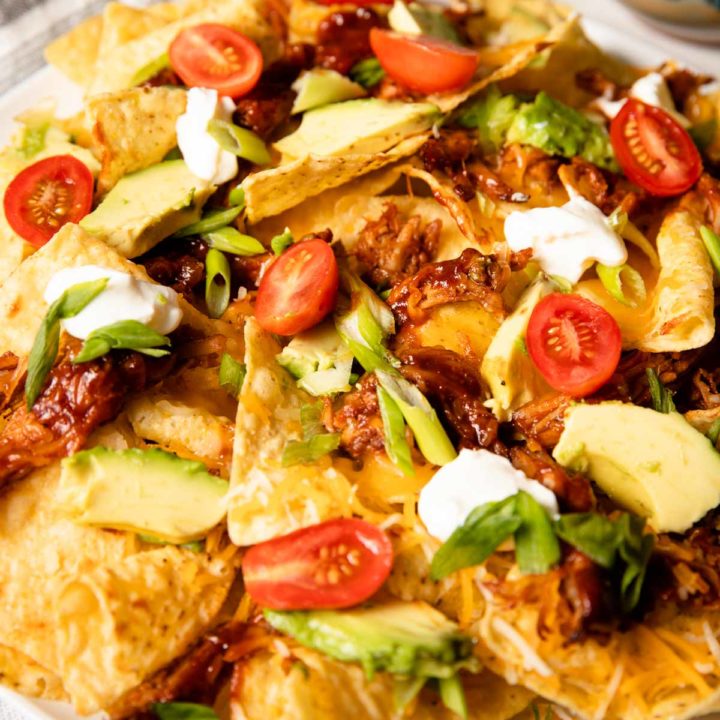 These easy shredded pork nachos are insanely simple but oh so delicious! Naturally gluten free, this nacho recipe comes together in just 10 minutes and is the perfect way to use up leftover pulled pork, not to mention it makes for the perfect party food.
Ingredients
8 Ounces Corn Tortilla Chips (about 6 large handfuls)
2 Cups Shredded Cheddar Cheese
1 C. Shredded Lettuce
1/2 C. Tomato, Diced
1/4 C. Onion, Chopped
1/4 C. Guacamole
1/4 C. Sour Cream
1/4 Cup additional BBQ Sauce for serving, if desired.
Instructions
Preheat oven to 400° Farenheit.
On a large baking sheet arrange half of the tortilla chips in a single layer or making sure there is minimal overlap.
Sprinkle 1 Cup of the shredded cheddar cheese evenly over the chips.
Evenly distribute 1 Cup, or half, of the pulled pork pieces across the top of the cheese.
Repeat with an additional layer. Adding remaining chips on top of pulled pork layer, then sprinkling on remaining cheese, then remaining pulled pork.
Place the baking sheet of chips into the pre-heated oven and heat just until the cheese is melty. Watch them closely as this stage can go fast. approximately 5-7 minutes.
Remove nachos from oven and top with shredded lettuce, diced tomato, onion guacamole and sour cream.
Add additional barbecue sauce if desired.
Divide between plates and serve!
Notes
I like to use sharp Cheddar cheese for this recipe but you can substitute a mix of cheese like Pepper Jack and Cheddar or Monterey Jack for a creamier or spicy cheese blend.
This recipe is the perfect way to use up any leftovers of this delicious homemade pulled pork.
Add any additional toppings you like such as jalapeno slices, black beans, lime juice, cilantro, green chilis, corn or any other favorites!
Nutrition Information:
Yield:
6
Serving Size:
1
Amount Per Serving:
Calories:

510
Total Fat:

27g
Saturated Fat:

10g
Trans Fat:

1g
Unsaturated Fat:

14g
Cholesterol:

72mg
Sodium:

969mg
Carbohydrates:

45g
Fiber:

4g
Sugar:

14g
Protein:

23g
*Nutrition information is automatically calculated and may not always be accurate.