Top 10 Gluten Free Easter Bread Recipes!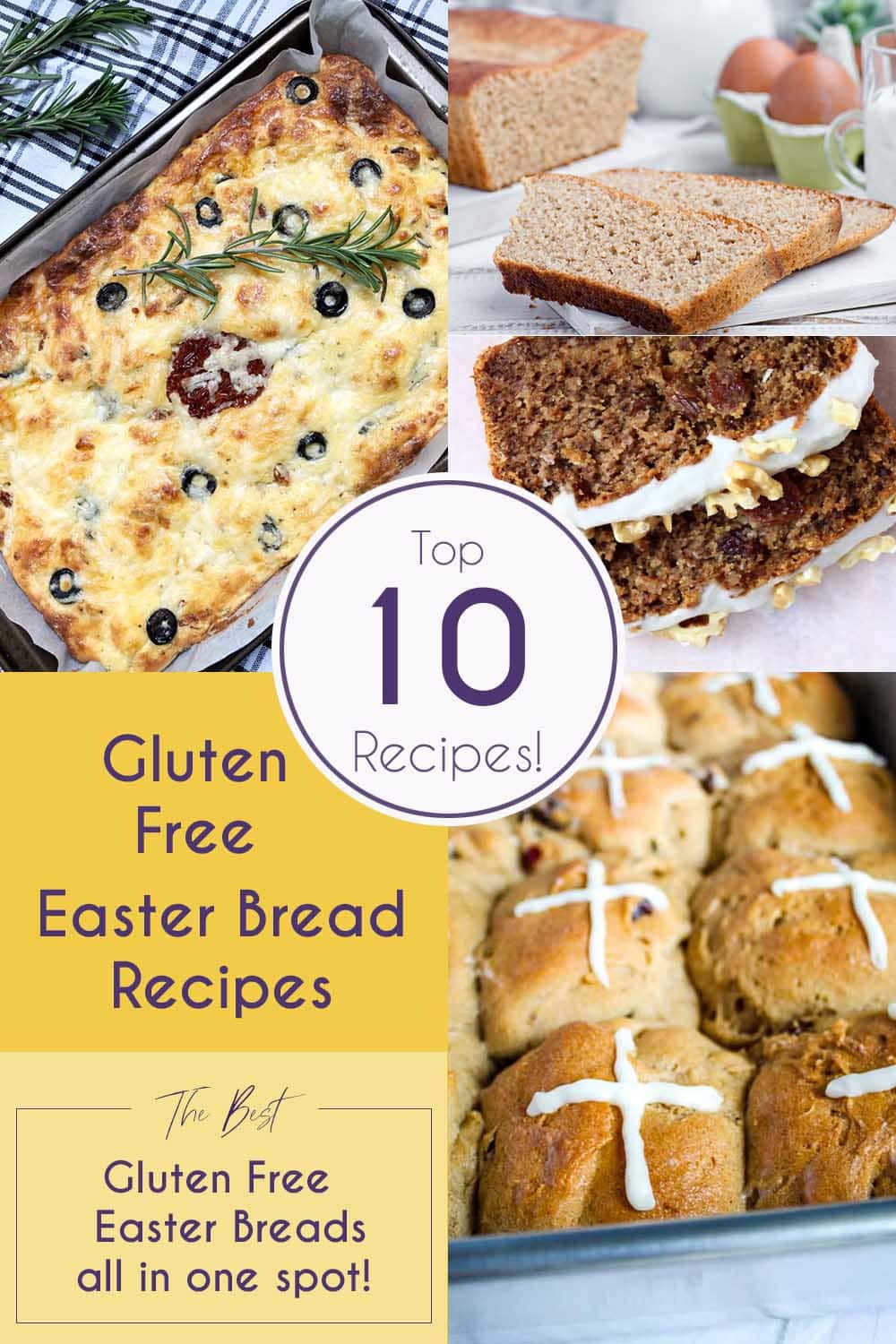 Looking for the perfect bread to pair with your Easter menu? I've compiled the top ten gluten free Easter bread recipes, from gluten free hot cross buns, to focaccia and easter dove bread! Planning an Easter brunch? Try the gluten free strawberry banana or lemon poppyseed loaf!
Are you still working on what gluten free recipes to make for Easter? Be sure to check out the full Gluten Free Easter Recipe Roundup for inspiration!
Hints for Making Gluten Free Easter Bread
Measure your Flour according to each recipe's specifications. Gluten free flours vary from brand to brand and depending on flour type!
Decide how far in advance you would like to have your bread prepared. Some breads re-heat better than others but most all should be fine up to a day in advance if stored according to recipe directions.
Make enough to share! These are some great options to choose from that even those that normally eat gluten can enjoy these delicious Eater bread options!
Top 10 Gluten Free Breads for Easter
These gluten free Easter bread recipes are the perfect accompaniment to your gluten free Easter menu. Be sure to let me know which one you enjoyed in the comments below!
Photo Credit: zestforbaking.com
These hot cross buns are the perfect bread for your Easter celebration! Have you ever had a gluten free hot cross bun that's so close to those with gluten that people are in disbelief when you tell them they are actually gluten-free?! Well, these are those rolls!
Photo Credit: emmaeatsandexplores.com
Easter is all about eggs and this grain free Focaccia is a delicious eggy bread - add any ingredients that you want to suit your own taste!
Photo Credit: www.corriecooks.com
Do you think that baking a loaf of bread with your Instant Pot is impossible? Try this recipe then, and enjoy a warm and soft gluten-free loaf for breakfast!
This Instant Pot bread recipe is quick, easy and within reach of everybody, even if you are not an expert baker.
Photo Credit: whitneybond.com
This gluten free Strawberry Banana Bread has the light and fresh taste of Spring, perfect for Easter!
Photo Credit: www.runningtothekitchen.com
This paleo lemon poppyseed bread is made with cashew and coconut flours. It's incredibly moist and topped with a lemon glaze for a delicious grain free treat perfect for winter or spring!
Photo Credit: www.rhiansrecipes.com
This Gluten-Free Carrot Bread is moist and fluffy, subtly spiced and covered in a rich cream cheese frosting. It comes together in one bowl and the recipe is easily customizable. It's dairy-free, egg-free, refined sugar free and vegan too.
Photo Credit: emmaeatsandexplores.com
The classic easter tradition - these hot cross bun muffins are packed with dried fruit and spices - perfect toasted and slathered with butter
Photo Credit: www.greedygourmet.com
This gluten free Chia Seed Bread is easy to prepare. Best of all it's freezable and can be served any time of day.
This gluten free cornbread muffin recipe is naturally gluten free by using just cornmeal but keeping all the flavor and texture you would expect in a muffin! Top with butter and honey for the the perfect dinner side, or afternoon treat.
Photo Credit: gfreefoodie.com
While Italy offers many traditional Easter breads, the best-known by far is Colomba Pasquale, or Easter dove bread. Our gluten-free version is filled with tradition & totally delicious.
Did you try one of these recipes?
I love to hear what my readers are cooking. Leave me a comment below letting me know which Easter bread recipe you plan to make this year!