Gluten Free Cornbread Muffins
This gluten free cornbread muffin recipe is naturally gluten free by using just cornmeal but keeping all the flavor and texture you would expect in a muffin! Top with butter and honey for the the perfect dinner side, or afternoon treat.
How to Make Gluten Free Cornbread From Scratch
As easy as a box mix is, making cornbread from scratch is just as easy, and cuts out any preservatives as well as gives you full control on the sugar load. This recipe is a traditional old fashioned cornbread that is naturally gluten free by using no flour and just cornmeal for the starch. Though no flour is in the batter, these bake up nice and fluffy, packed full of flavor! This makes for a perfect pantry staple recipe, easy to whip up whenever you need.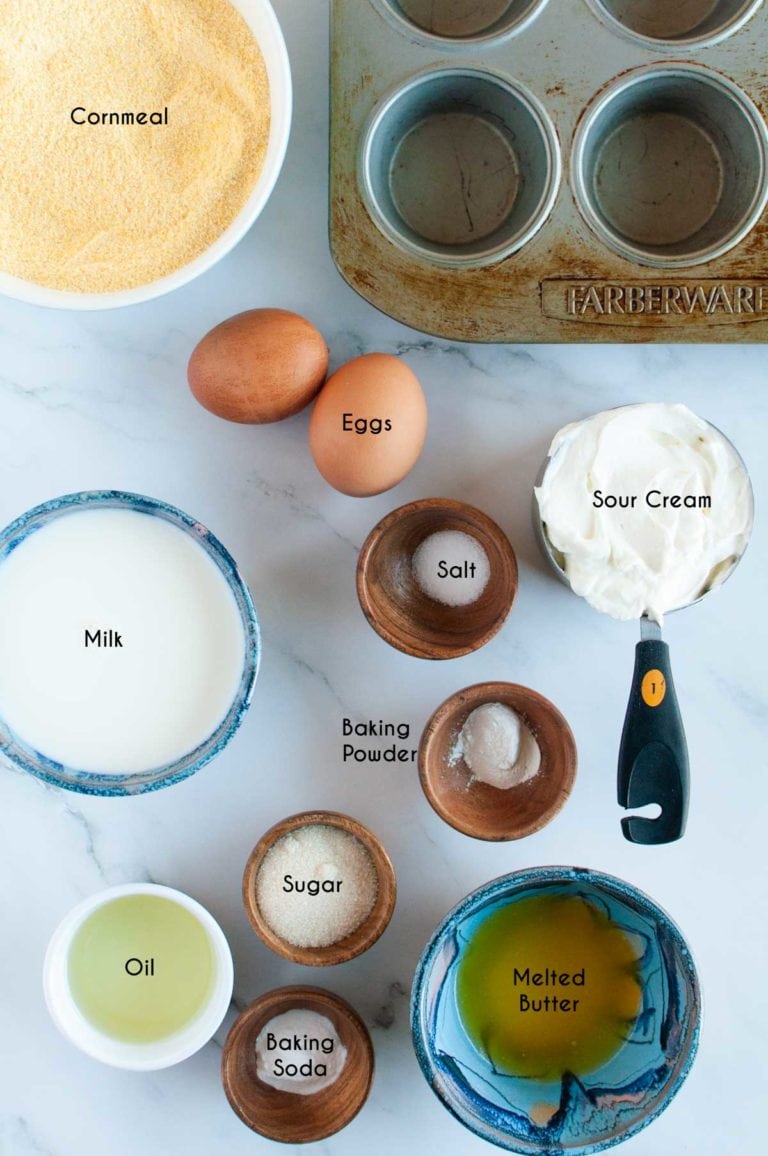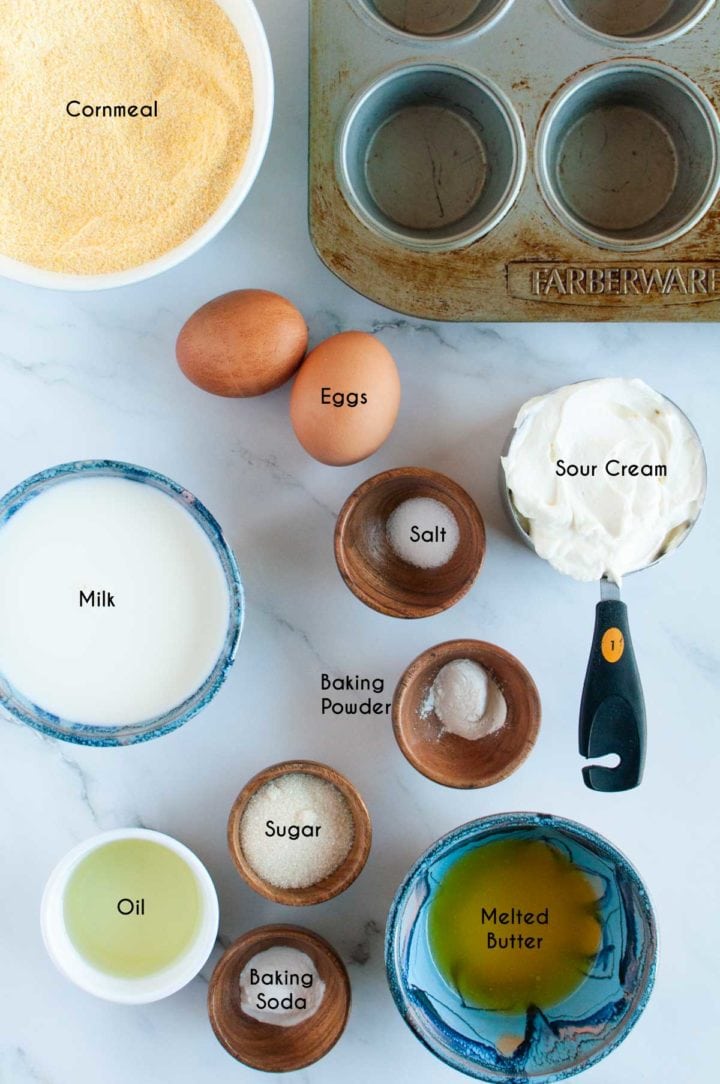 •To fully activate a bit of the leavening in this recipe, you first start by mixing the baking soda with the milk and sour cream. The acid in the sour cream reacts with the baking soda to help activate the leavening right off to assist in keeping these fluffy!
•While the baking soda is activating, simply combine the remaining liquid ingredients in a bowl and whisk them together.
•Then add in the dry ingredients and the milk mixture and whisk to combine. Bake, then let cool for 5 minutes. Easy peasy!
No muffin Tin? No Problem!
Though this recipe is for cornbread muffins, you can bake this in several different types of pans. No one pan is best for cornbread. Muffins are the fastest option but using cast iron will give you a crispier edge.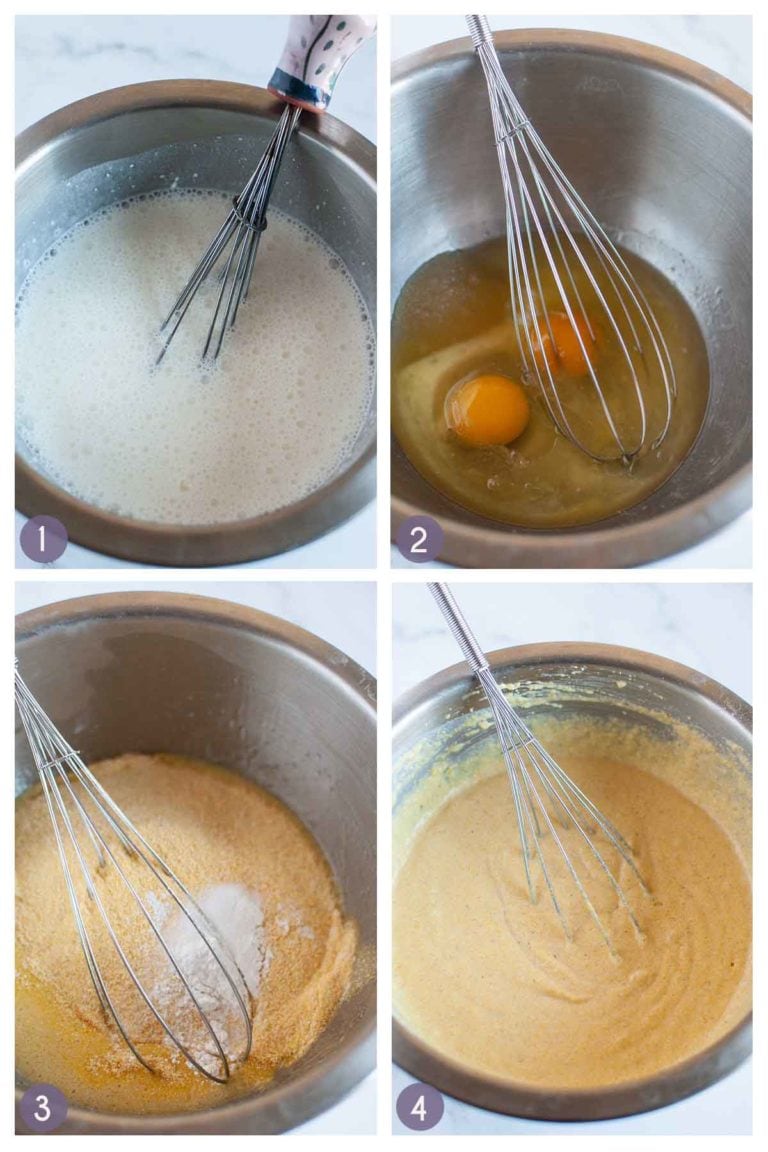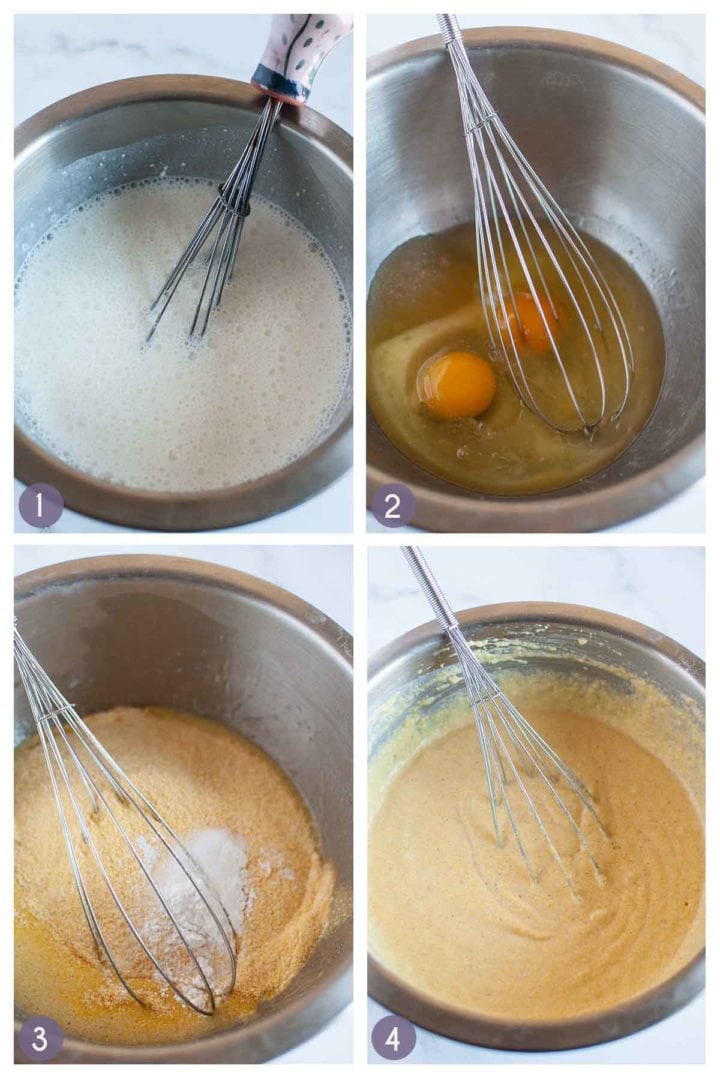 Muffin Pan
•I love that using a muffin tin makes these come together in just 20 minutes! This recipe is designed for a muffin tin but I have baked it in various pans.
•The amount of batter for this recipe makes 12 cornbread muffins. You will want to be sure and spray the tin with non-stick cooking spray or line the tin with muffin wrappers.
9×13 Pan
•The easiest option is to simply use a glass 9×13 baking dish. You will want to grease the glass pan with non-stick cooking spray before adding the batter.
•The baking temperature using a glass pan will stay at 375°F, but you will need to increase the cooking time to 25-30minutes until a toothpick inserted in the center comes out with just a couple crumbs and no uncooked batter.
Cast Iron Skillet
•If you want to make cornbread in a skillet, then begin by placing the cast iron skillet in the cold oven and preheat the skillet with the oven to 425°F.
•While the oven is heating make your batter.
•Once the batter is made and the oven is heated, then place 1 Tablespoon of butter in the hot cast iron pan and allow it to remain in the oven until hot, bubbly and melted about 2 minutes.
•Remove the pan from the oven and swirl the hot melted butter to coat the bottom of the pan.
•Pour the cornbread batter into the hot buttered pan. The excess butter will crisp up the edges and coat the sides as the batter is poured in.
•Place the filled pan in the oven and bake 25-30 minutes until toothpick inserted in the center comes out just clean with no batter.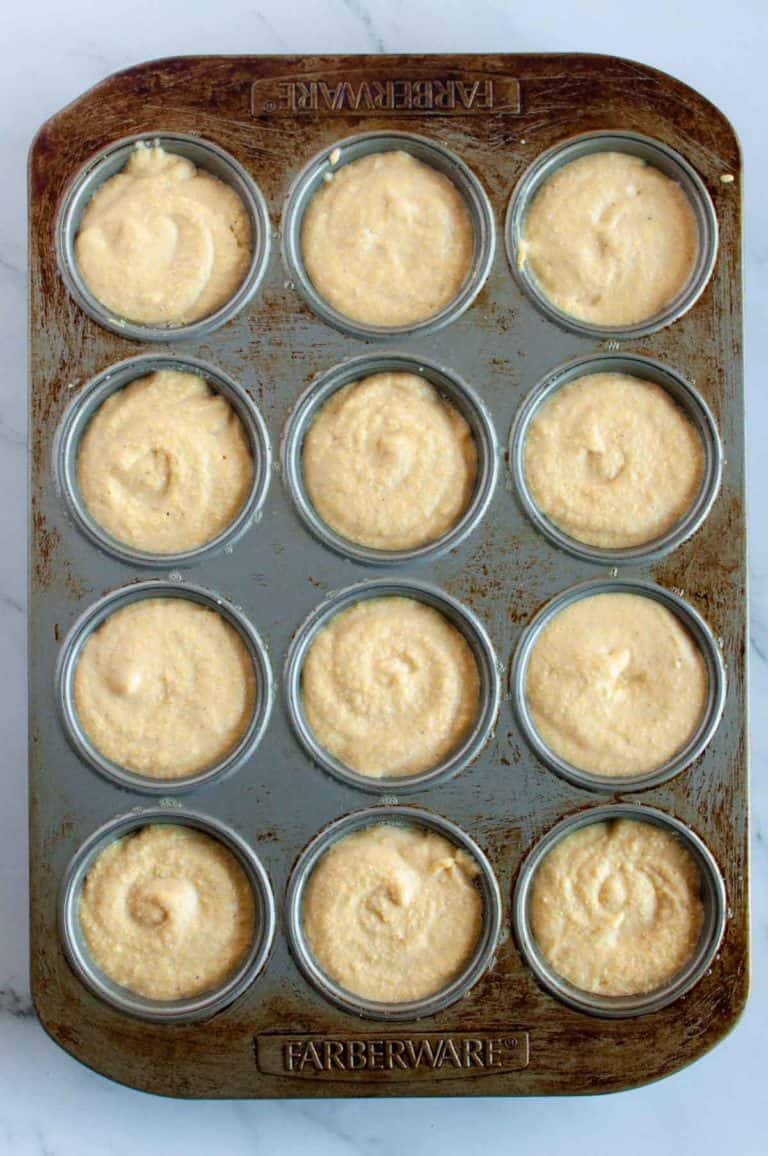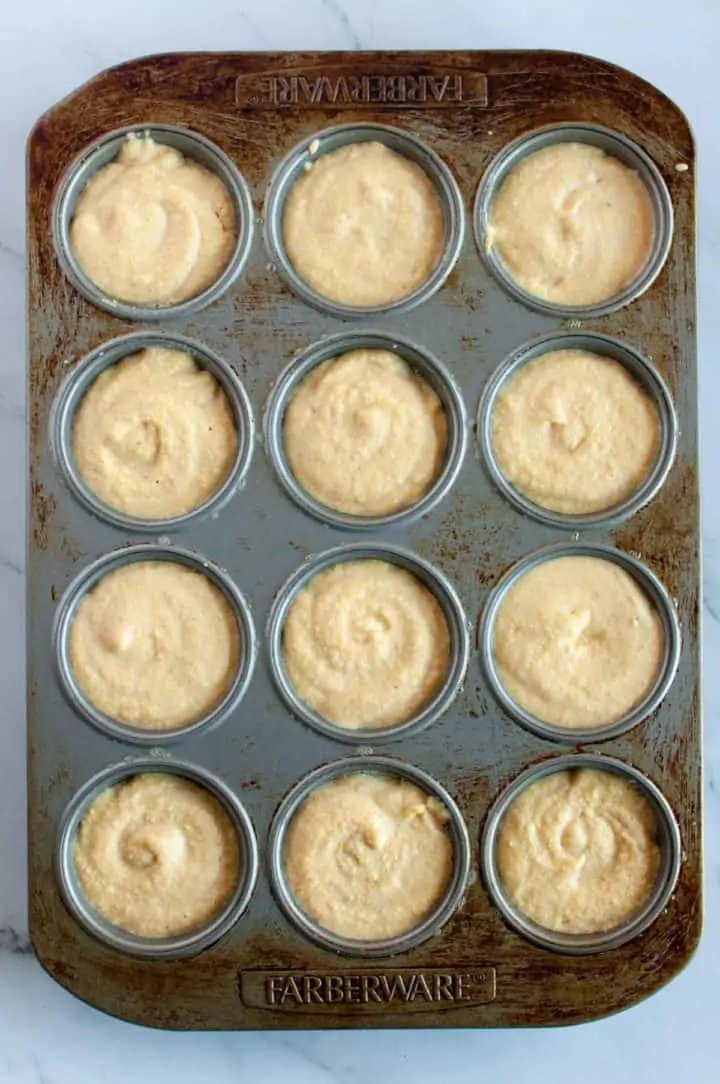 Can I make This Ahead of Time / Storage Tips for The Best Gluten Free Cornbread
•This flourless cornbread recipe can be made up to 24 hours ahead of time and stored, covered, up to two days.
•For the best flavor, warm the cornbread before serving.
•You do not need to refrigerate cornbread for storing, as this will only dry it out sooner.
The batter for cornbread should just be made when you are ready to bake the cornbread. However, if you are wanting to speed up the process, you can combine the dry ingredients, all except the baking soda, and store in a resealable bag or covered bowl. This way the time to mix it is even faster when needed.
FAQ's
Can People with Celiac Disease Have Cornbread?
most cornbread recipes contain flour in addition to cornmeal. So unless you use a recipe that uses gluten free flour, or a flourless cornbread recipe like this one, then traditional cornbread should not be eaten by people with Celiac Disease.
Is Cornmeal Gluten Free?
Cornmeal itself is gluten free. However if you have Celiac Disease you will want to check the label to see if it has been processed in a facility that also processes wheat or not.
Where Can I find Gluten Free Cornmeal?
If you need explicitly gluten free cornmeal then Bobs Red Mill and Arrowhead Mills are both great brands for this. We have not experienced any cross contamination issues just using Quaker brand cornmeal which is available at most grocery stores.
Here are some other fun muffin tin recipes you might enjoy!
Yield: 12
Gluten Free Cornbread Muffins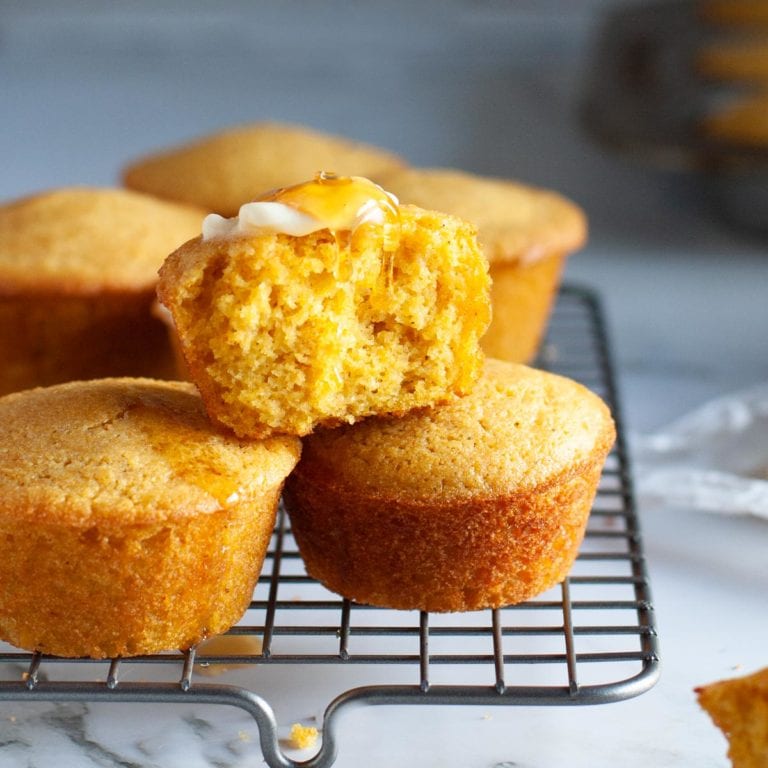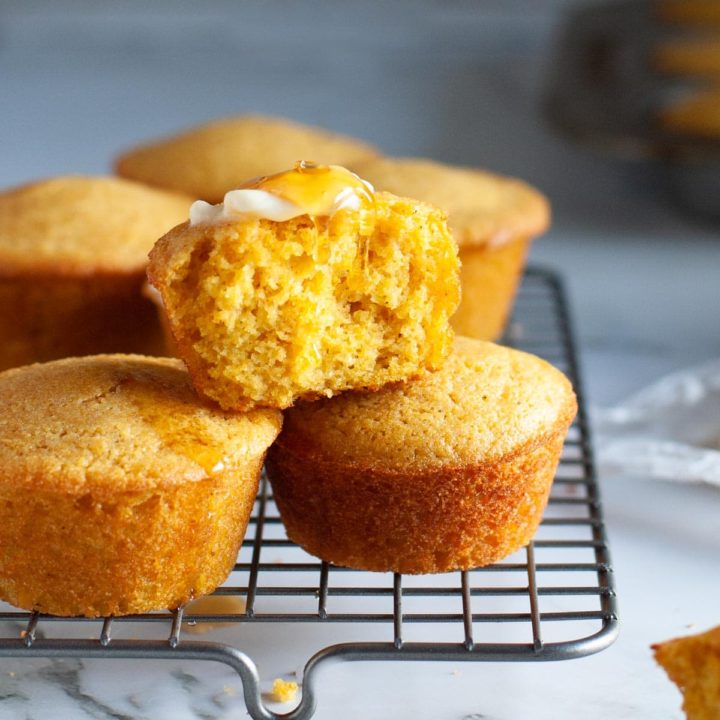 This gluten free cornbread muffin recipe is naturally gluten free by using just cornmeal but keeping all the flavor and fluff you would expect in a muffin! Top with butter and honey for the the perfect dinner side or afternoon treat.
Ingredients
1 Cup Sour Cream
3/4 Cup Milk
1 teaspoon Baking Soda
1/4 Cup Canola Oil
3 Tablespoons Butter, Melted
3 Tablespoons Sugar
2 eggs
2 1/4 Cups Cornmeal
1 teaspoon Baking Powder
1/2 teaspoon Salt
Instructions
Preheat oven to 375° F and spray a 12 serving muffin tin with non-stick cooking oil.
In a liquid measuring cup, or small bowl, combine sour cream, milk and baking soda. Set aside.
In a large bowl, whisk together melted butter, oil and sugar.
Add the eggs to the butter mixture and whisk well.
Whisk in cornmeal, baking powder and salt until thoroughly combined.
Slowly whisk in the milk, sour cream and soda mixture and mix until smooth.
Divide batter evenly between the 12 muffin servings and bake for 20 minutes.
Let cool 5-10 minutes before removing the cooke cornbread muffins from the pan.
Serve with butter and honey then enjoy!
Notes
See blog post for storage tips and directions for using different pans.
Nutrition Information:
Yield:
12
Serving Size:
1
Amount Per Serving:
Calories:

214
Total Fat:

13g
Saturated Fat:

5g
Trans Fat:

0g
Unsaturated Fat:

7g
Cholesterol:

51mg
Sodium:

290mg
Carbohydrates:

22g
Fiber:

2g
Sugar:

3g
Protein:

4g
*Nutrition information is automatically calculated and may not always be accurate.
Latest Recipes: