Roasted Asparagus with Parmesan and Lemon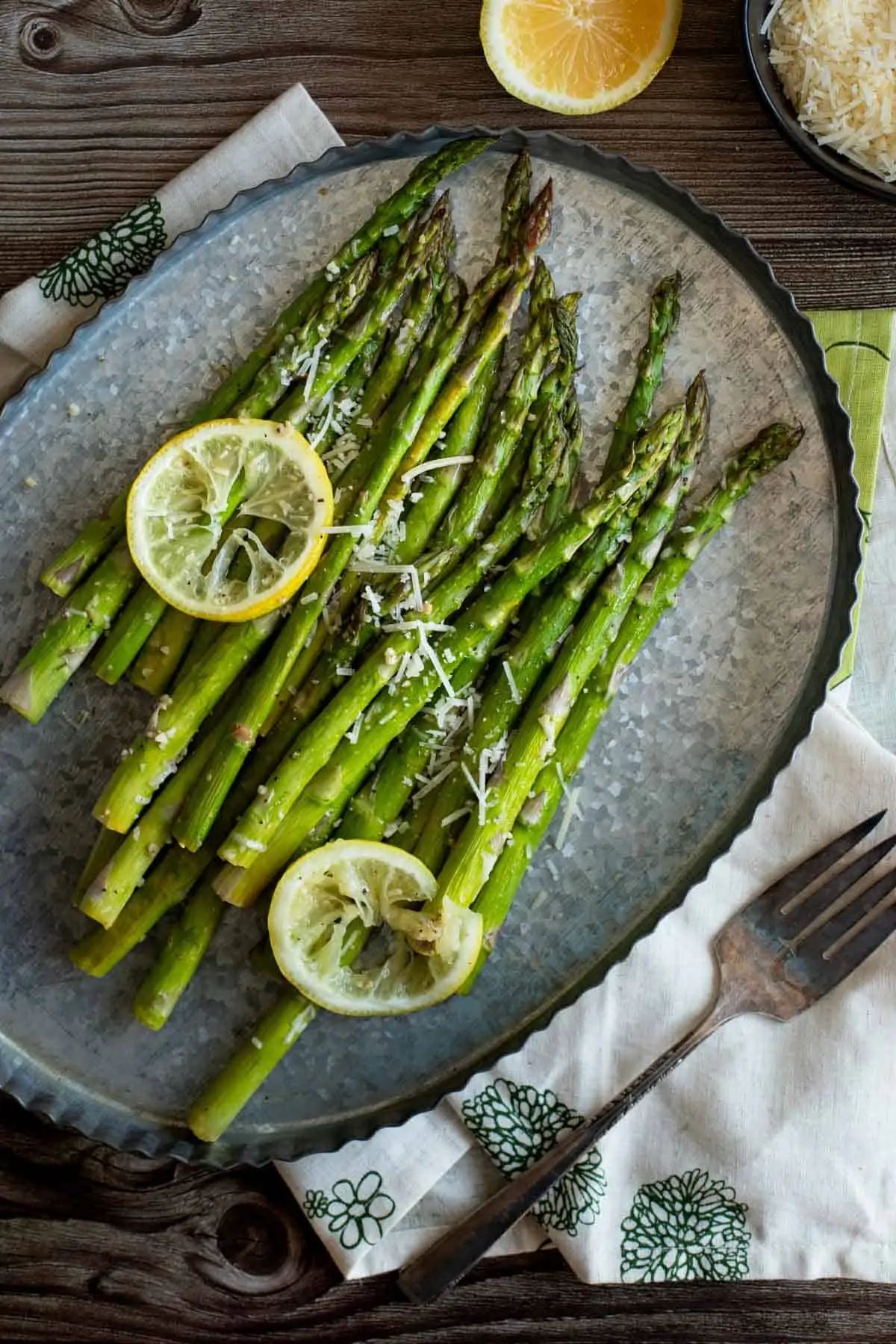 Roasted asparagus with parmesan and lemon is the perfect side dish to class up any meal. Naturally gluten free, this recipe provides loads of flavor, all the while keeping things quick and simple…and oh so delicious!
How to Prepare Asparagus for Cooking
If you are new to asparagus then here is a quick run through on how to prepare your asparagus for cooking.
Look for asparagus that has thin stems if you can, and make sure the asparagus is not wilted, but firm and dark. If your asparagus is overly thick or a bit wilted then your roasted asparagus will be stringy.
Before roasting, begin by washing your asparagus with cool water.
Place the washed asparagus on a cutting board and trim off the thick ends that will be tough. For thin asparagus you may only need to trim ½", if you have thick asparagus then approximately 1 ½ will need to be trimmed off of the end of the stalks.
Proceed with your favorite cooking method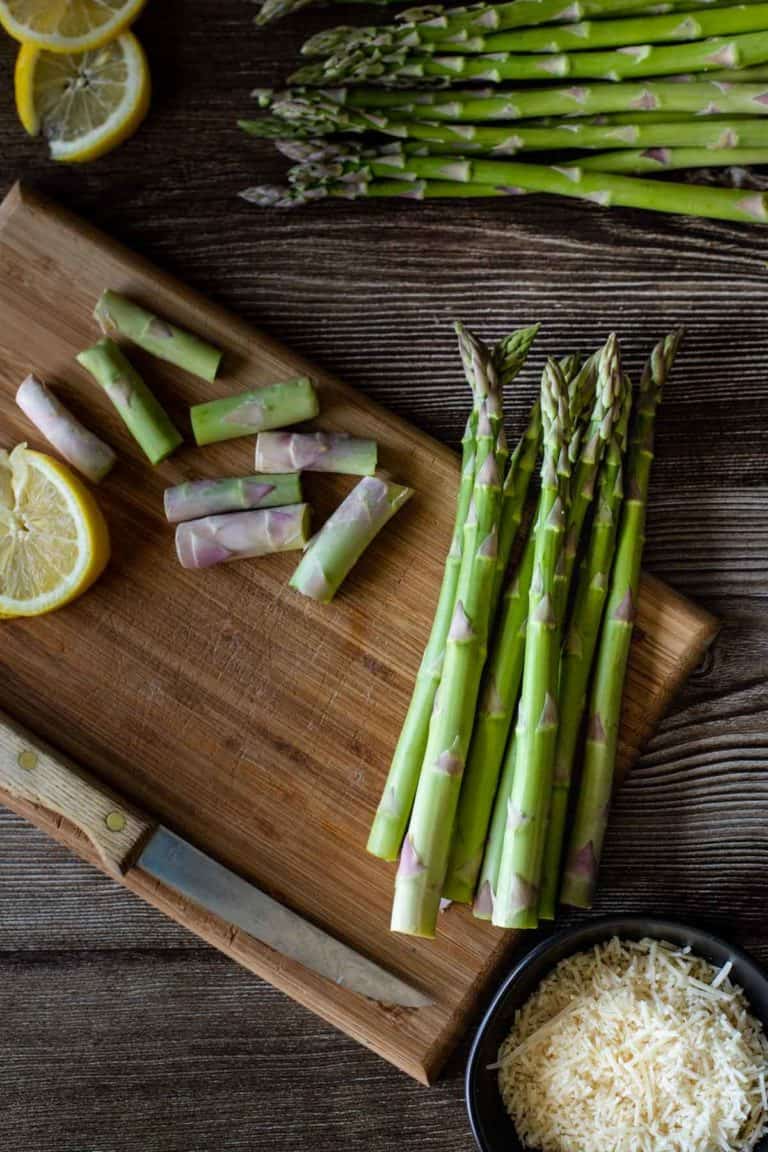 How to Make the Best Roasted Asparagus
In my opinion, the best way to cook asparagus is to roast it or grill it. Roasting is easiest year round and you can really do whatever seasoning you want.
Roasting asparagus is super easy!
Firstly you will want to trim and prepare your asparagus for cooking.
Next, just spread your asparagus in a single layer on a baking sheet and drizzle with olive oil.
Add your favorite seasonings and toss to coat.
Place in the oven and roast for about 12 minutes.
That's it. Easy!
Cook Time for Asparagus
The cook time for your asparagus will depend on how thick your stalks are. The average roasting time is 12 minutes at 400° F.
You don't want your asparagus to be completely floppy and soft, but still have just a bit of crunch.
Asparagus is done cooking when it can just easily be pierced in the thick part of the stem with the point of a knife.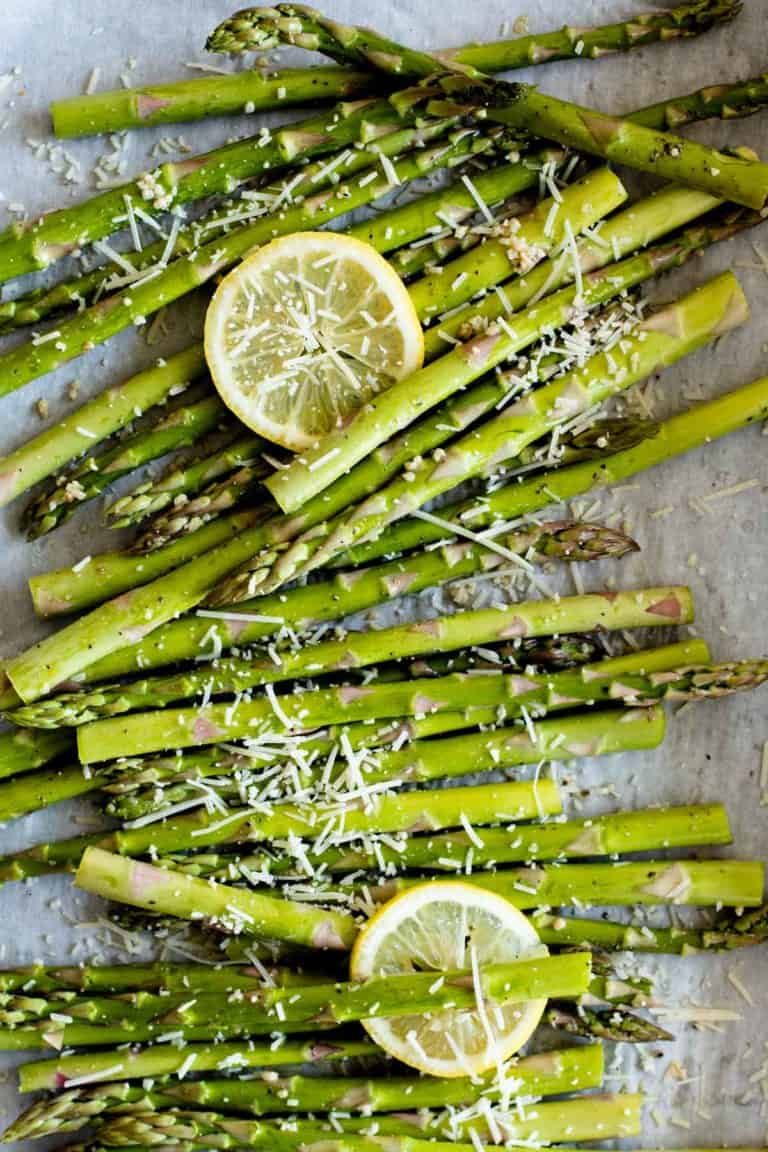 Garlic Parmesan Asparagus with Lemon
When pairing your asparagus with cheese, parmesan is the first choice. It accompanies the asparagus nicely without being overwhelming. Roasting the asparagus with fresh minced garlic and some fresh lemon make for the perfect side dish that goes with just about anything!
Storage
Asparagus is best served fresh right after cooking. Reheated asparagus will continue to wilt further with each heating. However, if you do have leftovers, the flavor stays great for up to 2 days and leftovers can be re-heated in the oven or microwave.
What Goes Well With Asparagus?
We love to serve this asparagus along-side a protein to make an easy vegetable side. I love to serve it alongside this easy Ribeye Recipe to keep the whole meal feeling classy.
Asparagus is great for the holidays and makes the perfect pairing to one of these fun Gluten Free Easter Recipes or makes for an easy Spring side dish.
Yield: 4
Roasted Asparagus With Parmesan and Lemon
Roasted asparagus with parmesan and lemon is the perfect side dish to class up any meal. Naturally gluten free, this recipe provides loads of flavor, all the while keeping things quick and simple...and oh so delicious!
Ingredients
1 Large Bunch of Asparagus
1 1/2 teaspoons Olive Oil
1 Clove Garlic, Minced
2 teaspoons of Lemon Juice + 2 Lemon Slices
1/8 teaspoon Ground Black Pepper
1/8 - 1/4 teaspoon Salt (to taste)
3 Tablespoons Fresh Grated Parmesan Cheese, Divided
Instructions
Preheat oven to 400°F and line a baking sheet with parchment paper.
Wash the asparagus and trim any thick end off the stalks about 1 - 1 1/2 inches off the ends.
line the asparagus in a single layer on the parchment lined baking sheet.
drizzle the asparagus with olive oil and sprinkle on the garlic, lemon juice, pepper, salt and 2 Tablespoons of the parmesan cheese.
Lay the lemon slices on top of the asparagus and toss it all to evenly coat and mix, then arrange it back into a single layer.
Roast in the oven for 12-15 minutes until the thick end of the asparagus can be easily pierced with the tip of a knife or fork.
Remove from oven and transfer to serving dish.
Sprinkle on remaining 1 Tablespoon of parmesan cheese.
Serve and enjoy!
Nutrition Information:
Yield:
4
Serving Size:
4-6 spears
Amount Per Serving:
Calories:

38
Total Fat:

3g
Saturated Fat:

1g
Trans Fat:

0g
Unsaturated Fat:

2g
Cholesterol:

4mg
Sodium:

212mg
Carbohydrates:

2g
Fiber:

0g
Sugar:

0g
Protein:

2g
*Nutrition information is automatically calculated and may not always be accurate.
Need More Recipe Inspiration? Try These Reader Favorites!