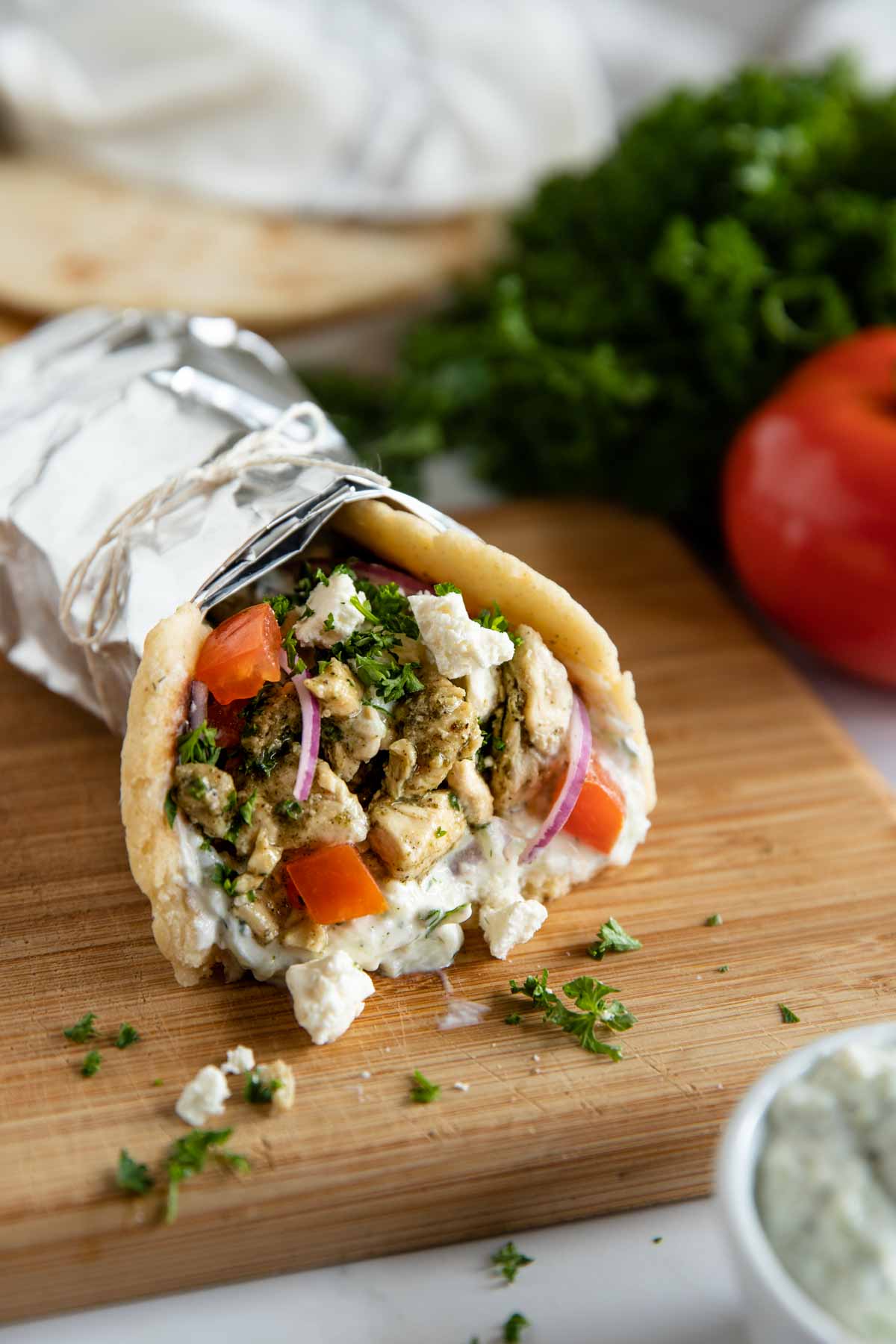 Easy chicken gyros served with Tzatziki sauce are a quick and easy dinner option that comes together in just 20 minutes! Packed with flavor and moist seasoned meat, fill these gyros with your favorite toppings for an easy delicious Greek inspired meal.
Chicken gyros are on regular rotation in our house. Our entire family, including the kids, love them and are going back for seconds! Since these store well, I love to even double the recipe so that I can serve leftovers the next night and not have to cook dinner.
Ingredient Notes
Chicken
Gyros are traditionally made with lamb, but for quick and easy homemade gyros, chicken is the easiest option.
Boneless, skinless, chicken thighs are the preferred meat as the dark meat of chicken thighs stays very moist and adds an extra layer of flavor that you won't get using chicken breast.
If you don't have boneless, skinless chicken thighs then you can use chicken breast instead. The flavor will still be great, but you do need to be extra careful to keep your chicken from drying out during the cooking process.
Poultry Seasoning
Though I could have listed a whole list of individual ingredients, poultry seasoning works absolutely perfectly for chicken gyros. You will want to use a gluten free brand like McCormick to keep these gluten free friendly. Poultry seasoning is a blend of spices that pair nicely with the chicken, and include marjoram, rosemary, sage, thyme, pepper and nutmeg. 
You could use these spices individually if you happen to have them all, but I find that keeping poultry seasoning on hand comes in very convenient!
Gluten Free Naan or Pitas
Gluten free naan that is pre-made is surprisingly challenging to find. You will have better luck finding pitas as your bread if you are wanting a premade option. Using something premade keeps these quick and easy so you can just throw dinner together in 20 minutes.
However, If you have the time to homemake your naan bread then this recipe for naan is delicious! You can just start your dough ahead of time and let it be rising while you are doing other things. When you are ready to prepare dinner, then you just need to cook the naan while your gyro meat cooks, which only takes a couple minutes per serving!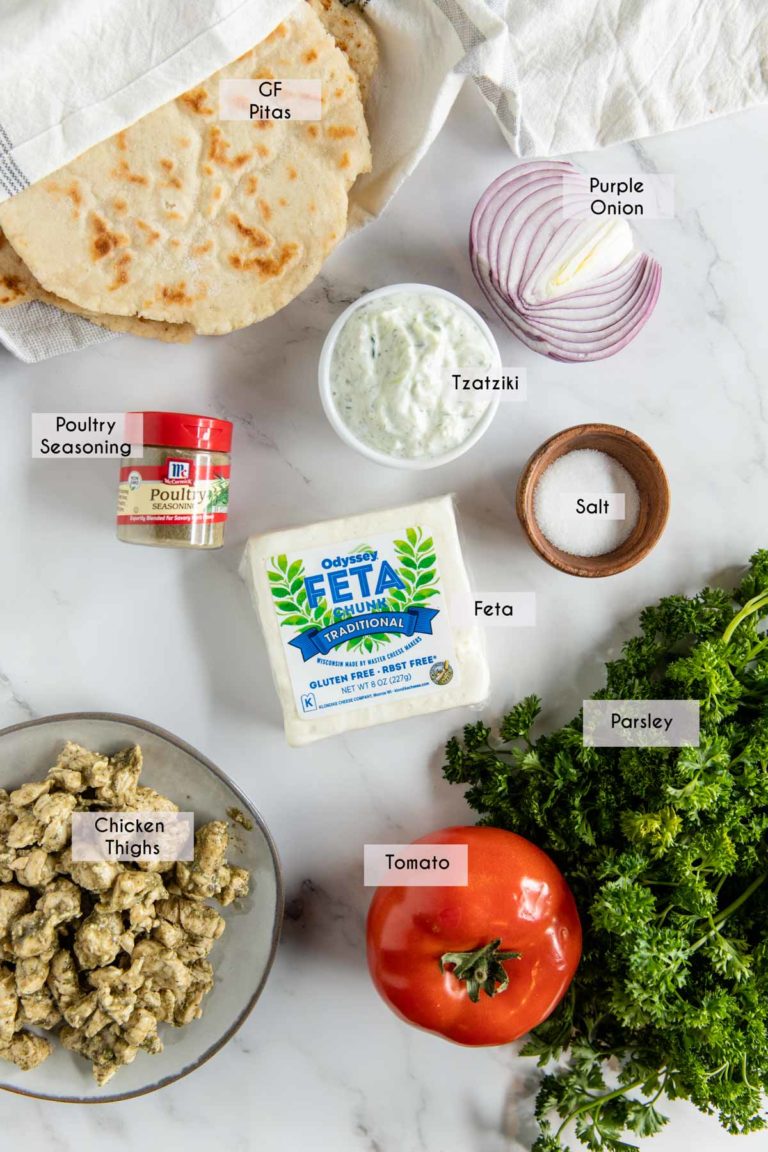 Tzatziki
Tzatziki is a greek cucumber and yogurt sauce that is absolutely delicious! I love to use it on burgers, and salads and of course my favorite use is to enjoy a nice layer on my greek chicken gyros! Tzatziki is a sugar free and healthy condiment option that is great on many dishes.
You will want to use the smallest size grater to grate your cucumber and then squeeze the excess water out so you don't get your tzatziki too runny.
The ideal yogurt to use in tzatziki is plain greek yogurt. I especially love to use whole milk greek yogurt but have made it with fat free greek yogurt as well and it turns out fine. If you absolutely have to, then you can use regular plain yogurt, but the final result will be thinner and less creamy.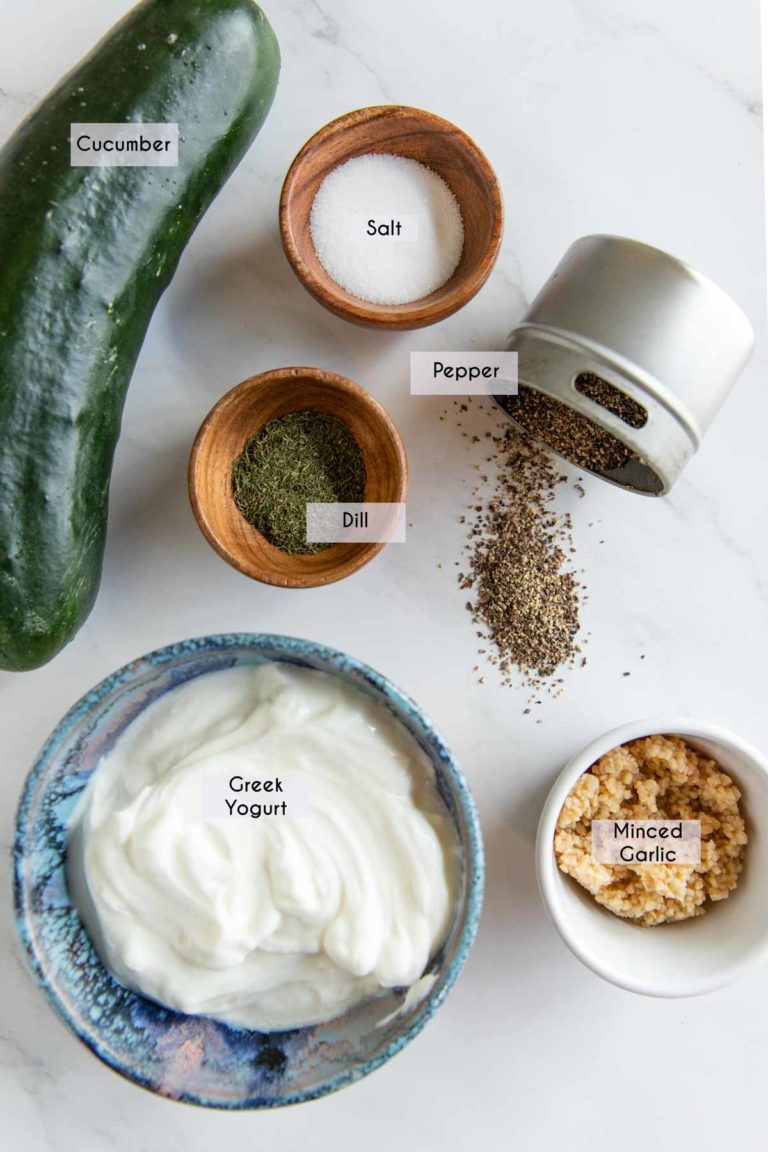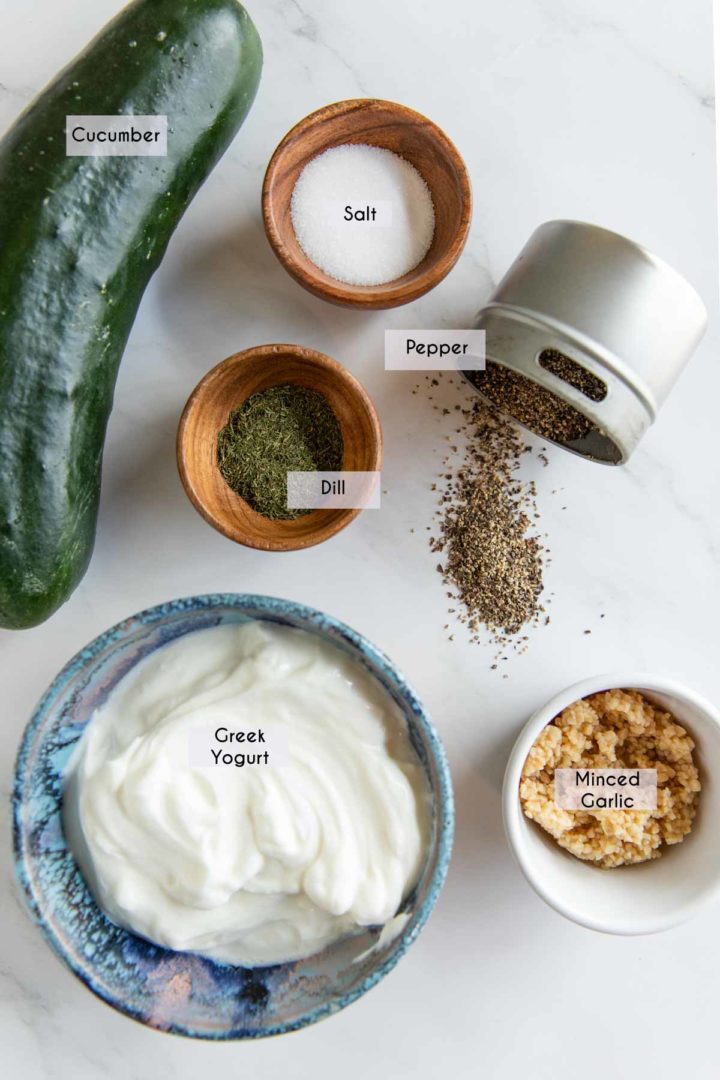 Step By Step, Making Chicken Gyros:
Making gyros at home is incredibly easy. I like to make my Tzatziki ahead of time but you can also make it while the chicken is cooking if you prefer.
For the Meat:
Heat a medium size skillet over medium-high heat with 1 teaspoon of olive oil
Dice your chicken thighs into little bite size pieces. The smaller the better for gyros.
Begin cooking the chicken thighs until no longer pink on the outside
Add spices and continue cooking until cooked through, about 5 more minutes,
If all the liquid has cooked off, then add ¼ cup water and adjust spices if needed to make a little bit of sauce to coat the chicken.
Remove from heat.
For the Tzatziki:
While the meat is cooking, or beforehand, prepare the tzatziki.
Grate the cucumber with the smallest size grater and squeeze out excess moisture.
Place cucumber in a medium bowl and add remaining ingredients
Stir all tzatziki ingredients together to combine and place in the fridge or serve right away with your gyros!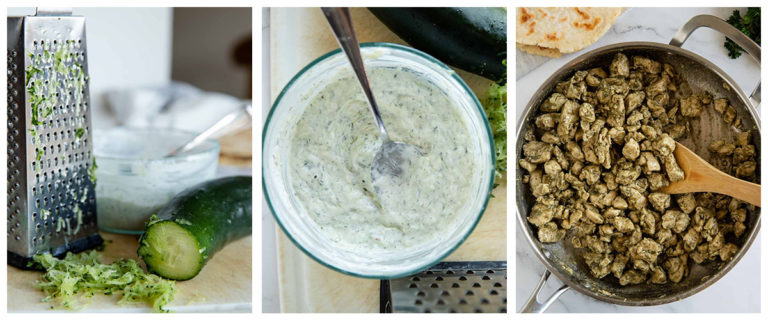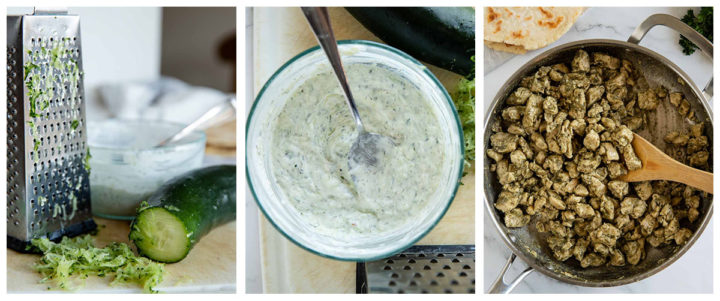 Serve With
Serve your gyros by layering your meat inside your warmed pita or naan bread. Load with your favorite greek toppings and finish with a nice dollop of tzatziki sauce!
My favorite toppings for these easy chicken gyros are feta cheese, diced tomato, chopped parsley and purple onion.
Storage:
Chicken gyros are delicious re-heated, and store wonderfully. You can prepare the meat and tzatziki up to 48 hours ahead of time so you can just assemble when needed. For best results, store the meat and toppings separate and just assemble what you need.
Your gyro meat can be frozen in a resealable bag for up to 3 months. Just thaw and re-heat when ready to use, or freeze in personal size portions to have individual gyro servings as needed.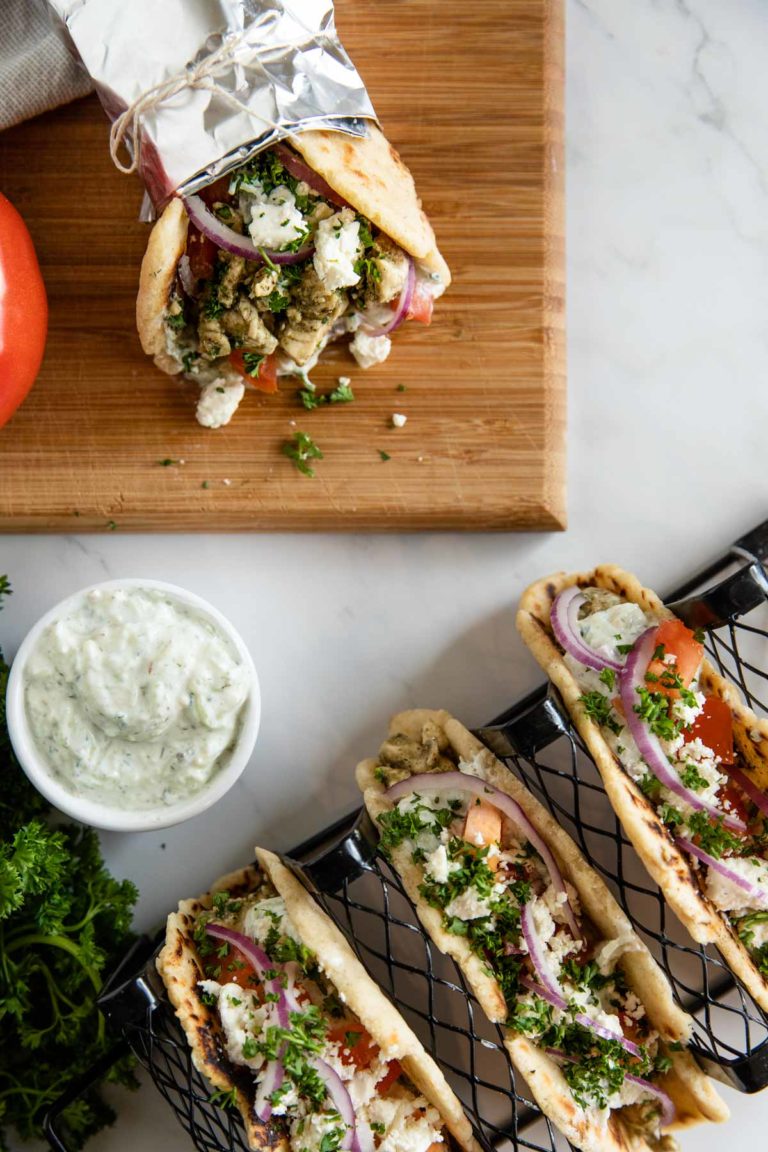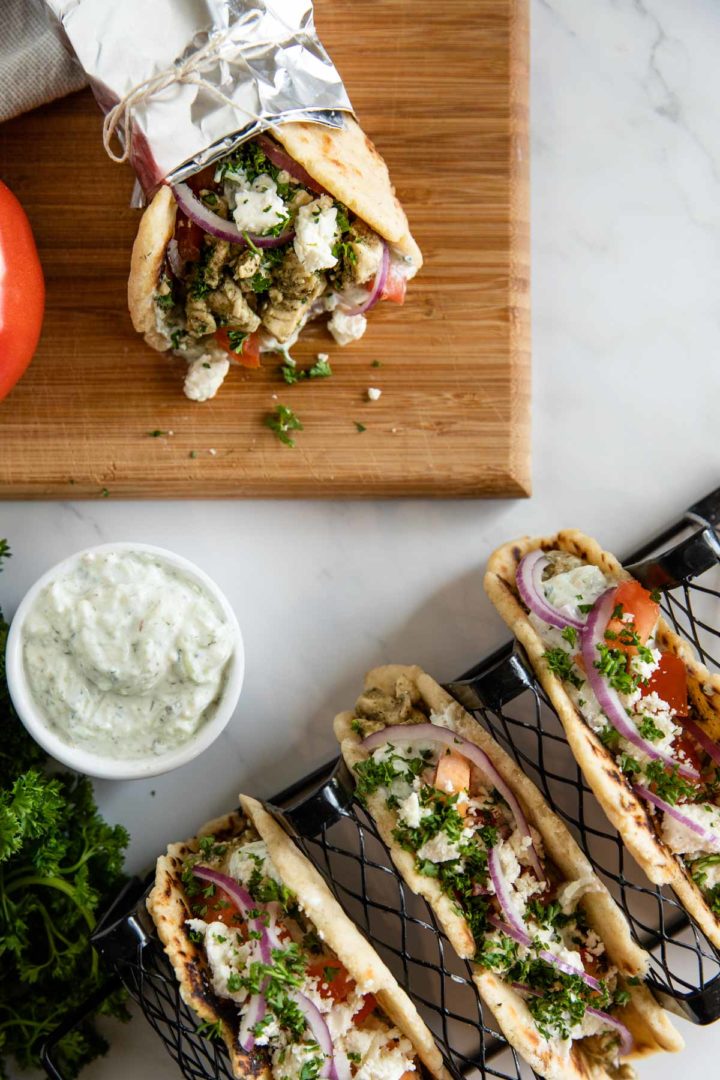 FAQ's
Are gyros gluten free?
Though traditional gyro meat was originally gluten free, many wholesale suppliers of what you will find in deli gyros contain breadcrumbs that are not gluten free. In addition, the pita or naan bread is non gluten free. These chicken gyros are naturally gluten free and make the perfect at home gyro paired with gluten free naan!
What's the difference between gyros and souvlaki?
Both gyros and souvlaki have Greek origins. Gyros consist of thin strips of gyro meat layered inside flatbread with various toppings and tzatziki sauce. Souvlaki are not served in flatbread, but rather are grilled and seasoned skewers of meat that make for a popular greek fast food.
Need More Recipe Inspiration? Try These Reader Favorites:
Yield: 6
Easy Chicken Gyros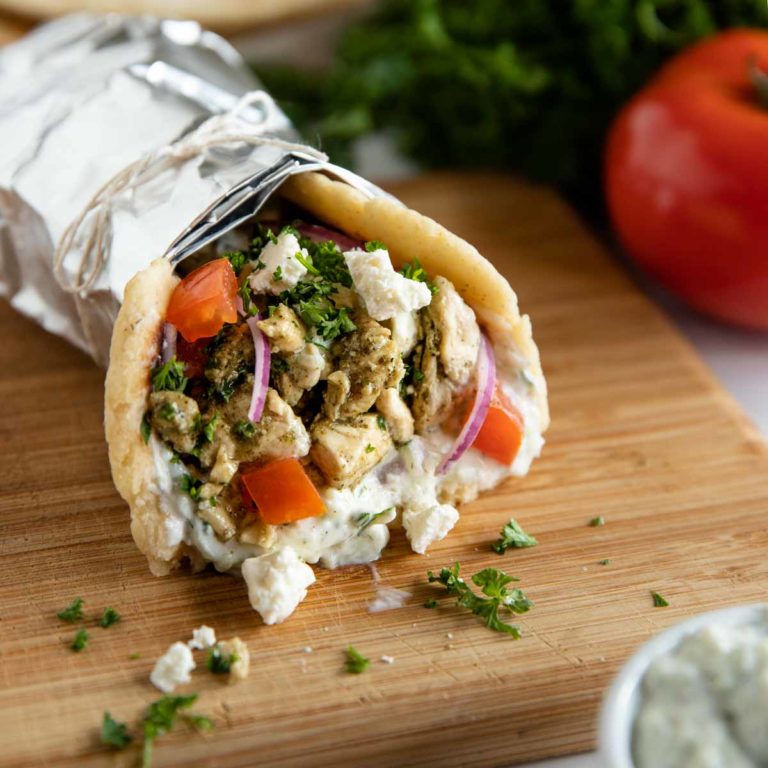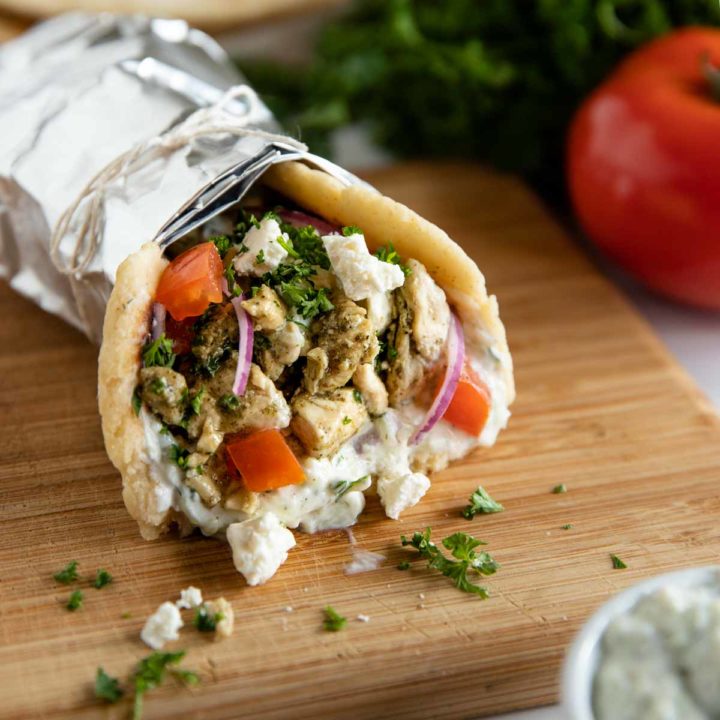 Easy chicken gyros served with Tzatziki sauce are a quick and easy dinner option that comes together in just 20 minutes! Packed with flavor and moist seasoned meat, fill these gyros with your favorite toppings for an easy delicious greek inspired meal.
Additional Time
10 minutes
Ingredients
Chicken Gyro Meat
1 1/2lbs Boneless, Skinless, Chicken Thighs, Diced
2 1/2 teaspoons Poultry Seasoning
2 Cloves Garlic, Minced
1/2 teaspoon Salt
1/4 teaspoon Pepper
6 Naan or Pitas
Parsey, Tomato, Feta & Purple Onion for Serving
Tzatziki Sauce
1 Cucumber
1 1/2 Cups Plain Greek yogurt
1 1/2 teaspoons Dill
1/2 teaspoon Salt
1/4 teaspoon Pepper
1/4 teaspoon Garlic Powder
Instructions
Heat a medium skillet over medium high heat with 1 teaspoon of olive oil.
Once the pan is heated then add the diced chicken pieces.
Cook about 5 minutes until the outside is cooked then add spices.
Continue cooking for an additional 3-5 minutes until cooked through. If all the moisture has cooked off, then add 1/4 cup of water and adjust spices to taste
Prepare the Tzatzkiki while the meat is cooking or in advance.
Serve the chicken in warmed Naan or pita and top with tzatziki, feta cheese, diced tomato, parsley and purple onion
To Make the Homemade Tzatziki:
Grate the cucumber with the small side of a cheese grater. Gently squeeze the grated cucumber to release extra water and place the drained cucumber into a medium bowl.
Add the yogurt and spices to the cucumber and stir to combine.
Adjust salt and pepper to taste
Tzatziki is lovely made up to 48 hours in advance but can be used right away as well!
Serve on homemade gyros!

Notes
Mccormick poultry seasoning is gluten free and works perfectly for gluten free gyros!
Nutrition Information:
Yield:
6
Serving Size:
1
Amount Per Serving:
Calories:

417
Total Fat:

10g
Saturated Fat:

3g
Trans Fat:

0g
Unsaturated Fat:

6g
Cholesterol:

53mg
Sodium:

958mg
Carbohydrates:

58g
Fiber:

3g
Sugar:

7g
Protein:

26g
*Nutrition information is automatically calculated and may not always be accurate.