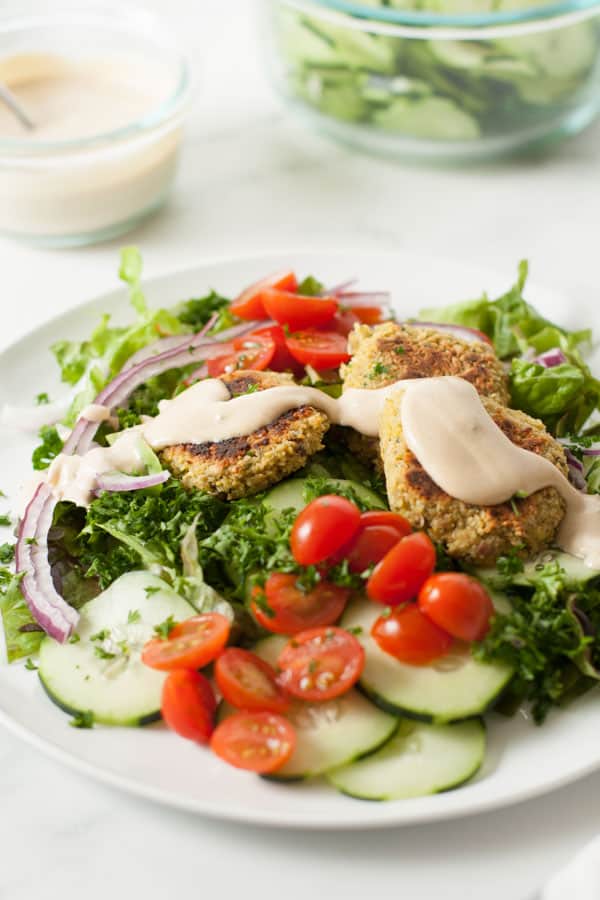 Summer is salad season! This falafel salad recipe puts a twist on a typical falafel, keeping it light and fresh by avoiding the deep-frying of the falafel, and instead just pan-cooking it.
Though this Falafel salad is light and fresh, it still packs 15 grams of protein to make it a complete meal. This also means you can save room for some ice cream because, who are we kidding, Summer is not just salad season. Summer is ice cream season!
Summer may be the season of light and fresh, but to me it's also the season of many hats.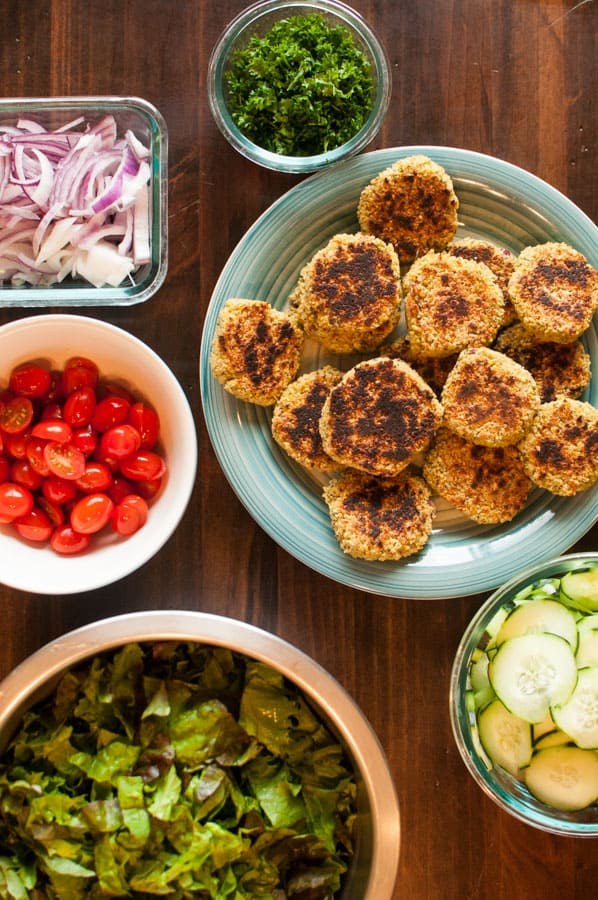 Now that it is July here in Bozeman, the weather is finally starting to act like summer and we've been having days in the mid- 80's°F.
Last night we finally enjoyed just sitting around the fire-pit on our patio, soaking up the nice evening air while the kiddos played in the yard.
Summer is the season of care-free evenings and children playing.
To me, these are the best moments of summer. Yes, Summer may be salad season, but we definitely ended our evening with Home-Made Strawberry Rhubarb Pie and ice cream.
Summer is a season of fresh grown produce and summer pies.
Sunday morning I went for a run while Nora rode ahead of me on her bike. She was so excited to explore the new section of trail she had never been on and began ogling over the various flower gardens we passed.
Summer is for exploring and an abundance of fresh flowers.
Summer may be salad season, but summer is so many things. Summer is… ?
What does summer mean for you this year? What beauty are you finding in these long summer days?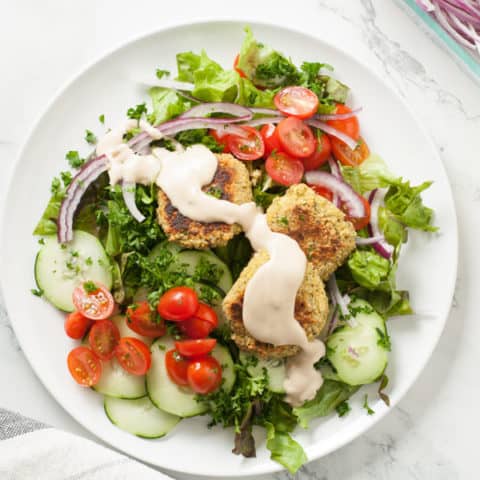 This Falafel Salad recipe is naturally gluten free and perfect for Summer! Pan cooking the Falafel keeps this dish light and fresh, and you can prep ingredients ahead of time to make this a quick week-night dinner.
Additional Time
15 minutes
Total Time
12 hours
30 minutes
Ingredients
1 C. Chickpeas
2 C. Parsley, Chopped and divided
1/2 Purple Onion (divided)
3 Cloves Garlic, Minced
2 Tbsp Lemon Juice
1 Tbsp Ground Cumin
1/2 tsp. Coarse Sea Salt
1 Tbsp. Olive Oil + 1-2 Tbsp. For cooking
1 Head Green Leaf Lettuce, or Other Greens of Choice, Chopped Into Bite Size Pieces
1 Cucumber, Sliced
1 Pint Grape Tomatoes, Halved
Tahini Dressing
5 Tbsp. Tahini
5 Tbsp. Warm Water
1/4 C. Fresh Lemon Juice
1 Tbsp. Olive Oil
1/2 tsp. Coarse Sea Salt
Cracked Pepper to Taste
Instructions
Plan ahead and soak the chickpeas starting in the morning, or start them the night before, so they have 12-24 hrs of soaking time. You can use canned chickpeas instead if you prefer, but the falafel will be a bit mushier. If you use canned chickpeas, drain and rinse well before proceeding with recipe.
Divide the half of a red onion by chopping 1/4 of the onion for the falafel, and slicing the remaining 1/4 of the onion for the salad.
In the work-bowl of a food processor, add drained chickpeas, 1C. of the chopped parsley, the chopped onion, garlic, lemon juice, cumin, salt and 1 Tbsp of oil.
Process and pulse until finely and evenly mixed and ground.
Heat non-stick, skillet or griddle over medium heat with 1 Tbsp Oil.
Scoop Falafel mixture and form into 12 patties, using about 2 Tbsp of mixture for each small patty.
Cook patties on hot skillet or griddle until browned 3-5 minutes. Before flipping you may need to swirl in another 1Tbsp. oil. Continue cooking the other side an additional 3-5 minutes until cooked through and golden brown.
Tahini Dressing:
While Falafel is cooking, prepare the dressing.
In a small bowl combine the tahini, water, lemon juice, olive oil, sea salt and pepper in a small bowl.
Whisk until thoroughly combined.
Pour 2 Tbsp. of dressing over chopped lettuce and remaining 1 C. Parsley , and toss to lightly coat.
Assembly:
Divide the lettuce/parsley blend between four dinner plates.
Top with slices of cucumber, tomatoes, sliced onion and 3 falafel patties per plate.
Drizzle with remaining dressing.
Serve and enjoy!


Notes
This recipe comes together very quickly for dinner if you plan ahead to soak the chickpeas overnight, or use canned chickpeas. The dressing can be made 24hrs in advance as well and all the veggies can be chopped and prepped up to 24hrs in advance. When it's cooking time, all you have to to do is prepare falafel and assemble!
Nutrition Information:
Yield:
4
Serving Size:
3 Falafel
Amount Per Serving:
Calories:

319
Total Fat:

19g
Saturated Fat:

3g
Trans Fat:

0g
Unsaturated Fat:

15g
Cholesterol:

0mg
Sodium:

626mg
Carbohydrates:

32g
Fiber:

13.2g
Sugar:

7g
Protein:

15g
*Nutrition information is automatically calculated and may not always be accurate.
Did you make this recipe? Leave me a comment below, or tag me on Instagram @mountainberry_eats to show me what's cooking in your kitchen!