Falafel Salad with Tahini Dressing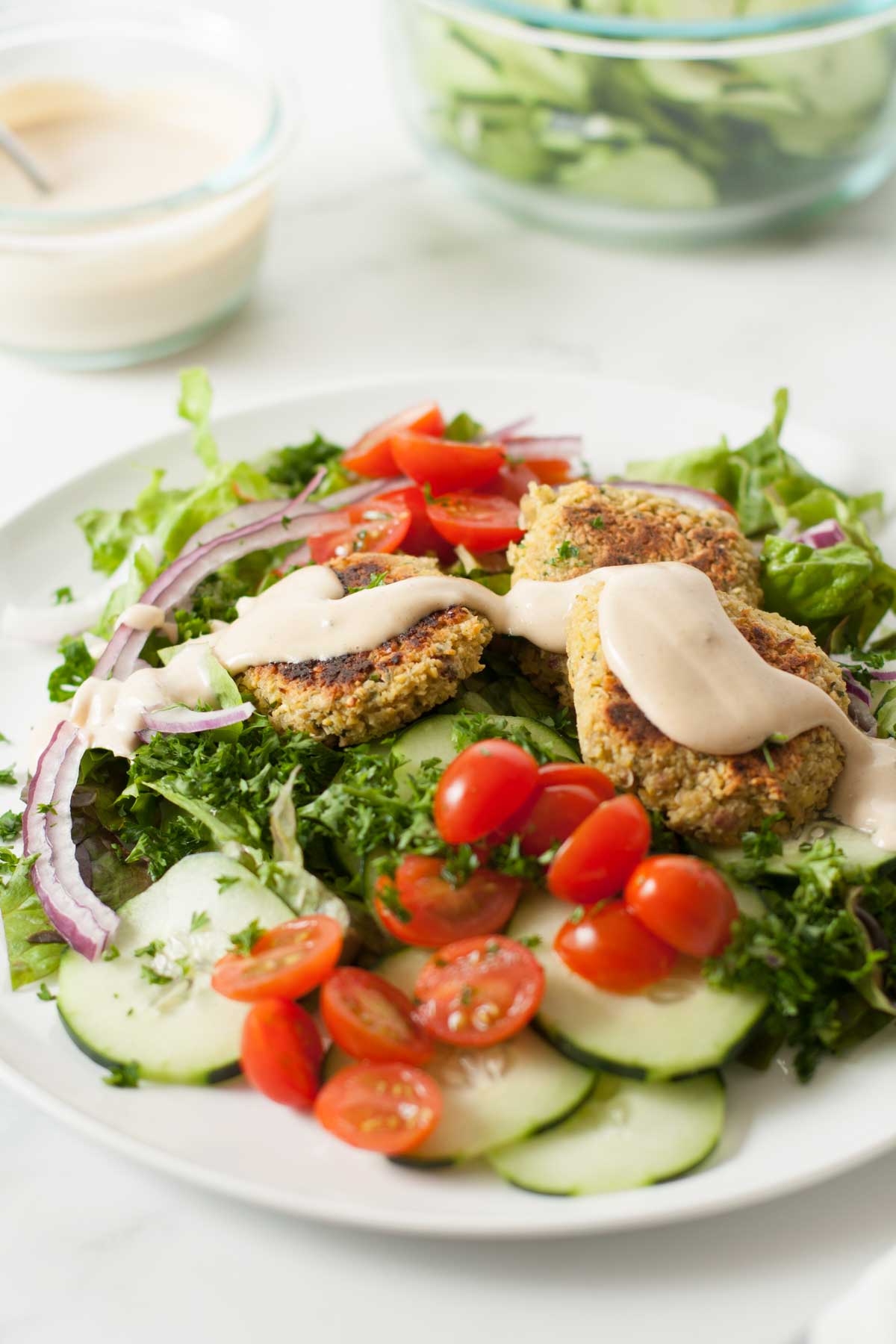 Feeling the need for something light and fresh? This falafel salad with tahini dressing puts a twist on a typical falafel, keeping it light by avoiding the deep-frying and pan-cooking it instead.
Though this falafel salad is light and fresh, it still packs 15 grams of protein making it the perfect satisfying meal that is naturally vegan and gluten free without a ton of extra calories.
What makes a Falafel?
Falafel is typically a mixture of mashed chickpeas as well as various herbs and spices that are formed into balls and then deep fried. Traditional falafel is served in a pita, but for this recipe we are lightening things up a bit with a bed of greens and a non-fried falafel for a healthy protein packed meal.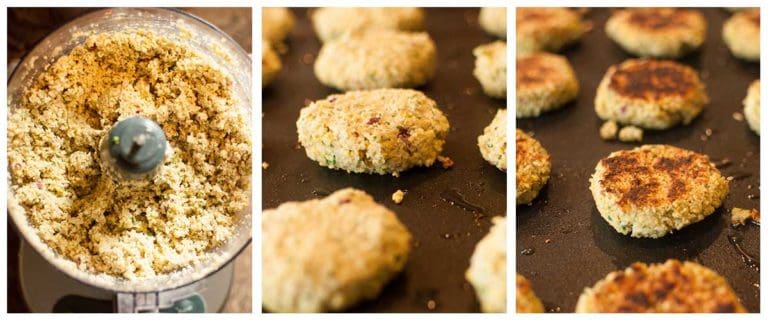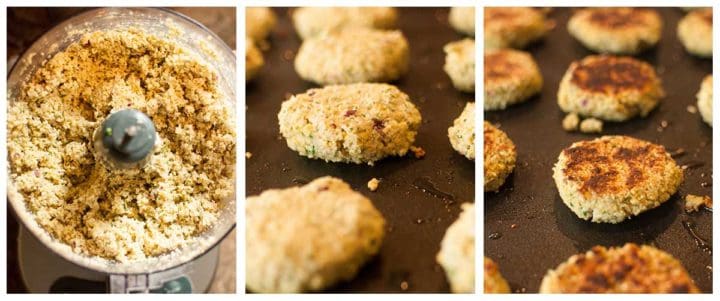 How to make non-fried Falafel:
Many people wonder wether or not your chickpeas should be cooked for falafel, and the answer is no. Begin by using a bag of uncooked dried chickpeas and plan ahead to start soaking them the evening before.
For falafel, chickpeas should be soaked about 24 hours before use. This will allow them to soften up and become easy to chop with your herbs and spices in the food processor but still have enough texture to keep them from being mushy.
Once your spiced falafel mixture is blended then the next step is to simply make small patties and cook them in a hot pan with about 1 teaspoon of olive oil for about 3 minutes per side until golden.
What goes well with this salad?
This salad is a complete meal in itself. To keep with the lighter themed flavor pairings I serve this with cucumber slices, purple onions, fresh grape or cherry tomatoes and chopped parsley. The creamy tahini dressing goes perfectly with falafel salad but another delicious option is to serve it with a fresh Tzatziki dressing instead.
If you are wanting to go all out then this recipe lends itself well to making a fun falafel salad bowl by adding in any additional veggies of choice. Think roasted sweet potato or cauliflower and perhaps add in your favorite roasted nuts as well. These can be fully customizable and make great lunches!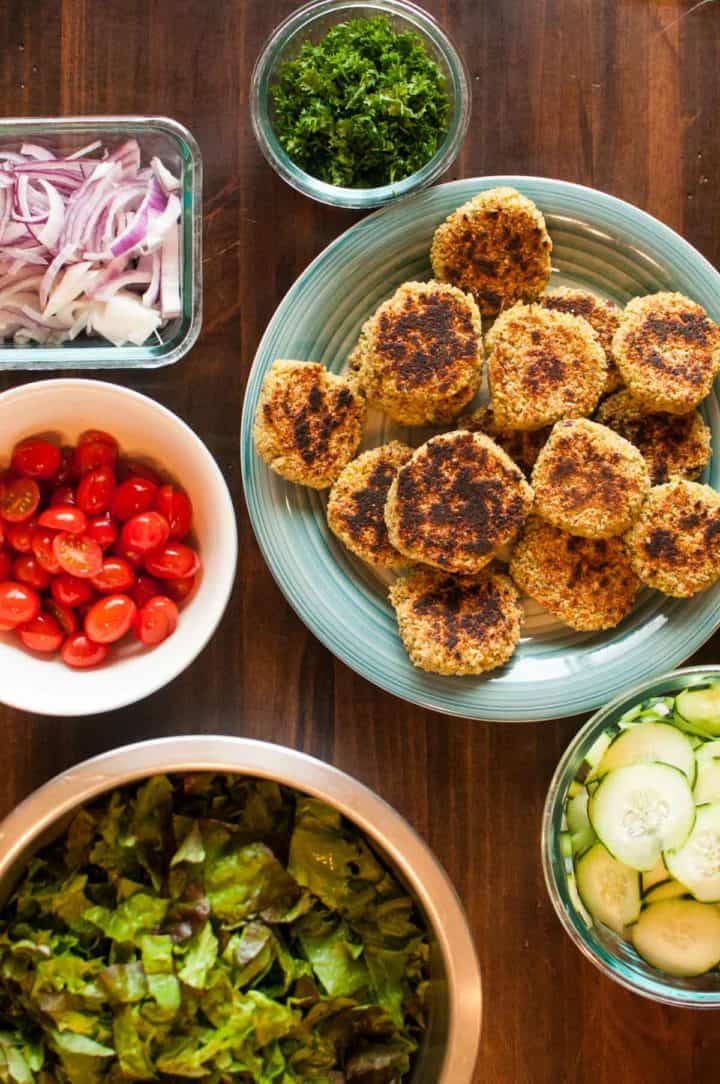 Storage tips and make ahead option:
The cooked falafel patties will keep in their own container in the fridge for 3-4 days and can be easily reheated in a pan, oven or in the microwave.
If you are wanting to freeze the falafel patties, then place the cooked patties on a cookie sheet and freeze until firm for about 6 hours. Once the patties are frozen solid the wrap individual servings of patties (3-4 at a time) together in plastic wrap. Place all the wrapped portions together inside a resealable plastic bag and store in the freezer for up to one month.
Reheat the patties in the microwave if needing them for a quick lunch. If you want to re-crisp them then heat the oven to 425° F and place the falafel on a parchment lined baking sheet. Bake in the preheated oven for 8-10 minutes until hot through.
Need More Recipe Inspiration? Try These Reader Favorites:
Yield: 4
Falafel Salad with Tahini Dressing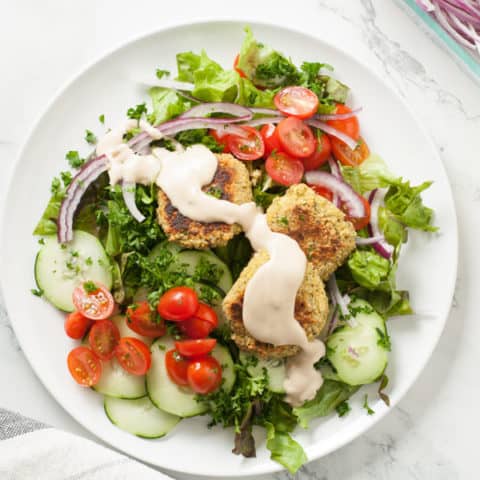 This Falafel Salad recipe is naturally gluten free and vegan and full of protein! Pan cooking the Falafel keeps this dish light and fresh, and you can prep ingredients ahead of time to make this a quick week-night dinner.
Additional Time
15 minutes
Total Time
1 day
30 minutes
Ingredients
1 Cup Chickpeas
2 Cupd Parsley, Chopped and divided
1/2 Purple Onion (divided)
3 Cloves Garlic, Minced
2 Tsblespoons Lemon Juice
1 Tablespoon Ground Cumin
1/2 teaspoon Coarse Sea Salt
1 Tablesppon. Olive Oil + 1-2 Teaspoons For cooking
1 Head Green Leaf Lettuce, or Other Greens of Choice, Chopped Into Bite Size Pieces
1 Cucumber, Sliced
1 Pint Grape Tomatoes, Halved
Tahini Dressing
5 Tablespoons Tahini
5 Tablespoons Warm Water
1/4 Cup Fresh Lemon Juice
1 Tablespoon Olive Oil
1/2 teaspoon Coarse Sea Salt
Cracked Pepper to Taste
Instructions
Plan ahead and soak the chickpeas starting the night before, so they have 20-24 hrs of soaking time.
Divide the half of a red onion by chopping 1/4 of the onion for the falafel, and slicing the remaining 1/4 of the onion for the salad.
In the work-bowl of a food processor, add drained chickpeas, 1 Cup of the chopped parsley, the chopped onion, garlic, lemon juice, cumin, salt and 1 Tablespoon of oil.
Process and pulse until finely and evenly mixed and ground.
Heat non-stick, skillet or griddle over medium heat with 1 teaspoon of oil.
Scoop Falafel mixture and form into 12 patties, using about 2 Tablespoons of mixture for each small patty.
Cook patties on hot skillet or griddle until browned 3-5 minutes. Before flipping you may need to swirl in another 1 teaspoon oil. Continue cooking the other side an additional 3-5 minutes until cooked through and golden brown.
for the Tahini Dressing:
While Falafel is cooking, prepare the dressing.
In a small bowl combine the tahini, water, lemon juice, olive oil, sea salt and pepper in a small bowl.
Whisk until thoroughly combined.
Pour 2 Tablespoons of dressing over chopped lettuce and remaining 1 Cup Parsley, and toss to lightly coat.
Assembly:
Divide the lettuce/parsley blend between four dinner plates.
Top with slices of cucumber, tomatoes, sliced onion and 3 falafel patties per plate.
Drizzle with remaining dressing.
Serve and enjoy!


Notes
This recipe comes together very quickly for dinner if you plan ahead to soak the chickpeas overnight. The dressing can be made 24hrs in advance as well and all the veggies can be chopped and prepped up to 24hrs in advance. When it's cooking time, all you have to to do is prepare falafel and assemble! See log post for notes on freezing the pre-cooked falafel.
Nutrition Information:
Yield:
4
Serving Size:
3 Falafel
Amount Per Serving:
Calories:

319
Total Fat:

19g
Saturated Fat:

3g
Trans Fat:

0g
Unsaturated Fat:

15g
Cholesterol:

0mg
Sodium:

626mg
Carbohydrates:

32g
Fiber:

13.2g
Sugar:

7g
Protein:

15g
*Nutrition information is automatically calculated and may not always be accurate.
*this recipe was originally published July 2020
Latest Recipes: