Dark Chocolate Dipped Macaroons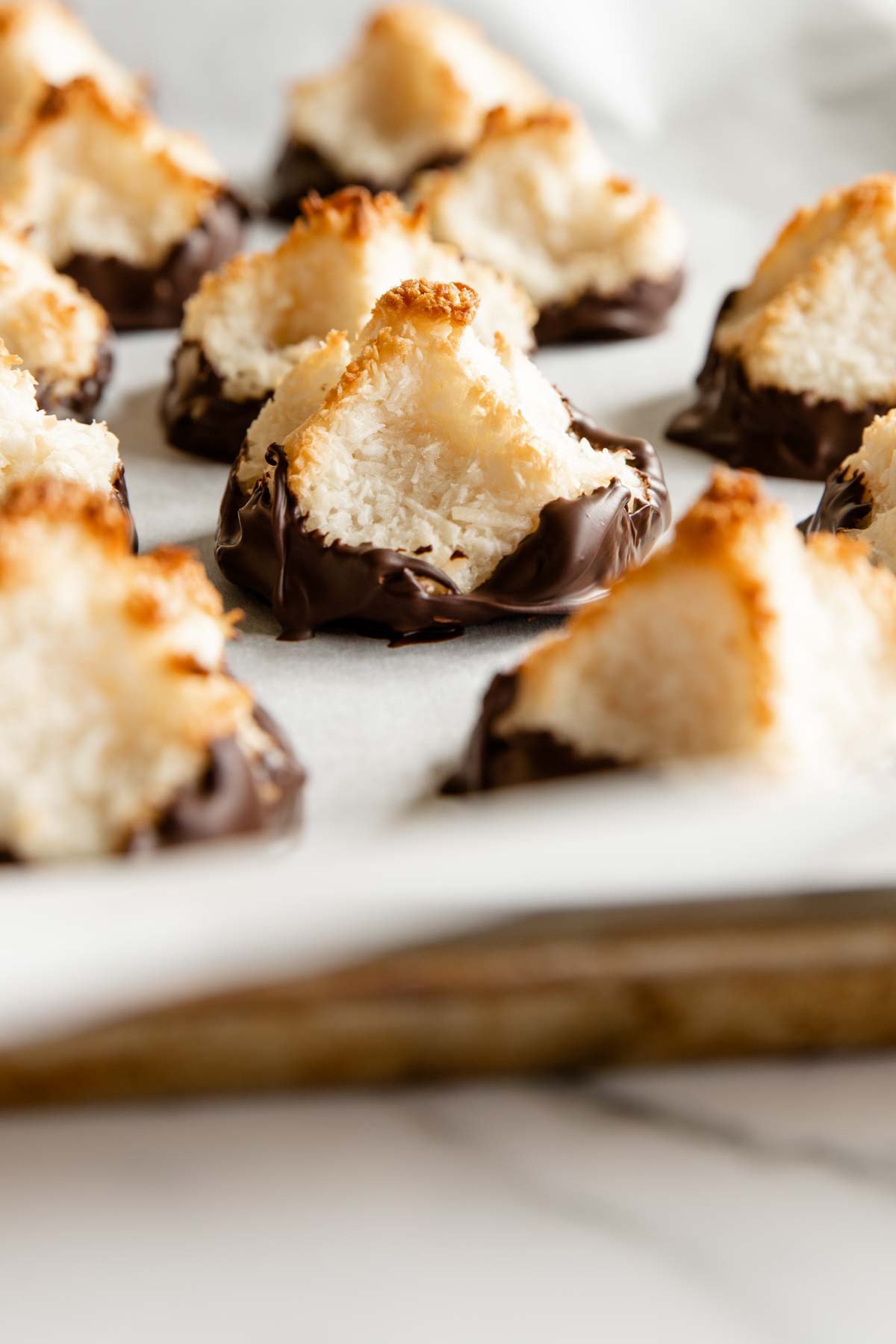 Dark chocolate dipped macaroons are made with just 7 ingredients and are a delightful gluten free treat. With the perfect texture of chewy, combined with the delicate chocolate and coconut flavors, these are the perfect crowd pleaser any time of the year!
Ingredient Notes
There are many different macaroon recipes, but the challenge is to get bold coconut flavor without being overwhelmingly sweet, or too crumbly.
Many macaroons use sweetened condensed milk as the binder and sweetening agent. Though this works in moderation, it is hard to keep your macaroons from being overly sweet and sticky when using sweetened condensed milk.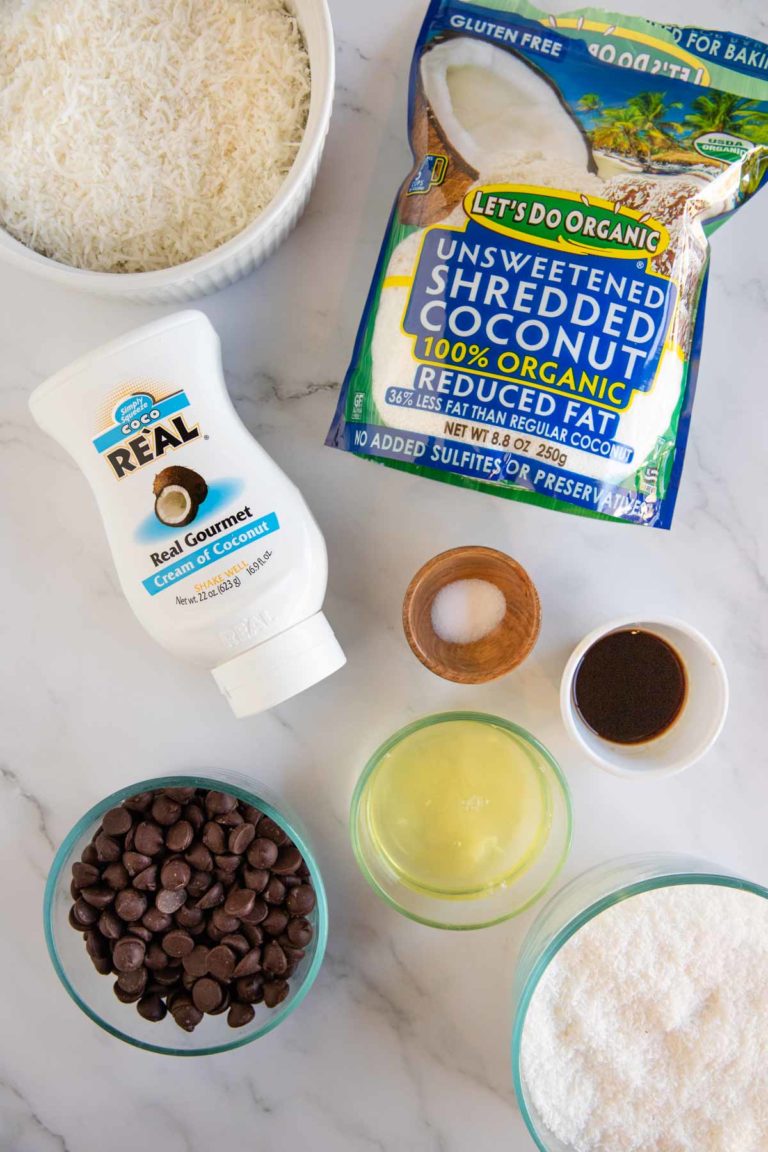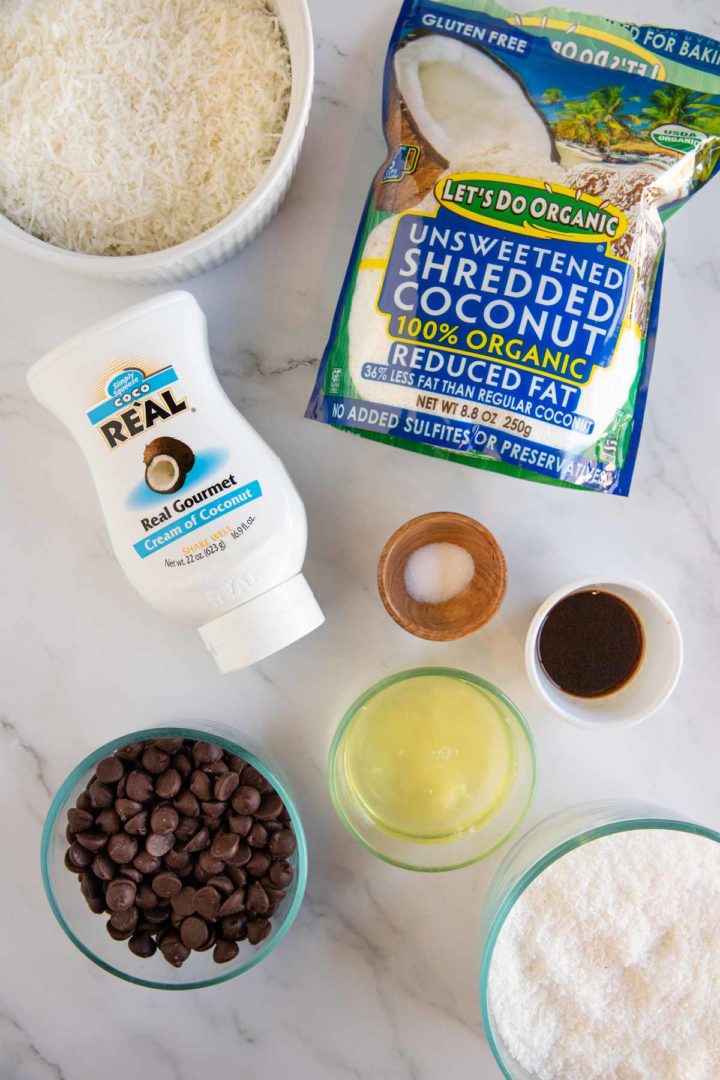 Cream of Coconut
This recipe for easy coconut macaroons is made without sweetened condensed milk and instead uses a coconut based sweetener; cream of coconut. Cream of coconut is different from coconut cream, so you will want to double check that you are purchasing the correct item. Cream of coconut is used primarily for making mixed drinks like piña coladas, and is typically found in the adult beverage aisle with drink mixers. I love to use the Coco Reál brand which has a bold coconut flavor.
2 Different Types of Coconut
For the ultimate coconut flavor, and to give these macaroons the best texture, a mixture of two different types of coconut worked best. Half of the coconut is your typical shredded sweetened coconut, but the other half is a finer desiccated, or fine shred, unsweetened coconut that helps to bring it all together with full coconut flavor but not overwhelmingly sweet. The brands of fine shred coconut that I find work best are either Bobs Red Mill or Let's Do Organic.
Egg whites
Finally, egg whites…these ege white coconut macaroons are insanely easy, you don't even have to whip the whites. I know many recipes require whipping the egg whites, but this recipe uses them simply as a binding agent so no need to go through all the effort to whip them! This is an easy dump and mix recipe that can come together quickly!
Chocolate
We love to enjoy these as dark chocolate dipped macaroons, but you can choose to do without chocolate as well. The dark chocolate chips,55% cocoa or greater, are my personal flavor preference, but you can use whichever type you prefer. If you want to keep these macaroons completely dairy free, as well as gluten free, then you will need to check and make sure that your chocolate is dairy free as well.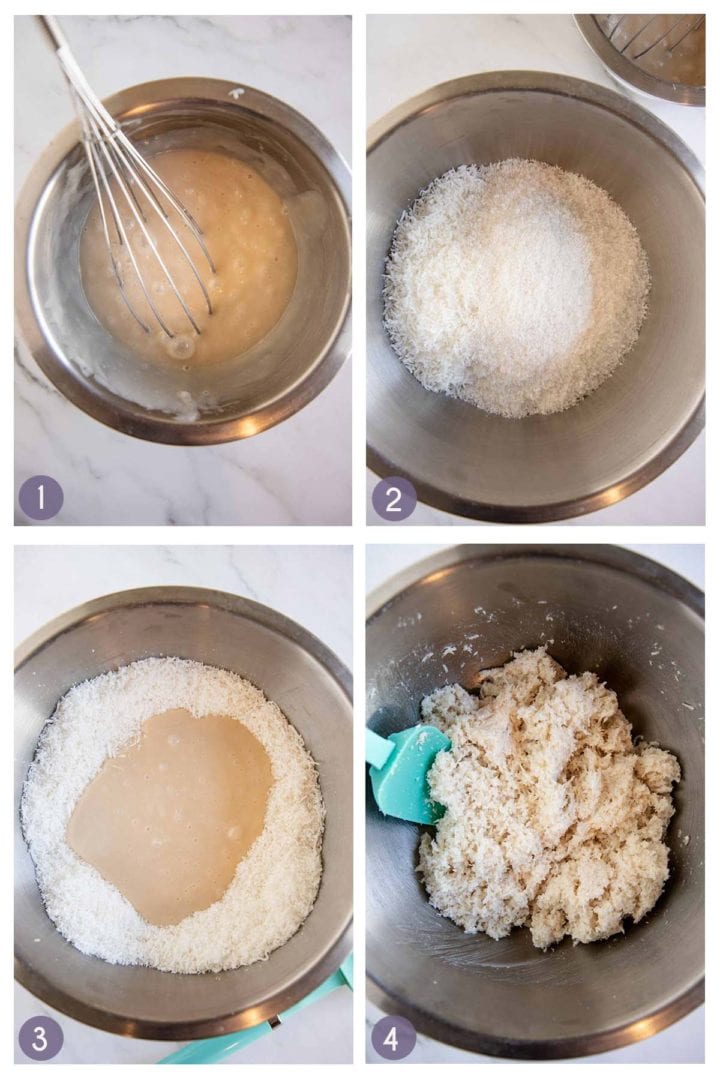 How to Make Coconut Macaroons From Scratch
Easy peasy, this recipe is as simple as combining your wet ingredients of egg whites, cream of coconut, salt and vanilla in one bowl.
Next, you will want to mix your two different types of coconut together in a large bowl.
Pour your wet ingredients over the dry ingredients.
Lastly, just stir until thoroughly combined.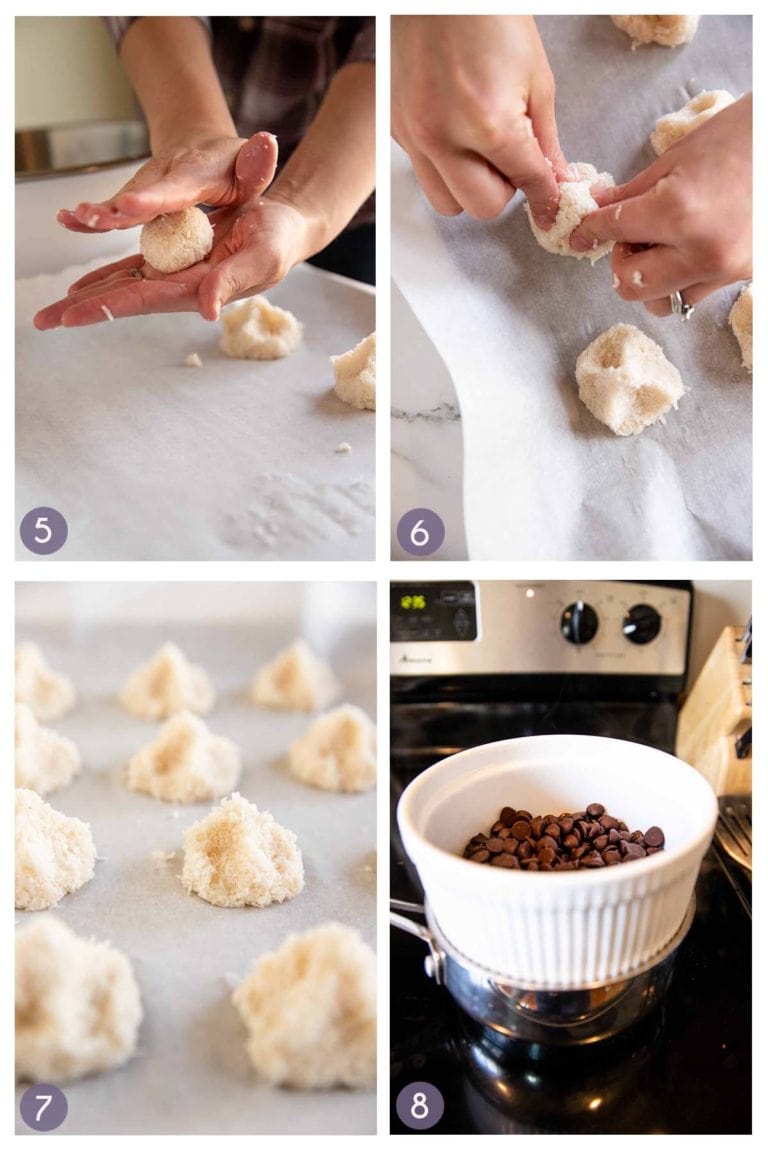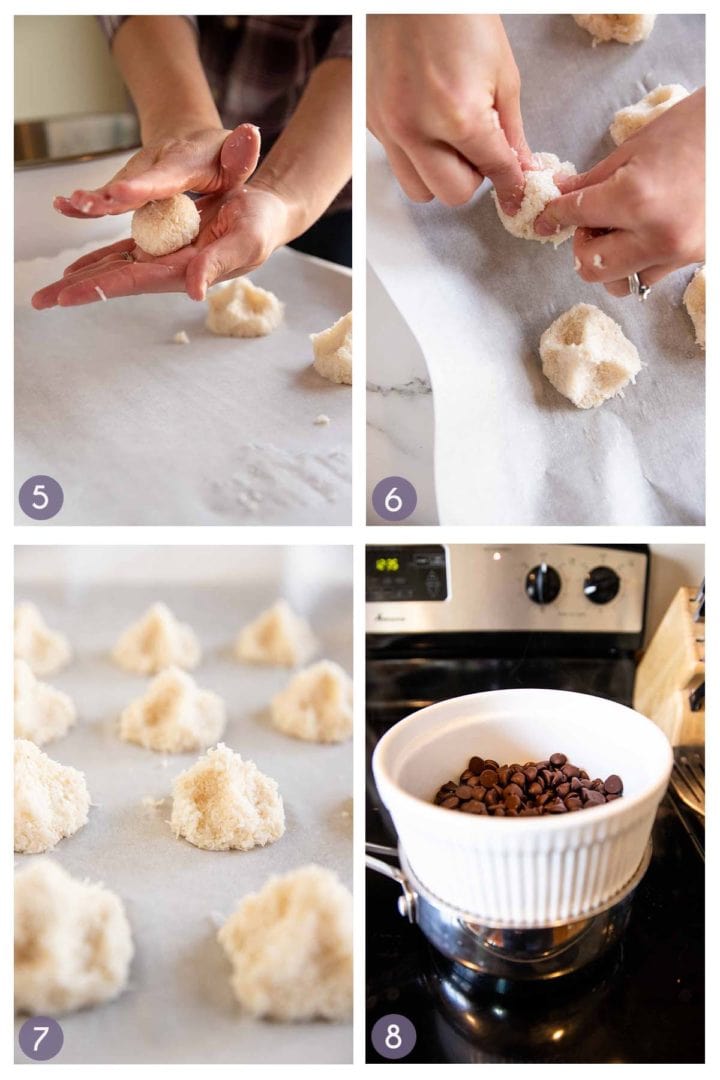 Shaping the Macaroons:
While your oven heats, create little "haystacks" of macaroon dough by taking about 1-2 Tablespoons of dough and rolling it into a ball.
Place the ball onto a parchment lined baking sheet and, using wet finger tips, Pinch the dough with the pointer finger and thumb of each hand to squeeze each side gently. This will create 4 gentle indents and form a point at the top for a fun look. Adjust shape as necessary, and moisten your fingertips with water if needed to keep the dough from sticking. See step photos for the finished result and how to shape the coconut macaroons.
If you prefer to make balls out of your coconut macaroons, then that works as well!
Melting the Dark Chocolate and Dipping the Cookies
After the coconut macaroons are completely cooled, then you can dip them in chocolate if you want.
The most reliable method of melting your chocolate is to use a double boiler. This also helps to maintain the melted temperature while you are dipping so you don't need to work too fast.
To melt the chocolate, Use a double boiler, or fill a saucepan with about 1-2 inches of water and bring to a gentle simmer.
Nest a heat-proof bowl on top of the saucepan, but check the size so that the bowl sits on the pan without ever touching the hot water below.
Add your chocolate and let it heat for a few minutes until mostly melted before stirring.
Gently stir the chocolate to evenly distribute the heat and let it fully melt. Remove from the burner, but let the chocolate remain over the warm water to stay melted.
Melting Chocolate in the Microwave
Alternatively, you can melt your chocolate in the microwave by placing the chocolate in a heatproof glass bowl and setting the microwave power to 50% and heat for 2 minutes without stirring. After 2 minutes stir the chocolate and continue heating in 30 second increments until fully melted.
Once the chocolate is fully melted, you can dip your macaroons. Use a table knife to assist you in scooping the macaroons out of the chocolate and gently scraping some excess chocolate off of the bottom. Place on a piece of parchment to let set and harden.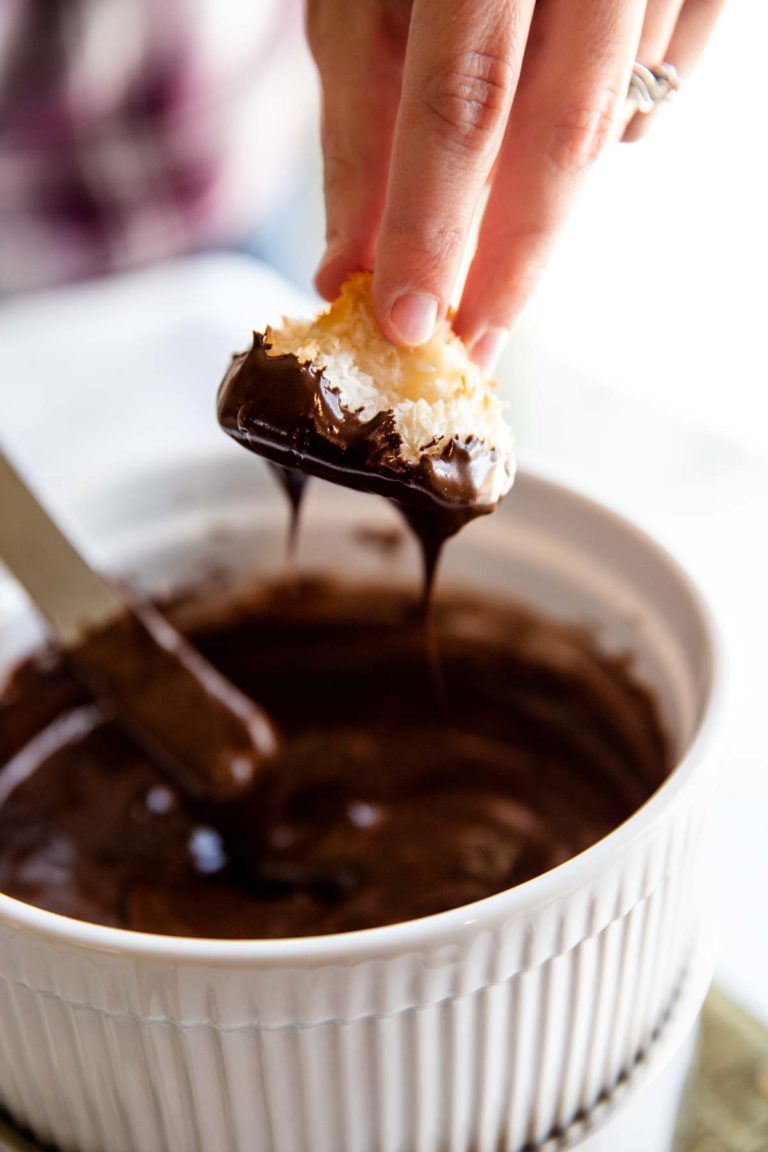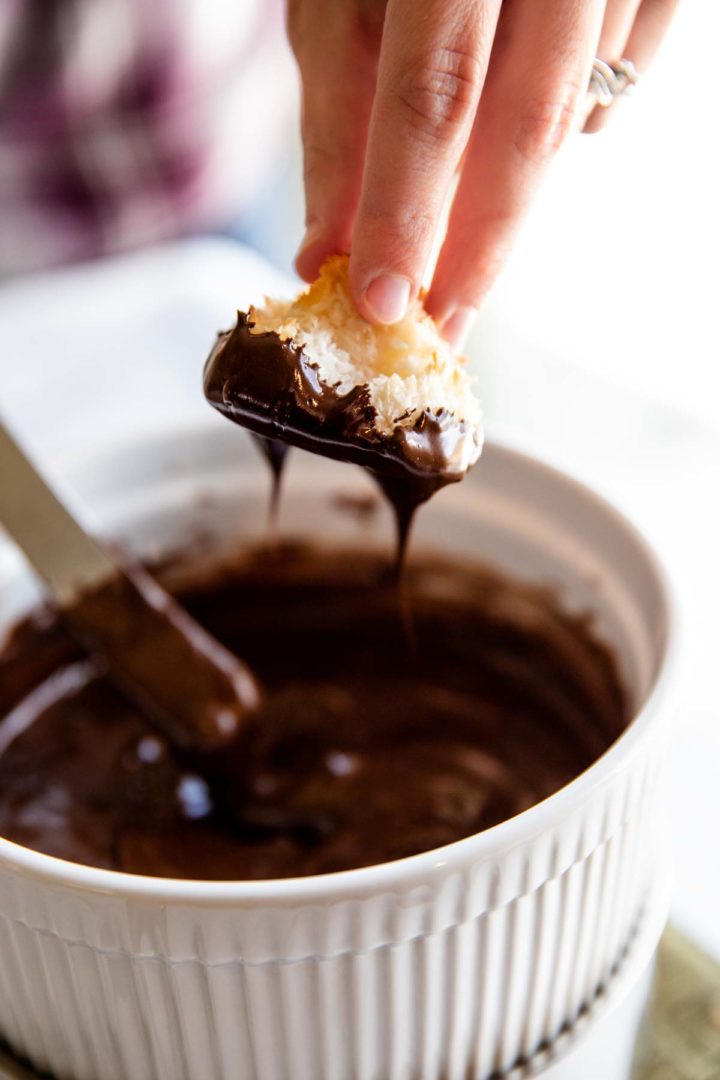 Storage:
Coconut macaroons store very well! They keep covered, at room temperature for up to 5 days before they even start to dry out. No need to refrigerate your coconut macaroons unless it is very hot out, then you will want to refrigerate the macaroons to keep the chocolate from melting. Since these cookies keep so well, they are the perfect make ahead dessert!
Freezing:
You can freeze the macaroons if you would like. Freeze on baking sheets and once they are hard you can pop them all off to be stored in stacks with parchment between the layers. They will freeze for up to one month. Let the macaroons thaw at room temperature before eating.
One drawback from freezing the macaroons is that upon thawing, the chocolate may "sweat" or become dappled with the temperature change. This doesn't affect the flavor but if you prefer, you can always freeze them without the chocolate and dip them in chocolate after they have thawed
Anytime I need an allergy friendly dessert, this is one of my favorite go-to recipes. Naturally gluten free and dairy free, these easy coconut macaroons are a fun favorite for everyone!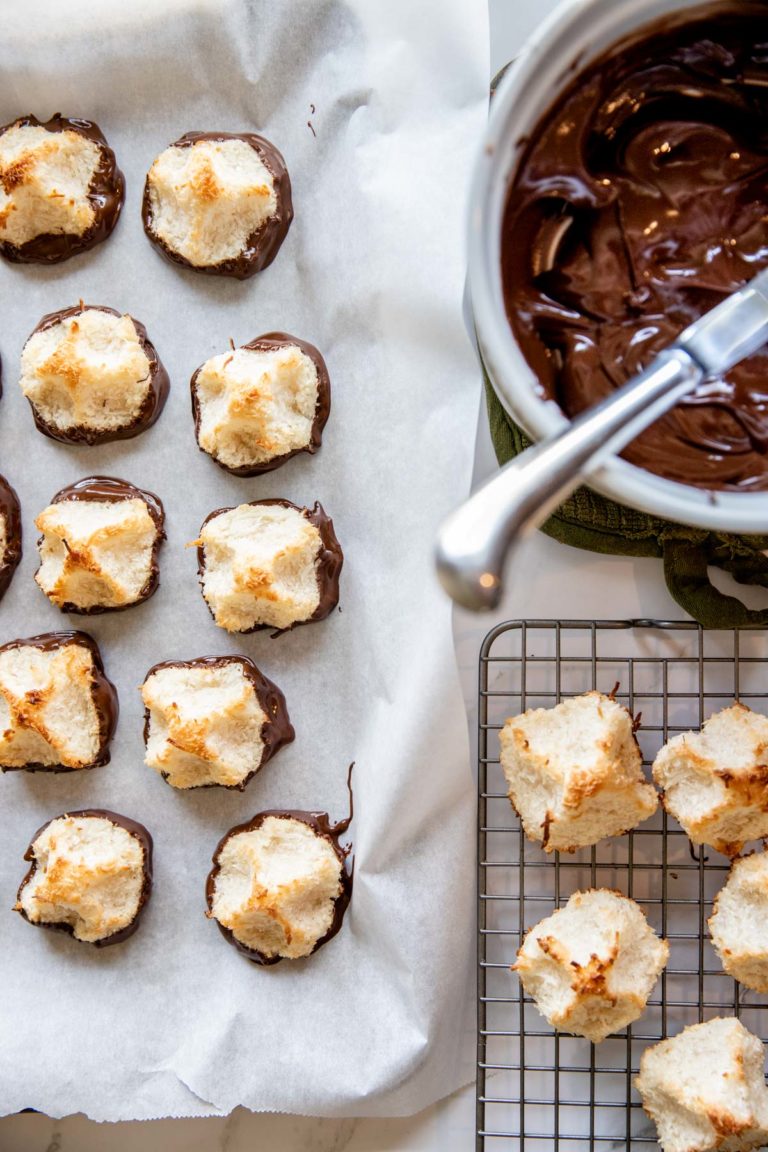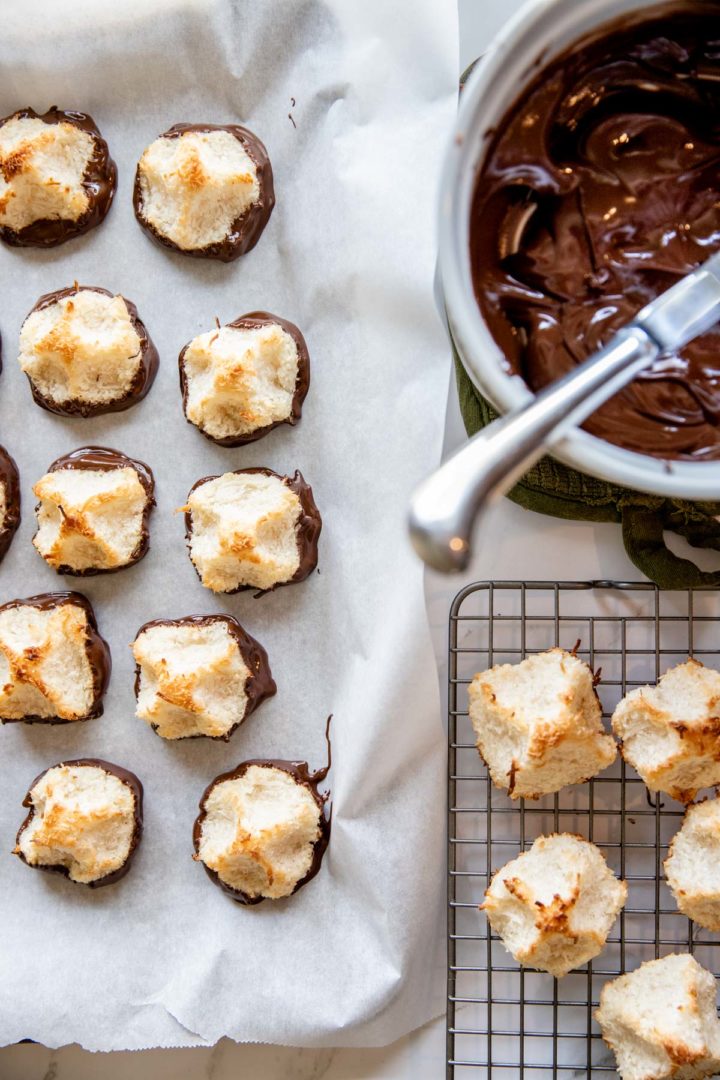 Recipe FAQ'S
Where do coconut macaroons come from?
Macaroons originate from Italy. They were originally made with an almond paste, but since this made them so delicate and fragile, they morphed over the years to be replaced with coconut as a primary ingredient. This made them easier to transport and a favorite household treat. Check out this brief history of macaroons for more details.
Why do my coconut macaroons spread?
Typically coconut macaroons spread if the sugar and liquid ratio is too high. Using the 2 different types of coconut, desiccated and shredded, help in absorbing the moisture. Using the cream of coconut instead of sweetened condensed milk also helps keep macaroons from being too dense and sweet, which will lend to spreading.
What's the difference between macarons and macaroons?
Though both cookies are typically gluten free, macaroons feature coconut as a main ingredient and originate from Italy. Coconut macaroons are very sturdy and forgiving, unlike french macarons.

Macarons on the other hand originate from France, and are typically made from almond flour and whipping egg whites until fluffy. This creates delicate cookies that are used to sandwich various fillings and ganaches.
Need More Recipe Inspiration? Try These Reader Favorites:
Yield: 24
Dark Chocolate Dipped Macaroons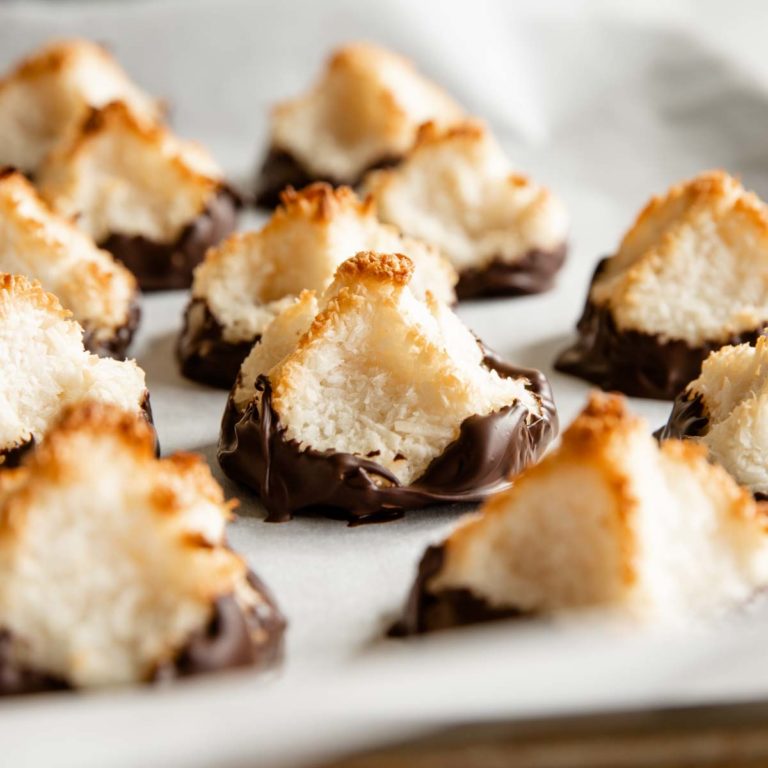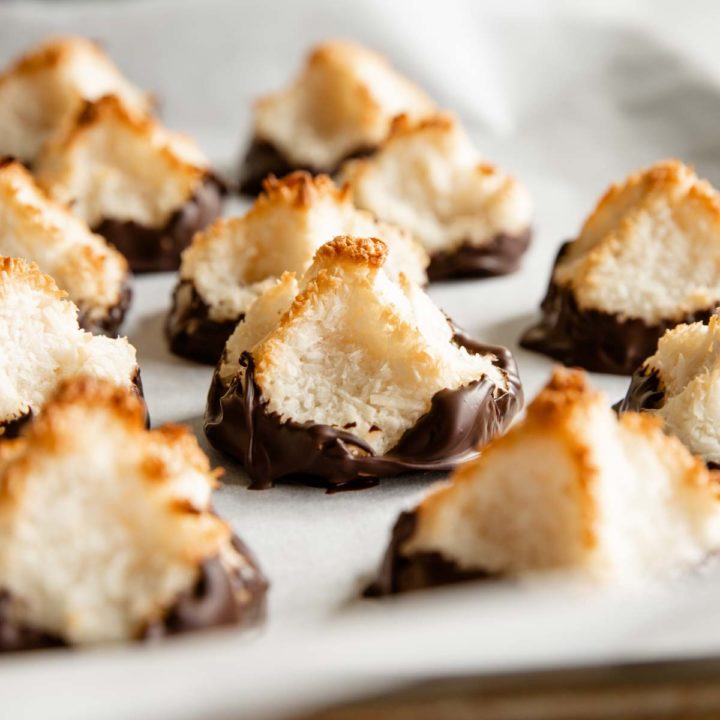 Dark chocolate dipped macaroons are made with just 7 ingredients and are a delightful gluten free treat. With the perfect texture of chewy, combined with the delicate chocolate and coconut flavors, these are the perfect crowd pleaser any time of the year!
Additional Time
10 minutes
Ingredients
1 1/4 Cups Cream of Coconut (see note)
4 Large Egg Whites
1 Tablespoon Real Vanilla Extract
1/2 teaspoon Salt
3 Cups. Unsweetened Desiccated Coconut (See Note)
3 Cups Sweetened Shredded Coconut
12 Ounces Semi-Sweet or Dark Chocolate
Instructions
Line 2 baking sheets with parchment paper to keep the macaroons from sticking.
In a small bowl, whisk together the cream of coconut, egg whites, vanilla and salt. Set aside.
In a very large bowl, Combine the two different kinds of coconut and stir to combine and break up any clumps.
Pour the liquid egg white mixture over the coconut and stir well until thoroughly combined and moistened.
Let macaroon dough rest while you pre-heat the oven to 375° F
Using approximately 2 Tablespoons of mixture, make balls and place on a cookie sheet, 12 per sheet. Using your fingertips, gently shape and pinch the balls to form little haystacks (See Step Photos).
Moisten your fingertips with water if needed to keep the dough from sticking to your fingers too much.
Bake for 15 minutes, one pan at a time, rotating the pan half way through cooking for even browning.
The macaroons will begin to get golden brown around the edges but still be soft and light in spots.
Remove from oven and let sit 5 minutes on their baking sheet, then transfer to a wire rack to cool.
Repeat with additional pan of macaroons.
After macaroons are completely cooled, then melt 12oz of semi-sweet or dark chocolate over a double boiler.
Using a table knife to help, dip the bottoms of the macaroons into the melted chocolate and lightly scoop them up with the table knife and scrape off just some of the extra chocolate from the bottom.
Place onto parchment to let set up until chocolate is firm.
Store, covered, at room temperature for up to 5 days.
Notes
Cream of coconut is different than coconut cream. It is used in mixed drinks for making piña coladas and other tropical drinks. In most grocery stores it will be found in the aisle with adult beverages and drink mixers. You can make your own cream of coconut, though I use the "Coco Reál" brand that can be found in most grocery stores.
Unsweetened desiccated coconut is a finer shred than typical shredded coconut and you will find it in brands like "Bobs Red Mill" or "Lets Do Organic".
Nutrition Information:
Yield:
24
Serving Size:
1
Amount Per Serving:
Calories:

160
Total Fat:

11g
Saturated Fat:

9g
Trans Fat:

0g
Unsaturated Fat:

2g
Cholesterol:

14mg
Sodium:

127mg
Carbohydrates:

13g
Fiber:

2g
Sugar:

10g
Protein:

2g
*Nutrition information is automatically calculated and may not always be accurate.