Ultimate Gluten Free Banana Bread
This ultimate gluten free banana bread recipe hits all the right notes. You get super banana flavor without being heavy and dense and just the right amount of sweetness. Not to mention that it is perfect for either breakfast, or an afternoon "pick-me-up" with your favorite beverage!
This recipe was adapted from my original, non gluten-free, favorite banana bread recipe by America's Test Kitchen. The step they use of microwaving the bananas (or using frozen then thawed) to release their juice; then condensing it for ultimate banana flavor really has been a game changer.
In my opinion this extra, but simple, step truly makes a difference in the end product! This method lightens the loaf up, using less bananas but still keeping all the flavor.
I substituted an all-purpose-gluten-free-flour blend (without xanthan) and upped the leavening a bit to compensate. I almost always find recipes taste just as good with less sugar; since this banana bread has so much sweetness from the bananas I cut the brown sugar back.
Just because I cut the sugar back doesn't mean you won't find me switching it up and adding chocolate chips to every-other batch to mix it up a bit!
One thing I have discovered with gluten-free baking, is that most baked goods don't have quite as long of a shelf life as traditional baked goods. This loaf is best enjoyed with-in a day or two of making it.
Spread some butter on top (i'm never one to shy away from good butter), cozy-up with a hot beverage and a book, then voila "ultimate gluten free banana bread!" …I mean "ultimate cold weather un-wind!
Happy Baking!
Erica
Need More Recipe Inspiration? Try These Reader Favorites:
Yield: 1 Loaf
Ultimate Gluten Free Banana Bread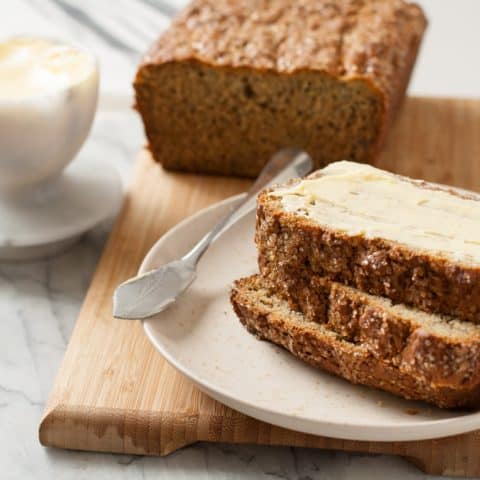 Total Time
1 hour
15 minutes
Ingredients
9 1/2 oz. (2 C. plus 2Tbsp) Gluten-Free Flour Blend* (see note)
1 Tbsp. Baking Powder
1tsp. Baking Soda
1/2 tsp. Salt
1/4 tsp. Xanthan Gum (omit if your flour blend already has this)
5 Very Ripe Bananas, peeled
8 Tbsp. Butter, melted
2 Large Eggs
1/4 C. Brown Sugar
1 tsp. Vanilla Extract
2 Tsp. Coarse Raw Sugar for sprinkling
Instructions
Heat oven to 350° F. Grease a standard size loaf-pan and set aside.
Whisk together flour, baking powder, baking soda, salt and xanthan gum in small bowl and set aside.
Place bananas in a medium microwave safe dish and microwave, covered, for about 5 minutes until bananas have released most of their liquid. Transfer to strainer placed over medium bowl and let drain for 10-15min, stirring occasionally until you have 1/2-3/4C. liquid.
Transfer banana Juice to medium saucepan and cook over medium heat until juice is reduced and concentrated to about 1/4C. (aprox 5 min)
Add bananas to condensed juice and thoroughly mash until mostly smooth.
Whisk in melted butter, eggs, brown sugar & vanilla.
Stir in flour mixture until thoroughly mixed.
Pour batter into prepared loaf pan and sprinkle with coarse sugar.
Bake 50-60 minutes until toothpick inserted in the center comes out clean.
Let cool on 15 minutes then remove from loaf pan and finish cooling on wire rack.
Serve and Enjoy!
Notes
*Gluten-Free flour blends vary from brand to brand and I have found, with gluten free baking, a kitchen scale really is a lifesaver in keeping recipes consistent with measurement! If you don't have a scale, be sure to sift your flour first and gently scoop it into the measuring cup with a spoon to keep it from packing down too much.
As with most gluten-free baked goods, this does dry out a bit faster than traditional banana bread so it is best eaten the day of baking. If you do have extra to store, make sure loaf is fully cooled and store in plastic wrap at room temperature.
Did you make this recipe? Leave me a comment below to tell me your thoughts on it, or tag me on instagram @mountainberry_eats to show me what you're baking!