Gluten Free Pumpkin Cinnamon Rolls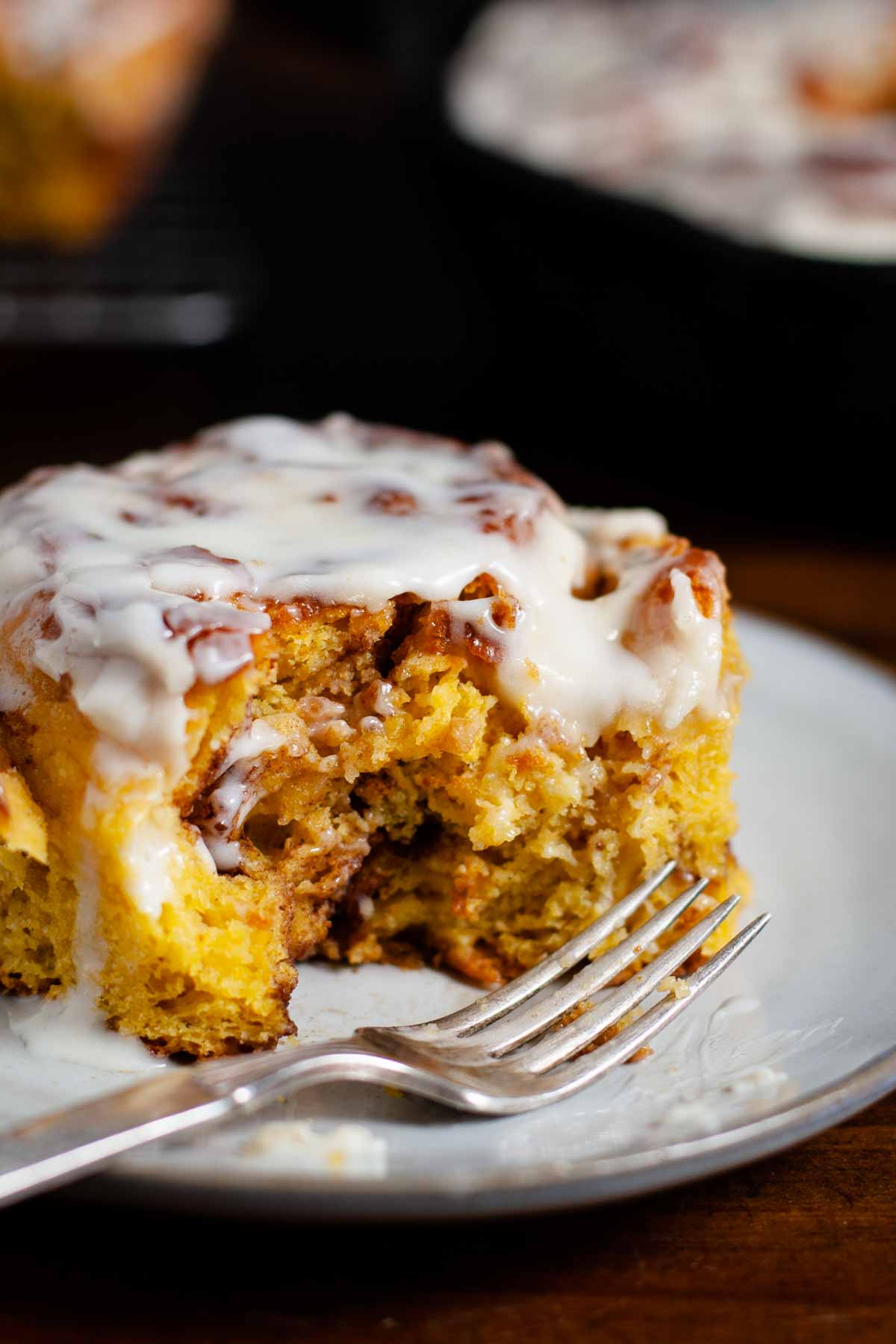 This gluten free pumpkin cinnamon roll recipe will bring back hope to your cinnamon roll despair! Soft and fluffy is not often a word describing gluten free baked goods, and this recipe took many batches of trial and error before finally getting it perfect. Bursting with hints of pumpkin spice, and cinnamon goodness, these cinnamon rolls are topped with a heavenly cream cheese frosting to finish them off.
Overnight pumpkin cinnamon rolls:
The key to these gluten free pumpkin cinnamon rolls is to allow plenty of time for rising. The dough itself comes together rather quickly but it is ideal to mix up the dough the afternoon or evening before. So, can you let cinnamon roll dough sit overnight? Most definitely, and for this recipe it is ideal! After the first initial rise, just throw the dough in the fridge overnight to firm up and absorb the starches from the flour.
We love to enjoy these for a Christmas morning treat with our coffee and it is heaven to wake up to these! If you make the dough the evening before, then it doesn't take too long to assemble them in the morning. You will need to allow for a final rise time after the cinnamon rolls are assembled. To help speed up the final rise time, I warm my oven to 200° F and then shut it off and leave the door slightly cracked while I assemble the pumpkin cinnamon rolls. After the cinnamon rolls are assembled then stick them in the just warm oven. This begins to quickly proof the cinnamon rolls for their final-rise before baking. Do not skip this final rise!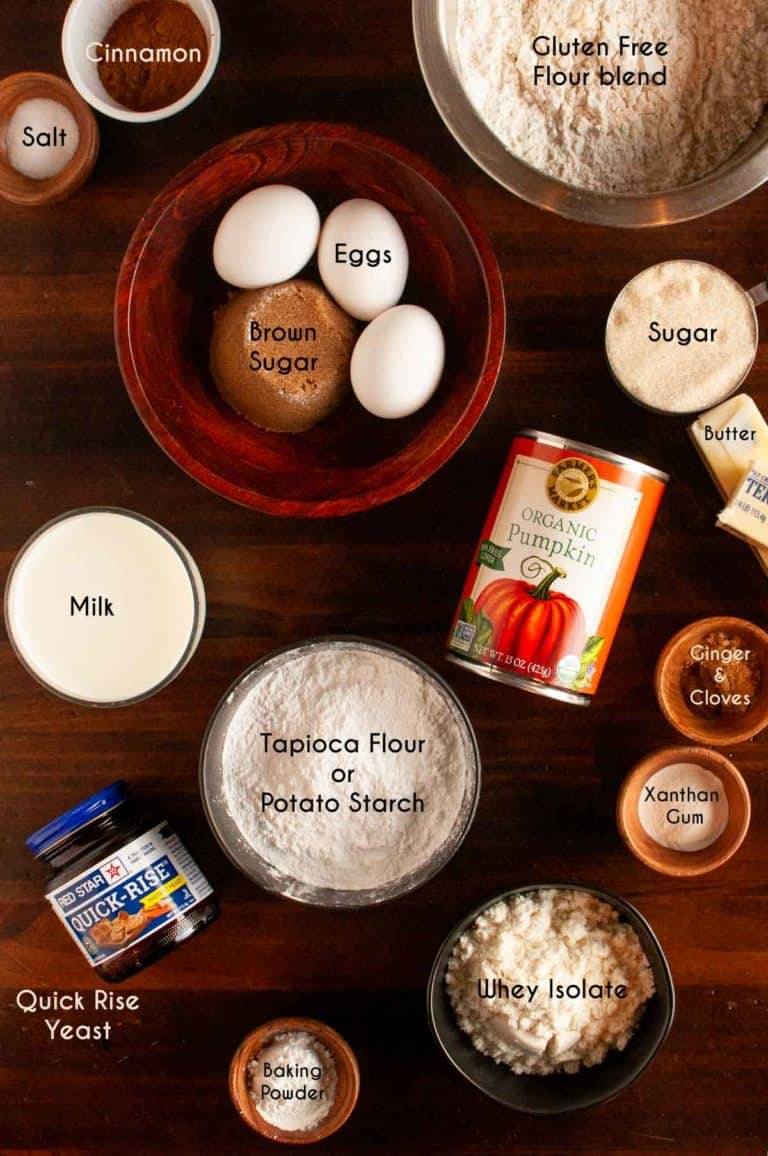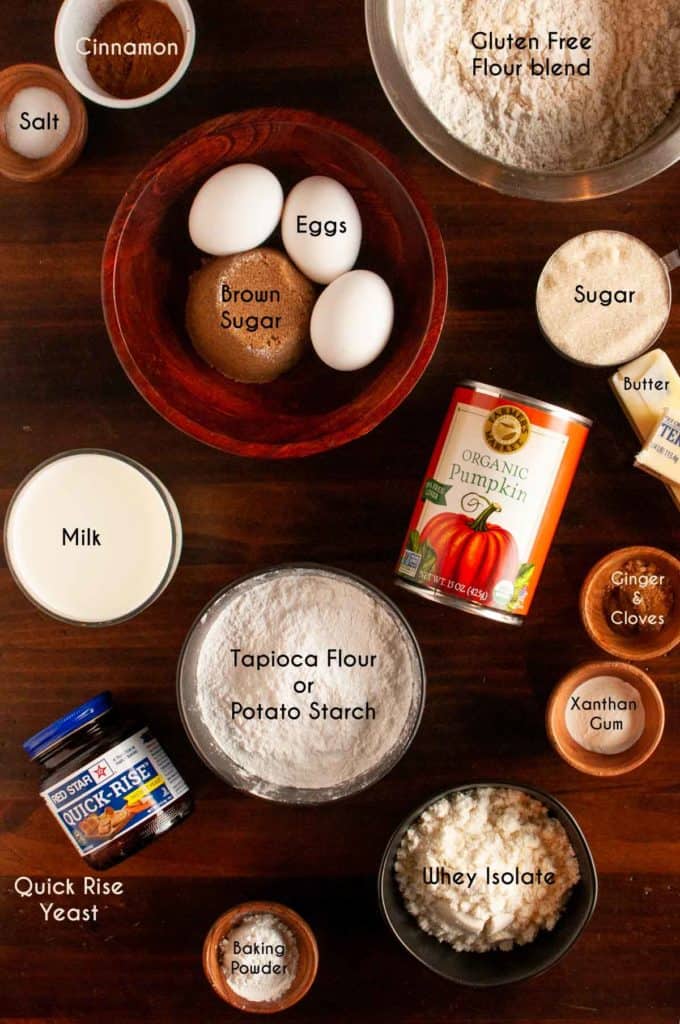 Why are my cinnamon rolls tough / Why are my cinnamon rolls not fluffy?
This is one of the most challenging and frequently asked questions in all of gluten free baked goods. When the gluten is omitted from baked goods, many other factors come into play. Some recipes just swap the flour and it's no big deal. If you do this with gluten free cinnamon rolls, you will end up with a tough dense product. This is why you need to adjust other aspects as well.
I have tried many different recipes for gluten free pumpkin cinnamon rolls, and though many of them had great flavor, the texture never compared to the fluffy cinnamon rolls I once knew! 😭
One of the biggest mistakes I have discovered people make in gluten free baking, is that they try to match dough consistency to what they have experienced in baked goods that contain gluten. I made the same mistake with the first trial batches of these gluten free pumpkin cinnamon rolls. Do not expect the dough consistency to be the same as traditional cinnamon roll dough! If you do, then your cinnamon rolls will end up being tough. This dough starts out quite thin and is more of a batter. The overnight chill time is key in allowing it to firm up without making it dense.
In addition to a thinner dough to start out, if you want your cinnamon rolls to be fluffy you will need to increase the leavening. For gluten free baking, it is typically better to use quick-rise yeast instead of traditional yeast. As well as yeast, this gluten free pumpkin cinnamon roll recipe uses baking powder to help give it a jumpstart on the rise when being baked.
Though these cinnamon rolls have a thin dough, you want to keep all that flavor and complexity that traditional thick dough has. Since adding the normal amount of milk makes our batter too thin, adding whey-isolate helps the cinnamon rolls texture. It also replaces the protein and provides some of the structure that the gluten in traditional flour provides.
In case you are worried about having a container of whey isolate that you will never use again, you can be re-assured that it comes in very handy for more than just cinnamon rolls! This brand that I use is unflavored so I love to put in my everyday smoothies. I also use it in our week-day blender pancakes to add additional protein for our busy days.
How do you make cinnamon roll glaze from scratch?
These gluten free pumpkin cinnamon rolls are topped with a delightful cream cheese frosting that comes together in just minutes. This cinnamon roll frosting recipe is great on any type of cinnamon roll! You can adjust the thickness to your liking by just adding milk until it reaches the desired consistency.
Cream butter and cream cheese
Add vanilla and powdered sugar
If thinner consistency is desired add 1 TBSP of milk at a time.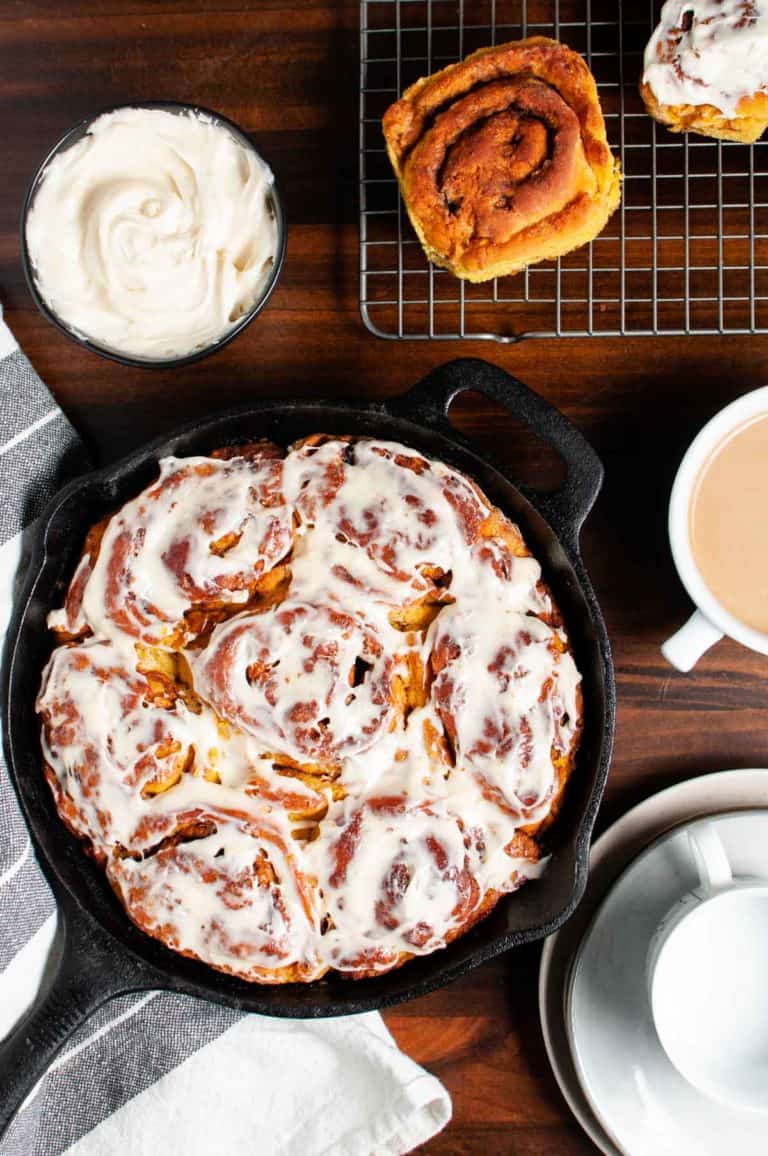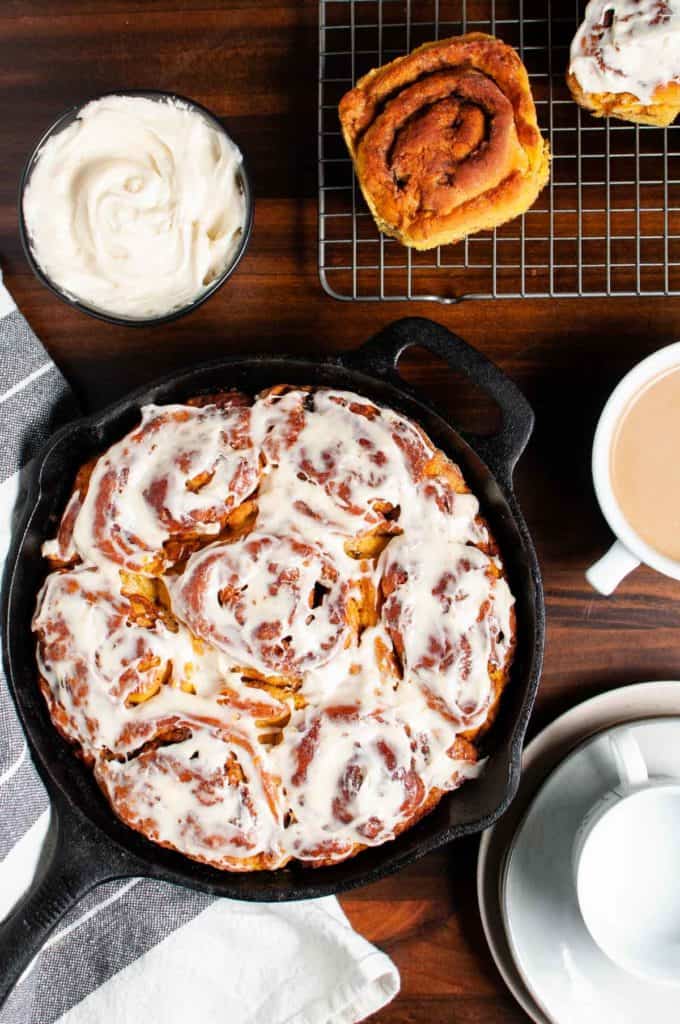 How to store and reheat extra cinnamon rolls:
Just like most gluten free baked goods, these cinnamon rolls are best eaten the day they are baked. The downfall of gluten free baked goods is that they do dry out faster than traditional baked goods. If you have extra, wrap each cinnamon roll in plastic and store at room temperature for up to 2 days. To reheat gluten free cinnamon rolls: dab a few sprinkles of hot water on the entire surface of each cinnamon roll and reheat in the microwave for 20 seconds.
Can I make small batch gluten free cinnamon rolls?
This recipe makes 12 cinnamon rolls, but you can easily cut the recipe in half to make just 6.
Need More Recipe Inspiration? Try These Reader Favorites:
Yield: 12
Gluten Free Pumpkin Cinnamon Roll Recipe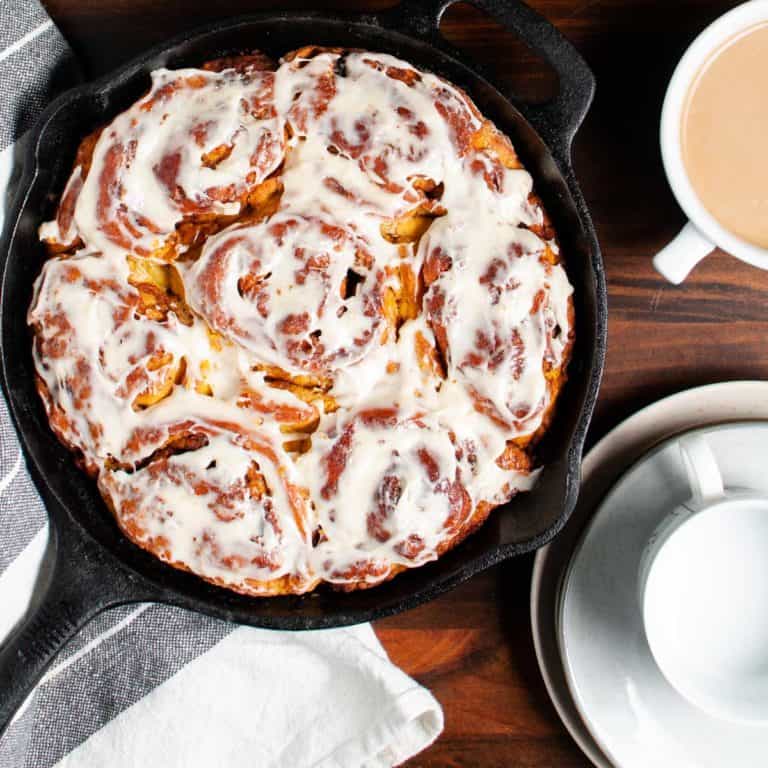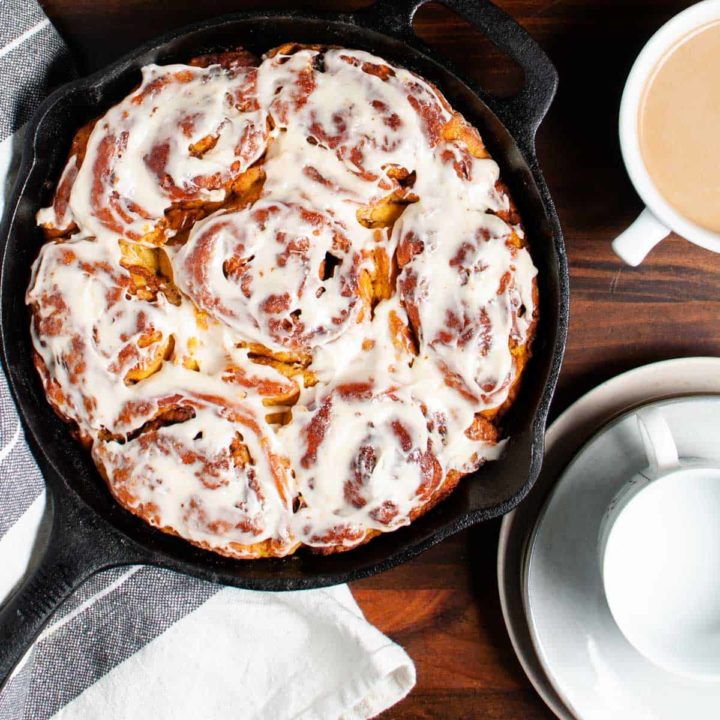 These gluten free pumpkin cinnamon rolls are actually fluffy! Make the dough the day before so these easy overnight cinnamon rolls have plenty of time to rise. Assemble them the morning of for a delightful treat with your cup of coffee or an easy Christmas morning breakfast.
Total Time
3 hours
40 minutes
Ingredients
200 grams (1 3/4 cup) Tapioca Flour*
375 grams (3 cups) Gluten Free Flour Blend* (I use Bob's Red Mill 1 to 1 Baking Flour)
50 grams (3/4 cup) Whey Isolate*
2 teaspoons Xanthan Gum
1 Tablespoon Baking Powder
1/2 Cup Granulated Sugar
1 teaspoon Salt
1 teaspoon Ground Ginger
1/4 teaspoon Ground Cloves
1 Tablespoon Quick Rise Yeast
1/2 Cup Butter, Melted
1 C. Whole Milk
1 C. Pumpkin Puree
3 Eggs
Filling:
4 Tablesoons Butter, Melted
1/2 Cup Brown Sugar
1 1/2 Tablespoons Cinnamon
Cream Cheese Frosting for Cinnamon Rolls:
1/4 C. Butter, Softened
4 ounces Cream Cheese, Softened
1 teaspoon Vanilla
1 Cup Powder Sugar
Instructions
In your large mixing bowl, combine tapioca flour, gluten free flour blend, whey isolate, xanthan gum, baking powder, yeast, sugar, salt, ginger and cloves. Stir well to combine.
In a small pan or liquid measuring cup, heat the milk over the stove-top or in the microwave until it reaches 110° F. Be sure not to get it too hot as this will kill the yeast.If you don't have a thermometer then it should be about the temp of a hot bath and you should still be able to put your finger in without getting burned.
Combine the eggs, pumpkin and butter in a medium bowl and whisk to combine.
Pour the wet ingredient, milk, and pumpkin mixture, over the dry ingredients and mix well with a paddle attachment on medium speed for about 1 minute.
All the ingredients should be thoroughly incorporated with no lumps, but the dough will be resemble a batter. It will thicken up after the chilling process.
Cover the dough with plastic wrap and set aside on the counter in a warm location and let rise about 2 hours until doubled in size and fluffy.
After the initial rise, use a spoon to re-stir the batter and deflate the dough. Put the plastic wrap back on and place the dough in the refrigerator overnight or for about 10-12 hours.
To Assemble and Bake the Cinnamon Rolls:
Grease a 9x13" pan or 2-9" round pans with butter and set aside.
Preheat the oven to 200° F then shut the oven off and crack the door to let it cool slightly while you assemble the cinnamon rolls.
Lay out a large sheet of parchment paper and sprinkle the surface heavily with gluten free flour. You will need plenty of flour as you work and roll out the dough.
Remove the chilled dough from the fridge and dump it on to your prepared work surface.
sprinkle about 1/4 cup of flour over the dough and gently need into the dough.
add more flour to your work surface and coat your hands with flour. Then gently press the dough out into a large rectangle 12x18 inches.
Gently lift up the edges and see if sections are beginning to stick to the parchment, if so, sprinkle more flour underneath the dough so it doesn't stick when you roll it up. Have a bench scraper or knife on hand to gently scrape up any stuck bits where you can then sprinkle more flour.
Spread your melted butter for the filling all over the pressed out rectangle, evenly coating the surface.
Evenly sprinkle on the brown sugar and cinnamon.
Roll the dough up lengthwise by lifting the parchment from one side and gently folding the dough over itself a little at a time, brushing off excess flour as you go. repeat this process to make a long rolled cylinder.
Using a sharp knife or bench scraper, cut the cinnamon rolls into 12 even pieces.
Gently place the assembled cinnamon rolls in the pan(s)
place the pan(s) of cinnamon rolls in the lightly warm oven and let them rise for about 1hr until puffed and doubled in size.
Very gently remove the pan from the oven, being careful to not deflate the dough.
Once the risen cinnamon rolls are out of the oven, preheat the oven to 350° F.
Once heated, bake the cinnamon rolls for 35 minutes.
Let cool 10 minutes before removing from the pan, then apply frosting and serve!
To make the Frosting:
While the cinnamon rolls bake, mix the softened butter and cream cheese in a medium bowl with a mixer until fluffy and combined.
Scrape the sides and add vanilla and powder sugar. Start the mixer slow so the sugar doesn't spray out. mix for 1 minute until fluffy and well mixed.
If the frosting is too thick you can add 1 tablespoon of milk and mix thoroughly.
Notes
* The quantity of these items can vary greatly if they are not measured carefully. If you do not have a kitchen scale then fluff these ingredients well with a fork and gently spoon into a measuring cup. Lastly, use the flat edge of a knife to scrape off excess and level the amount in the measuring cup.
• Potato Starch can be substituted for tapioca flour in this recipe just fine if needed.
• Whey Isolate is very helpful in GF baking though in a pinch you could sub powder milk if needed.
Nutrition Information:
Yield:
12
Serving Size:
1
Amount Per Serving:
Calories:

464
Total Fat:

17g
Saturated Fat:

10g
Trans Fat:

0g
Unsaturated Fat:

6g
Cholesterol:

89mg
Sodium:

464mg
Carbohydrates:

69g
Fiber:

2g
Sugar:

28g
Protein:

9g
*Nutrition information is automatically calculated and may not always be accurate.
Latest Recipes: