Flourless Banana Pancakes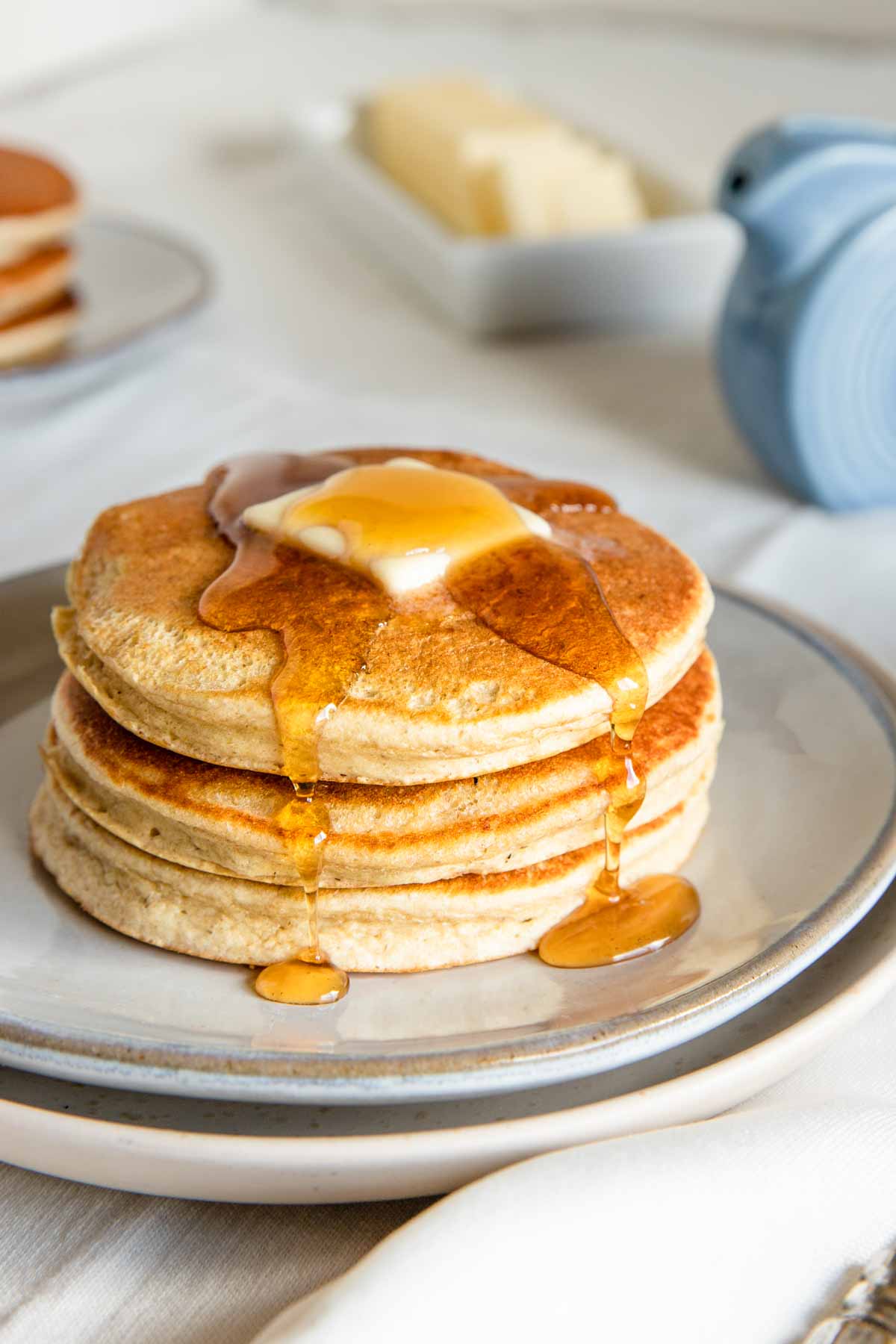 Flourless banana pancakes are the perfect weekday breakfast that are quick, healthy and can have the option of additional protein to power you through the day. For pancakes that are gluten free and have no added sugar, you'll wonder, how are these so dang good?
Wakin' up too early 
Maybe we could sleep in 
Make you banana pancakes 
Pretend like it's the weekend now…
Each morning that we have these banana pancakes, I can't help but realize I always have these lyrics running through my head as I savor each bite. And with how quick these pancakes come together, I can even justify sleeping in that extra few minutes too!
Ingredients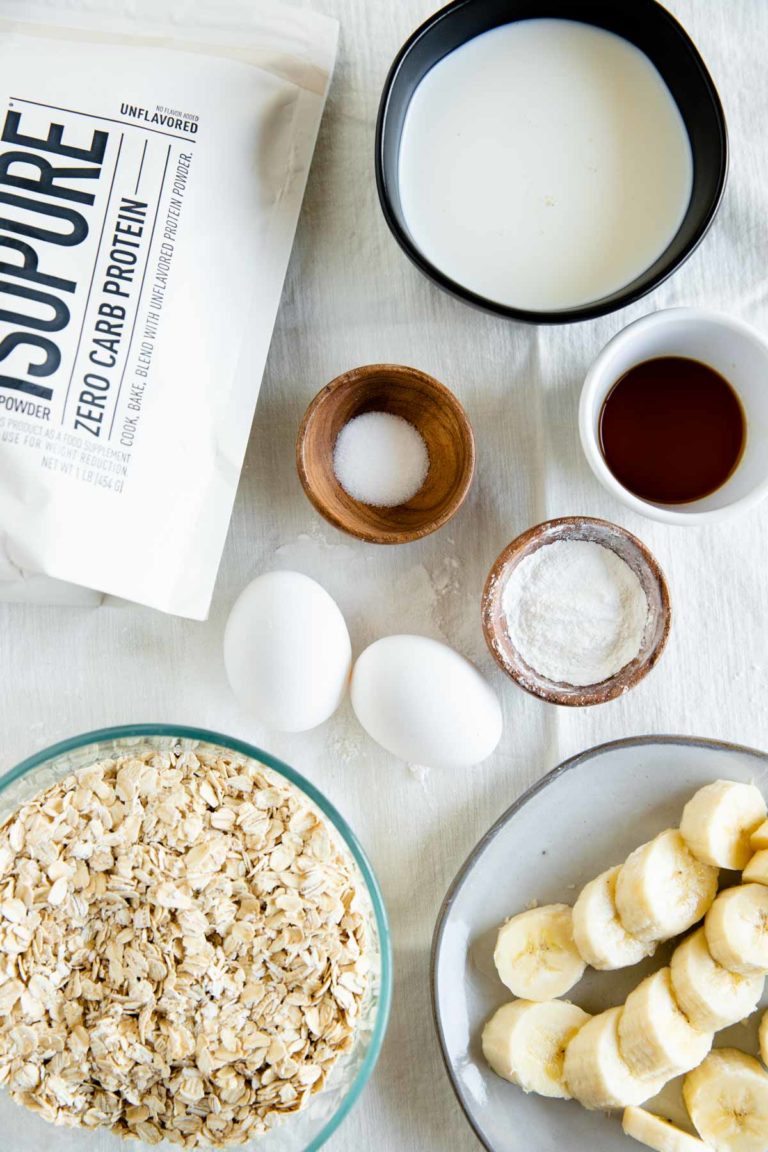 Oatmeal
Any variety of uncooked oatmeal will work for these pancakes. We love to use this variety of raw oats that are completely gluten free and contain a higher protein content than traditional oats. Not to mention we love to support our local farmers! This company, Montana Gluten Free, has a variety of great gluten free baking products to make it worth an order!
Eggs
The eggs really assist in the texture and rising of banana oat pancakes, 2 medium size eggs works perfectly. You can make these even healthier by using 3-4 egg whites if you want, however they will not be as fluffy with just egg white, though they still taste delicious!
Baking powder
I like my pancakes fluffy. To keep these banana pancakes from being to mushy and dense the amount of baking powder is higher than most recipes, but makes a world of difference!
Salt
Of course! A little goes a long way but helps to balance out all the flavors here. 😋
Vanilla
I am all about putting vanilla in everything I can. I grew up using artificial vanilla, but once I discovered the real deal there was no going back. If you have real vanilla extract then it makes a huge difference!
Almond milk
To keep these a low calorie banana pancake that is perfect for making frequently, I choose to use almond milk. However, if I am out of almond milk then I have used traditional milk just fine in this recipe. All that to say, use whatever milk you choose.
Banana
I mean these are banana pancakes after-all! This recipe has no added sugar, so the more ripe your banana is the sweeter your pancake batter will be. If your bananas are fairly yellow still, you can even add a second banana to up the banana flavor and sweetness. The bananas also really help in the browning of these pancakes to get the perfect golden color!
Protein Powder
Protein powder is optional, but if you are looking for the best protein oat pancakes, then this recipe accommodates protein powder very well. I add a scoop per recipe to just up the protein a bit for our weekdays since this is a regular breakfast in our house. 
I know everyone has their favorite brands of protein powder, and which one you use may affect the flavor outcome. I choose to use an unflavored, whey isolate protein to avoid adding a grainy texture or undesired flavor to anything. The brand I love to use is this Isopure unflavored variety of protein powder and we use it in our smoothies as well without the grainy texture.
How to Make Banana Pancakes from Scratch
This recipe is to make banana oat blender pancakes that are perfect for everyday.
You simply just blend all your ingredients together until well combined and the oats are fine. Let the batter sit while your non-stick pan or griddle heats up.
After the griddle, or non-stick pan is heated, with a light amount of oil, pour the batter into pancake sized circles (about ¼ cup of batter), 1-2 inches apart to accommodate some spreading.
Once the pancakes begin to get bubbles, have started to set around the edges and the underside is golden, then flip the pancakes.
Cook an additional 2-3 minutes to let the middle firm up and the pancakes to rise.
Serve warm with butter and syrup or your favorite toppings!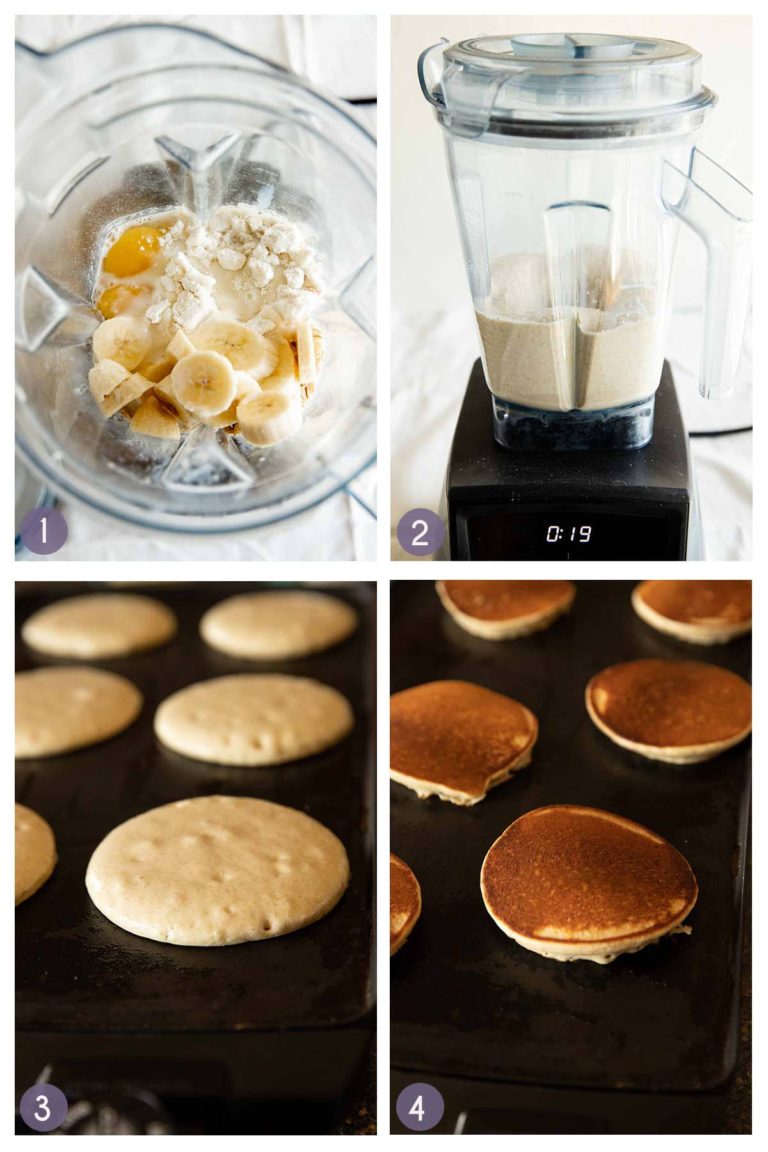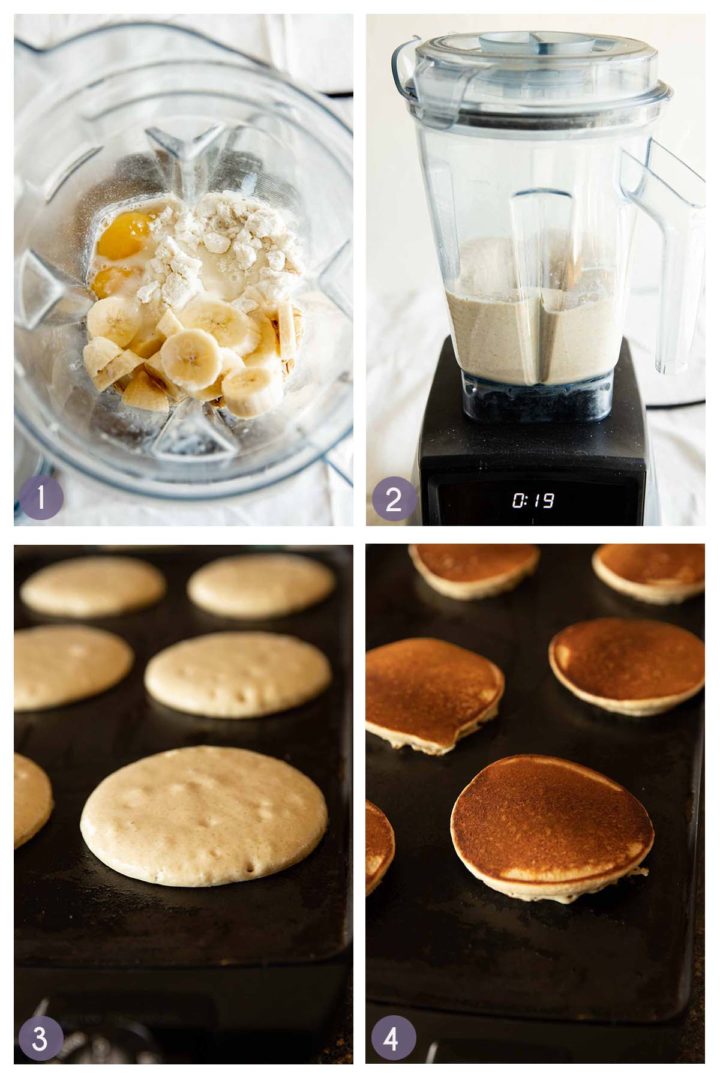 Should Pancake Batter be Thick or Runny?
Pancake batter should be somewhere in-between thick and runny. It should be pourable but not so thick that you would have to scoop it out. If your pancake batter is too runny, then you won't have as fluffy of pancakes. If this batter is too thin then make sure you are letting the batter sit for 5 minutes to let the oats soak up some of the moisture.
If the batter is still too runny, then add an additional ¼-½ Cup of oatmeal and blend until smooth. Different varieties of oats can affect the thickness of the batter.
Are Banana Pancakes Supposed To Be Mushy?
For banana pancakes made in the blender, your banana should be all blended in and the final cooked pancake will be fluffy and not mushy. The variety of banana pancake with chunks of banana will have small amounts of sweet soft banana, where the chunks are, but the center of the pancake should be fully cooked and not mushy.
Pancakes are ready to flip when they begin to get bubbly and the edges have begun to stiffen. If you peek at the under-side it should be a beautiful golden brown.
Once you have flipped the pancakes then they should continue to rise and cook an additional 2-3 minutes for the centers to fully firm up and the underside to become golden.
Are Oatmeal Pancakes Healthy
Though these oatmeal pancakes are not a low carb pancake, they are a very healthy pancake option. This recipe is gluten free and uses lovely whole grains and are even healthier if you choose to use raw oats. There is no refined sugar in these oatmeal pancakes and to make them even healthier you can substitute egg whites for the eggs. 
Want to make your oatmeal pancakes even healthier? 
Swap out the butter and syrup for some unsweetened nut butter and some fresh berries! I love almond butter and raspberries on my pancakes.😋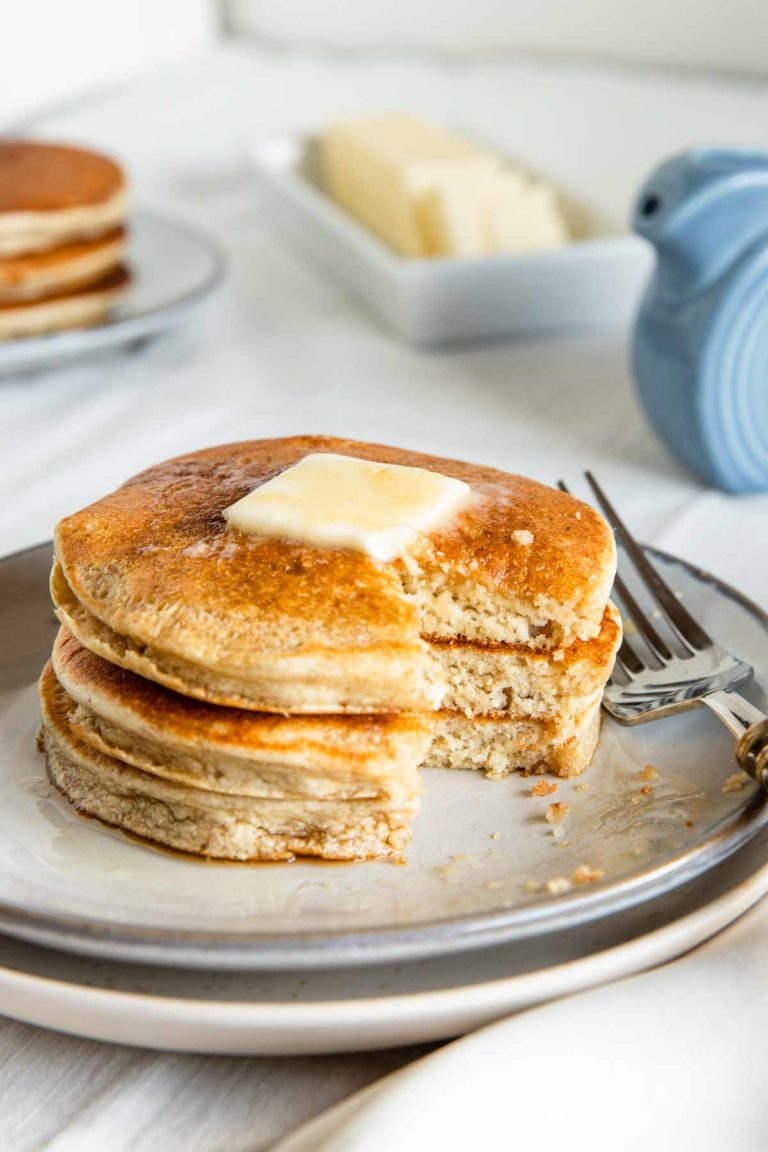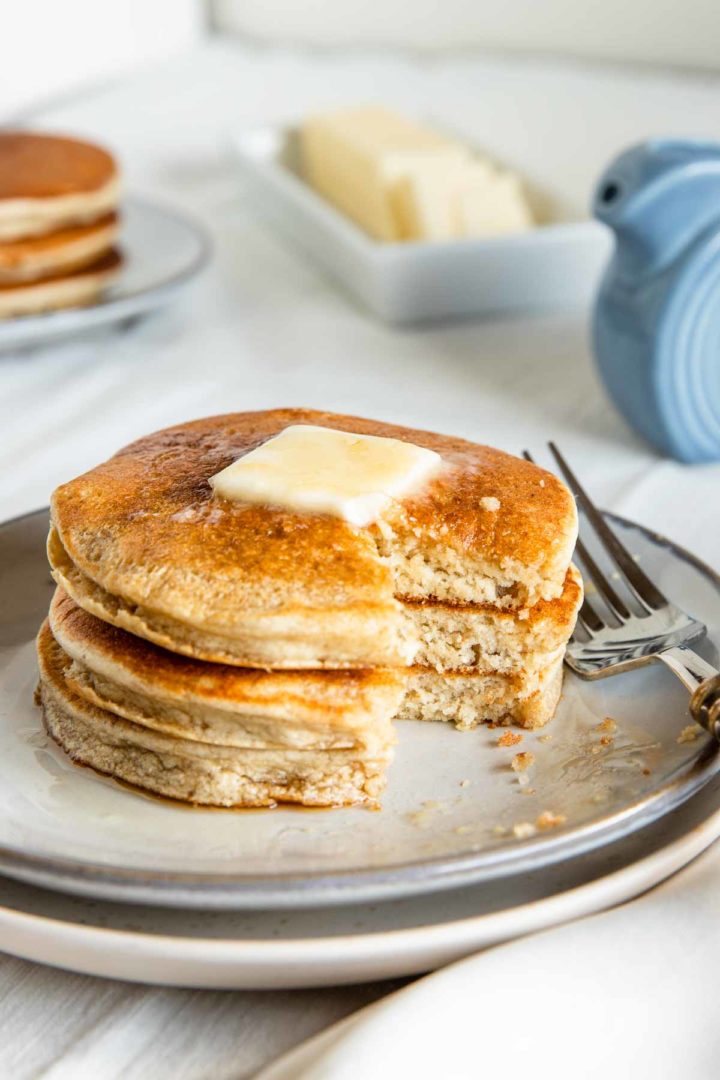 Storage:
Flourless banana pancakes can be stored at room temperature, covered, for up to 2 days. If you live in a very humid climate then refrigerate them instead of storing at room temperature.
To re-heat you pancakes, simply warm your pan or griddle and place the pancakes on to reheat for about one minute per side. Serve warm.
Can I Freeze Banana Pancakes?
Since the banana is all blended into this batter it works fine to freeze these. However, since these batter only takes 5 minutes to prepare, these are just as easy to prepare fresh.
If you decide to freeze them, wrap them individually in plastic, then store in a resealable freezer bag. You can reheat the pancakes in a toaster or with a warm pan, as listed above.
Pancake Topping Ideas
Looking to branch out from butter and syrup? Try these flavor combinations:
Almond butter and raspberries
Coconut cream and fresh fruit
Nut butter, hemp hearts and berries
Toasted pecans and light caramel drizzle
Greek Yogurt and fresh fruit
Cream of coconut and mango
If you make this recipe, leave me a comment below and let me know what you think! This is a perfect busy morning recipe to keep on hand regularly.
Need More Breakfast Inspiration? Try These Reader Favorites
Yield: 4
Flourless Banana Pancakes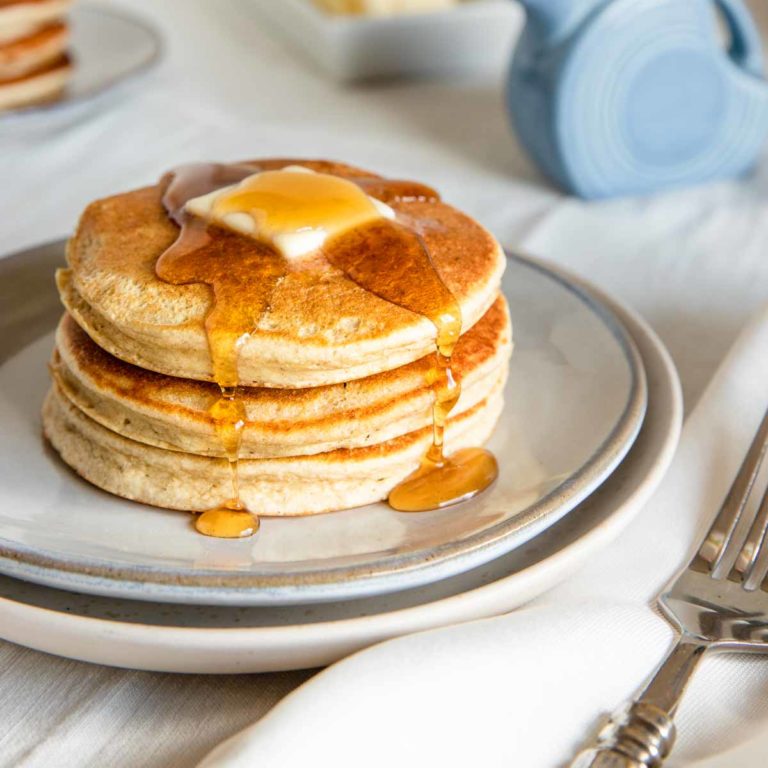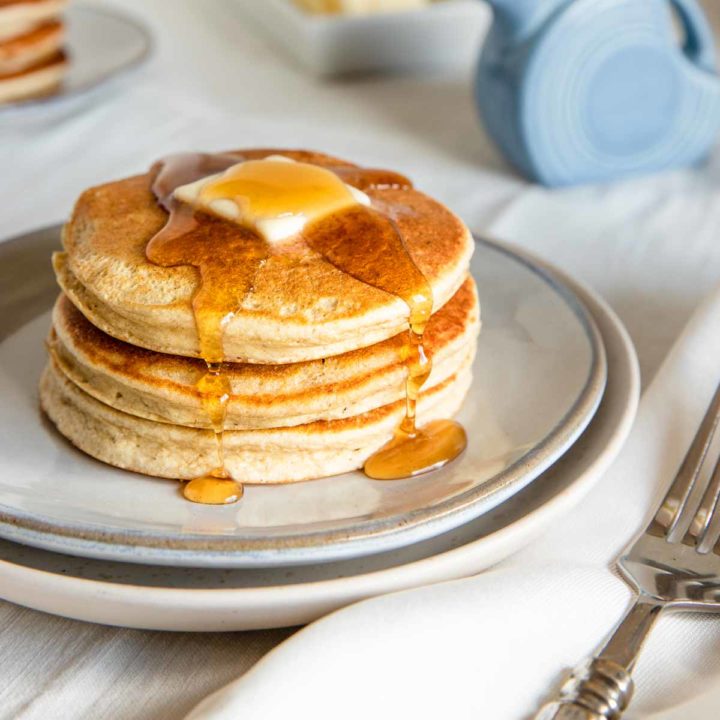 Flourless banana pancakes are the perfect weekday breakfast that are quick, healthy and can have the option of additional protein to power you through the day. For pancakes that are gluten free and have no added sugar, you'll wonder, how are these so dang good?
Ingredients
2 Cups Old Fashioned Rolled Oats (gluten free)
2 Eggs
1 Ripe Banana*
1 Tablespoon Baking Powder
1/2 teaspoon Salt
1 teaspoon Vanilla
3/4 Cup Almond Milk (or other milk of choice)
1 Scoop Unflavored Protein Powder* (optional, see note for the variety I use)
Instructions
Combine all pancake ingredients in a blender and blend until smooth.
Let stand 2-5 minutes to thicken slightly
While batter is resting, heat a non-stick griddle or pan over medium heat with 1 teaspoon of oil.
Once the pan is hot, pour batter into pancake circles, roughly 1/4 Cup per pancake. Pancakes are ready to flip once some bubbles form on the tops of the pancakes and they are beginning to firm up around the edges; the cooked side should be a lovely golden color as well. This takes roughly 3-5 minutes.
Flip pancakes and cook another 2-3 minutes until the other side is golden and the pancakes are not doughy.
Remove from the pan and repeat with remaining batter.
Serve warm with butter and syrup or desired toppings.
Notes
These pancakes are refined sugar free using just a banana as sweetener. The more ripe your banana is then the sweeter your pancakes will be. Alternatively, If you like sweeter pancakes you can use an additional banana as well.
I use almond milk to keep these a dairy free blender pancake, but have made them with whole milk as well. The milk is very versatile for this recipe.
Protein powder is optional, however as these are the pancakes I make for busy weekdays I like to have the extra protein with my breakfast. I like to keep my protein powder unflavored so I can use it in anything without it effecting the flavor. The one I have found that doesn't have a aftertaste or horribly grainy texture is the Isopure Unflavored Protein Powder.
Nutrition Information:
Yield:
4
Serving Size:
3
Amount Per Serving:
Calories:

259
Total Fat:

6g
Saturated Fat:

1g
Trans Fat:

0g
Unsaturated Fat:

4g
Cholesterol:

94mg
Sodium:

683mg
Carbohydrates:

38g
Fiber:

5g
Sugar:

6g
Protein:

15g
*Nutrition information is automatically calculated and may not always be accurate.