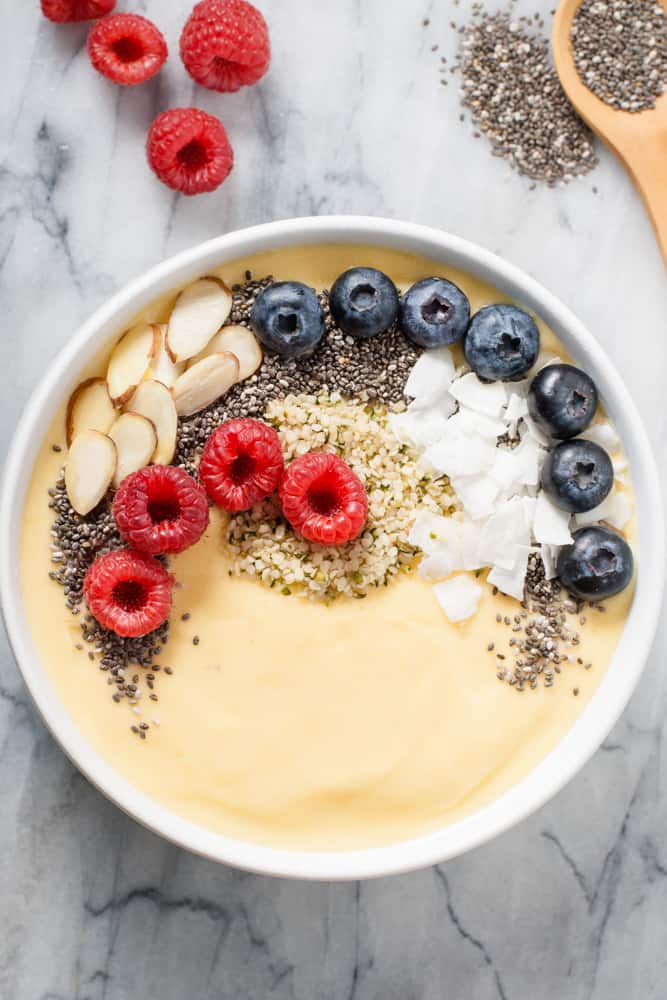 This Mango Smoothie Bowl Recipe features a smooth, mango and coconut milk base. This combination is heavenly! Although I'm sitting at my kitchen table, I am instantly transported to the tropics. (Hooray!)
Smoothie bowls are one of our favorite go-to breakfasts for busy days. You can pack pretty much whatever you want into them. If you throw in some greens, coupled with the fruit and toppings, this makes them one of the easiest ways for me to get a fully nutritious meal into the kiddos as well!
Firstly, this recipe begins with using frozen mangos. They are then puréed until smooth and creamy. I recently upgraded to a Vitamix, and I'm not going to lie, I don't think I will ever go back! The Vitamix chops through fully frozen fruit with no problem, and if you choose to add spinach, you won't be finding any leaf bits.
With this in mind, If you have a traditional blender, I recommend partially thawing the mango before you begin. 30 seconds in the microwave is about right, as you still want the mango to be a bit icy. This recipe should remain a mango smoothie bowl, and not a straight up smoothie! I found with my old blender I had a hard time getting everything mixed if the fruit was fully frozen.
I typically add Greek yogurt in with our smoothies & bowls for a quick way to add some protein. You can leave this out and just do the protein powder and coconut milk if you don't do dairy.
I've tried a large variety of protein powders and personally like to use some plant based ones that provide extra greens. Although, if i'm making this for all of us I stick with a plain, unflavored, whey isolate so it doesn't affect the flavor and everyone is happy!
The great thing about smoothie bowls is that you get the "pack everything in" benefit of a smoothie, but you also get the satisfaction of taking the time to sit down and chew your meal. In fact, chewing your meal is proven to leave you more satisfied over a longer period of time! Win, win!
We have our pantry stash of go-to toppings that I keep on hand to pair with which-ever bowl I'm making. I then top with seasonal fruit or berries and home-made granola, if I have a batch made up, and dig in!
Happy Blending!
Erica
Yield: 2
Mango Smoothie Bowl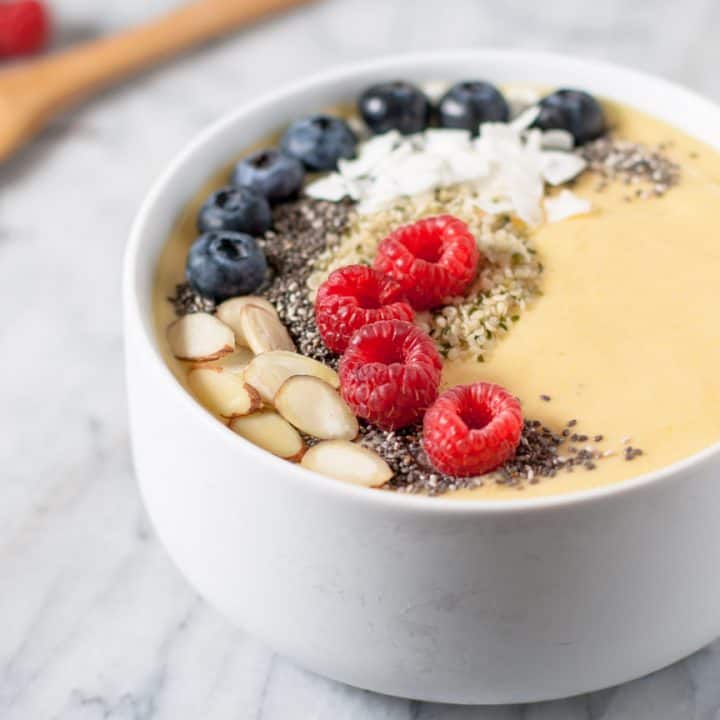 Ingredients
2 C. Frozen Mango Chunks
1 C. Coconut Milk
1 C. Plain, Greek Yogurt (leave out if dairy free)
1/2 Scoop, Unflavored, Protein Powder (optional)
2Tbsp. Lemon Juice
1 tsp. Honey
1 tsp. Vanilla Extract
2 C. Fresh Spinach (optional)
Toppings:
1 Tbsp. Hemp Hearts
1 Tbsp Unsweetened Coconut Flakes
1Tbsp Chia Seeds
2 Tbsp Sliced Almonds
1/4 C. Fresh Berries
Instructions
Combine all smoothie ingredients in blender and purée until smooth.
Divide into 2 bowls and add toppings
Serve and Enjoy!
Did you make this recipe? Leave me a comment below to tell me your thoughts on it, or tag me on instagram @mountainberry_eats to show me what you're blending!