Gluten Free Cinnamon Scones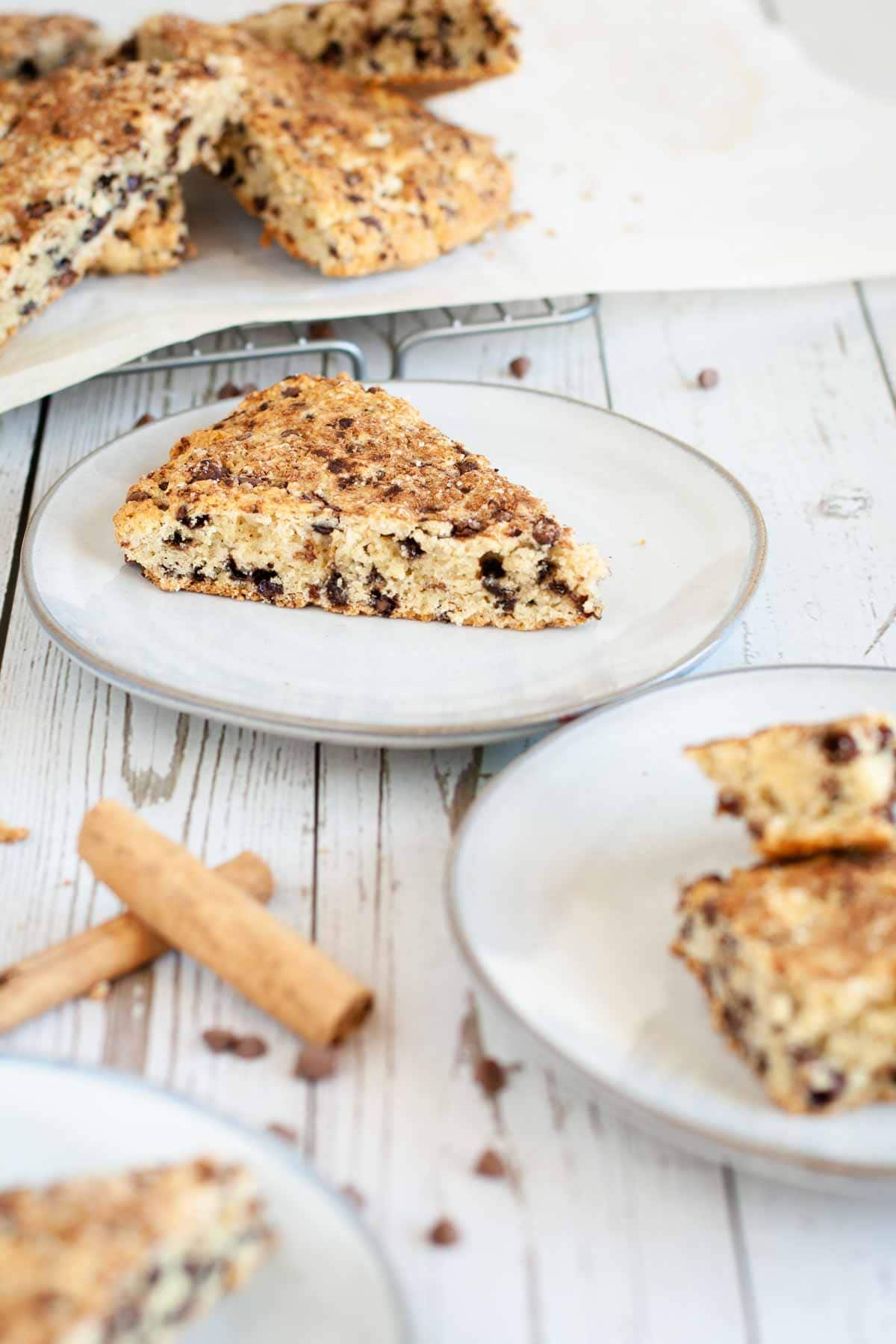 These gluten free cinnamon scones are light and fluffy and bursting with pockets of cinnamon flavor. Perfect for a weekend morning or afternoon treat with your coffee.
Waking up to the smell of scones in the morning, and savoring one with a good cup of coffee has got to be one of my favorite things! Anyone that knows me, knows that pastries are my weakness. A good pastry and a cup of coffee are just a match made in heaven for me.
This scone recipe always brings back memories of when I worked in our school cafeteria. My boss was the queen of scones, and the kids loved getting fresh homemade scones. This cinnamon chip version was one of the favorites, and I've been making it ever since!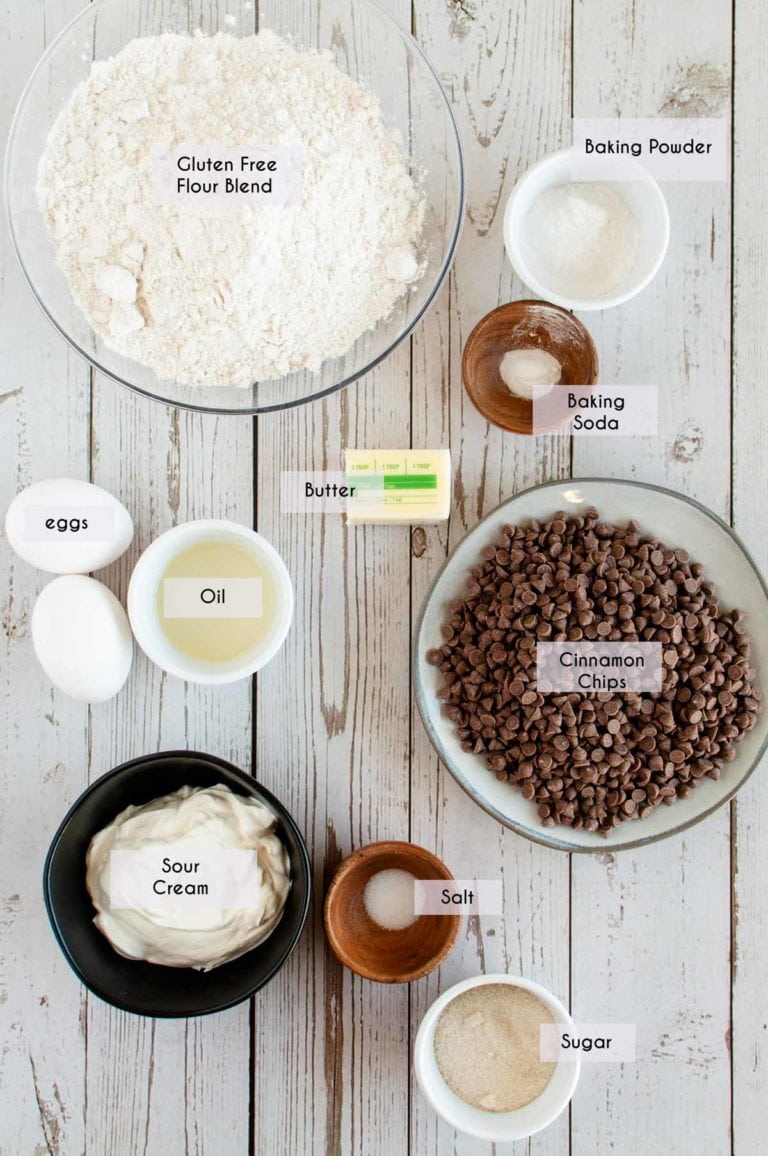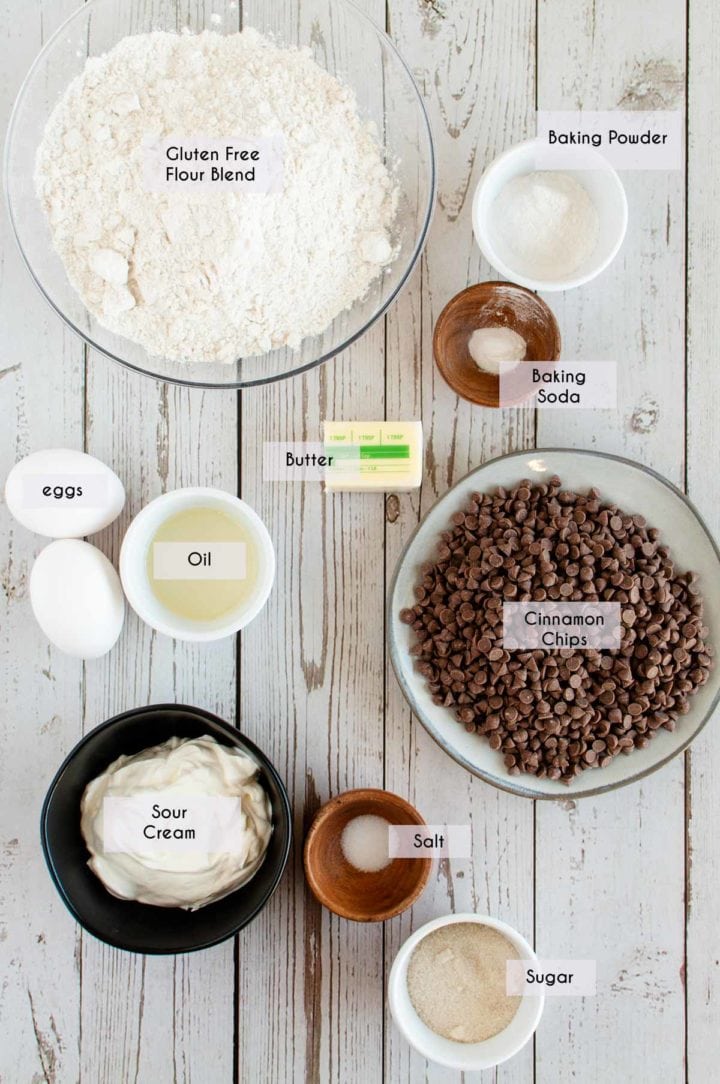 The Secret To making Good Scones
In order to keep scones fluffy, gluten free scones require a bit of tweaking from traditional scones, otherwise you just end up with a dense and dry product. When it comes to gluten free, the secret to good scones is all about the fat, to, moisture, to flour and leavening ratios.
Sour Cream
Since gluten free flour typically can't handle absorbing the same amount of moisture that traditional flour can, sour cream makes for a great substitute when a recipe calls for milk or buttermilk. This does double duty in getting the dairy and creaminess but cutting back the moisture for gluten free products.
Fat Content
The second secret to these cinnamon scones is getting the fat ratio right. Working with a flour that can't absorb as much often means we need to break up and use a variety of fats. Some of our fat is coming from the sour cream, and though butter adds what I think is a necessary flavor, using all butter for this recipe makes them a bit greasy.
To remedy this, not only do we need to cut back the amount of butter, but swap some of the fat content with a lighter oil like canola or vegetable oil as well. This helps to provide the loft and moisture necessary, without losing out on my precious butter flavor. Win win!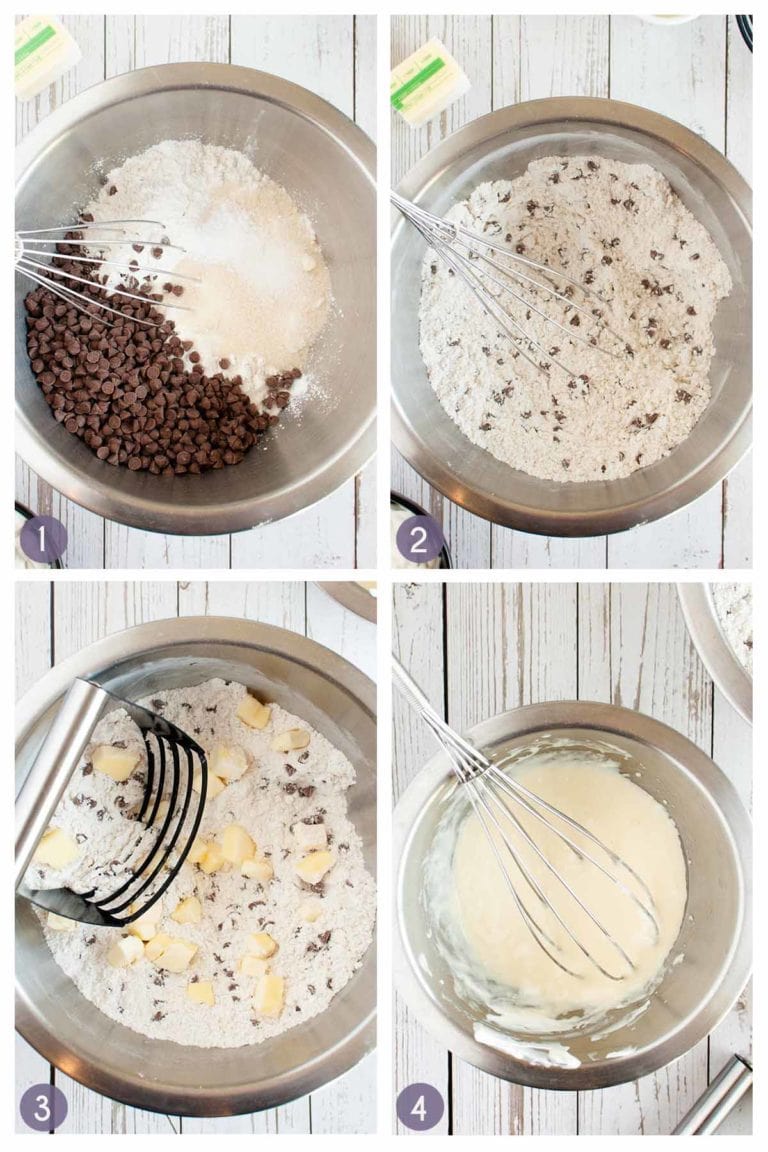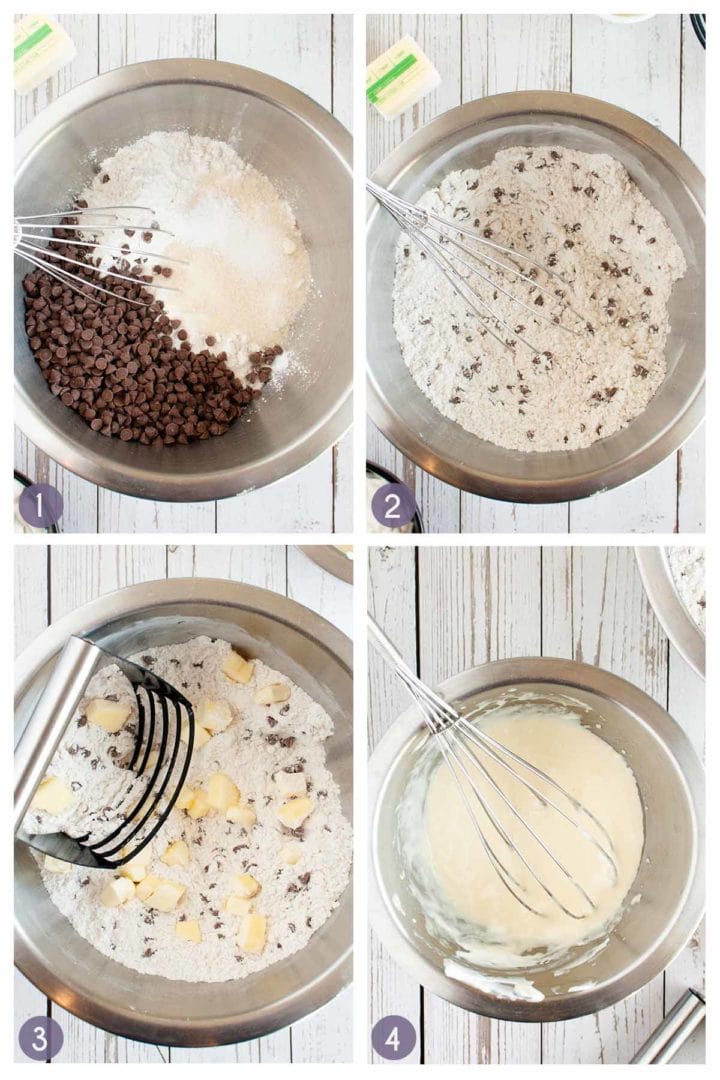 Leavening:
How Do I Get My Scones to Rise and Be Fluffy?
A key component in these cinnamon chip scones is the amount of leavening used! This recipe uses both a combination of baking powder and soda to work in tandem with the leavening. These scones take a whopping 4 teaspoons of baking powder! Add this with the sour cream and eggs for a leavening that will keep your scones light and fluffy!
Can I Use Baking Soda Instead of Baking Powder?
Baking soda is much stronger than baking powder, and in some recipes you can substitute soda to use by itself. Baking soda is about 4 times stronger than baking powder so ¼ teaspoon is approximately equal to 1 teaspoon. The key to working with baking soda is having an acidic ingredient as a reactant to activate the leavening. In our case the sour cream works perfectly!
However, for this recipe, substituting all soda in place of the baking powder would turn out more dense than you would probably like since we don't have the quantity of acid to react with the amount of soda needed. This will leave you with a strong baking soda flavor so I wouldn't do a full swap for this recipe. Here is a great article that goes into the substitutions of baking powder vs soda and how you can make your own baking powder as well!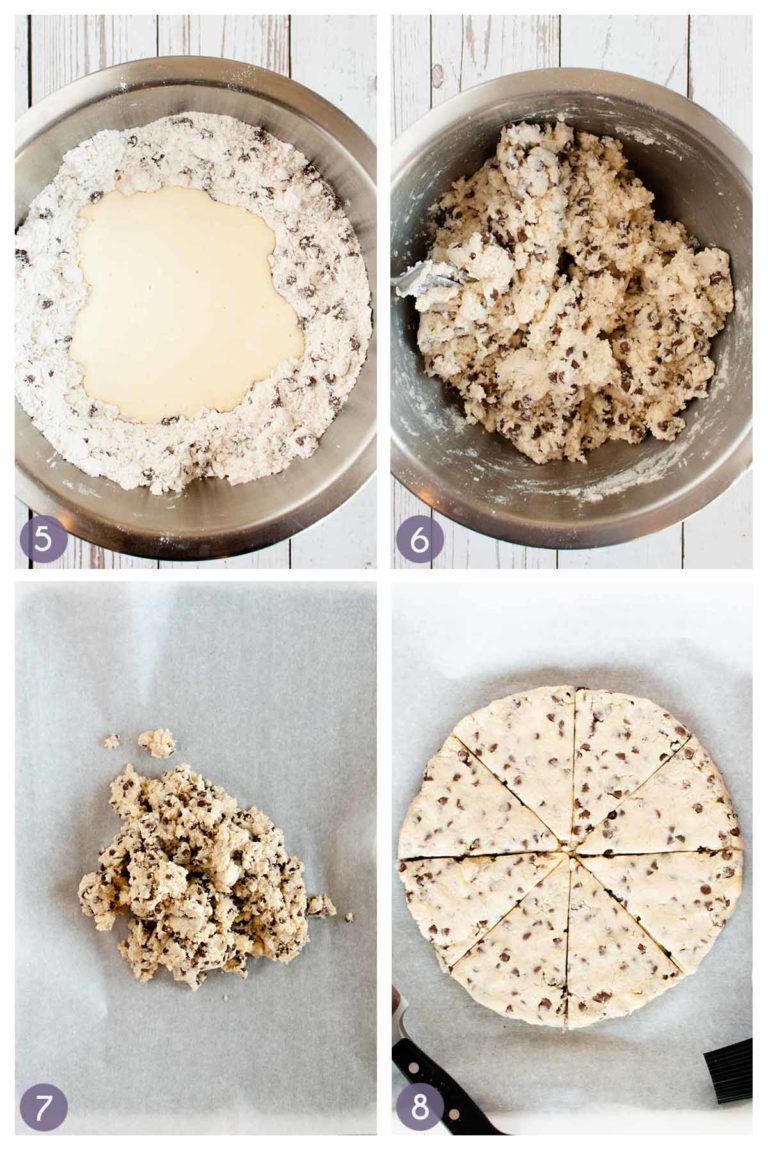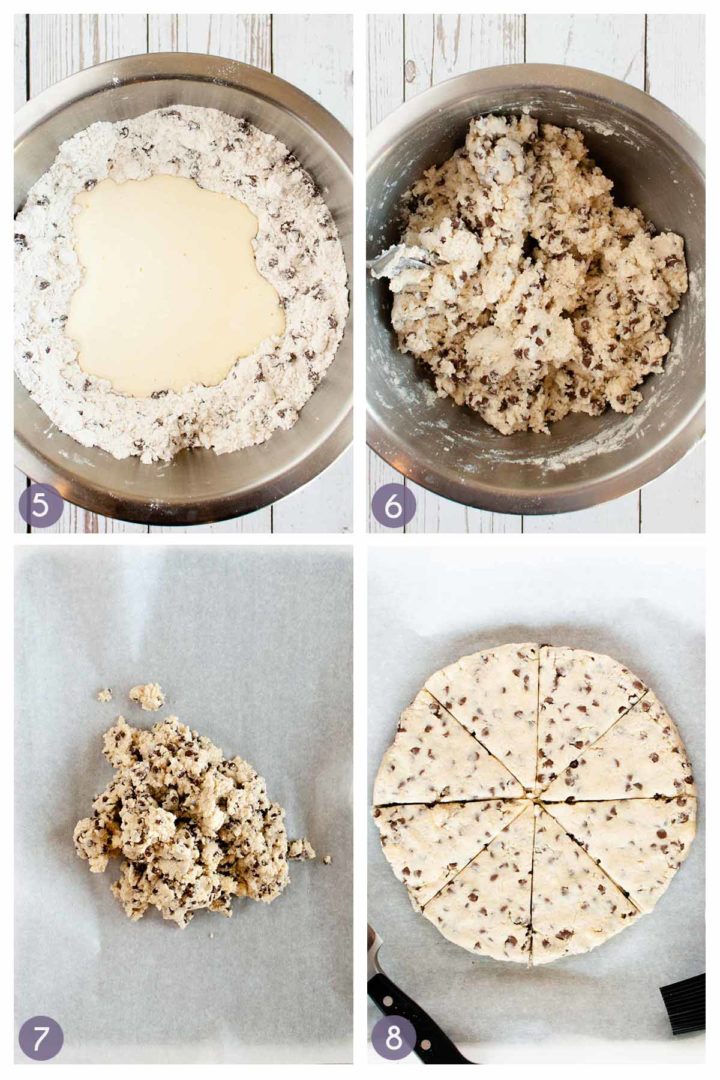 Step By Step, Making Cinnamon Scones From Scratch
• Begin By heating your oven and preparing your baking sheet.
• Combine dry ingredients together.
• Work in the cold butter with a pastry blender or your fingers.
• In a separate bowl, whisk wet ingredients.
• Add wet ingredients to dry mix and stir well.
• Dump dough out onto pan and pat into a disc then cut into slices.
• Brush with milk and sprinkle with cinnamon then bake!
I love that these gluten free cinnamon scones don't need rolling out! Patting the dough into a disc and then slicing it into triangles keeps them in scone shape but makes these so easy.
The Texture of Scone Dough
Scone dough, especially gluten free scone dough should be fairly sticky but be able to hold a shape. If you've ever made biscuits, then scone dough texture should resemble biscuit dough, in that if you wanted to roll them out and cut them you would be able to do so with the help of a little flour for dusting your work surface. If your scone dough is too dry and there is a good Tablespoon or two of flour that are wanting to stay at the bottom of the bowl then add an additional Tablespoon or two of milk as necessary.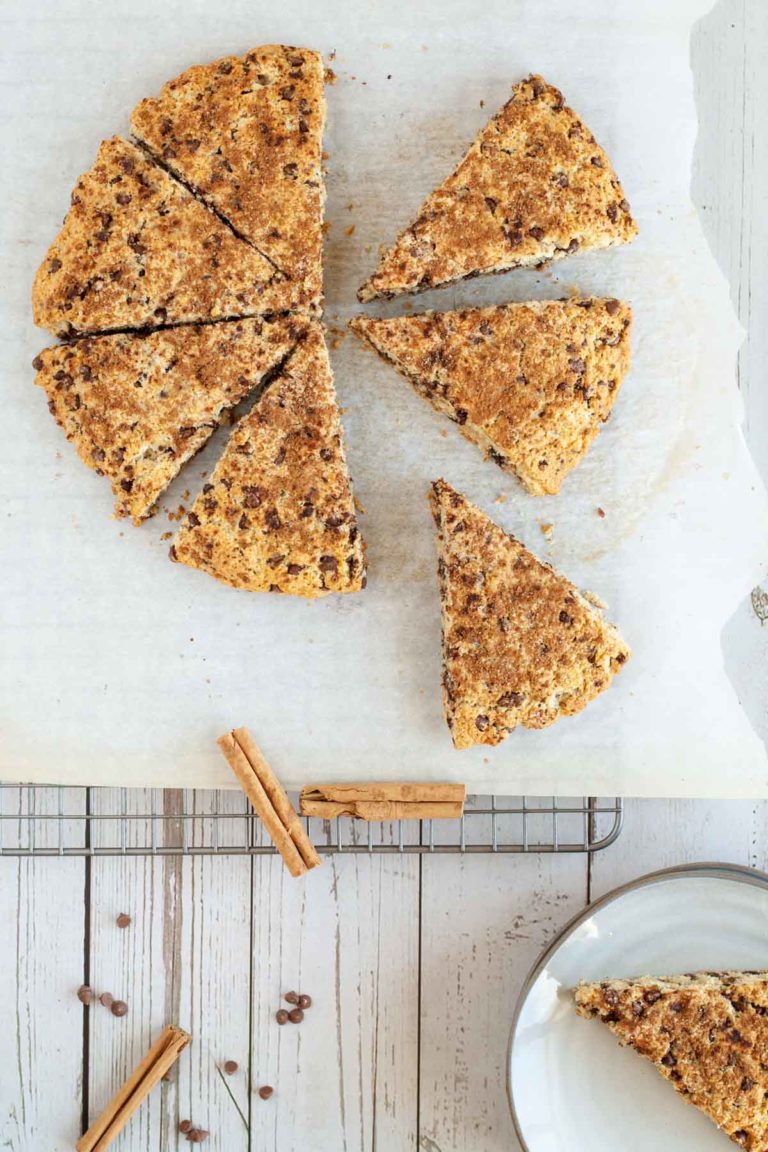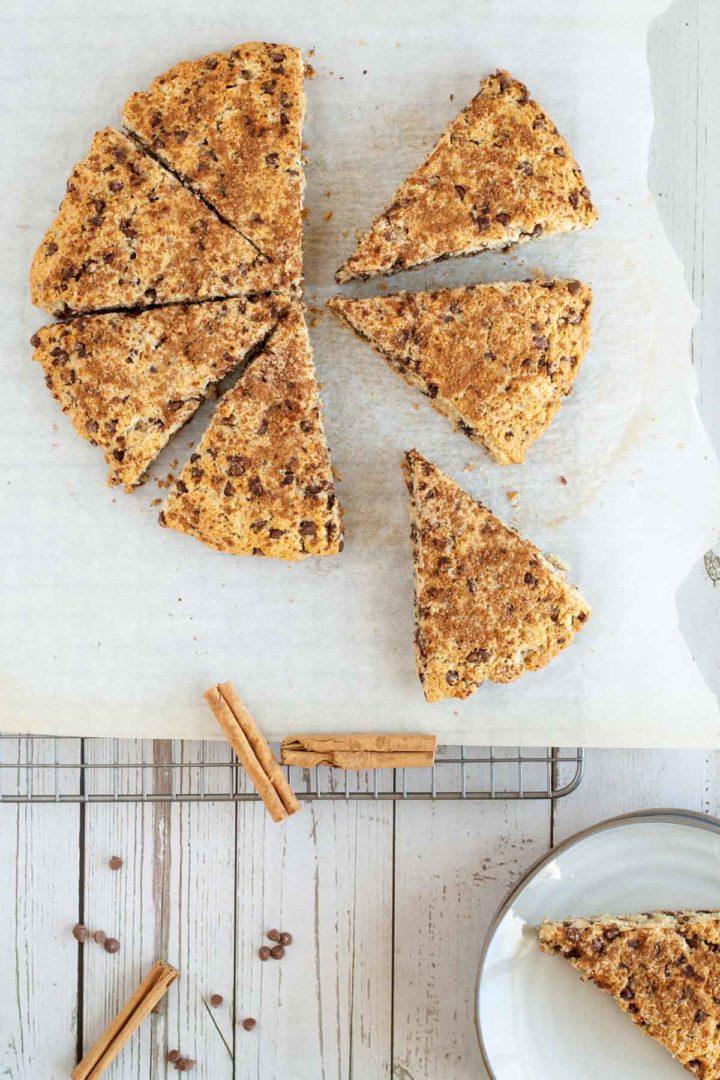 Storing Cinnamon Scones after Baking
Gluten free baked goods taste the best the day they are made, but these scones may be kept for up to 2 days in an airtight container.
To reheat these cinnamon chip scones, sprinkle/mist them lightly with a little water (¼ – ½ teaspoon) and microwave for 15-20 seconds each on a glass plate.
FAQ's:
Can I make these dairy free?
I personally haven't tried making this recipe dairy free but I think most milk products could be substituted in place of the sour cream, and you could use all vegetable oil if desired. If you choose to use a very low-fat milk, like almond milk, you may need to increase the oil by 1 Tablespoon to compensate and keep them from being too dry. You can also try a dairy free yogurt!
These turn out different each time I make them, what do I do?
The culprit in this case is most likely your flour. When it comes to gluten free baking, I have learned that weighing my flour is a necessity for consistent results. If you don't have a scale, then be sure to start by fluffing your flour first with a fork then gently using a spoon to fill a measuring cup with flour. Lastly, take the edge of a knife and scrape the flat edge of it along the top of your measuring cup to level the flour without packing it down.
For my baking I like to use the "Bob's Red Mill 1 to 1 Baking Blend" which is a rice based blend and includes xanthan gum. If you stick to a rice based blend then these scones should still turn out as predicted but if your blend does not include xanthan gum, then be sure to add ¼ teaspoon to help with the structure of the scones!
Need More Recipe Inspiration? Try These Reader Favorites:
Yield: 8
Gluten Free Cinnamon Scones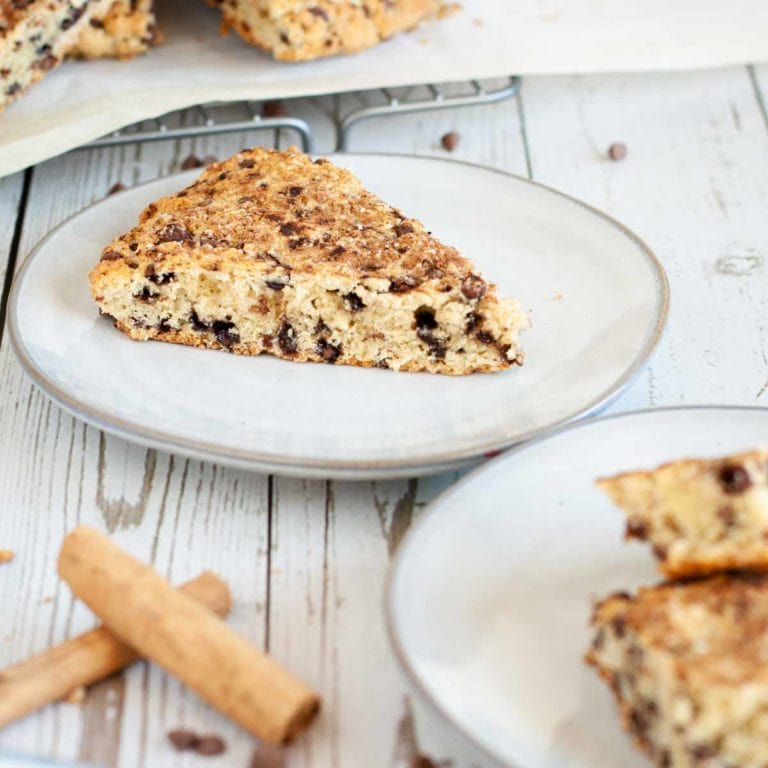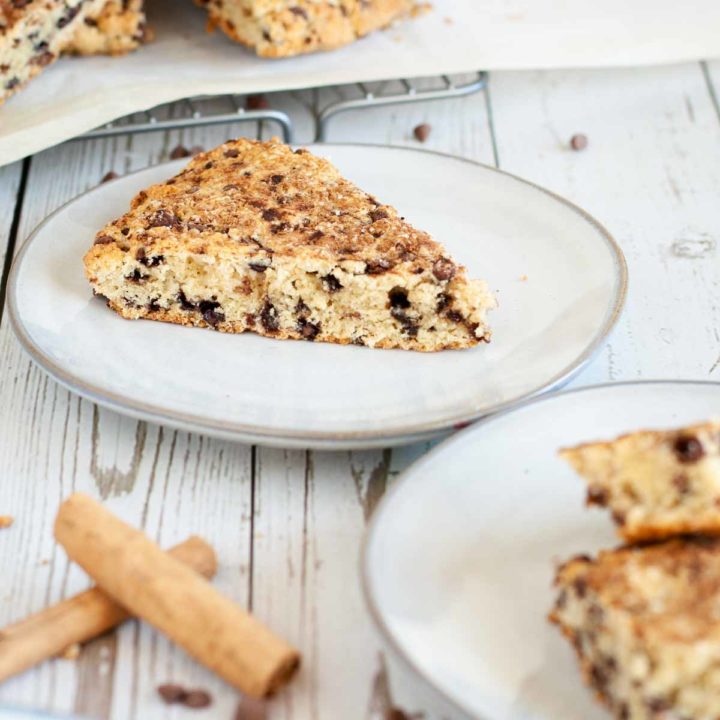 These gluten free cinnamon scones are light and fluffy and bursting with pockets of cinnamon flavor. Perfect for a weekend morning or afternoon treat with your coffee.
Ingredients
2 Cups (9oz) Gluten Free Flour* (with xanthan, see note)
4 teaspoon Baking Powder
2 Tablespoons Sugar
1/2 teaspoon Salt
1/4 teaspoon Baking Soda
1 Cup Cinnamon Chips
3 Tablespoons Butter, Chilled and Cut Into 1/2" Pieces.
2 Tablespoons Vegetable Oil
2 Large Eggs
1/2 Cup Sour Cream
3 Tablespoons Milk + 1 Tablespoon more for spreading on top
1 teaspoon ground cinnamon
Instructions
Preheat oven to 375° F and line a baking sheet with parchment paper.
In a medium bowl, combine flour, baking powder, sugar, salt, baking soda and cinnamon chips. Stir well to combine.
Sprinkle in the chilled, chopped butter pieces and, using your fingers or a pastry blender, mix and press the flour mixture until the butter pieces are just small pea sized pieces.
In a separate smaller bowl, combine the oil, eggs, sour cream and 3 tablespoons of milk. Mix well.
Pour the liquid egg mixture over the dry ingredients and thoroughly mix until there are no pockets of flour remaining.
Dump the scone dough out onto your parchment lined baking sheet and gently press it into an 8 inch circle.
Use a sharp knife to slice the scones into 8 triangles.
Brush the top of the scones with the remaining 1 Tablespoon of milk and sprinkle with the cinnamon.
Bake in the pre-heated oven for 20-25 minutes until golden.
Let cool 5 minutes before cutting the scones along the pre-marked lines and serving,
Enjoy!
Notes
*For this recipe you will want to use a 1 to 1 flour blend that includes xanthan gum. If your recipe does not include xanthan gum then be sure to add ¼ teaspoon. my personal flour of choice for all my baking is the Bob's Red Mill 1 to 1 Baking Blend. if you don't have a scale to weigh the flour, then begin by fluffing the flour with a fork, then, using a spoon, gently scoop the flour into your measuring cup. Lastly, use a knife to scrape off the overflow and brush the flour level with your measuring cup.
Nutrition Information:
Yield:
8
Serving Size:
1
Amount Per Serving:
Calories:

392
Total Fat:

21g
Saturated Fat:

9g
Trans Fat:

0g
Unsaturated Fat:

10g
Cholesterol:

66mg
Sodium:

474mg
Carbohydrates:

47g
Fiber:

1g
Sugar:

22g
Protein:

5g
*Nutrition information is automatically calculated and may not always be accurate.
Need More Recipe Inspiration? Try These Reader Favorites!