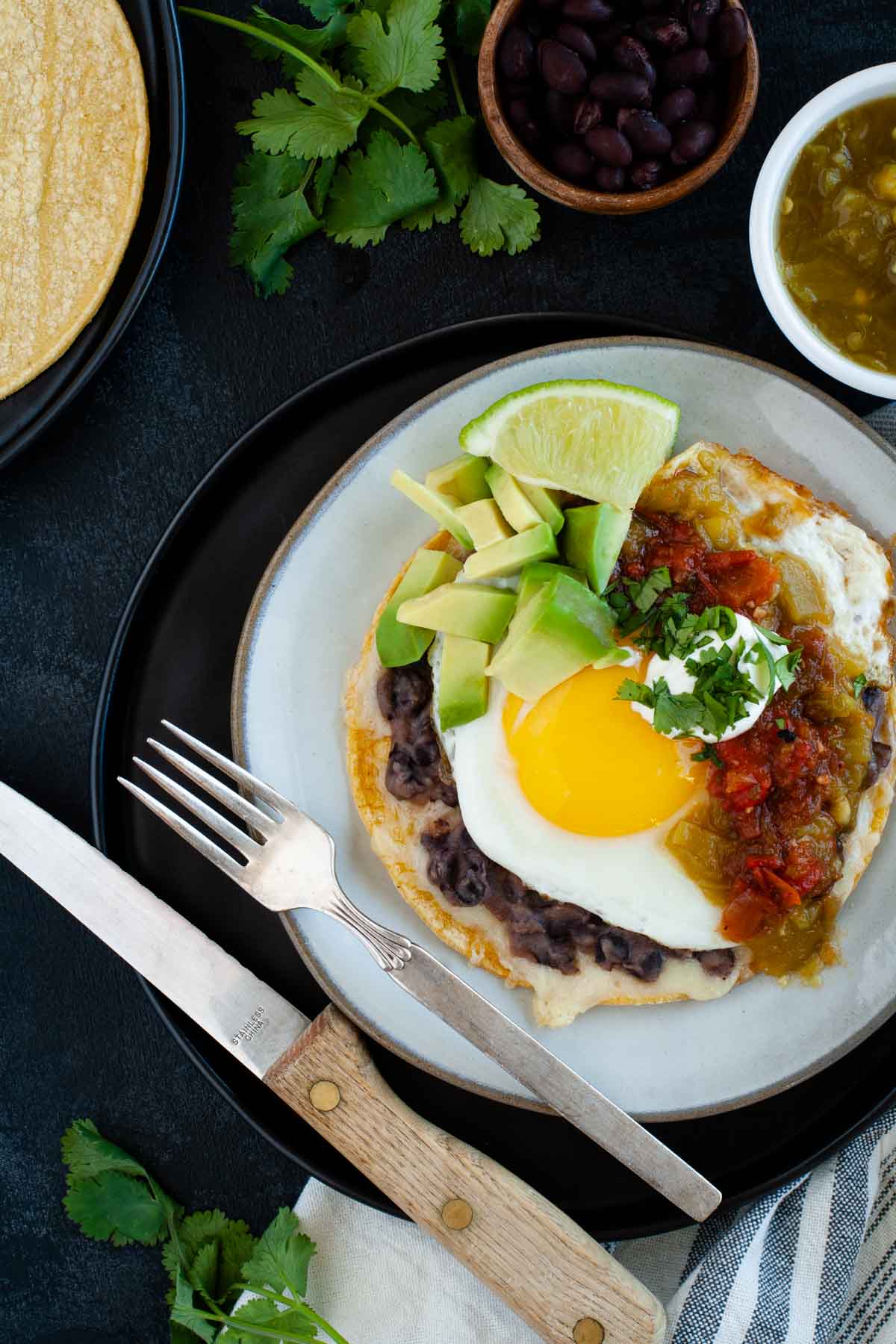 This easy huevos rancheros recipe is naturally gluten free and has become a breakfast staple in our house. Dress this recipe up with whichever toppings you want and customize the egg to personal preference!
Why Is It Called Huevos Rancheros?
Huevos Rancheros is Spanish and is interpreted as "Ranchers Eggs". This is a dish that originates in Mexico as a mid-morning/late breakfast. I envision them being served after the hard working "ranchers" have already been up with the break of dawn and are coming in after everyone else is awake, providing a protein packed re-set in the morning.
We love this breakfast for how easy it is to prepare, how customizable it is to each person's taste preference, and that it provides a good bit of protein to power us through the day.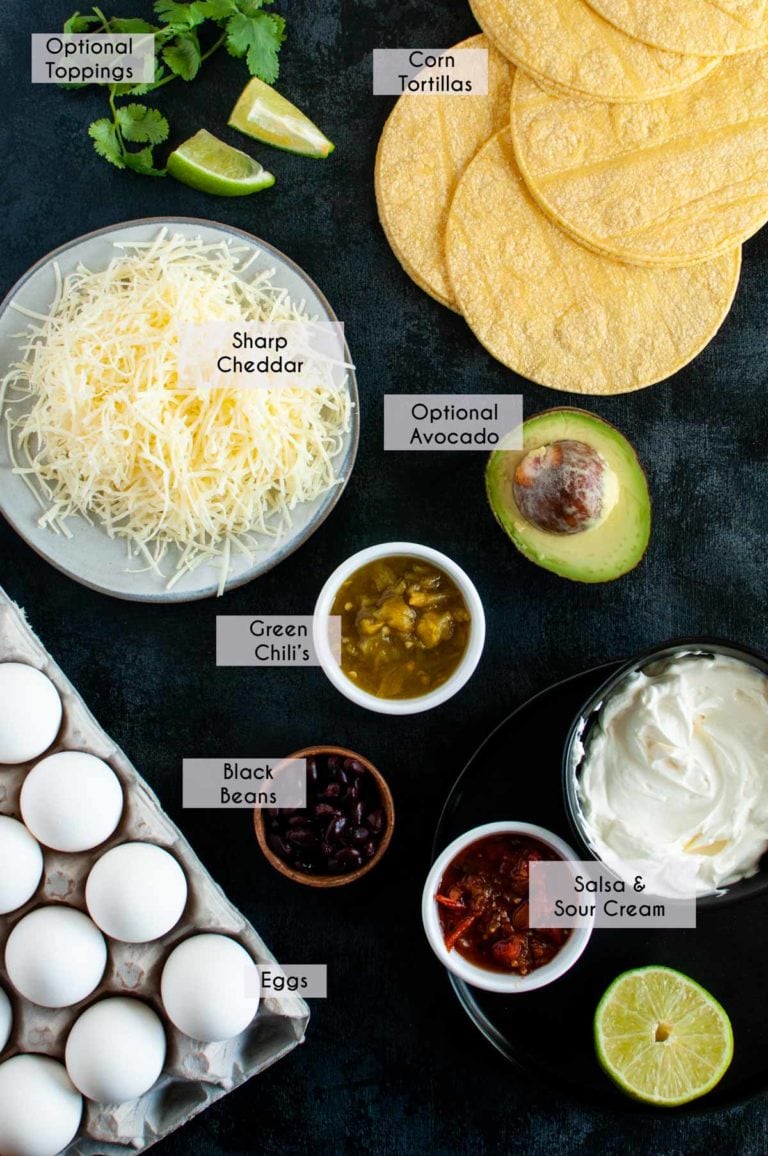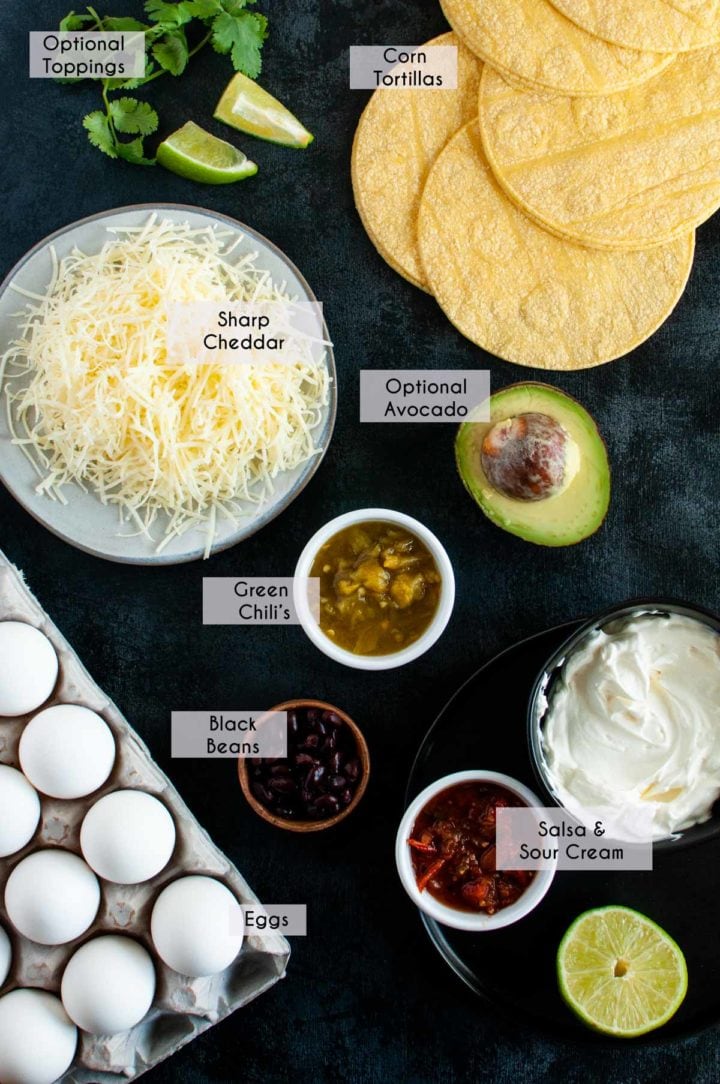 Ingredients You Will Need
These gluten free huevos rancheros are made with corn tortillas, sharp cheddar cheese and custom cooked eggs. To keep it simple for weekdays, we don't make a custom to this recipe sauce, but we do mix and match toppings with our favorite salsas!
•Corn tortillas
•Black Beans
•Cheddar Cheese
•Fried Egg(s)
•Toppings of choice
Making Easy Huevos Rancheros from Scratch
This recipe can be as simple or as fancy as you want to make it!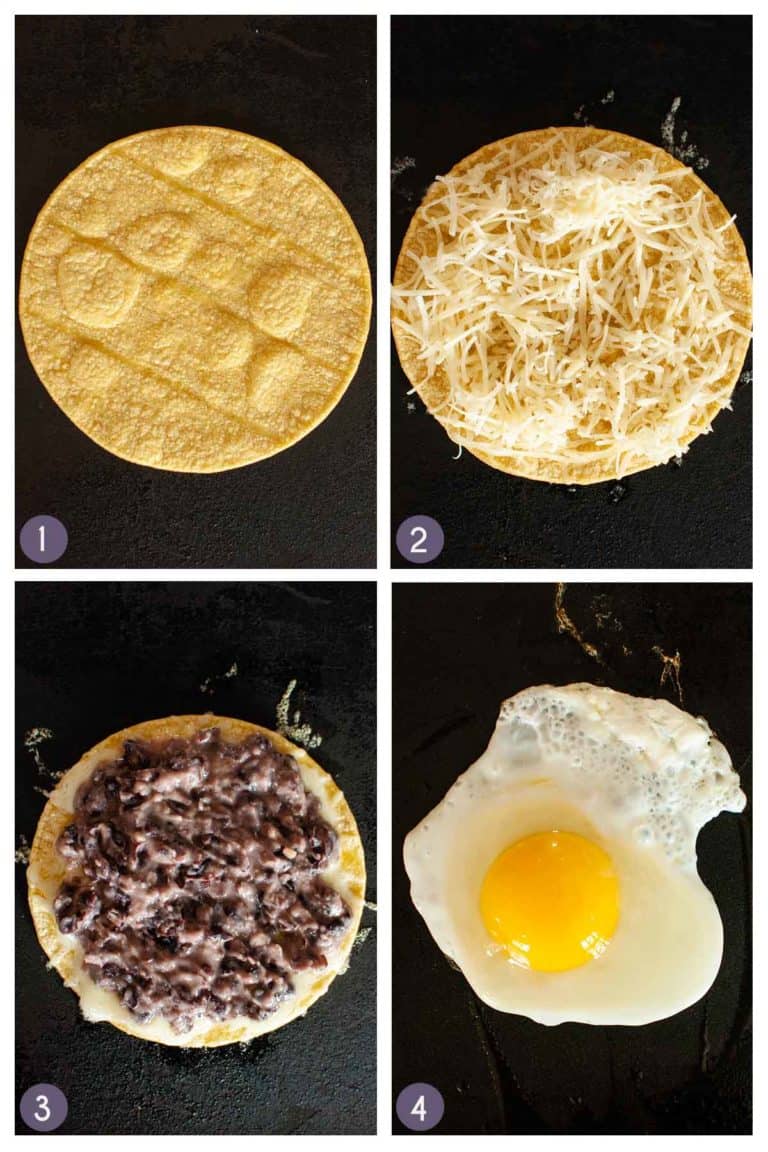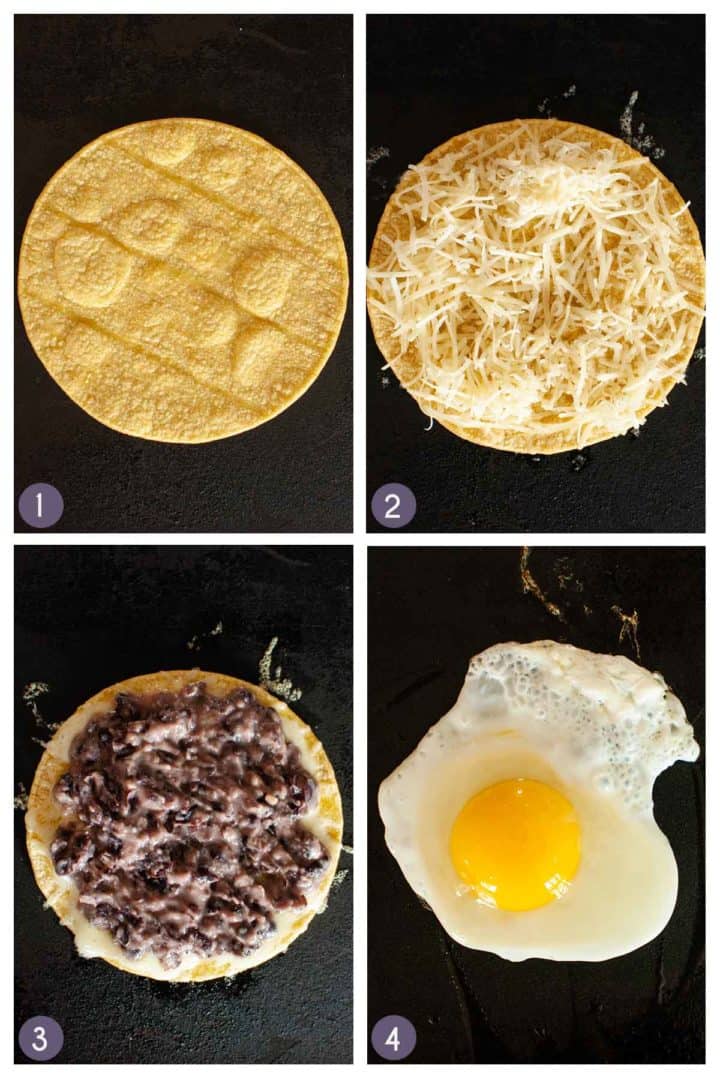 Simply warm your tortilla in a pan over the stove, or on a griddle.
Next, add the layer of prepared beans if choosing to use, then a layer of grated cheese.
Cook until the cheese is melty then top with eggs cooked to your liking. I love my eggs over-easy for this recipe.
That's it!
Is There Meat in Huevos Rancheros?
Since we make these often during the week, I also like them to be quick. Between the cheese and eggs, this dish has plenty of protein without the addition of meat but if you want to take it up a notch then I would recommend browning up some chorizo to pair with these for the ultimate weekend brunch!
What are Some Good Toppings for This Dish?
We love to top ours with green chilis, our favorite red salsa and a dollop of sour cream!
If you have some on hand then add some diced avocado, lime wedges and a sprinkle of cilantro for a truly mouthwatering and satisfying breakfast.
Try These Other Breakfasts, Perfect For Busy Weekdays!
Yield: 4
Easy Huevos Rancheros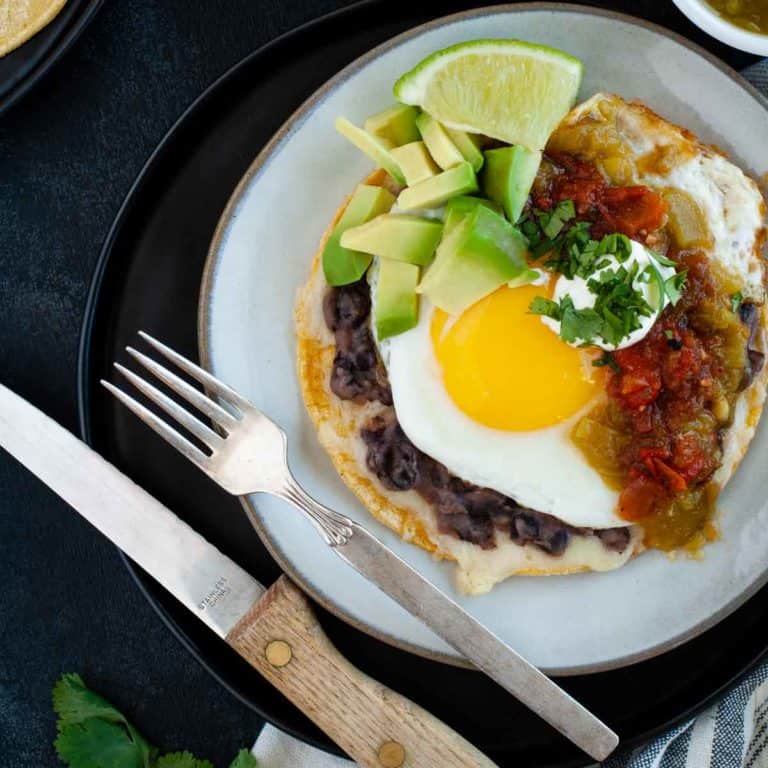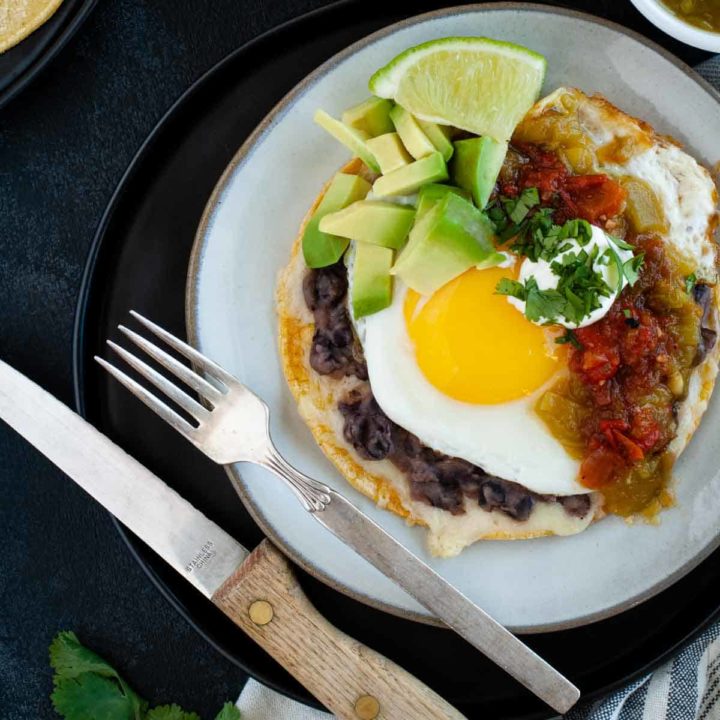 This easy Huevos Rancheros recipe is naturally gluten free and has become a breakfast staple in our house. Dress this recipe up with whichever toppings you want and customize the egg to personal preference!
Ingredients
3/4 Cup Black Beans, Rinsed
2 Tbsp. Water
4 Corn Tortillas
1/2 Cup Sharp Cheddar Cheese, Grated
4 Large Eggs (& oil for cooking eggs)
4oz Can Green Chilis (pick your spice level)
Sour Cream & Salsa For Serving
Optional Avocado, Cilantro & Lime For Serving
Instructions
Place the black beans in a small bowl with the water and mash with a fork or pastry blender to make a spread, it does not need to be perfectly smooth. Set aside.
Heat a large non-stick pan or griddle over medium heat.
Once the pan is hot, place the tortillas on first. then sprinkle the cheese on top of the tortillas and cook until cheese is beginning to melt.
Once the cheese is melted, spread a layer of black beans on each cheesy tortilla and let warm.
Remove from heat and apply 1 teaspoon of oil to the pan for cooking the eggs.
Cook eggs over-easy or to desired firmness.
Remove the eggs from the pan and place on top of the cheesy layered tortillas.
Divide the green chilis between the four servings of huevos and top with additional red salsa and sour cream.
If going all out, then top with chopped cilantro, avocado slices and a slice of lime as well!
Enjoy!
Nutrition Information:
Yield:
4
Serving Size:
1
Amount Per Serving:
Calories:

294
Total Fat:

15g
Saturated Fat:

7g
Trans Fat:

0g
Unsaturated Fat:

6g
Cholesterol:

214mg
Sodium:

267mg
Carbohydrates:

22g
Fiber:

5g
Sugar:

2g
Protein:

18g
*Nutrition information is automatically calculated and may not always be accurate.
Latest Recipes: