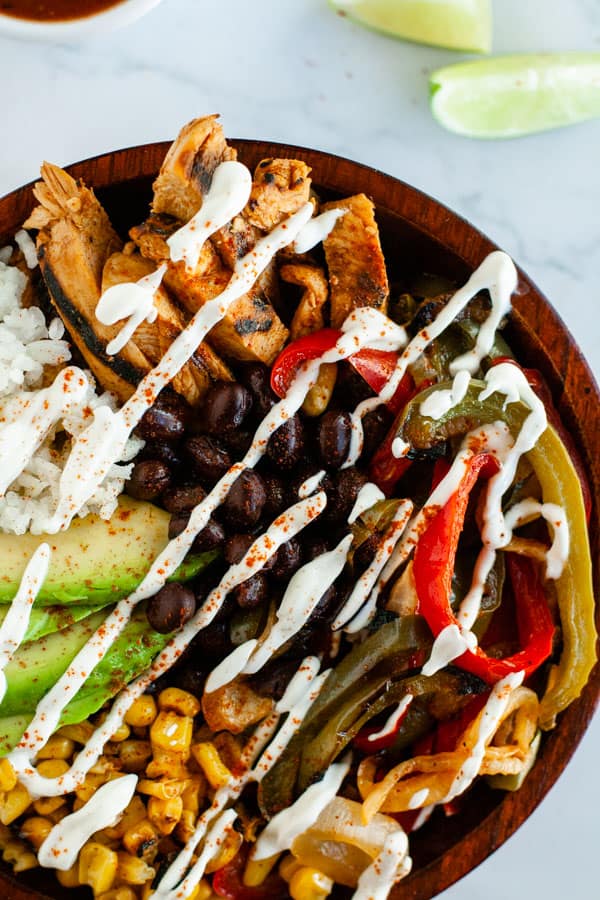 Summer or not, I love grilled food. This Grilled Fajita Bowl pulls so many flavors together in just the right way, making for a flavorful dish that's great any time of the year!
Currently my grill is still working full steam (I mean propane) as I avoid adding any sort of heat to the house during the month of August. I even find myself looking at the forecast to see which day it might rain and cool things off enough for me to do laundry!
With grill season still going strong at our house my normal fajita recipe morphed into fajita bowls, and the sliced, cooked chicken transformed into gloriously grilled chicken with chili and lime flavorings.
This Recipe Sounds Like It Has A Lot of Ingredients, Won't That Take Forever?
I'm all about fast when it comes to dinner time, and doing everything on the grill actually simplifies the cooking process for fajita bowls!
Here's some ways to make dinner even faster:
• To get the best flavor, and make dinner prep easier the night-of, you can marinate the chicken breast up to 48hrs ahead of time and just throw it on the grill when you are ready!
• The peppers and onions can be pre-sliced and refrigerated 48hrs ahead of time as well!
• Be sure to start your rice cooking first, then heat your grill and cook the remaining ingredients while the rice is cooking!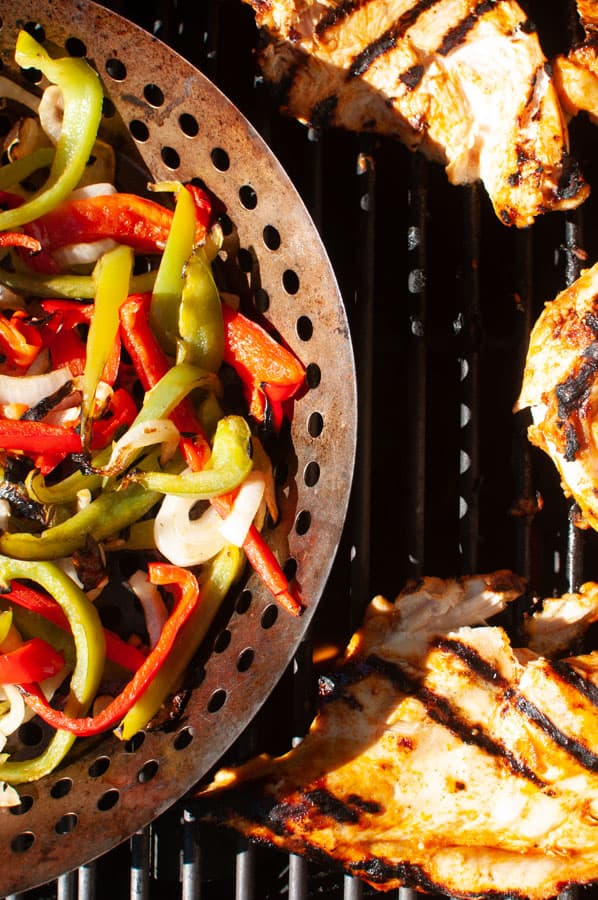 Recipe FAQ's
I'm Trying to Eat Healthy, Are Grilled Fajita Bowls Healthy?
These bowls are all about flavor, and you can adjust all the toppings with whatever you have or fits in your eating preferences!

Some Ideas For Variations Are:
Increase your fiber by using brown rice instead of white rice.

Cut back the carbs by serving this over a bed of lettuce instead of rice for the ultimate grilled fajita salad.
Can I Make This Vegetarian?
You bet! Instead of marinating the chicken, just double the serving of black beans, warmed and seasoned with half the amount of chicken marinade ingredients!
Is This Recipe Dairy Free?
The only dairy in this recipe is in the sour cream for topping.
If you're like me then you always appreciate extra guacamole and salsa and can just skip the sour cream altogether.
I Don't Have a Grill, Can I Still Make This?
No grill? No problem!
Realistically, when Winter hits here and there is two feet of snow outside, I'm not always willing to bundle up and grill. Indoor variations are a must!
You can make these grilled fajita bowls inside on the stove-top using the directions listed under "stove-top" method in the recipe. I find it easiest to, once again, start my rice first, then cook my other items using just one additional pan!
I cook my pepper onion blend first, then set aside. In the same pan, I cook my frozen corn and then set it aside. For stove-top cooking I do cook the chicken pre-sliced to keep things faster and I just cook it last, using the same pan as I did for the veggies. That's It!
Grilled fajita bowls are super convenient towards the end of the week when you don't have much fresh produce on hand, or if you need a good quarantine dinner recipe.
This recipe is great for quarantine, as you can keep it simple by buying frozen chicken, frozen corn, canned black beans and guacamole ready to go. You can even buy frozen pepper and onion blends to avoid any chopping or refrigerated produce. This way, you can get all that wholesome good-ness whenever you're feeling it, grill or not.
Happy Cooking!
Need More Recipe Inspiration? You might Like These Similar Recipes:
Yield: 4
Grilled Fajita Bowls
Bursting with chili and lime flavor, this naturally gluten free, grilled fajita bowl recipe is perfect for any day of the week and re-heats extremely well, making it a family favorite! With options for grill or stove-top methods, this recipe is fully customizable to your favorite cooking method, and includes great options for variations including lower carb, and vegetarian!
Additional Time
5 minutes
Ingredients
1 1/2 lb. Boneless Skinless Chicken Breast
1 C. Rice
2 Cobs of Corn (or 12oz bag frozen corn for stove-top)
1/2 Red Bell Pepper, Sliced
1/2 Green Bell Pepper, Sliced
1/2 Yellow Onion, Sliced
14oz Can Black Beans
Chicken Marinade Ingredients:
2 Tbsp. Olive Oil
2 Cloves Garlic, Minced
1 tsp. Salt
1 1/2tsp. Chili Powder
1 1/2tsp. Paprika
1 1/2 tsp. Cumin
2 Tbsp. Honey
1 Lime, Juiced
Other Ingredients
2 tsp. Olive Oil - divided
1/2 tsp. Salt - Divided
Instructions
Grill Method:
Place rice in a medium saucepan and prepare according to package directions.
While rice is cooking, in a large bowl, combine all ingredients for chicken marinade and whisk well. Set aside 2 Tablespoons of marinade.
Place chicken breasts in the bowl and stir to coat with marinade.
Heat grill to med-high heat
In a separate bowl, toss the peppers and onions with 1 tsp of oil and 1/4 tsp salt, and place in grill basket or pan.
Rub your corn cobs with remaining 1 tsp. olive oil and 1/4 tsp. salt
Place all prepped ingredients (chicken breast, pepper/onion blend, and corn cobs) on the grill and cook until chicken has reached 165°F, about 10-15 minutes flipping chicken half way through cooking.
Peppers and corn should be stirred and flipped halfway through as well, and will be lightly charred and hot through when done.
Remove all ingredients from the grill and slice chicken. Pour reserved 2 TBSP. of marinade over the sliced chicken.
Slice Corn off of the cob and place in a small bowl.
Rinse and warm the black beans
Portion rice between 4 bowls and top with chicken, pepper blend, black beans, and corn.
Serve with guacamole, sour cream and salsa.
Enjoy!
Stove-Top Method:
Place rice in a medium saucepan and prepare according to package directions.
While rice is cooking, in a large bowl, combine all ingredients for chicken marinade and whisk well.
Slice chicken breast into strips and place in the bowl with the marinade, stirring to coat. Set aside. ( can do this 48hrs ahead of time)
Heat a large skillet over Medium heat with 1 tsp. of olive oil.
Once the pan is hot, add the sliced peppers and onion and sauté until tender and cooked through, 5-10 minutes.
Add an additional teaspoon of oil to the pan and cook the package of frozen corn, stirring frequently to keep it from sticking. Cook the corn until hot through and beginning to blacken in spots. Once hot, sprinkle with 1/4tsp salt and cracked pepper to taste. Cover and set aside while you cook the chicken.
Once again, add 1 tsp. Olive Oil to the sauce pan and once hot stir in the marinated chicken slices.
Stirring often, cook until hot through and chicken pieces reach 165°F, about 10 minutes.
proceed with recipe as listed above in steps 11-14.

Notes
To keep dinner quick and easy, the chicken can be prepped and marinated 48hrs ahead of time. The onions and peppers can be sliced and stored in the fridge up to 48hrs ahead of time as well.
See blog notes for recipe variations, vegetarian, low carb. dairy free etc.
Nutrition Information:
Yield:
4
Serving Size:
1/2 C. Cooked Rice
Amount Per Serving:
Calories:

530
Total Fat:

17g
Saturated Fat:

3g
Trans Fat:

0g
Unsaturated Fat:

12g
Cholesterol:

145mg
Sodium:

1393mg
Carbohydrates:

52g
Fiber:

9g
Sugar:

13g
Protein:

62g
*Nutrition information is automatically calculated and may not always be accurate.
Some Other Dinner Ideas You Might Enjoy: