Roasted Vegetable Buddha Bowl with Tahini Dressing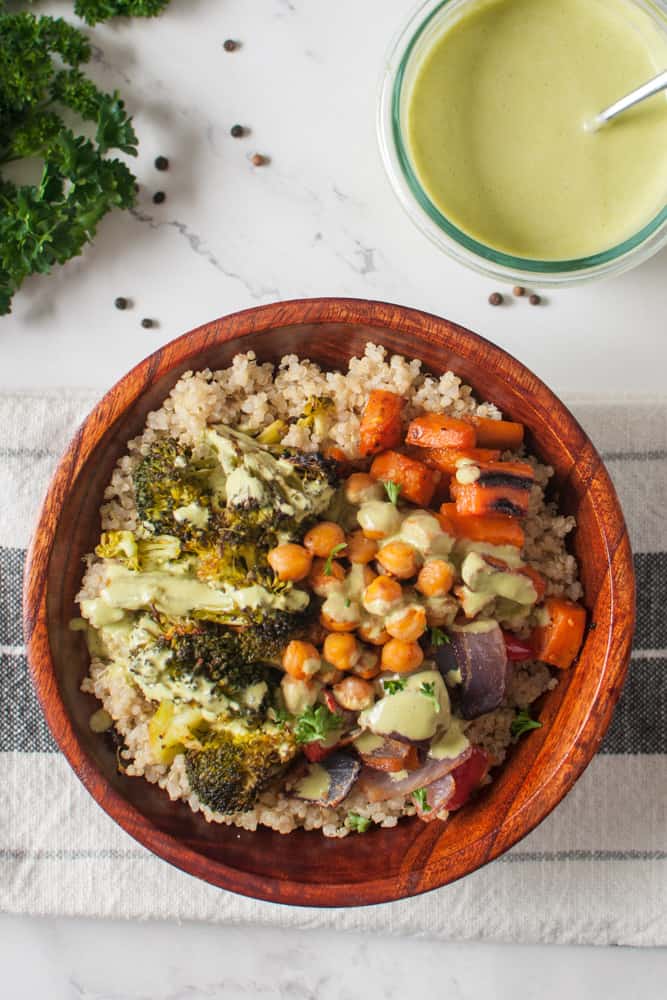 Creamy, crunchy, full of whole grains and packed with your favorite veggies, this Roasted Vegetable Buddha Bowl recipe has a bit of the best from every food group. Ok I lied, maybe not EVERY food group, but it really packs a whole lot of goodness in one bowl!

My family and I don't fit into the vegan category, but we do try to enjoy a variety of meatless meals on a regular basis. This is one of those recipes that has become a "Meatless Monday" favorite.

My sister and her family are vegan, so this is also one of my favorite recipes to pull out when they come over for dinner. This vegan Buddha Bowl recipe is one we can all enjoy together and not have to worry about providing a bunch of different options for the ever increasing dietary needs, as it's got the gluten free for our family, and is also vegan and dairy free!

My very favorite way to enjoy almost any vegetable is definitely grilled, and a close second is roasted. Roasting vegetables is an easier go-to for me, especially when it's Winter, or I am multitasking and can't keep as close of an eye on them.

I have chosen a variety of vegetables that lend themselves very well to both grilling and roasting so you can do them either way. Both the chickpeas and quinoa provide the protein for this dish and the sweet potatoes add a nice variety, giving just a touch of smooth and sweet.

Top this dish with the creamy lime and parsley, tahini dressing. This dressing pulls these Buddha Bowls together and keeps the quinoa base from feeling too dry. For being so smooth and creamy you wonder how there is no dairy involved!
Another delicious way to enjoy this recipe is to serve the roasted vegetable mixture and tahini dressing inside these gluten free crepes, instead of over quinoa, for a fun way to mix things up!

Happy Cooking!


Erica
Need More Recipe Inspiration? Try These Reader Favorites:
Yield: 4
Roasted Vegetable Buddha Bowl with Tahini Dressing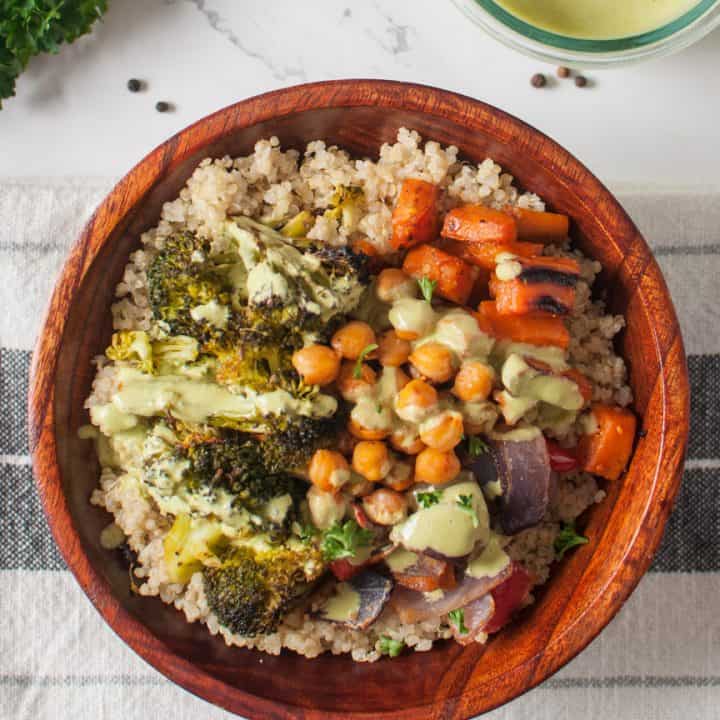 Ingredients
1 Large Sweet Potato, cubed
3 C Broccoli, cut into florets
1 Red Bell Pepper, coarsely chopped
1/2 Purple Onion, coarsely chopped
1 14oz Can Chickpeas, drained & rinsed
1Tbsp. Olive Oil
1/2tsp. Salt (approx to taste)
2 Cloves Garlic, minced
1/2tsp. Paprika
1/4tsp. Ground Coriander
1/4tsp. Fresh Ground Black Pepper
2Tbsp. lemon Juice
1C Quinoa
2C Water
Tahini Dressing
1/3 C. Tahini
1/2 C Water
1/4 C Parsley, chopped
1Tbsp. Minced Jalapeno pepper (or less to taste)
Juice from 2 Limes
1 Clove Garlic, minced
1/4tsp Mustard Powder
1/4 tsp Fresh Ginger, grated
1/4tsp Salt (more to taste)
Fresh Ground Black Pepper to taste.
Instructions
Preheat Oven to 425 Degrees Fahrenheit.
Line a baking pan with parchment or nonstick silicone mat.
While oven is preheating combine the cut vegetables and chickpeas in a bowl and drizzle with the 1Tbsp of olive oil.
Sprinkle the salt, garlic, paprika, coriander, pepper and lemon juice over the veggies and stir to coat. Pour onto prepared pan and roast until lightly charred and soft through, 35-45 minutes.
While the vegetables are roasting, cook quinoa and make dressing.
Quinoa:
Combine 1C. quinoa and 2C. water in a medium saucepan and cook, covered over medium heat until all the water is absorbed and quinoa is soft, approximately 20 minutes (see individual package directions).
To Make Dressing:
Combine all dressing ingredients in blender and purée until smooth. adjust seasonings to taste.
When veggies are done then assemble bowls: quinoa as base, then roasted vegetables and topped with tahini dressing.
Serve and Enjoy!
Nutrition Information:
Yield:
4
Amount Per Serving:
Calories:

347
Total Fat:

8g
Saturated Fat:

1g
Trans Fat:

0g
Unsaturated Fat:

6g
Cholesterol:

0mg
Sodium:

783mg
Carbohydrates:

59g
Net Carbohydrates:

0g
Fiber:

15g
Sugar:

12g
Sugar Alcohols:

0g
Protein:

15g
*Nutrition information is automatically calculated and may not always be accurate.
I'd love to hear if you made this dish or if you have a favorite way to cook your vegetable toppings, leave me a comment below or tag me on instagram @mountainberry_eats!