Gluten Free French Crepes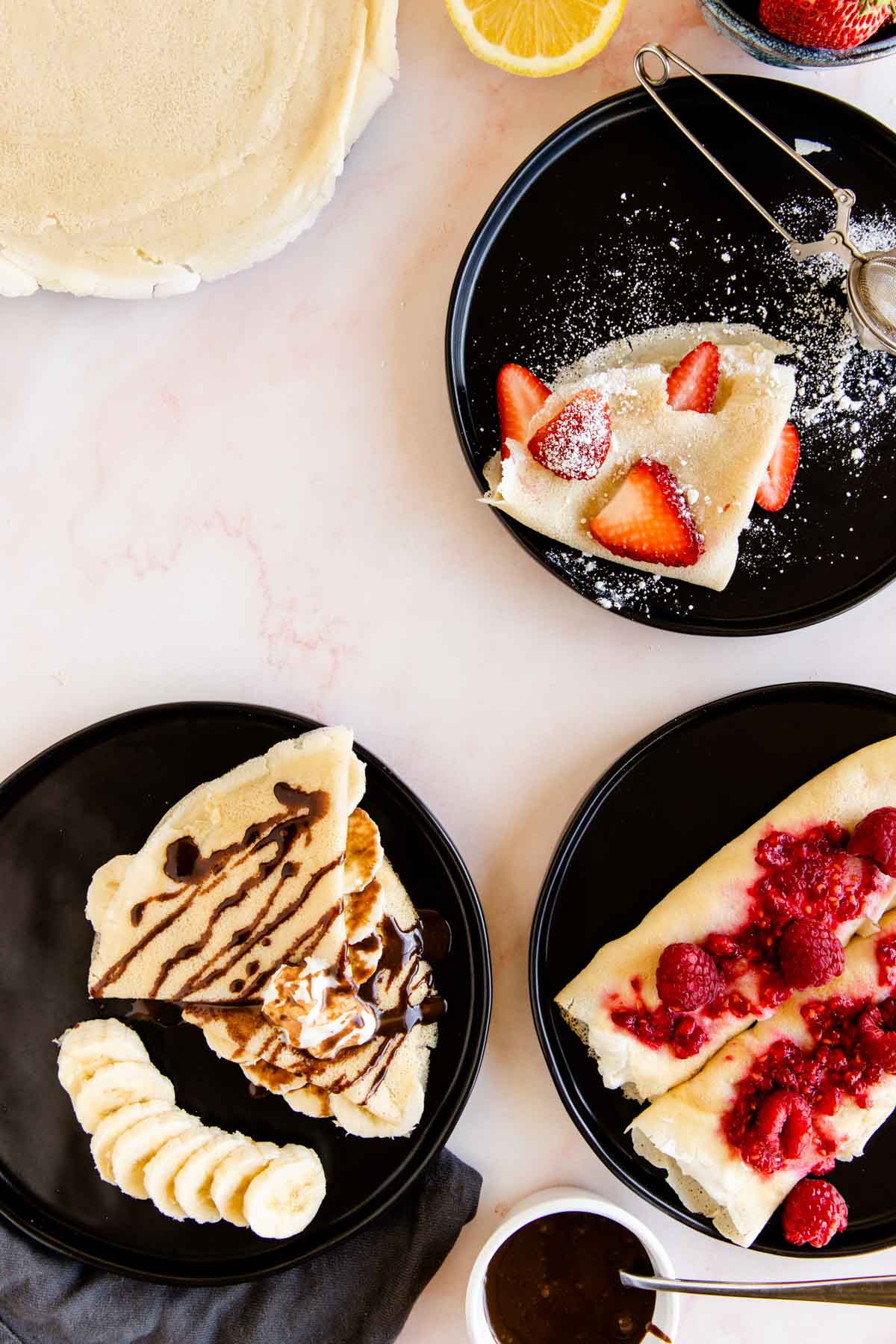 These gluten free French crepes are the perfect way to class up any meal. Make them sweet and use them for a breakfast or brunch, or omit the sugar and fill them with savory options for your dinner table!
Crepes have always been a favorite in our house, so once we began living a gluten free lifestyle, I knew this was one of the recipes I needed to adapt.
What Are Gluten Free Crepes Made Of?
These easy French crepes are adapted to be gluten free by using a rice based gluten free flour blend. This crepe recipe also uses, milk, eggs, salt, melted butter, sugar (optional), and water.
I find that whole milk work best for crepes, but you can also use 2%. If you use non-fat milk then the crepes will be thinner and break more easily when you flip them.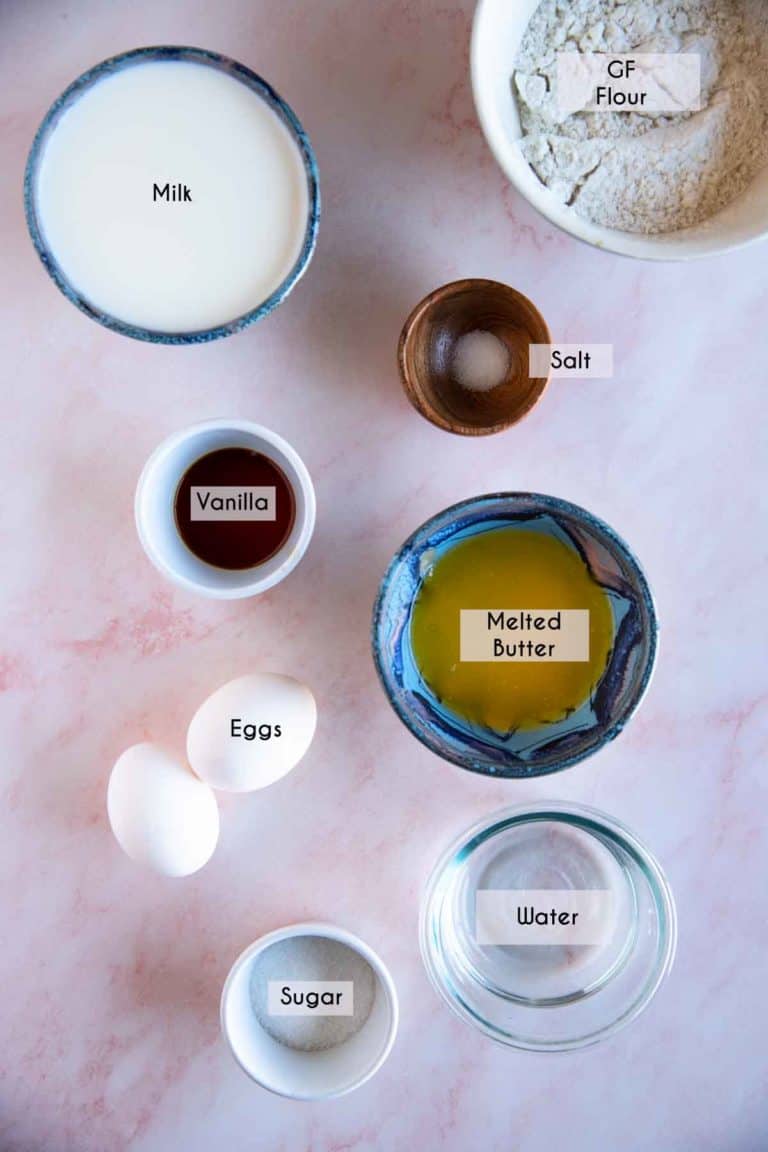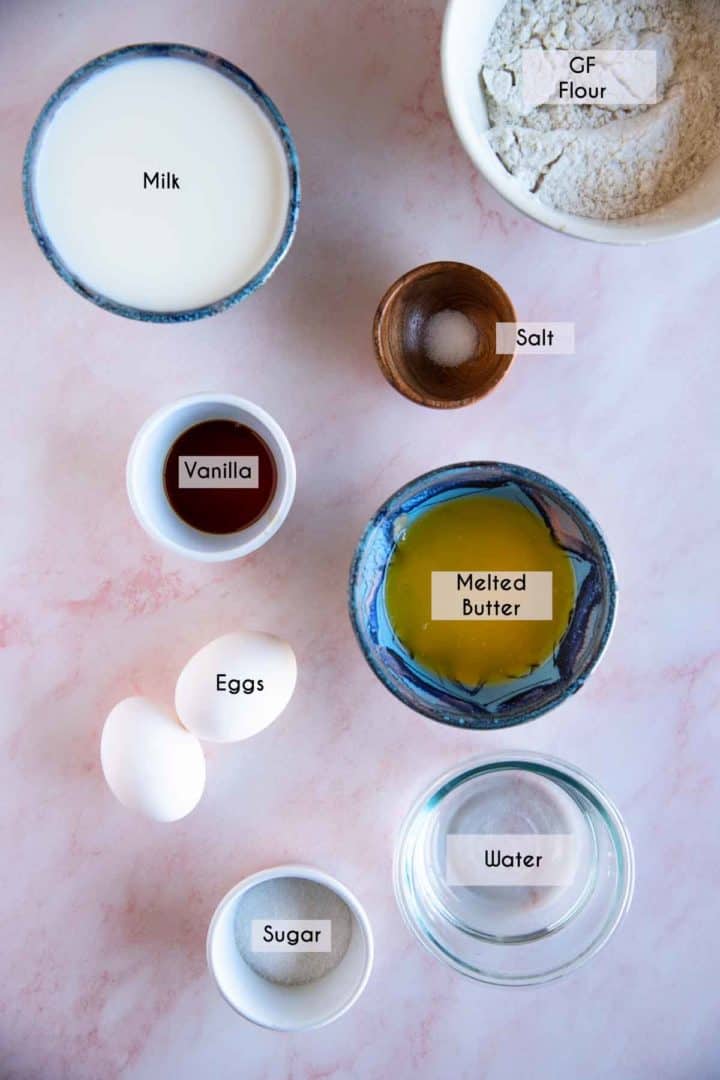 What Is The Difference Between Crepes and Pancakes?
The main confusion between crepes and pancakes is due to geography.
Though the batter for both typically contain similar ingredients, In the United States crepes do not use baking powder or soda to leaven them. The fluffy traditional way we think of pancakes in the United States is due to the leavening agents used.
In England a pancake is the same thing as a crepe.
Helpful Tools:
The key to getting perfect foolproof crepes is all about the pan and spatula you use. Most people don't have a specific crepe pan, but a skillet works perfectly! If you have a non-stick skillet then use that. A 10 inch skillet is the perfect size for cooking crepes. You want to keep the pan from getting hot too quickly, so you will want to heat the pan slowly.
The trickiest part is flipping the crepes without tearing them. I find that a silicone pancake turner or flat silicone spatula works best. This way the slight softness of the silicone allows the spatula to conform to the curve of the pan and slide under the crepe with ease, whereas a metal spatula makes it much trickier when using a skillet with rounded edges.
How to Make Crepes from Scratch
These easy blender crepes are a foolproof way to ensure perfect crepes every time. No need to even let the batter rest!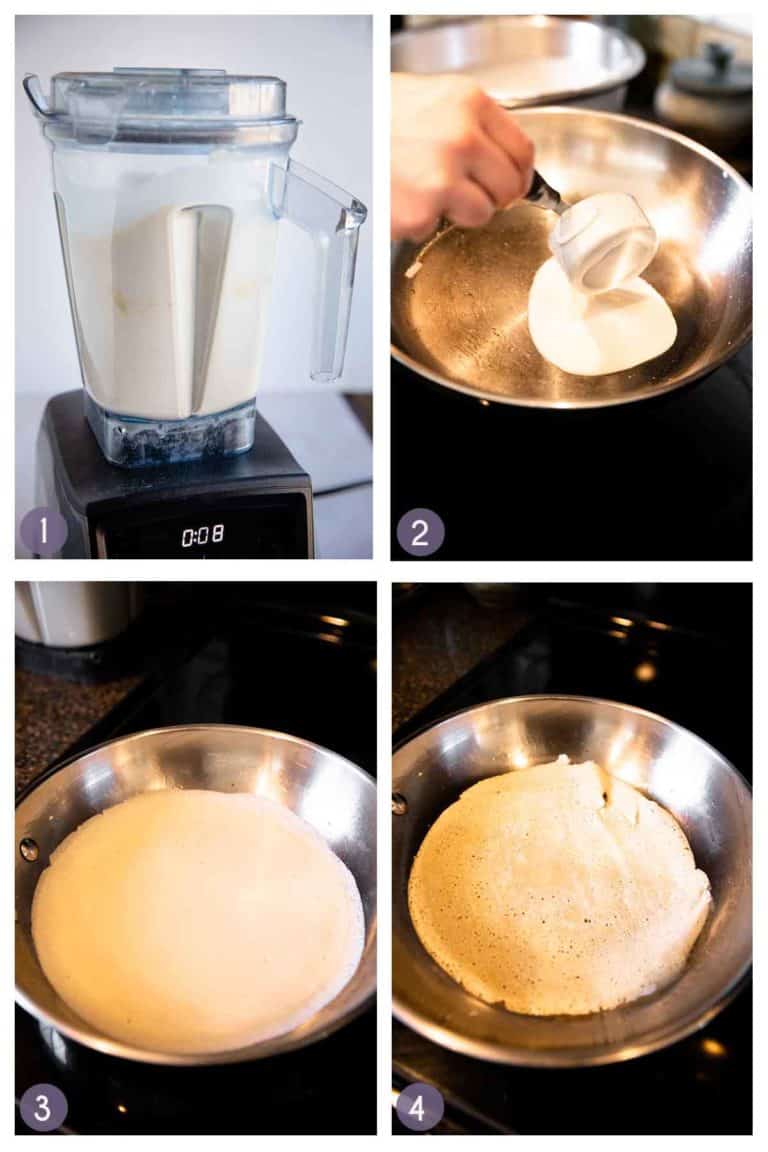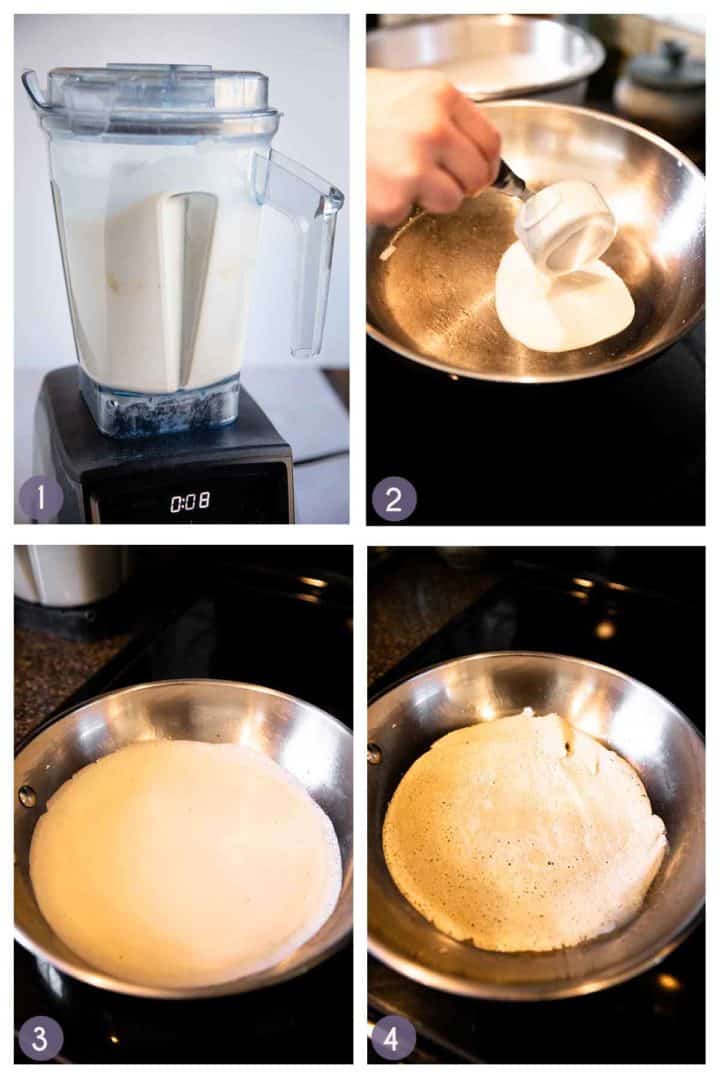 For the Batter:
Simply combine all ingredients in a blender and mix until well blended, about 30 seconds. Transfer to a medium bowl that allows for easy stirring as you cook the crepes, since gluten free flour settles as it sits.
Cooking Gluten Free Crepes:
Begin by placing your skillet on the burner over low heat Let the skillet heat on low for about 10 minutes to gradually heat the pan until hot.
Keeping the heat low, put a 1/4 teaspoon of vegetable oil, or butter, on the bottom of the pan and using a pastry brush, coat the bottom and sides of the pan with a very thin layer.
Stir the crepe batter before using to combine any flour that has settled to the bottom.
Using a 1/4 Cup measuring scoop, pour a scant 1/4 cup or about 3 tablespoons, of batter into the center of the skillet. While you are pouring, lift the skillet and tilt in in a circular motion all around to spread the batter and evenly coat the bottom of the pan with batter.
Let cook 1-3 minted until just beginning to get golden patterns.
Using a silicone pancake turner, loosen the crepe gently all the way around the edges of the pan and then flip the crepe.
Cook an additional 30 seconds to 1 minute until golden spots have formed.
Stir the batter and repeat the process until all the crepe batter is used up.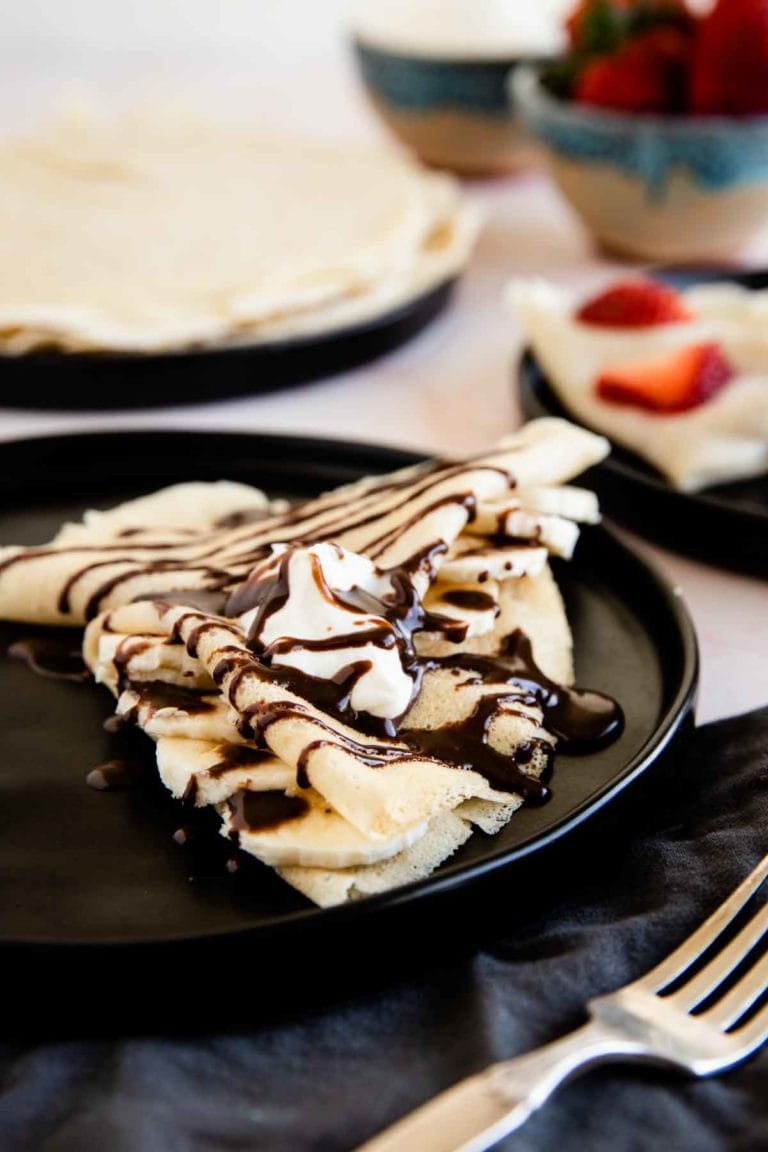 Storage:
Gluten free crepe batter can be made up to 48 hours in advance and stored in the fridge. Just give the batter a quick blend before beginning the cooking process.
If you are not using the crepes right away, then store the crepes in a single layer or stack parchment between each layer to prevent sticking. Once cooled you can cover the crepes and store in the fridge for up to 48 hours.
Though crepes can be frozen, they become more brittle after being frozen. Should you decide to freeze them, just be sure there is parchment between each layer as you stack them.
Sweet Crepes Versus Savory Crepes
These easy blender crepes are extremely versatile and can be filled with pretty much whatever you want. We especially love to use them for these Lemon Ricotta Filled Crepes as a weekend brunch.
If you are wanting to serve these as savory crepes, then just omit the sugar and vanilla from the batter. That's it! One of our favorite ways to save savory crepes is to fill them with the roasted veggies from this buddha bowl recipe and top with the tahini sauce instead of serving over quinoa.
Looking for fun ways to fill your sweet crepes? The options are limitless! Some fun ideas are
Nutella and bananas
Cinnamon sugar and cooked apple slices
Seasonal berries and cream
Peanut butter, and raspberries with a drizzle of syrup
Need More Recipe Inspiration? Try These Reader Favorites:
Yield: 8
Gluten Free French Crepes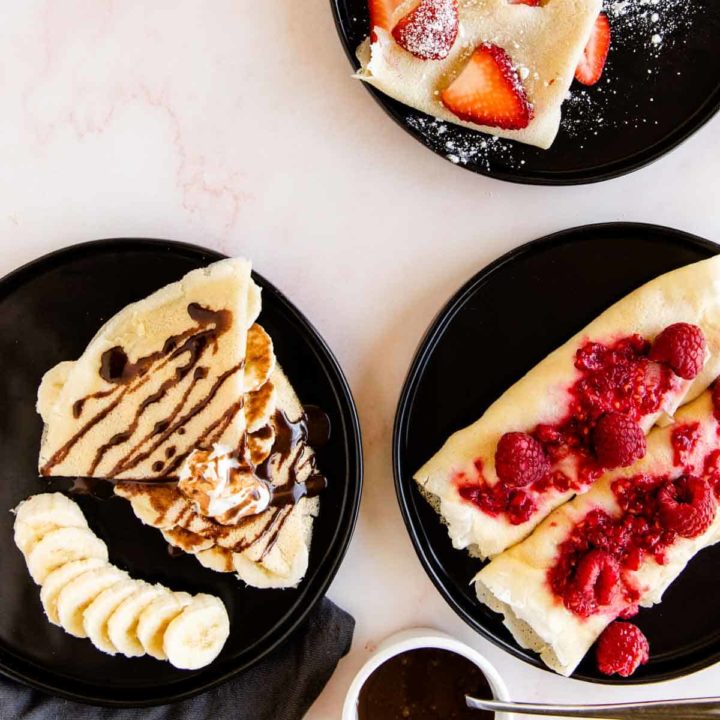 Gluten free French crepes are the perfect way to class up any meal. Make them sweet and use them for a breakfast or brunch, or omit the sugar and fill them with savory options for your dinner table!
Ingredients
2 Eggs
1 Cup Whole Milk
6 Tablespoons Water
1 1/4 Cups (5 1/2 ounces) Gluten Free Flour Blend with xanthan*
1/4 teaspoon Salt
1 1/2 Tablespoons Sugar
1 teaspoon Vanilla
3 Tablespoons Butter, Melted
Instructions
Slowly heat a non-stick 10 inch skillet over low heat for aproximately 10 minutes, to slowly heat the pan.
While the pan is heating, combine all ingredients in a blender and blend until smooth.
Dump the crepe batter into a bowl so you can easily stir between each batch you are cooking.
using a paper towel or pastry brush, lightly brush the now hot pan with a thin coating of butter or vegetable oil,
Using a 1/4 Cup measuring scoop, stir the crepe batter and pour a scant 1/4 cup of batter into the center of the hot pan.
Lift the pan and rotate it in a circle to evenly distribute the batter all around the bottom of the pan.
Let cook 1-2 minutes until golden color begins to form on the underside.
Gently flip the crepe (a flexible silicone pancake turner is perfect for this!) and cook the other side for an additional 1 minute.
Stir the batter and repeat the process with remaining crepe batter
If pan begins to get too hot then remove from heat for a couple minutes before continuing.
Notes
I use Bobs Red Mill 1 to 1 Baking Blend. If your blend does not include xanthan gum, then add 1/4 teaspoon to your flour before blending.
Nutrition Information:
Yield:
6
Serving Size:
2
Amount Per Serving:
Calories:

160
Total Fat:

4g
Saturated Fat:

2g
Trans Fat:

0g
Unsaturated Fat:

2g
Cholesterol:

41mg
Sodium:

88mg
Carbohydrates:

13g
Fiber:

0g
Sugar:

3g
Protein:

3g
*Nutrition information is automatically calculated and may not always be accurate.