Breakfast Sweet Potato Toast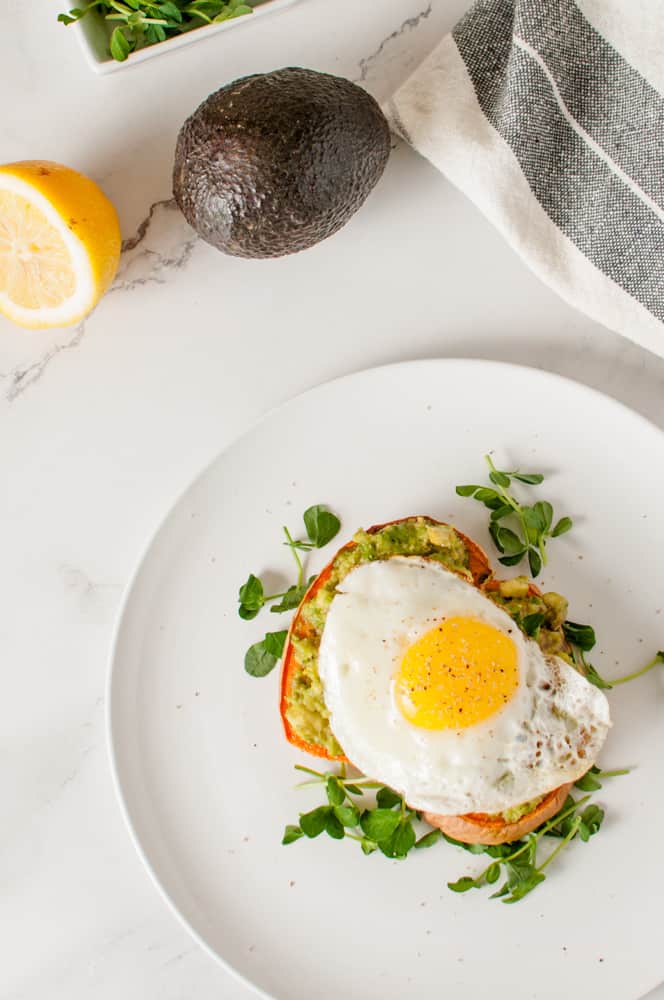 I have decided that sweet potatoes are just good for the soul. This Breakfast Sweet Potato Toast is one of my favorite flavor combinations and packs a nutrition powerhouse to start your day off right!
Since going gluten free, sweet potatoes have definitely been at the top of my list for favorite every-day staples.
This Breakfast Sweet Potato Toast recipe begins with thick slices of sweet potato that get a light drizzle of oil. A blend of seasonings are sprinkled over the toast slices, which are then thrown into a high temperature oven to get a nice crispy bottom. Yes please!
Before serving, I add a thick spread of guacamole, to up the nutrition game, and top with an egg, cooked just the way you like it. Finish these off by serving them over a bed of pea shoots or micro-greens for an added boost of flavor!
People often ask what I feed the kids when I make unique or high veggie count dishes. I rarely serve the kiddos a separate dish, as I am not going to cook twice for the same meal. Instead I will keep components of a dish separate for them. They can then mix and match how they choose, or skip out on a section they don't enjoy.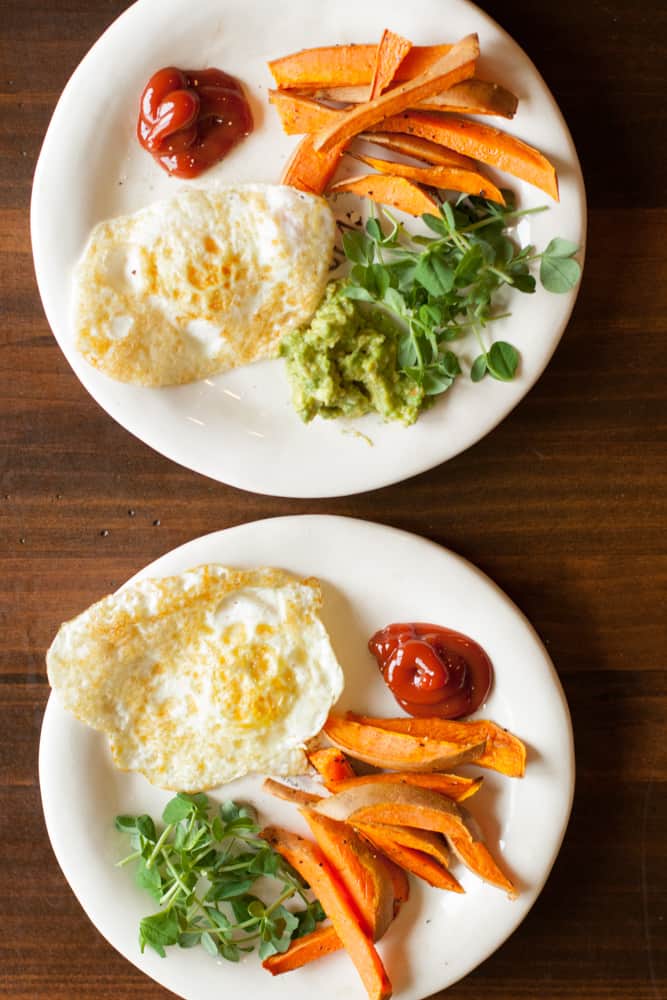 For this recipe I do a kiddo version for our girls that comes together at the same time.
My kids love sweet potato fries, I mean who doesn't like sweet potato fries? To make the fries, I take the smaller remaining end sections of the sweet potatoes and cut them into fry slices. Voila! These fry slices get cooked with the toast, so no extra effort on my end!
I keep the remaining components separate and the egg goes on the side, rather than on top. My oldest daughter loves the guacamole for her fry slices but the younger has the option of avoiding the guac if she wants.
This method of separating out components has worked well for introducing them to the flavors of a dish. More often than not, they usually learn to enjoy the full dish later on.
Need More Recipe Inspiration? Try These Reader Favorites:
Yield: 4
Breakfast Sweet Potato Toast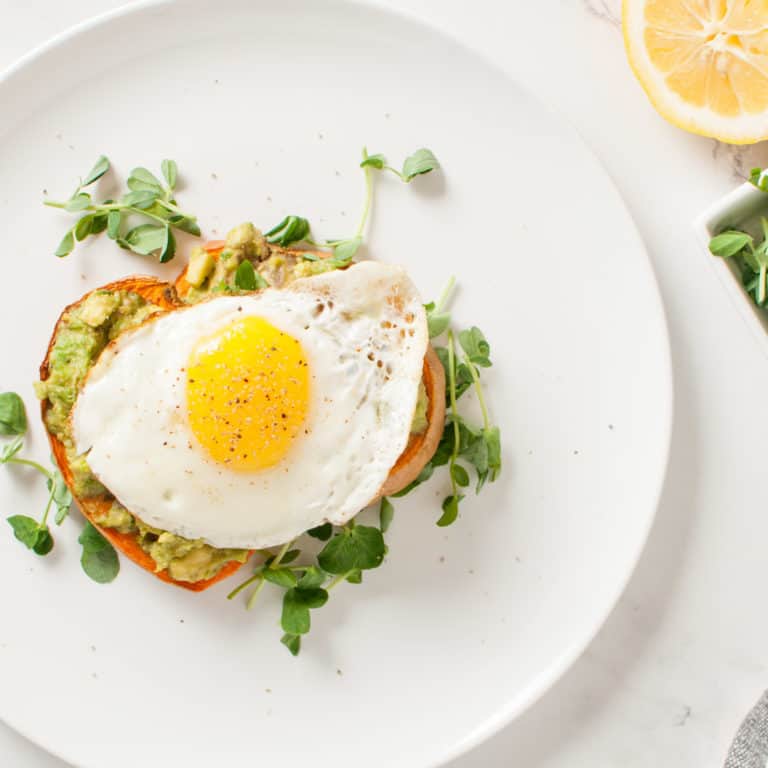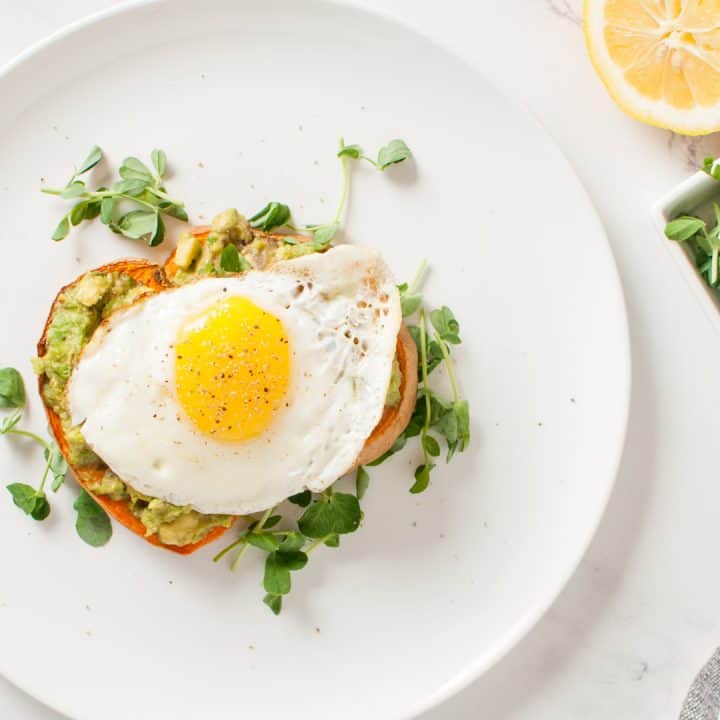 Bright and fresh, this gluten free, sweet potato breakfast toast is a family favorite!
Ingredients
2 Large Sweet Potatoes
1 tsp. Olive Oil
1/4 tsp. Coarse Sea Salt (more to taste)
1/4 tsp Fresh Cracked Black Pepper (more to taste)
Guacamole:
1 Avocado
1/2 tsp Minced, Fresh Garlic
1 1/2tsp. Fresh lemon Juice
1/8 tsp. Salt
1/8 tsp. Fresh Cracked Black Pepper
1 Tbsp. Salsa
To Serve:
4 Eggs
1 tsp. Olive Oil
1 C. Pea Shoots or Other Micro Greens of Choice
Instructions
Heat oven to 425° F and line baking sheet with parchment or non-stick silicone mat.
Slice sweet potatoes lengthwise into slices about 1/2 inch thick. Depending on sweet potato size, each one should make about 4 slices.
Lightly coat both sides of the sweet potatoes with the olive oil and place on baking sheet.
Sprinkle the top-side of the sweet potato slices evenly with salt and pepper.
Bake in pre-heated oven for 30 minutes or until soft through when poked with a fork. (prep guacamole while potatoes bake)
Guacamole:
In a small bowl combine all ingredients for guacamole and mash with a fork until desired consistency.
To Serve:
To fry the eggs: Heat a large skillet, or non-stick griddle over medium heat with 1tsp. olive oil.
Crack 4 eggs into pan and cook until desired firm-ness, flipping half way through if desired.
Divide the pea-shoots or micro-greens between four plates to create the bottom layer.
Place 2 slices of sweet potato toast on each plate. Placing on top of each serving of micro-greens.
Spread a layer of guacamole onto each slice of toast.
Top each serving with one fried egg.
Sprinkle with fresh cracked pepper and serve!

Notes
See blog post for additional serving ideas!
Nutrition Information:
Yield:
4
Serving Size:
1
Amount Per Serving:
Calories:

305
Total Fat:

15g
Saturated Fat:

3g
Trans Fat:

0g
Unsaturated Fat:

11g
Cholesterol:

186mg
Sodium:

363mg
Carbohydrates:

33g
Fiber:

11g
Sugar:

9g
Protein:

13g
*Nutrition information is automatically calculated and may not always be accurate.