Gluten Free Spaghetti and Meatballs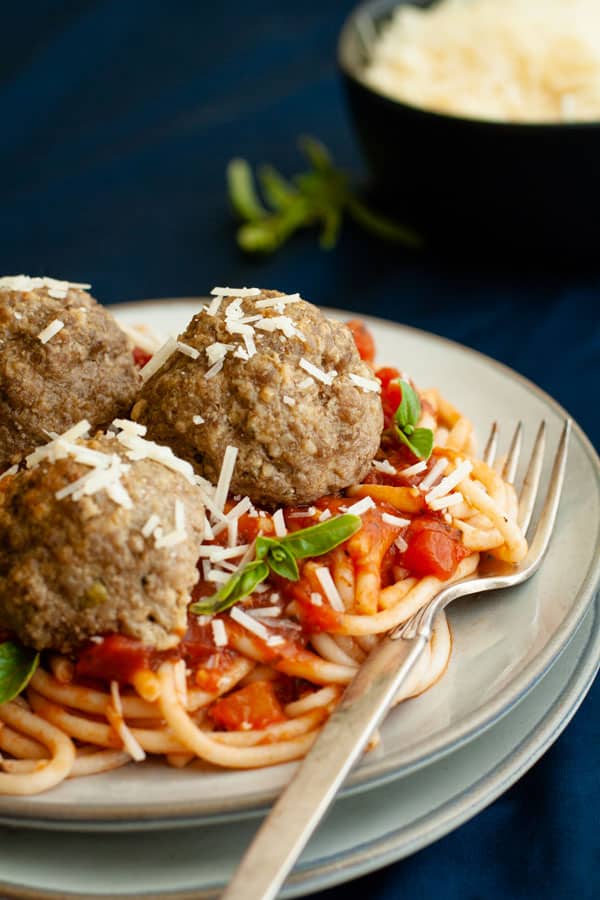 Ah the classics… Huckleberry Finn, The Beatles, Apple Pie and Spaghetti with Meatballs. Yes, Spaghetti and Meatballs.
Now just because we eat gluten free, does not mean we have to give up the classics. You can still listen to as much of The Beatles as you want, enjoying Gluten Free Spaghetti and Meatballs all the while!
How To Get the Perfect Gluten Free Meatball:
When it comes to meatballs, I like to keep mine fairly traditional with italian seasonings. The trick for this variation was to come up with a recipe that doesn't use bread-crumbs. I also wanted to create a meatball recipe that didn't require any unique ingredients that would leave you with random packages of unused leftover products. I always hate that.
Almond flour and parmesan cheese made for the perfect balance of grainy texture and dry ingredients to help bind the meatballs together, without leaving any weird flavors.
Many meatball recipes require the additional effort of individually cooking batches of meatballs on the stove. This not only takes forever, but leaves a huge greasy mess to clean up as well.
This recipe for gluten free meatballs comes together quickly and is baked in the oven with a quick broil at the end. This makes cleanup a breeze!
Ultimate Gluten Free Spaghetti Sauce:
For the Spaghetti Sauce, I always like a bold robust flavor and not too tangy. The addition of Worcestershire and red wine balance out and embody the tomatoes without overwhelming the flavors. Combine this sauce with the gluten free meatballs, and it's a match made in heaven…or at least in my kitchen.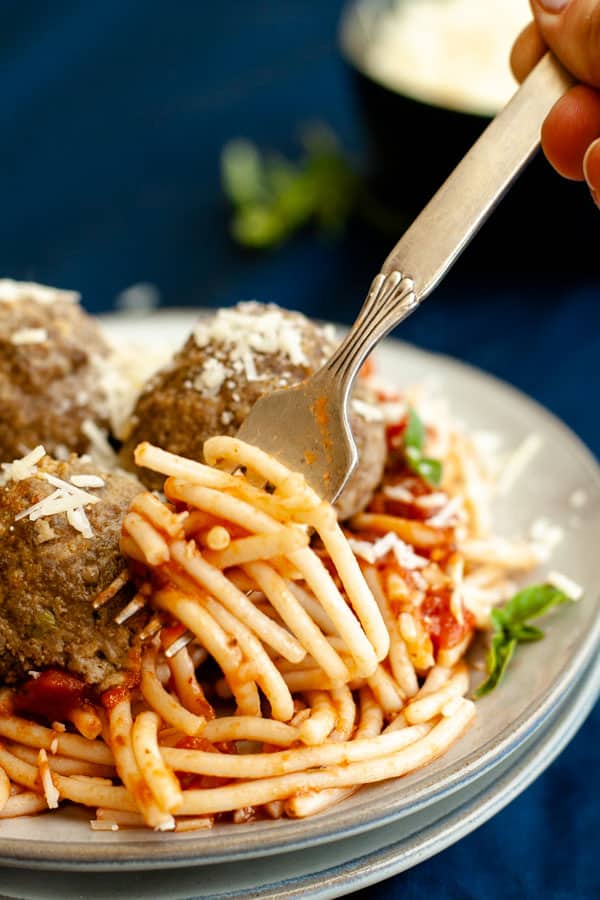 Recipe FAQs:

Can I make the meatballs ahead of time or freeze the meatballs?
The answer is "yes"! These meatballs can be rolled into balls and once rolled, frozen on the baking sheet. After they are frozen, then just pop them into freezer storage bags. 

When baking, either thaw the meatballs ahead of time, or add 10-15 minutes of extra baking time, before the broil. Just make sure they get up to 165°F (74°C).

Can I Freeze The Spaghetti Sauce?
Definitely! This meal is perfect for doubling and putting a batch in the freezer for later!

I like to freeze my spaghetti sauce in a gallon Ziploc freezer bag laying flat on a Baking sheet.This keeps the sauce from freezing in a blob that makes it a pain to organize in the freezer, and instead makes it flat and stackable.

When ready to use, you can thaw the sauce until it is soft enough to break in chunks and then continue thawing and heating it in a saucepan over medium heat on the stove-top.


What about the noodles, don't they have gluten?
Of course traditional pasta contains gluten, but these days you can find gluten free pasta at most any grocery store. I personally like the Tinkyada brand, or brands made with brown rice. 

If we're wanting to keep things on the lighter side, we love to serve this over roasted spaghetti squash. The spaghetti squash is delicious roasted and you get a nice serving of veggies in addition!

Once roasted the "noodles" scrape out beautifully with a fork. I let my spaghetti squash noodles sit in a colander to drain some of the moisture off, then serve as you would traditional noodles.

In conclusion, everyone needs a good spaghetti and meatballs recipe to have on hand hopefully this gluten free variation becomes your new standby!
Let me know what you think of it by leaving me a comment or show me how you made it on instagram @mountainberry_eats.
Happy Cooking!
Need More Recipe Inspiration? Try These Reader Favorites:
Yield: 6
Gluten Free Spaghetti and Meatballs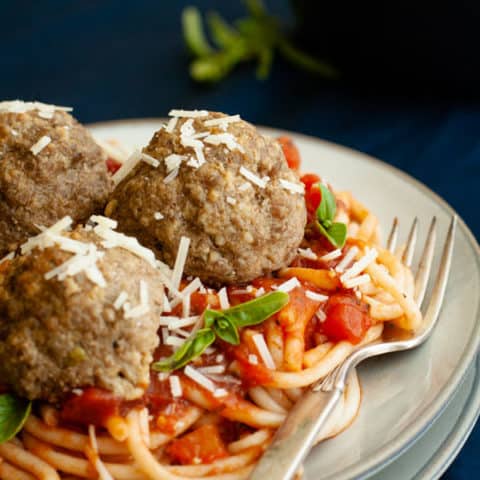 For this Gluten Free Spaghetti and Meatball Recipe, the sauce boasts a bold robust flavor without being too tangy. In addition, the Gluten Free Meatballs come together quickly and are baked in the oven, leaving cleanup a breeze! This recipe is perfect for doubling, or making ahead and using as a freezer meal to have on hand whenever you need!
Total Time
1 hour
15 minutes
Ingredients
For the Sauce:
1 Tbsp. Olive Oil
1 Yellow Onion, Finely Chopped
6 Cloves of Garlic, Minced
1 Tbsp, Fresh chopped Basil
1 Tbsp. Fresh chopped Oregano
44oz-Can of Tomato Sauce
2-15oz Cans Petite Diced Tomatoes
1/4 C. Red Wine of Choice
2 Tbsp. Worcestershire Sauce (make sure your brand is gluten free)
1/2tsp. Salt
1/4 tsp. Fresh Cracked Pepper
1 - 12oz Package Gluten Free Spaghetti Noodles
For The Meatballs
1lb Ground Beef
1lb Ground Pork Sausage (I like Jimmy Dean Natural Bulk Sausage)
1/2 Onion, Minced
2 Cloves Garlic, Minced
1/4 C. Chopped, Parsley
2 Eggs
1/4 C. Parmesan Cheese, Shredded
1/3 C. Almond Flour
1/3 C. Almond Milk (can use traditional milk instead if desired)
1 tsp. Salt
1 tsp. Ground Pepper
Instructions
To Make the Sauce:
Heat the olive oil in a medium saucepan over med-high heat.
Add the chopped onion to the hot oil and sauté for about 5 minutes until translucent and soft.
Add garlic, basil and oregano to the pan and cook 2 minutes until fragrant and garlic is toasted.
Add remaining sauce ingredients (not the noodles though!) to the pan and stir thoroughly
Turn heat down to medium-low, and let simmer for 1hr, stirring occasionally.
While sauce simmers, make the meatballs and noodles.
To Make the Meatballs:
Line a large baking sheet with parchment paper and pre-heat oven to 375° F (190° C)
In a large bowl, combine all meatball ingredients.
Using your hands or a large fork, mix thoroughly until well combined
Using your hands or a cookie scoop, roll the meat ball mixture into 18, golf-ball size, balls.
Place on the lined baking sheet and bake for 15 minutes
While meatballs cook, make the noodles according to package directions.
After 15 minutes, turn the oven up to the "Broil" setting and cook the meatballs 5-10 minutes longer until beginning to brown nicely all over. Watch them closely at this stage so they don't burn!
Remove the sauce from the stove-top and serve the noodles with the sauce and meatballs!
Enjoy!



Notes
See notes in blog post for how to freeze the sauce and meatballs if you are making ahead or have leftovers.
Nutrition Information:
Yield:
6
Serving Size:
3 meatballs
Amount Per Serving:
Calories:

764
Total Fat:

44g
Saturated Fat:

14g
Trans Fat:

1g
Unsaturated Fat:

26g
Cholesterol:

197mg
Sodium:

2638mg
Carbohydrates:

49g
Fiber:

12g
Sugar:

15g
Protein:

46g
*Nutrition information is automatically calculated and may not always be accurate.