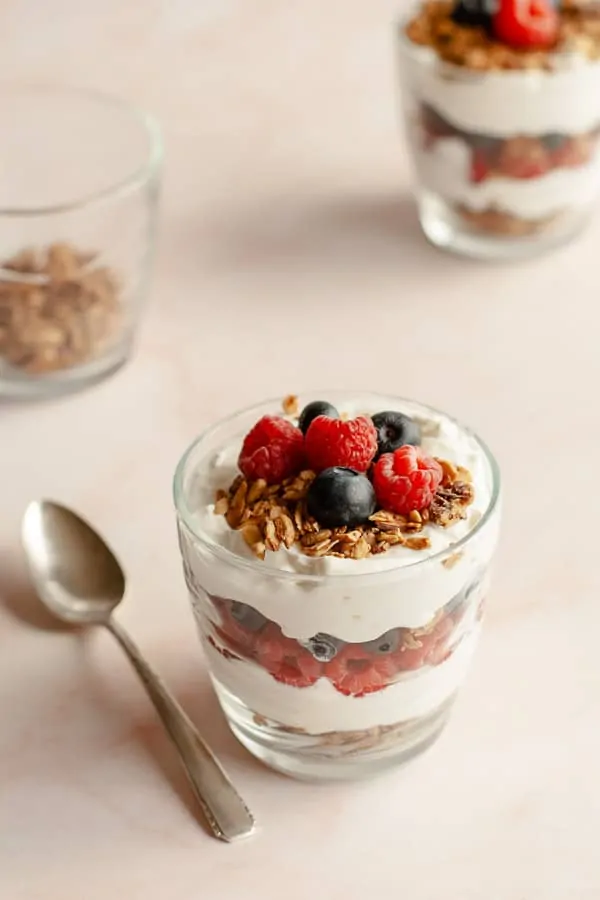 This easy breakfast parfait comes together in just minutes and is a weekday favorite in our home!
What is a Parfait?
Originally, a parfait comes from France and is a frozen dessert that is crossed between a custard and ice cream. A frozen mousse would be a good way to think about it. French parfaits are served in a parfait glass or in slices making for a refreshing post-dinner treat.
In the United States, we know parfaits as a layering of ingredients in a clear dish. Typically these layers have come to include a fluffy cream layer, a fruit or syrup layer, and often a cake or crunch layer as well.
How to build a Breakfast Parfait:
For a parfait, the main attraction really lies in the layers. Ideally you will want a clear glass or dish that can accentuate all the different layers. I found my smaller 8oz drinking glasses worked perfectly for a breakfast parfait and kept it at the right size for a breakfast portion.
For a breakfast parfait I use plain Greek yogurt for my creamy layer. You can use any yogurt of choice, but the plain Greek yogurt helps to keep the sugar in check. It also provides more protein than traditional yogurt which I find beneficial in a breakfast dish.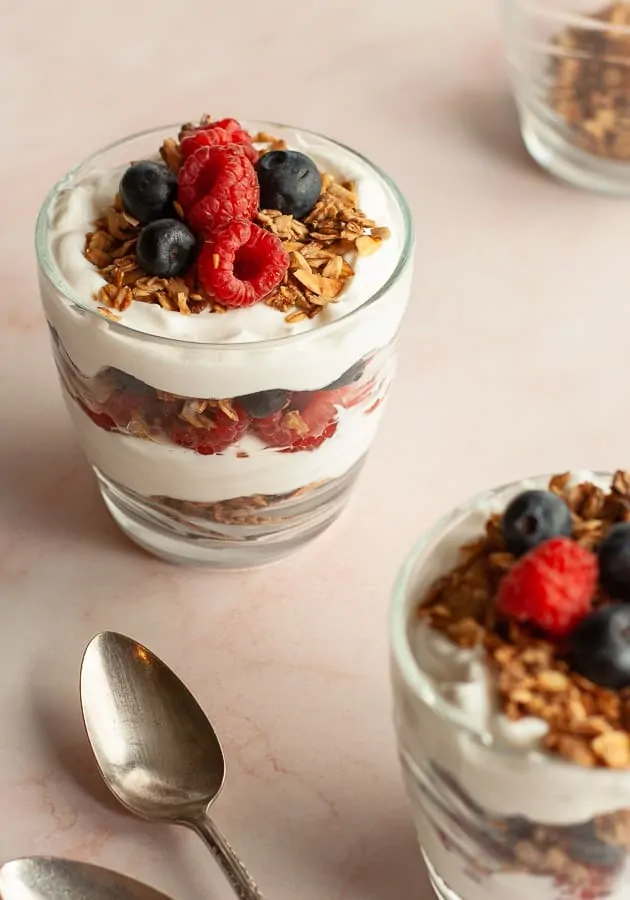 I like to add a layer of crunch to my parfait by using granola in combination with the yogurt. It also helps to define and separate the layers. We love this Easy Homemade Granola option.
For the fruit layer, we typically use a mix of summer berries, although this recipe lends itself extremely well to using whichever fruit is in season!
Variations:
Some other ideas would be to make it a tropical breakfast parfait with mango, pineapple and banana slices as your fruit layer. If you don't already have some in your granola, coconut is always a lovely addition.
Fall fruits like apple and pears also work, but I prefer to soften the fruit first by steaming the slices in a pan with 1/4c water. A little drizzle of maple syrup and some cinnamon make this version perfect for fall!
Looking for More Easy Breakfast Ideas? Try These!
Yield: 4
Breakfast Parfait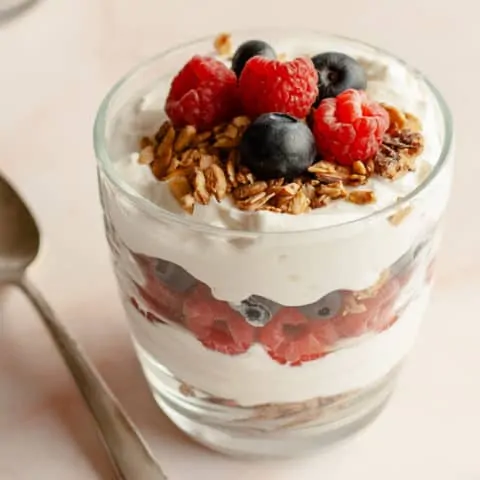 This easy gluten free breakfast parfait comes together in minutes with a punch of protein for an easy weekday breakfast. Although it is super simple to make, this breakfast parfait is also elegant enough to pull out for guests or holidays!
Additional Time
5 minutes
Ingredients
2 C. Plain Greek Yogurt
1 1/2 C. Granola
1 C. Berries or Fruit of Choice
4tsp Honey (optional)
Instructions
In the bottom of 4, clear 8oz glasses, layer parfait ingredients as follows:
Sprinkle 2 Tbsp of Granola in the bottom of each glass.
Layer 1/4 C. Greek yogurt in each glass on top of the granola layer.
Arrange approximately 2 Tbsp of fruit or berries as a third layer in each glass, on top of the yogurt.
Repeat steps 1-3 again to create 6 total layers in each glass. (each ingredient should be layered 2 times)
If desired, drizzle each parfait with 1tsp. of honey immediately before serving.
Enjoy!

Notes
See blog post for variation ideas using different fruits!
Nutrition Information:
Yield:
4
Serving Size:
1
Amount Per Serving:
Calories:

331
Total Fat:

12g
Saturated Fat:

2g
Trans Fat:

0g
Unsaturated Fat:

9g
Cholesterol:

6mg
Sodium:

54mg
Carbohydrates:

39g
Fiber:

6g
Sugar:

19g
Protein:

18g
*Nutrition information is automatically calculated and may not always be accurate.