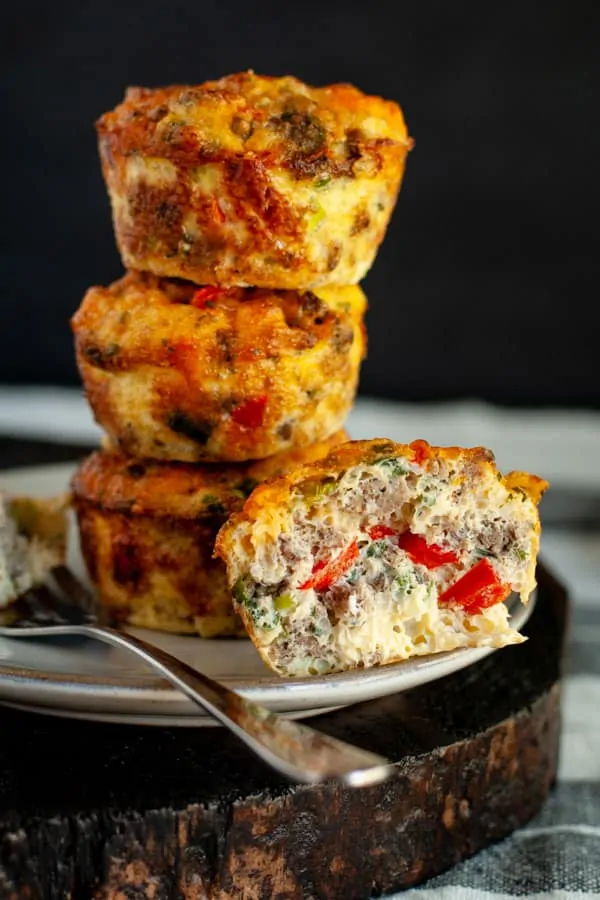 For us, weekday mornings are all about getting the day started quickly and off on the right foot. These Muffin Tin Egg Bites are a family favorite that can be prepared the night before to make mornings super easy!
As much as I love pastries, when it comes down to it, I NEED protein to start off my busy days. If I don't start the day with protein, I'm hungry and shaky by 11:00am and that just makes for a case of the "hangries"
If I feel awful when not having protein, I definitely want to make sure my kiddos and husband are set for their busy days with a good breakfast as well!
In addition to this recipe being naturally gluten free, each serving has 18 grams of protein. You can also make these ahead or make multiple batches and freeze individual servings. Make a full weekend breakfast by pairing these with some lovely Cinnamon Chip Scones!
Say What!?
To make These Ahead:
• Cook the sausage and chop the veggies whenever is the most convenient or when you do meal prep.
• The night before, prepare recipe as indicated up until just before baking. Then place the filled muffin tin in the fridge overnight.
• In the morning, just pre-heat the oven while you make your coffee and these guys can be cooking right away while you are getting ready for the day. That's it!
But You Said I Could Freeze Them, How Do I Do That?
To Freeze:
• After the Muffin Tin Egg Bites are full cooked and cooled, you can wrap individual servings for easy heating.
• Place 2 Egg Bites end to end and wrap with plastic wrap. Continue this process with any remaining servings you wish to freeze.
• Once you have wrapped each individual serving, then store them all together in a gallon freezer bag. This adds an extra layer to protect them from freezer burn.
• Lay the freezer bag of Egg Bites flat on the freezer shelf until fully frozen to keep them from getting squished.
To Thaw the Egg Bites:
• If you are a planner then you can just pull the servings you need out of the freezer the night before, and place them in the fridge to thaw overnight. The morning you need them, you can just unwrap and warm the Egg Bites in the microwave.
• In case you didn't plan ahead, then just pull them straight from the freezer, unwrap the egg bites and place on a microwave safe plate.
• Thaw in the microwave for 1 minute at 50% power and if they need more, then microwave an additional 15-30 seconds on full power until warm through!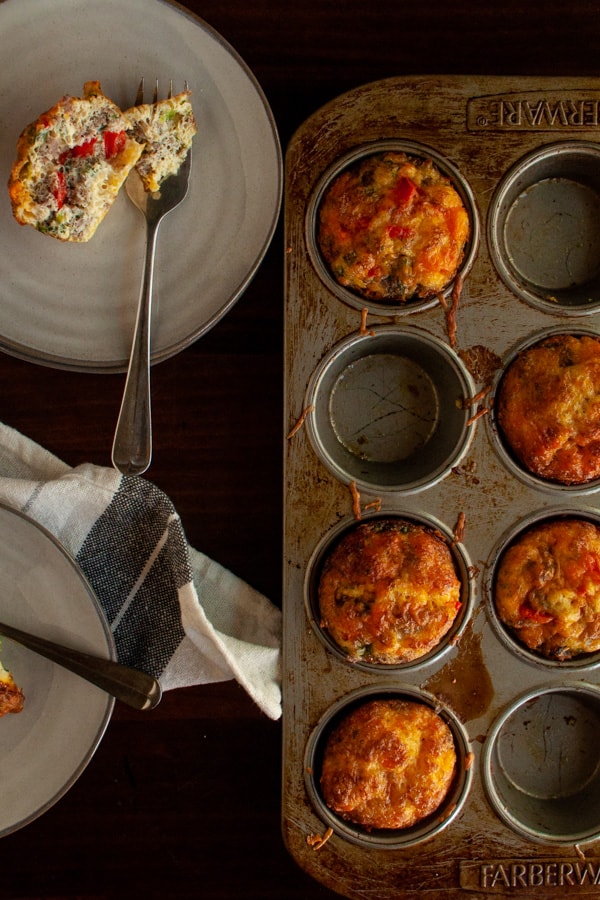 My Kids Hate Veggies, Is There a Way to Make These So The Whole Family Is Happy?
My kids only like the bell pepper and parsley raw, so I have a variation I do so they eat these and we all get off on the right foot.
To Make These For Both The Veggie Lover and the Veggie Hater:
• Follow the recipe through step 5, just up to adding the sausage. You can also use a very mildly seasoned or maple sausage if traditional sausage is too spicy.
• At this point, pour however many, veggie-free egg bites, you need into the greased muffin tin.
• After you have portioned out the just "Sausage and Cheese Egg Bites", continue with the recipe as directed; adding the veggies and portioning out the remaining Bites.
• Top all Bites with cheese and continue following the recipe.
For our family, this breakfast lasts for 2 mornings as the girls still only eat one Egg Bite. I portion off 4 that will just be sausage and cheese, and make the remaining 8 with veggie for Pierce and myself.
What If I Can't Have Dairy, Or Want To Use Different Vegetables?
• Since the amount of milk in these is minimal, I have found that it works best to either use almond milk, or add an additional 2 eggs and skip the milk altogether. Omit the cheese on top.
• This recipe works very well with most any vegetable you want to use, though depending on what you use, cooking time may vary slightly.
• Some of our favorite additions are spinach, zucchini or shredded sweet potato!
Here are Some Other Muffin Tin Recipes you Might Enjoy!
Yield: 6
Muffin Tin Egg Bites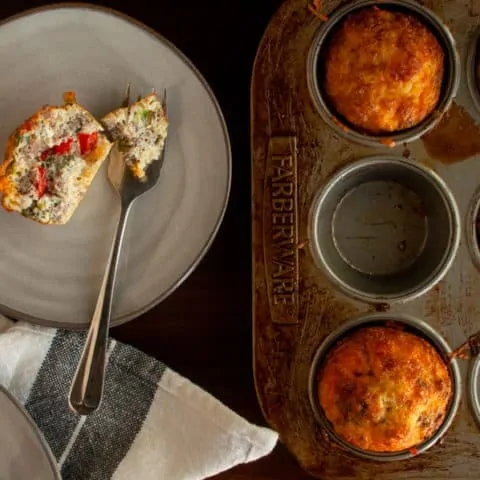 These gluten free, Muffin Tin Egg Bites are perfect for quick weekday breakfasts. To make mornings a breeze, you can have these oven ready the night before and just bake in the morning with no effort. Additionally you can freeze individual servings to have on hand whenever you need! This recipe is versatile for whatever flavors you want, and provide a good bit of protein to power your busy days!
Additional Time
5 minutes
Ingredients
10 eggs
1/2 C. Milk
1/4tsp Garlic Powder
1/4 tsp. Ground Black Pepper
1/2 lb. Bulk Breakfast Sausage, Cooked (I like Jimmy Deans Natural/Regular Sausage)
1/2 Red Bell Pepper, Chopped
3 Scallions, Chopped
2 Tbsp. Chopped Fresh Parsley
1 C. Shredded, Sharp Cheddar Cheese
Instructions
If you haven't already, begin by cooking the sausage. Set aside
Preheat oven to 375°F
Crack the eggs into a large bowl.
Add milk, garlic & pepper to the eggs and whisk well until combined and no yolks remain whole.
Stir in cooked sausage. *
Add bell pepper, scallions and parsley and stir until combined.
Spray a 12 muffin tin with non-stick cooking spray.
Pour the egg batter evenly between the each hole in the muffin tin, making sure sausage and ingredients from the bottom of the bowl are also evenly distributed.
Sprinkle the cheese evenly over the tops of the egg muffins.
Bake for 25 minutes until muffins poof up and and are golden.
Let cool 5 minutes in pan, then remove with a fork and serve.
Enjoy!
Notes
*See blog post for kid friendly or Dairy Free recipe variations
To freeze Individual Servings: Once the egg muffins are fully cooled, then put 2 together, end to end, and wrap in plastic wrap. Continue with all remaining muffins. Place all the wrapped servings in a gallon freezer bag. Lay the freezer bag of egg muffins flat until frozen.
To Thaw: Either remove the egg muffins from the freezer to thaw the night before, and then just warm in the microwave before eating. Or, remove egg muffin servings from plastic wrap and place on a plate. Microwave for 1 minute on 50% power. If the egg muffins still are not hot enough then give an additional 30 seconds on full power.
Nutrition Information:
Yield:
6
Serving Size:
2
Amount Per Serving:
Calories:

414
Total Fat:

31g
Saturated Fat:

14g
Trans Fat:

1g
Unsaturated Fat:

15g
Cholesterol:

382mg
Sodium:

682mg
Carbohydrates:

4g
Fiber:

0g
Sugar:

1g
Protein:

18g
*Nutrition information is automatically calculated and may not always be accurate.
Need More Quick Breakfast Ideas? Try These Other Favorites: