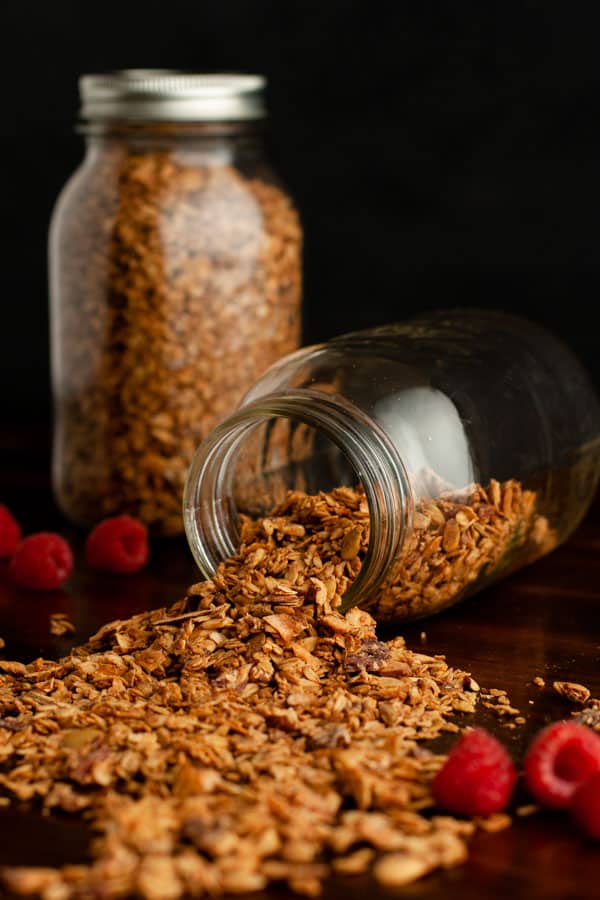 Quick AND healthy? Is that a thing? This easy homemade granola recipe has hints of maple and big flakes of toasted coconut, which are a match made in heaven!
Having a batch of this makes getting out the door on busy mornings a breeze. Not to mention, it makes 20 servings so you have some around whenever you need it!
Why Bother With Homemade Granola?
I love granola. Walking down the bulk food section at my grocery store it seems the granola options are endless! However, many of these options contain upwards of 15 grams of sugar!
I prefer to keep my sugar in the dessert and pastry category, and not in what most consider to be health-food. Starting my day with a sugary breakfast, and no protein, sets me up for disaster.
Additionally, once I discovered I had Celiac, then I also found that unless I bought fancy expensive brands, most granolas are not gluten free. This includes all those bulk bin options. Bummer!
Is it worth the effort?
Yes! Because, with this recipe it is super easy and hardly any effort at all! The fact that it makes enough to last for weeks is more than enough to convince me.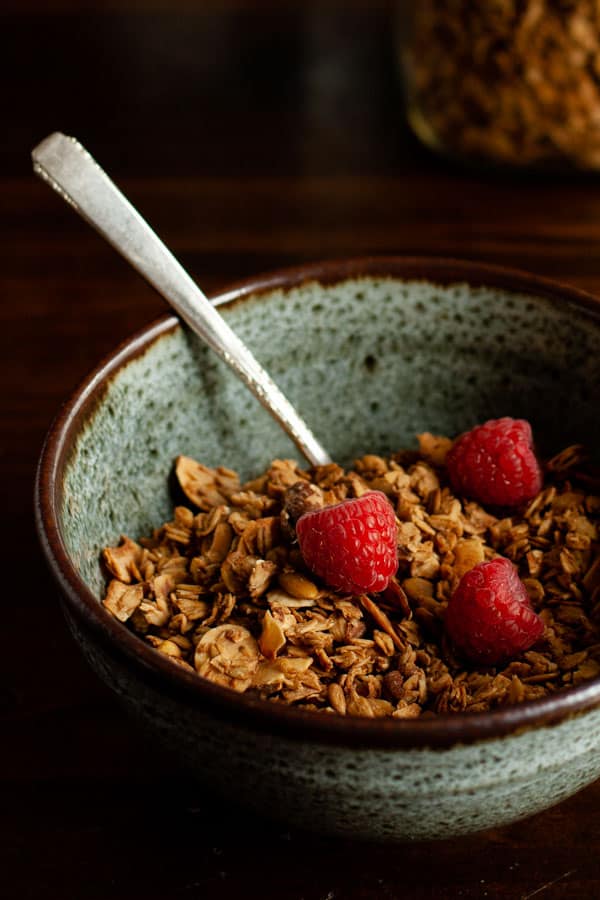 How do I make Granola?
Super simple.
•First, make sure you are using gluten free oats if needed.
•Combine all dry ingredients in a very big bowl.
•Pour wet ingredients over it all and mix.
•Bake slowly to let it dry out, and voilá!
That's it. Super simple.
What If I don't like coconut, or can't have certain nuts?
I've designed this recipe to be fully customizable to whatever you like in it. Think of the oatmeal and liquid measurements as the base, then substitute the nut and coconut categories with your favorite add-ins!
Though my favorite version includes both the pecans and sliced almonds, I don't always have these both on hand. Often I might up the pumpkin seeds and sliced almonds, but omit the pecans if I don't have them.
You can also add flax, hemp hearts or other smaller seed ingredients. To do this, just swap out or cut back a portion of the nuts and add in your seeds. (Start with ¼ – ½ C seeds at a time and add more if needed.)
One of my favorite ways to eat granola is with fresh raspberries. If they are in season, then peaches are heavenly with this. Another family favorite is pairing granola with this easy Breakfast Parfait!
Happy Cooking!
Need More Recipe Inspiration? Try These Reader Favorites:
Yield: 16
Easy Homemade Granola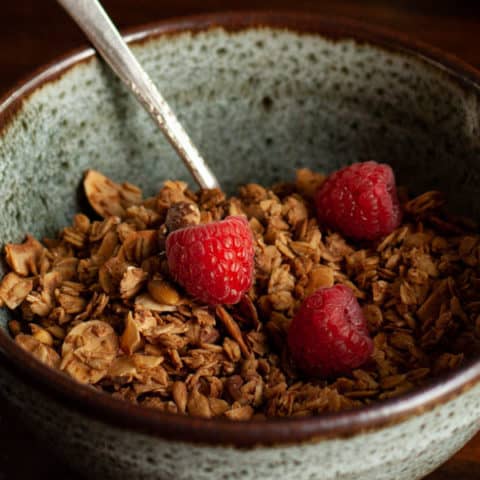 This easy homemade granola recipe has hints of maple and big flakes of toasted coconut, which are a match made in heaven! Make it gluten free and fully customize it to your tastes by swapping ingredients as described in post!
Total Time
3 hours
10 minutes
Ingredients
6 C. Old Fashioned Oatmeal (Gluten Free)
1 C. Coconut Flakes or Shredded Coconut
1 C. Sliced Almonds
1C. chopped Pecans
1/2 C. Sunflower Seeds
1/2 C. Pumpkin Seeds
1 C. Warm Water
1/3 C. Pure Maple Syrup
1/4 C. Canola Oil (can use coconut oil or other light oil of choice)
1/4 tsp. Coarse Sea Salt (If no nuts are salted)
Instructions
Preheat oven to 275° F.
In a very large bowl, combine oatmeal and all other dry ingredients. Set aside.
In a liquid measuring cup, combine water, oil, syrup and salt.
whisk well until salt is dissolved, if using.
Pour water/maple mix over the oatmeal mixture and stir well until thoroughly combined. Approximately 1 minute.
Dump the bowl of granola mix out onto a large baking sheet, and spread evenly over sheet. (I use a 13"x18" sheet). If your pans are smaller you may need to divide the mix between 2 baking sheets.
Place in the oven and bake for 1hr.
After 1 hour, stir granola mix with a large spatula, scraping up any bits that are beginning to stick.
Continue baking another 2 hours until golden brown, stirring one more time after another hour, or as needed.
Remove from oven and let cool completely before storing.
Enjoy!
Notes
See blog post for notes on how to fully customize this with your favorite add-ins!
This Granola pairs perfectly with this easy and elegant Breakfast Parfait!
Nutrition Information:
Yield:
20
Serving Size:
1/2 C.
Amount Per Serving:
Calories:

201
Total Fat:

14g
Saturated Fat:

2g
Trans Fat:

0g
Unsaturated Fat:

11g
Cholesterol:

0mg
Sodium:

238mg
Carbohydrates:

17g
Fiber:

3g
Sugar:

5g
Protein:

4g
*Nutrition information is automatically calculated and may not always be accurate.