Gluten Free Pecan Shortbread Cookies (With Caramel Filling!)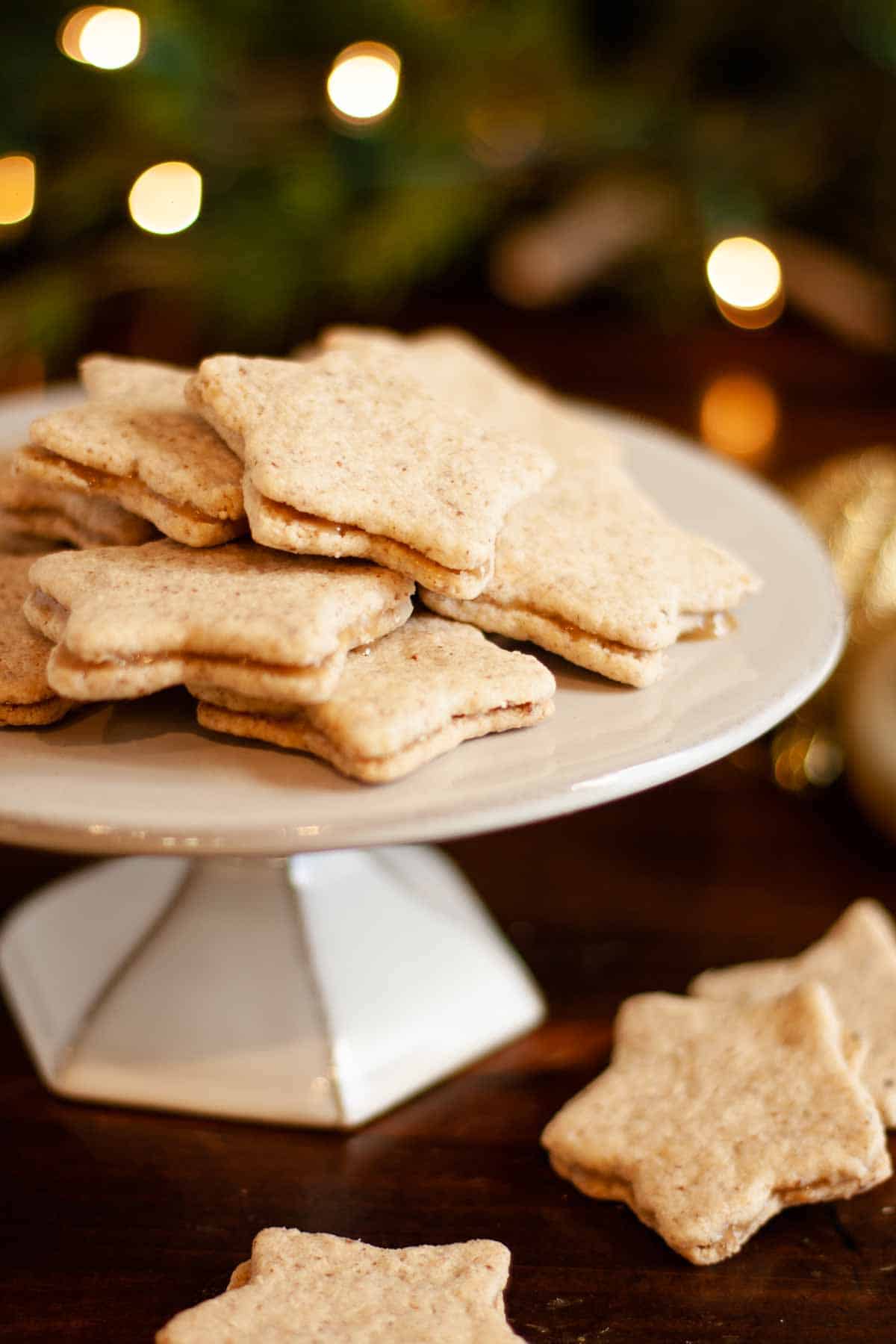 These gluten free pecan shortbread cookies boast a tender, buttery, crumb and are made the ultimate shortbread by sandwiching a layer of caramel in between!
We make these cookies every year and they have become one of our favorite holiday cookie recipes. They translated to a gluten free version very well and are even great a couple days old!
This recipe is adapted from my absolute favorite dessert book "In the Sweet Kitchen" by Regan Daley. I have had this book since I was a teenager and in addition to the delightful recipes, the wealth of information it includes on the science behind baking and flavor pairings etc. make it my go-to baking hand-book. Now that I have to eat exclusively gluten free, I have adapted a few of her recipes to work for gluten free variations.
How to Make Easy Gluten Free Pecan Shortbread:
The dough for this simple pecan shortbread cookie recipe comes together in just minutes! By using a food processor, mixing up a batch of these is surprisingly simple, not to mention delicious. It's just a matter of pulsing the dry ingredients then adding in the butter, vanilla and pecans and continuing to pulse until crumbly. That's it!
The key to making this heavenly butter pecan shortbread is to be sure that your butter is chilled. No room temperature butter here! Once you roll out the dough, you will want to work quickly so all the butter doesn't soften too much. Before baking be sure and chill the cut-out cookies until they have firmed back up. You can do this by just throwing them in the fridge or freezer for a few minutes.
Once the cookies are baked, make sure that both the caramel and your cookies are fully cooled. If you try to fill them while still warm, you risk the cookies breaking apart. Once they are cooled and filled then they become less fragile.
What is the difference between a sugar cookie and a shortbread cookie?
Though these cookies are rolled and cut out like sugar cookies, shortbread cookies are distinctively different in both flavor and texture.
Traditional sugar cookie dough will include eggs and other leavening, such as baking powder or baking soda, in addition to the butter and flour. This results in a much sturdier cookie that is convenient for decorating and longer term storage.
Shortbread cookies contain no leavening agents and contain a large amount of butter resulting in a crumbly tender cookie. Though they are not as sturdy as sugar cookies for decorating, they make for a heavenly bit of dessert to go with a hot beverage!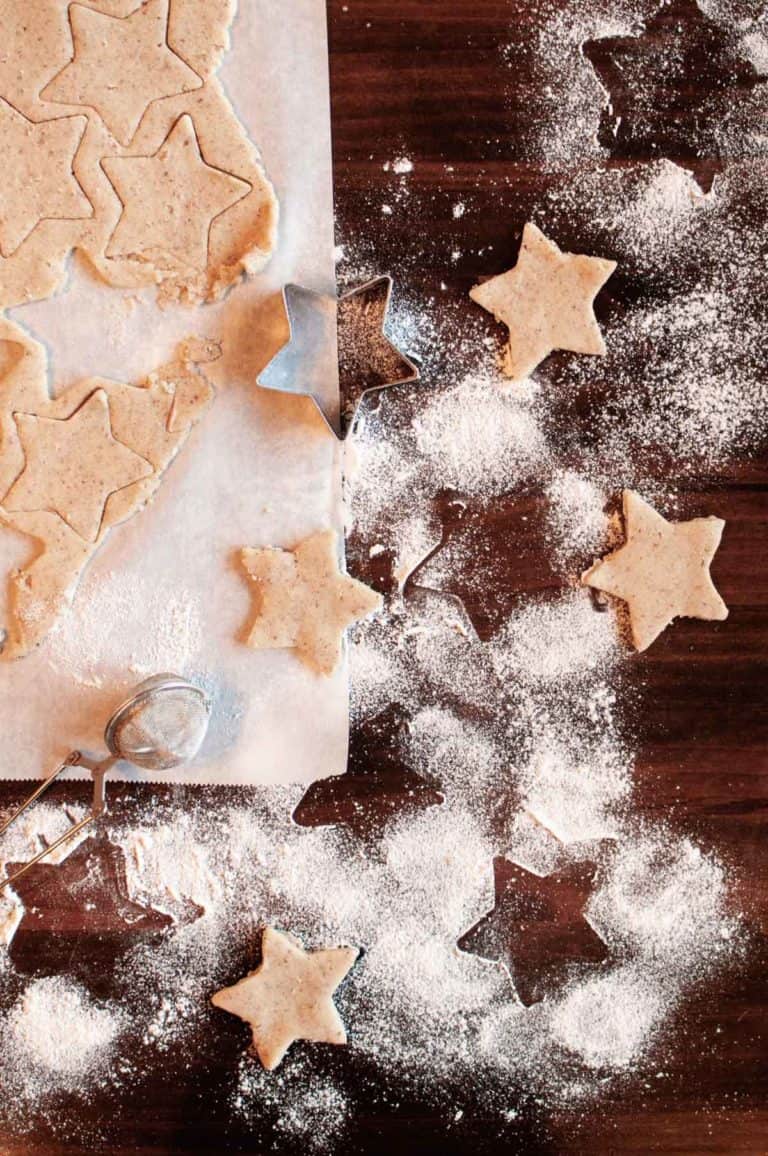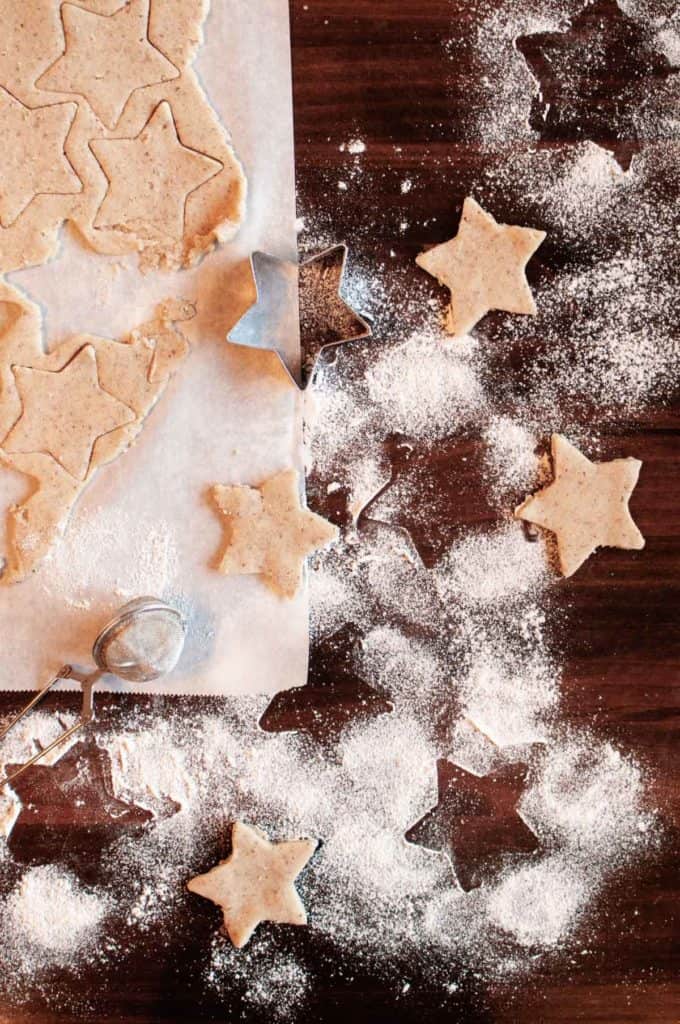 Why are my shortbread cookies falling apart?
To make these gluten free, I did find that even if my flour blend has xanthan gum in it, I still needed just a bit more to help with the structure of these cookies.
Though shortbread is intended to be crumbly, it is not intended to fall apart at any movement. I found that my gluten free flour couldn't absorb quite as much butter as the original recipe called for. To remedy this, I cut it back just enough to compensate but still allow for an appropriately crumbly texture.
What kind of sugar do you use for shortbread cookies?
It definitely comes down to personal preference between granulated and confectioners sugar. This gluten free pecan shortbread cookie recipe uses granulated, but if you want an even finer crumb you can choose to use confectioners/powdered sugar instead.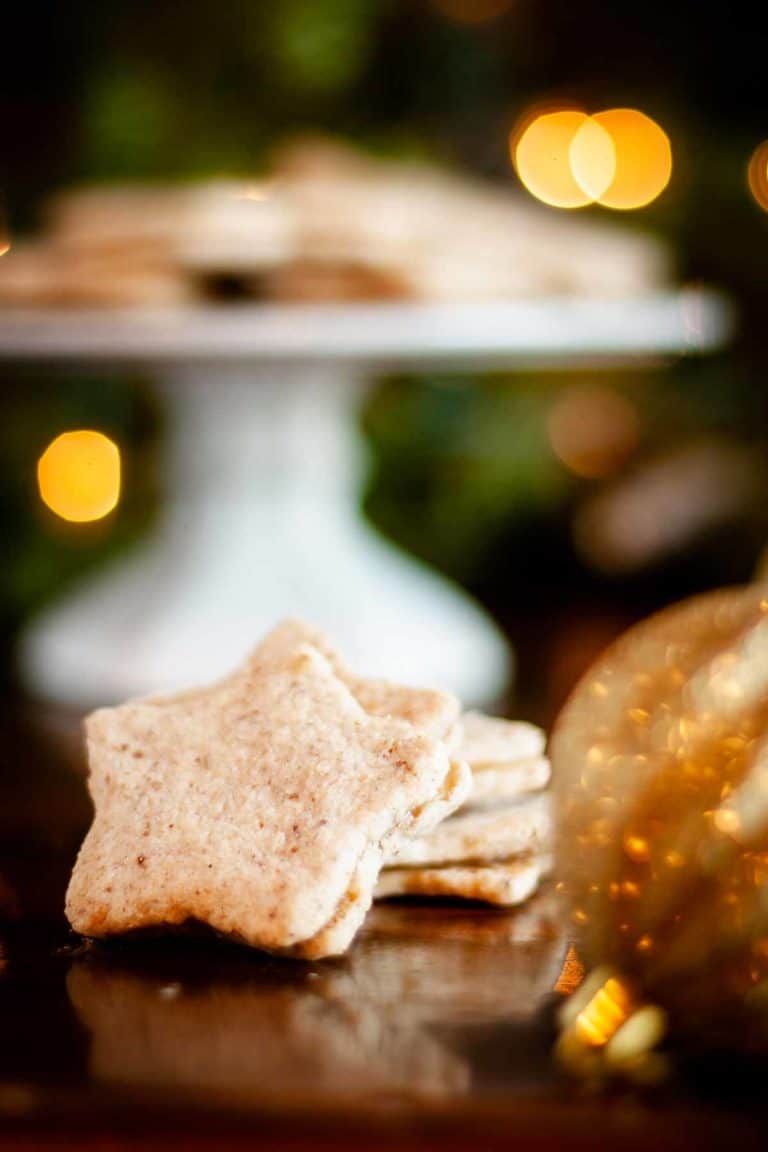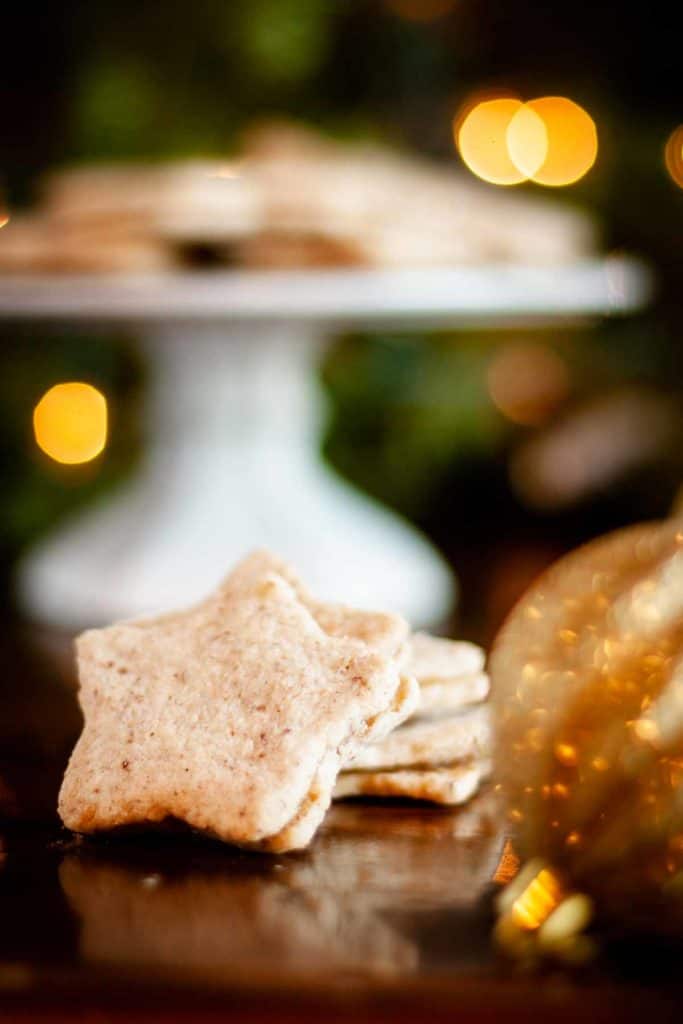 Looking For More Dessert Inspiration? Here are Some Reader Favorites You Might Enjoy!
Yield: 24
Gluten Free Pecan Shortbread Cookie Recipe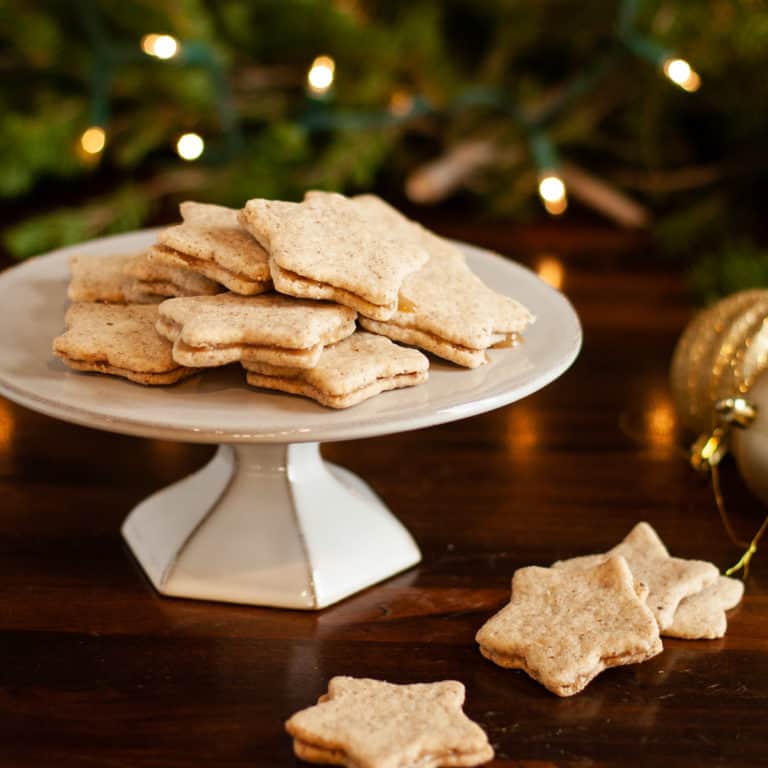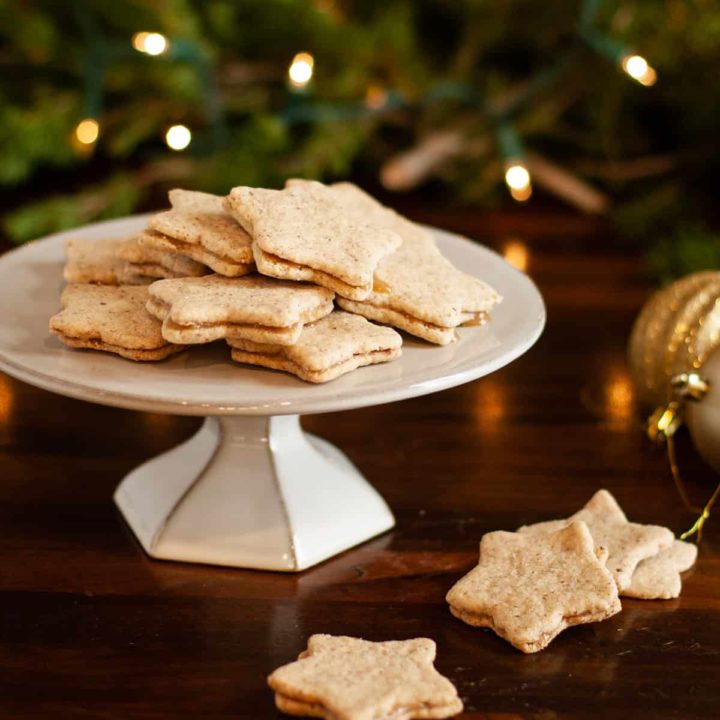 These gluten free pecan shortbread cookies boast a tender, buttery, crumb and are made the ultimate pecan shortbread by sandwiching a layer of caramel in between! 
We make these cookies every year and they have become one of our favorite holiday cookie recipes. They translated to a gluten free version very well and are even great a couple days old!
Additional Time
15 minutes
Ingredients
3/4 Cup Pecans
1 1/2 Cups (7oz) Gluten Free Flour Blend* ( I use Bob's Red Mill 1 to 1 Baking Flour)
1/2 Cup Granulated Sugar
1/4 Cup (1 oz) Tapioca Flour (can substitute cornstarch)
1/8 teaspoon Salt
1/2 teaspoon Xanthan Gum (even if your flour blend already includes Xanthan)
10 Tablespoons Cold Butter, Cut Into Cubes
1 teaspoon Vanilla Extract
Caramel Filling:
1 Tablespoon Butter
6 Tablespoons Brown Sugar, Packed
2 Tablespoons Half & Half (or evaporated milk)
1 1/2 Tablespoons Maple Syrup
3/4 teaspoon Vanilla Extract
Instructions
Line 2 heavy baking sheets with parchment paper and set aside.
In the bowl of a food processor, chop pecans until small 1/4" pieces remain. Pour into a separate bowl and set aside.
Add to the food processor bowl the flour, sugar, tapioca flour, salt, and xanthan gum. Pulse a couple times to combine ingredients.
Add the butter cubes and the vanilla and continue to pulse until the mixture begins to resemble a course meal.
Add the chopped pecans into the dough and continue to pulse until the dough starts to come together into clumps when you squish it together. You may need to stop and scrape down the sides a couple times.
Dump the dough out onto a large sheet of parchment paper and press together into a disc.
Place another piece of parchment paper on top of the dough and roll out the dough, between parchment to a 1/4 inch thickness. Using small 1 1/2 - 2" cookie cutters, cut the rolled dough into shapes.
transfer them to the baking sheets very gently with a knife, spacing them about 3/4" apart.
Re-roll any excess dough and repeat the process until all the dough has been used.
Chill the cut-out cookies for 20-30 minutes in the fridge (10-15 in freezer) to firm up the butter.
While dough is chilling, preheat oven to 325° F with oven rack in middle position.
Bake the cookies, one pan at a time for 11-12 minutes rotating the pan half-way through baking. Cookies are done when the tops are just firm, and the bottoms are just barely beginning to Brown.
Let the cookies sit 5 minutes on the pan to set before transferring to a cooling rack to cool completely.
For the Caramel Filling:
In a small saucepan, combine all ingredients for the filling.
Bring to a boil over low heat, stirring constantly until mixture begins to bubble.
Keeping the mixture at a boil, stir constantly and gently and let the caramel boil for 4 minutes.
Remove the pan from the heat and allow the caramel to cool completely. (caramel can be made up to 1 day ahead and stored in the fridge, bring to room temperature before using)
To Assemble the Cookies:
Spread an approximate teaspoon of room temperature, caramel filling onto the underside of one cookies. Use a small palette knife to help spread it over the cookie.
Top the caramel with a second cookie, underside down, lining up any points or edges on the two cookies.
Repeat until all of the cookies are filled.
Although best fresh, you can store finished cookies in an airtight container for up to 4 days.



Notes
* The quantity of these items can vary greatly if they are not measured carefully. If you do not have a kitchen scale then fluff these ingredients well with a fork and gently spoon into a measuring cup. Lastly, use the flat edge of a knife to scrape off excess to level the amount in the measuring cup.
Nutrition Information:
Yield:
24
Serving Size:
1
Amount Per Serving:
Calories:

135
Total Fat:

8g
Saturated Fat:

4g
Trans Fat:

0g
Unsaturated Fat:

4g
Cholesterol:

14mg
Sodium:

54mg
Carbohydrates:

15g
Fiber:

1g
Sugar:

8g
Protein:

1g
*Nutrition information is automatically calculated and may not always be accurate.
Latest Recipes: