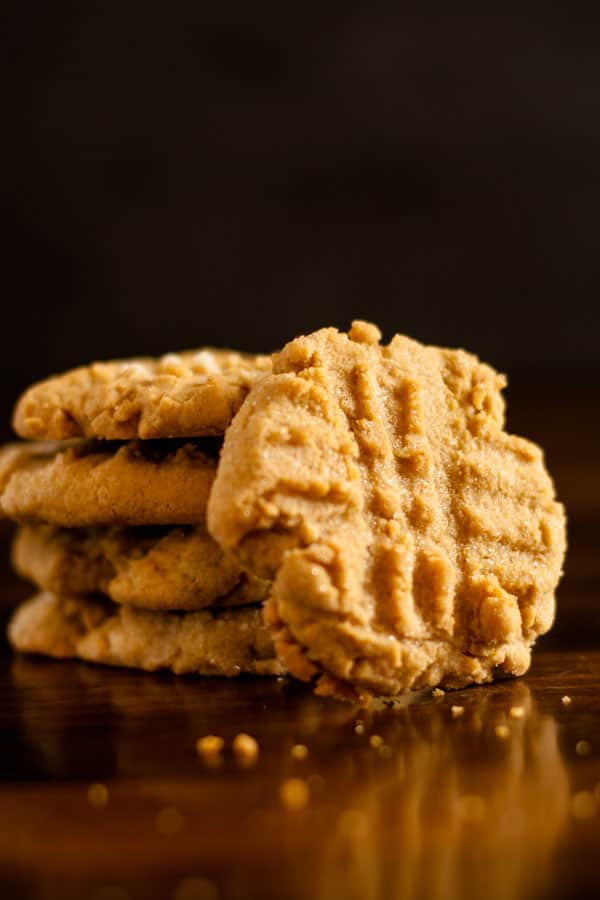 These easy, gluten free, peanut butter cookies come together quickly and are perfect for fall. Pair one of these with a cup of afternoon coffee and my day is made!
Growing up, peanut butter cookies were actually one of my least favorite cookies. I loved them fresh from the oven but it seemed that once they cooled they were always way too hard and crumbly.
In my quest to make a gluten free peanut butter cookie recipe, I sought to find the perfect combination between crispy and chewy. I wanted a cookie that would remain crisp around the edges but still have just the right amount of soft and chewy as you bite into them. Even when they have cooled.
You know what? This is that recipe!
Personally, I prefer this easy gluten free peanut butter cookie recipe to traditional recipes.
The great thing about peanut butter cookies is they don't require any fancy ingredients, they are super simple to mix up, and can usually be made with the ingredients you already have in your fridge and pantry.
I love to make these with my kids. Once the dough is made, the kids love the process of rolling the dough into balls, dipping the tops in sugar and pressing the cookies with a fork. There is something so satisfying about those final traditional fork marks that really are the sign of a peanut butter cookie. Even a gluten free one.
Do I Really Need To Let The Dough Rest?
I have tried this recipe both ways, and though the flavor is great either way, the texture is different. If you do not let the dough rest, then the cookies will end up spreading too much and have a grittier texture.
Can I Freeze These Cookies?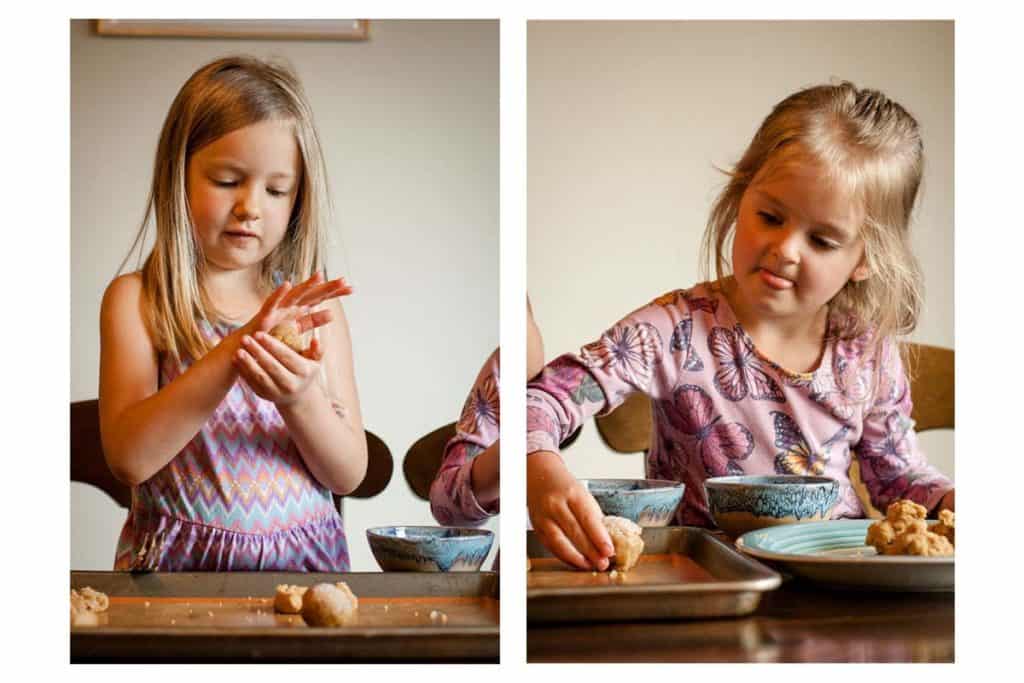 Though easy and delicious, these peanut butter cookies are a bit fragile to store.
• To retain freshness it is ideal to make the dough up until the baking stage, already pressed with the fork and dipped in sugar.
• After they are pressed, then place the baking sheet into the freezer and let the prepared cookie dough freeze.
• Once the peanut butter cookie dough is frozen through, then you can just pop them off the cookie sheet and into a gallon freezer bag for storage.
• When you are ready to bake these cookies, you don't even have to let them thaw
• While the oven is pre-heating to 325°F , just arrange the desired amount of cookies on a parchment lined baking sheet and bake as instructed in the recipe.
How Do These Cookies Stay Soft?
The main thing you need to focus and pay attention to for this recipe is baking time.
• Gluten free peanut butter cookies only take 10-12 minutes to bake.
• With my oven, 10 minutes is perfect.
• I rotate the pan half way through the baking time so they are all baked evenly.
• They are done when the edges are just beginning to set but the centers of the cookies are still soft. They will look under-done!
The cookies will continue to harden as they cool so bake time is extra important in keeping them soft.
If you need a cozy fall treat, or a fun school snack, then this easy gluten free peanut butter cookie recipe is the perfect choice!
Happy Baking!
If you like these Gluten Free Peanut Butter Cookies, then you might enjoy these other recipes:
Yield: 24
Gluten Free Peanut Butter Cookies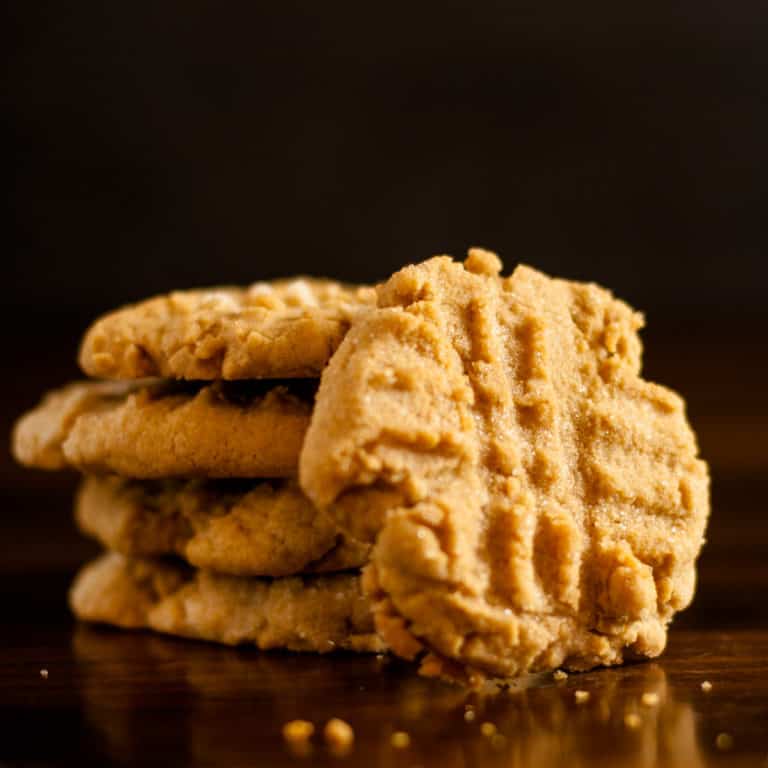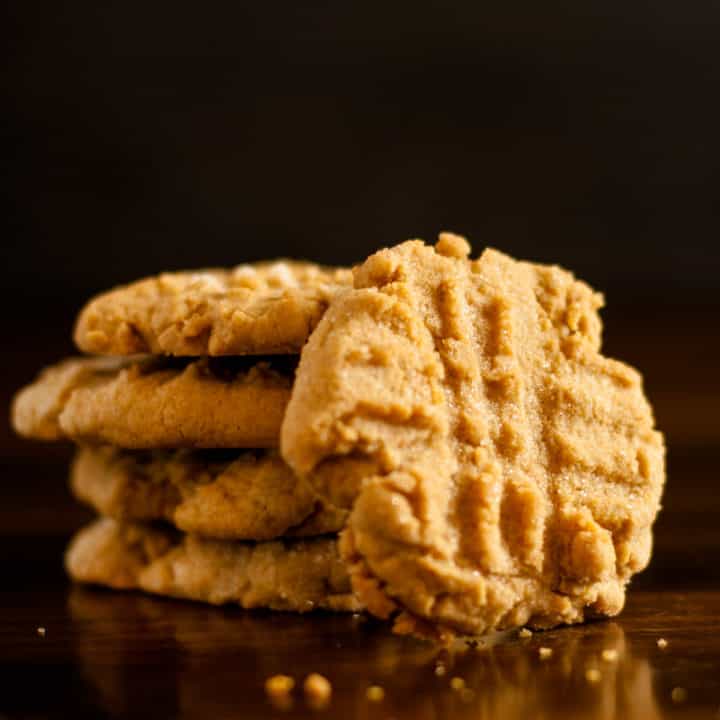 This Gluten Free Peanut Butter Cookie recipe is just in time for fall! Combine this easy peanut butter recipe with a cup of coffee for the ultimate afternoon pick-me-up, or whip up a batch of these for an easy school snack. With just the right amount of crisp and yet still soft when cooled, this is the ultimate peanut butter cookie recipe!
Additional Time
30 minutes
Ingredients
8oz (1 3/4 C.) GF flour blend with xanthan gum*
1 tsp. Baking Soda
1/2 tsp. Salt
1/2 C. Light Brown Sugar, Packed
1/3 C. Granulated Sugar
1 C. Creamy Peanut Butter
8 TBSP. Unsalted Butter
2 Large Eggs
1 tsp. Vanilla Extract
1/4 C. Additional Granulated Sugar for Assembly
1/4 C Cold Water For Assembly
Instructions
In a small bowl, combine flour*, baking soda and salt. stir to combine then set aside.
Using a hand mixer, or paddle attachment on a stand mixer, mix together brown sugar, granulated sugar, butter and peanut butter.
Beat on medium speed until smooth and creamy, about 1 minute.
Add eggs and vanilla and beat 1 more minute until light and fluffy.
Turn mixer down to low and slowly mix in dry ingredients. Mix on low speed until just combined.
Cover dough with plastic wrap and let rest 30 minutes.
With oven rack in middle position, heat oven to 325° F and line 2 baking sheets with parchment paper.
Place remaining 1/4 C of sugar in a small bowl, and the water in an additional bowl.
Working with 1-2 TBSP of dough at a time, roll the dough into 1 1/2 - 2" balls.
Dip the tops of the balls, first into the water, then into the sugar to coat one side then place on baking sheet.
After all the balls are prepared then, using a fork, press down into the dough 3/4 of the way through and slide (slide sideways out, don't lift) the fork out leaving an imprint of lines. Repeat the opposite direction.
Bake the cookies, one pan at a time, for 10-12 minutes rotating the pan halfway through. Start with 10 minutes as you want them to just be firm around the edges but still soft in the middle. They will look underdone when they need to be taken out.
Let the cookies sit on the pan for 5 minutes before transferring to a cooling rack.
Serve and enjoy!
Once fully cooled, leftovers can be stored in an airtight container at room temperature
Notes
*( I use Bob's Red Mill 1 to 1 Gluten Free Baking Flour Blend which is a rice flour base. If your flour blend does not contain xanthan gum, add 1/4tsp to your dry ingredients.
• Gluten free flours are much more fine than traditional flour. For consistent measuring between recipes it is best to weigh the flour. If you do not have a kitchen scale then, before measuring, stir the flour with a fork to fluff it up. Then spoon the flour gently into your measuring cup one spoonful at a time. Lastly, use the edge of a knife to scrape off and level the flour to exact measuring cup amount.
Nutrition Information:
Yield:
24
Serving Size:
1
Amount Per Serving:
Calories:

172
Total Fat:

10g
Saturated Fat:

4g
Trans Fat:

0g
Unsaturated Fat:

5g
Cholesterol:

26mg
Sodium:

160mg
Carbohydrates:

19g
Fiber:

1g
Sugar:

9g
Protein:

4g
*Nutrition information is automatically calculated and may not always be accurate.
Need More Recipe Inspiration?