Grandma's Chicken and Biscuit Casserole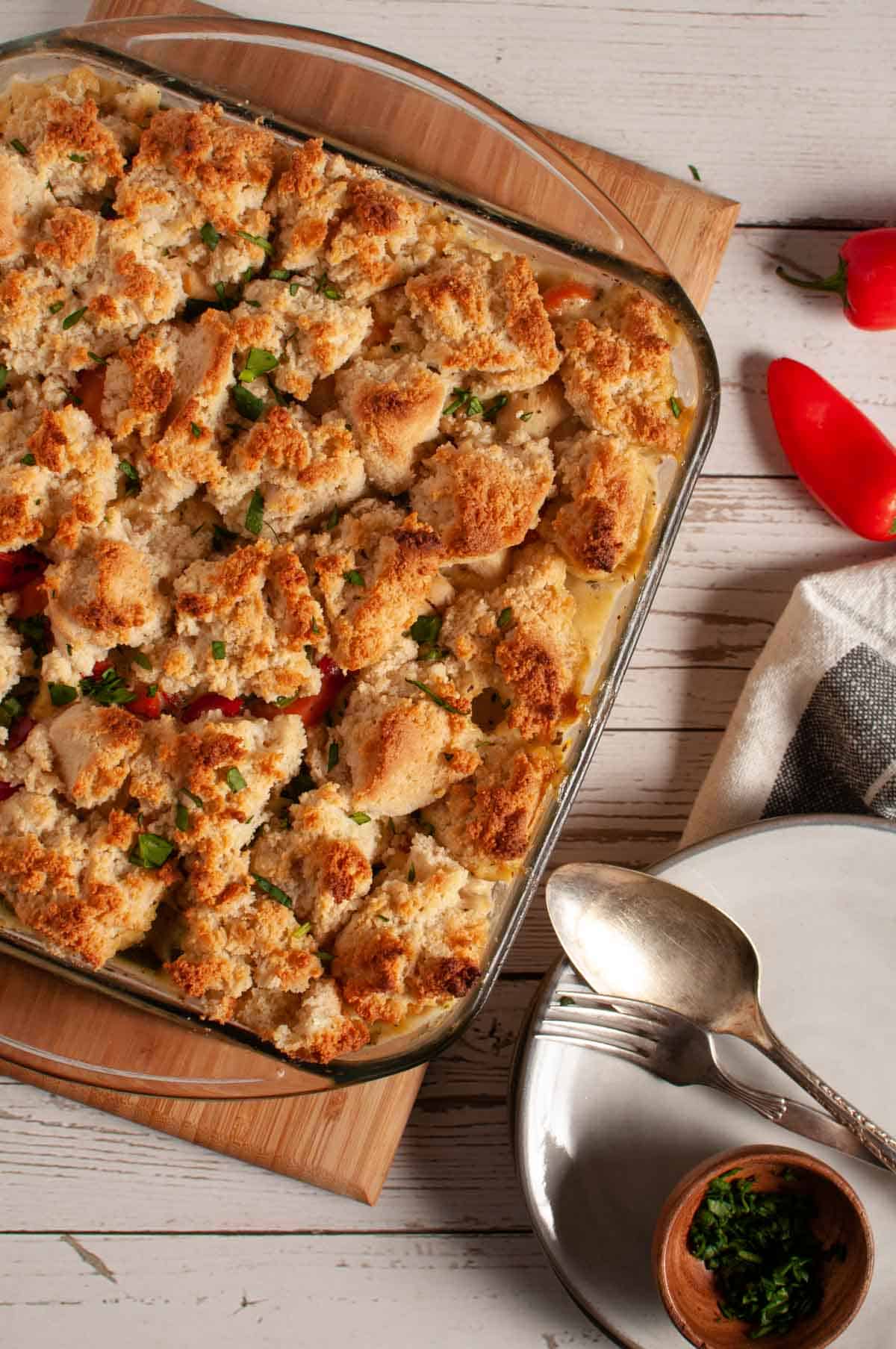 Grandma's chicken and biscuit casserole recipe is like chicken pot pie but better, not mention easier to make! With creamy bites of cooked chicken and paired with your favorite vegetables, the filling is then topped with easy drop biscuits for a fluffy finish.
How to Make Chicken Casserole From Scratch
First, decide what your favorite vegetables to use are. This recipe is designed to be an easy pantry staple recipe that can be made with frozen vegetables. When not using frozen mixed vegetables I like to use fresh onion, a small head of broccoli, red bell pepper and carrot.
To keep this recipe quick and easy, you prepare the filling on the stove top, so that the only time you need the oven is for a quick finish to cook the biscuit topping. Instead of using a casserole dish, I like to make this in my cast iron pan or dutch oven. That way I can make the filling on the stove, and it can then be placed in the oven for the biscuits. If you don't have an oven-proof skillet then just transfer your filling to a casserole dish before topping with biscuits.
Which Type of Chicken Should I Use?
This recipe uses 1 pound of boneless, skinless, chicken breast. But you can substitute most types of chicken.
Other types of chicken that work well are chicken thighs or cooked shredded chicken. Using cooked shredded chicken is a great way to use rotisserie chicken and this is a great recipe for using up turkey leftovers as well! Another great way to use up turkey leftovers is this easy Chicken and Brussel Sprouts Casserole recipe.
If you are choosing to use pre-cooked shredded chicken, then simply heat the veggies, meat and spices all together as directed, as no initial cooking of the chicken is required.
I do not recommend cooking Grandma's chicken and biscuit casserole in the oven with the chicken being raw. This recipe is designed for the quick cook stove-top method to pre-cook the chicken and speed up the oven-time.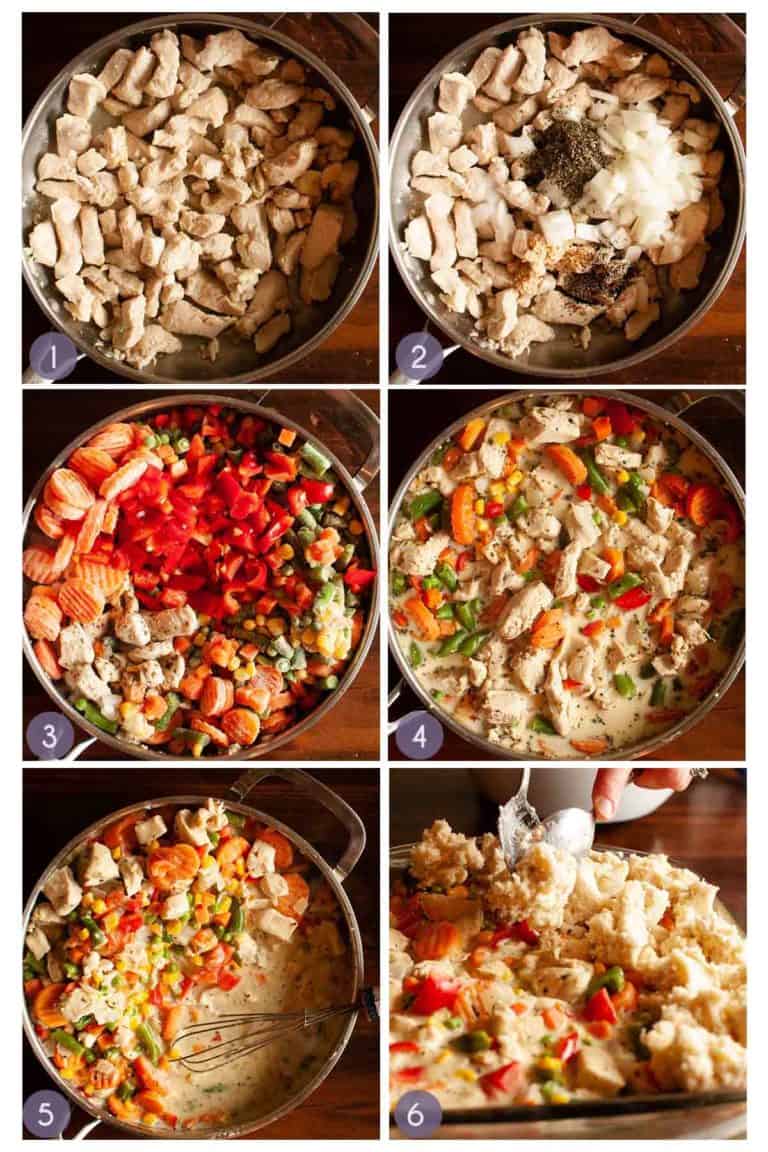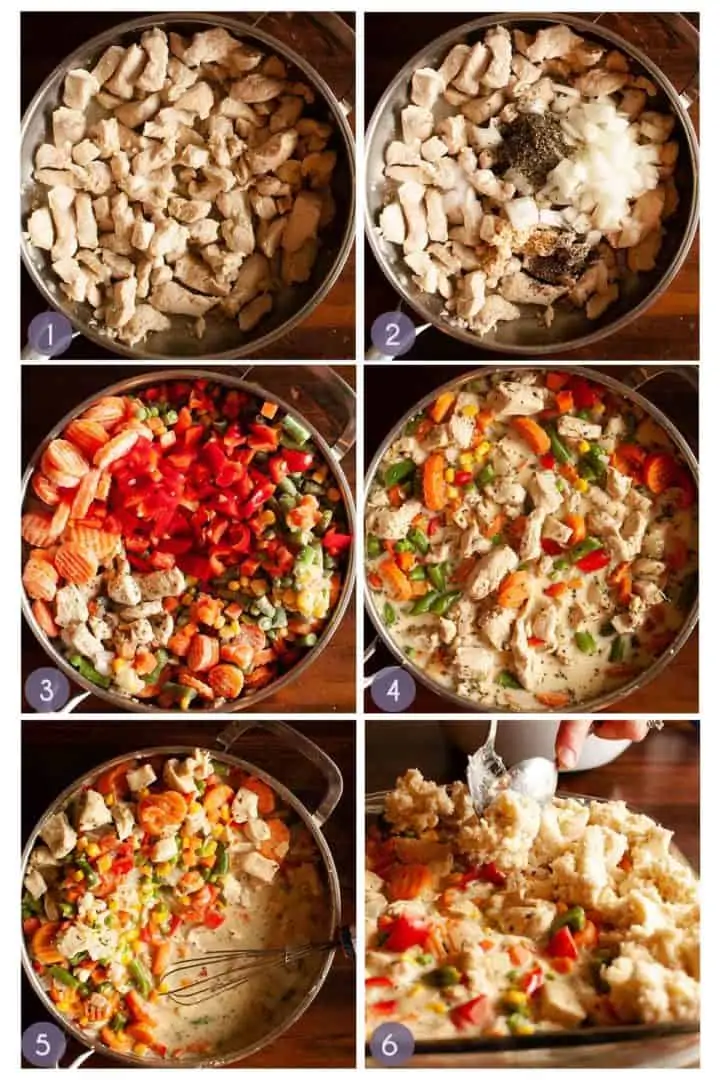 How to Thicken Chicken and Biscuits
To keep this chicken and biscuit casserole recipe completely gluten free as intended, then there are two ways you can thicken the sauce. For simplicity I like to thicken this sauce with xanthan gum. If you live a gluten free lifestyle and do any sort of baking, then xanthan gum is most likely a staple in your house. Once the filling is simmering, then you just push the veggies over to one side and sprinkle in the xanthan gum slowly, while whisking, to prevent lumps.
Alternatively, if you do not have xanthan gum, I make a paste with 2 Tablespoons of gluten free flour and 2 Tablespoons of water. The consistency should be pourable but not too runny. You can add just a bit of extra water if needed. Once the filling is simmering, push the meat and vegetables to the side and slowly pour the flour/water mix into the simmering liquid while whisking. Once all combined, the filling will sit and simmer on low and thicken further while you make the biscuits.
How to Make Drop Biscuits From Scratch:
If you are looking for an easy dinner idea that goes with biscuits, this chicken cobbler recipe is a fun favorite that mixes it up from the traditional use of biscuits. If you want to make this recipe even simpler, then you can dress up canned biscuits by cutting them in quarters with scissors and placing them on top of the filling instead of making drop biscuits. Alternatively you can use your favorite Biquick drop biscuits or packaged biscuit mix. Keep it simple!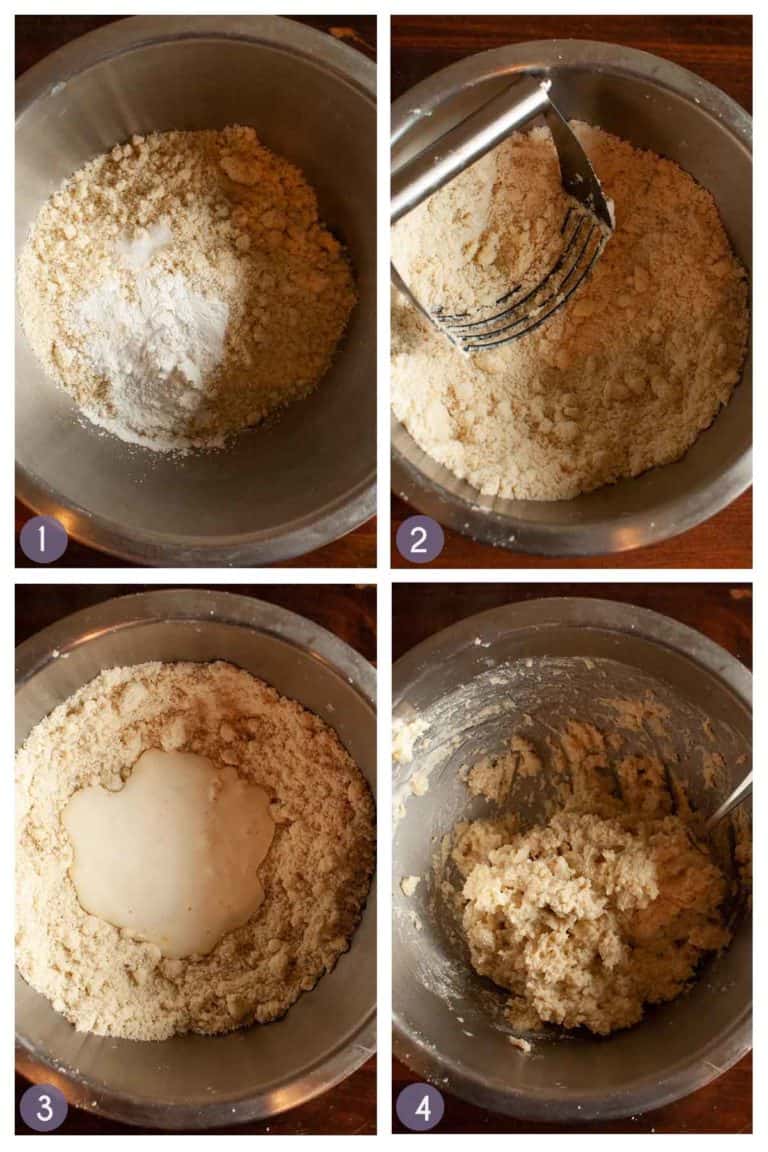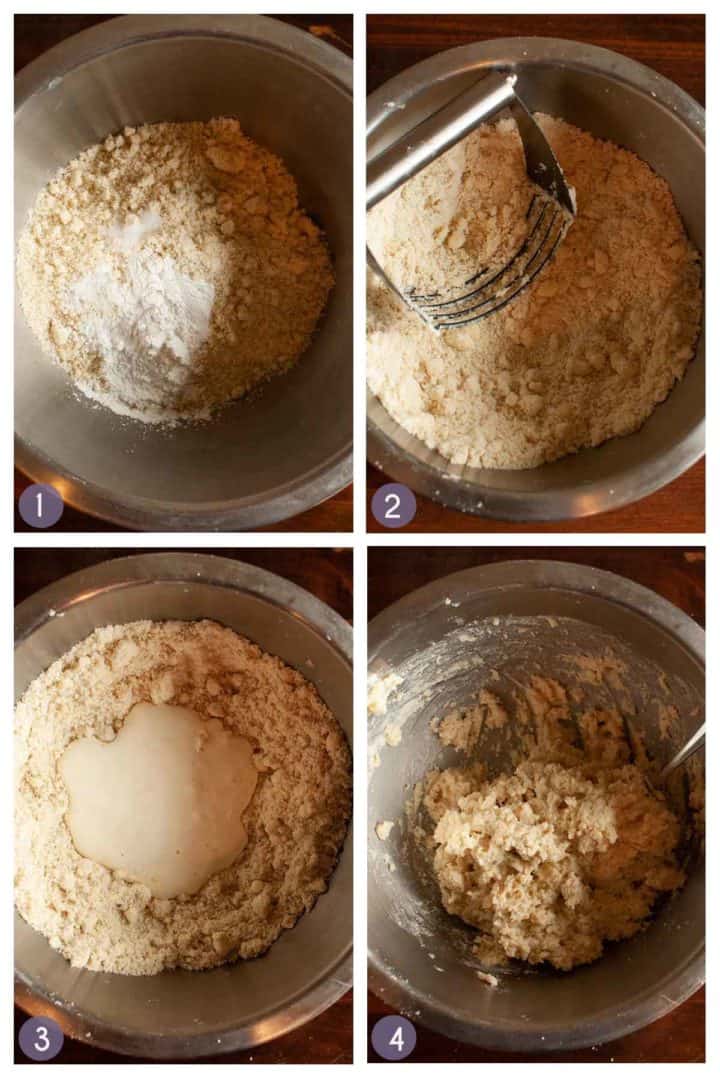 What You Will Need for the Homemade Biscuits:
•Almond Flour
•Salt
•Baking Powder
•Butter
•Sour Cream
•Baking Soda
•1 Egg
This is a simple gluten free and low carb drop biscuit that comes together in minutes. Simply mix the dry ingredients, add in the wet ingredients and stir well to combine. That simple!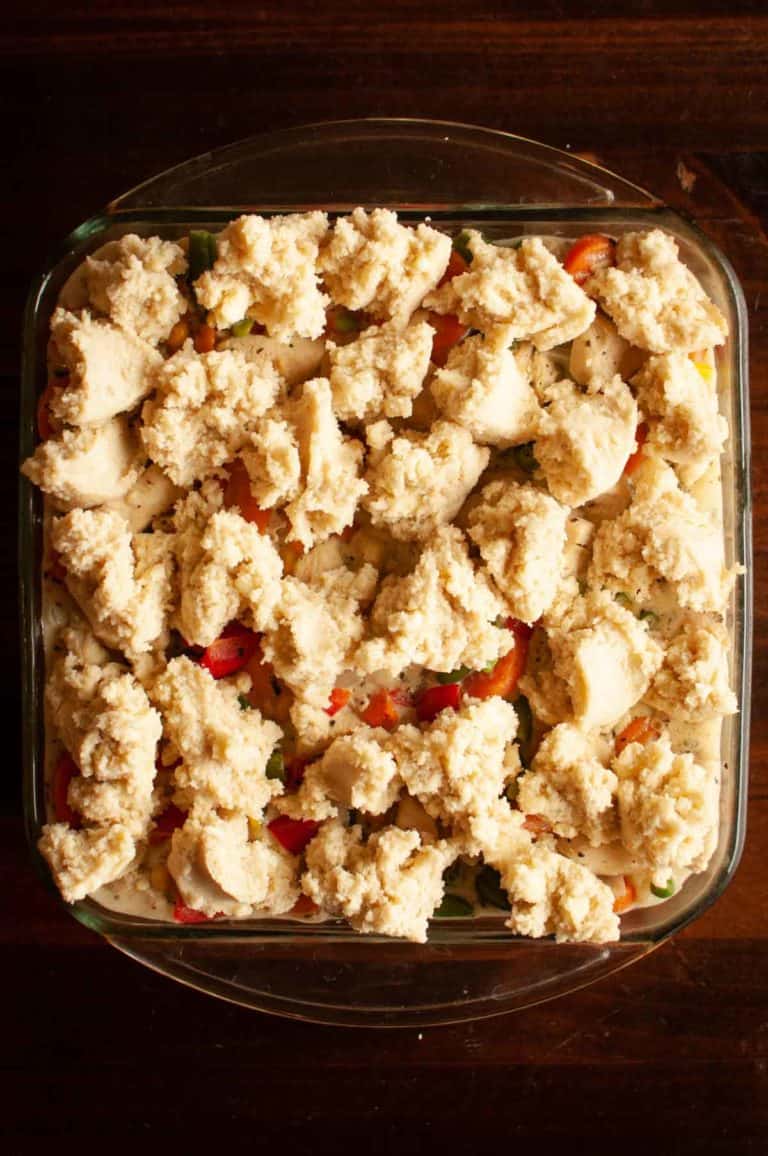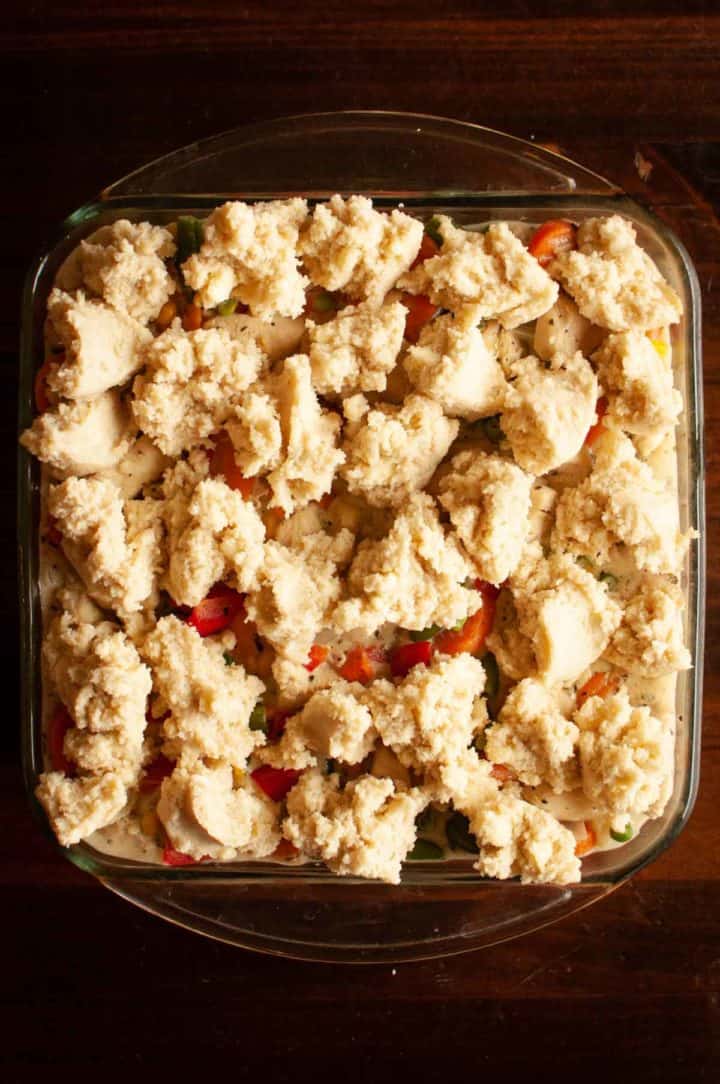 These biscuits require no rolling or cutting out. Simply distribute spoonfuls of dough evenly across the top of the chicken cobbler filling.
Make Ahead:
Want to make this chicken pot pie casserole with biscuits ahead of time? No problem!
You can make the filling up to 3 days in advance. When you are ready to cook it, then let the filling begin to simmer on the stove while the oven is preheating and you prepare the biscuits.
Once the oven is heated to 425° F then just top the filling with the biscuits and bake until golden!
Can I freeze Chicken and Biscuit Casserole?
With the dairy in the sauce, I find that freezing the casserole can cause some separation but does not affect the flavor.
To avoid this, I pre-cook my chicken and make a freezer pack of the veggies, spices and cooked chicken. Once I am ready to make my casserole, then I place the mostly thawed bag of ingredients in the skilled and heat through. Then I proceed by making the broth and thickening as directed. Lastly I prepare the biscuits and bake. This shaves off the additional cooking time of dicing and cooking the chicken breast as well as chopping any vegetables if I am using fresh veggies.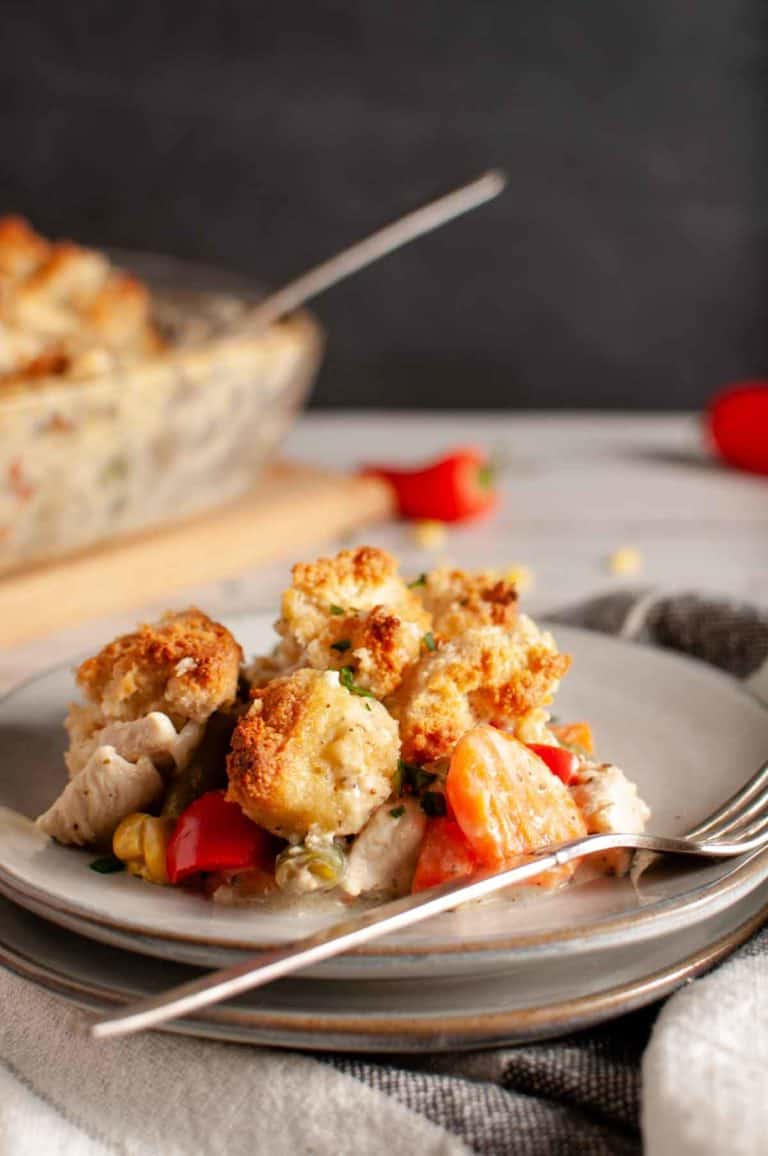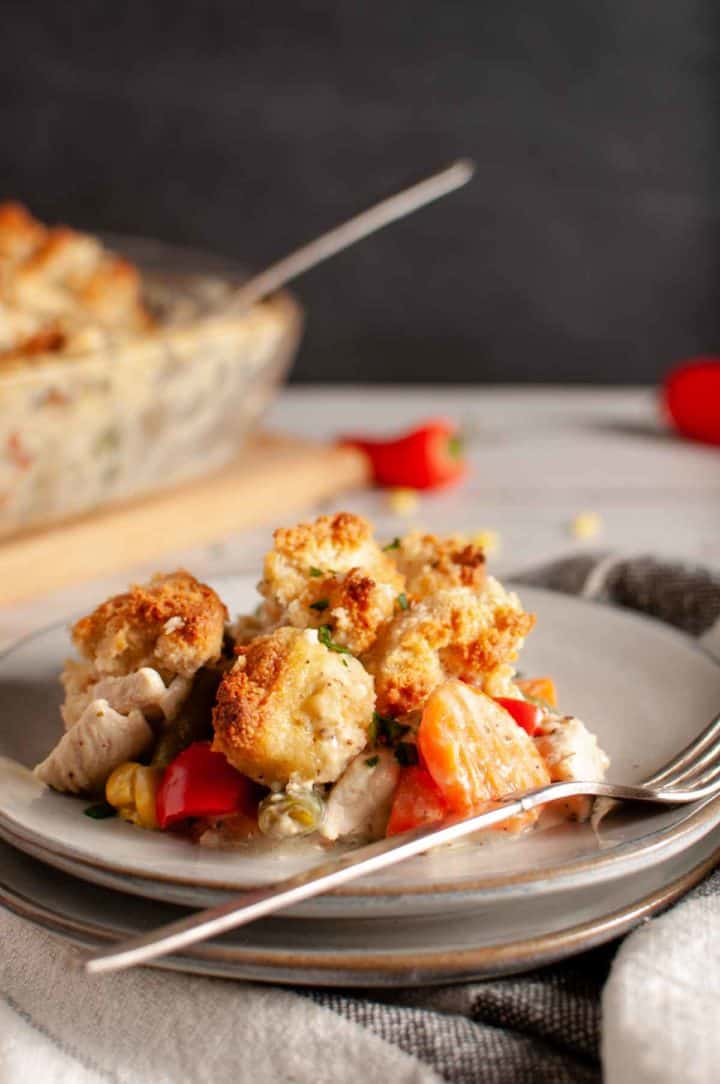 Need More Recipe Inspiration? Try These Reader Favorites:
Yield: 6
Grandmas Chicken and Biscuit Casserole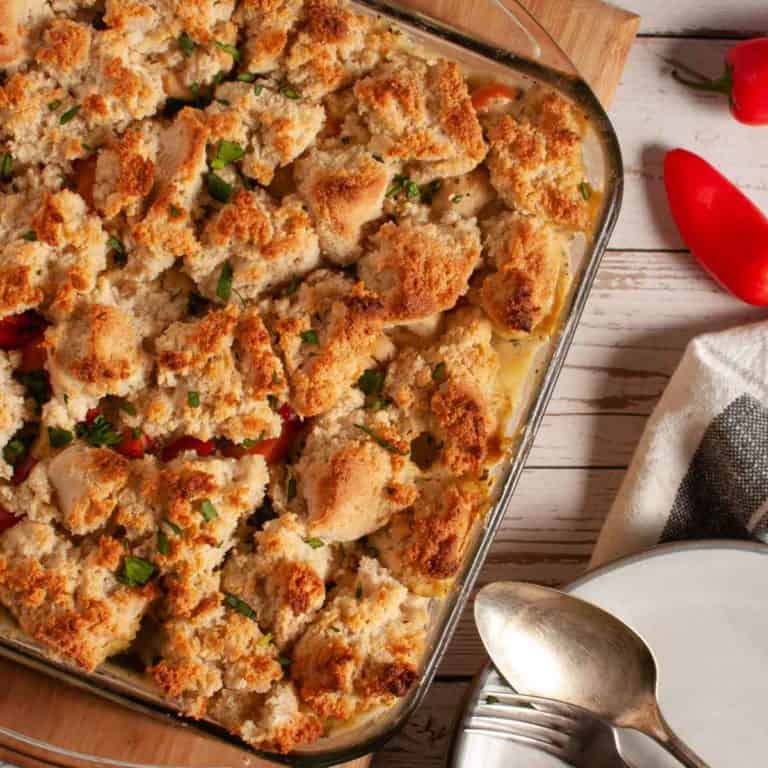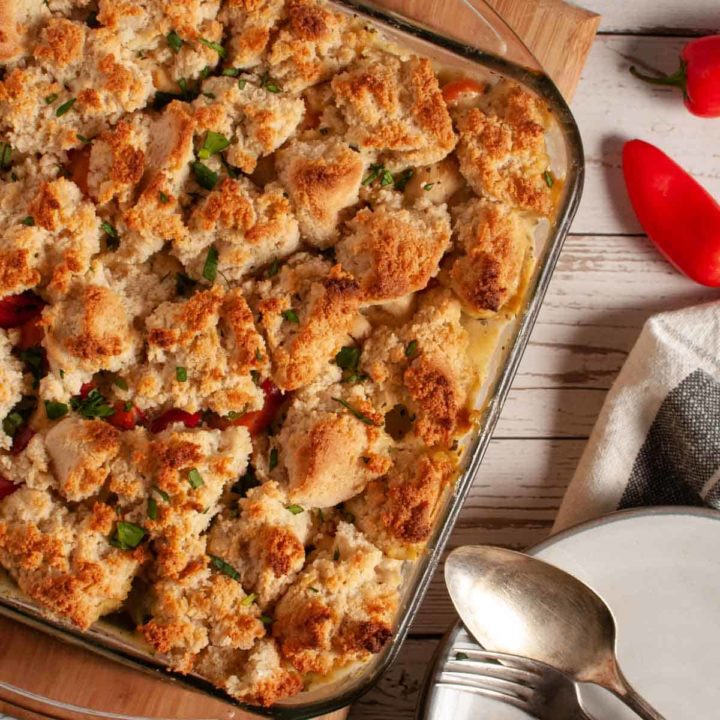 This Chicken Cobbler recipe features creamy chicken and vegetables with an easy drop biscuit topping. This recipe is perfect for a gluten free dinner idea, and It is pantry staple friendly as well as low carb.
Ingredients
For the Filling:
1 Pound, Boneless, Skinless Chicken Breast
1 teaspoon Olive Oil
2 Cloves Garlic, Minced
1 1/4 teaspoons Salt
1/2 teaspoon Ground Black Pepper
1 teaspoon Oregano
16 Ounce Bag Frozen Mixed Vegetables*(see note on my favorite fresh vegetable for this recipe)
1 3/4 Cup Chicken Broth
1/2 Cup Whipping Cream
1/2 teaspoon Xanthan Gum
Biscuit Topping:
2 Cups Almond Flour
1/4 teaspoon Salt
4 teaspoons Baking Powder
1/4 Cup Butter
1/2 Cup Sour Cream
1/4 teaspoon Baking Soda
1 Egg
Instructions
For the Chicken Cobbler Filling:
Heat a deep oven-proof skillet or dutch oven over medium high heat with the 1 teaspoon of olive oil.
While pan is heating, slice the chicken into bite size pieces then place in the hot pan.
Cook 5-7 minutes, stirring occasionally until mostly cooked through.
Add the oregano, salt, garlic, pepper and vegetables to the pan and cook another 5-7 minutes until the vegetables have softened and are cooked.
slowly pour in the chicken stock and cream.
turn the temperature down to medium low and bring the mixture up to a simmer.
push the chicken and vegetable filling to one side of the pan and, using a whisk, create a small whirlpool in the broth.
While continuing to whisk, slowly sprinkle the xanthan gum into the moving whirl pool until it is all thoroughly incorporated.
Stir the entire mixture all together and let it continue to simmer on low while you make the biscuit filling.

For the Drop Biscuit Topping:
Heat oven to 425° F.
In a large bowl, mix almond flour, salt and baking powder until combined.
Sprinkle in the cold butter cubes and using a pastry blender, or you hands, mix the butter pieces into the flour until just small peas sized lumps remain.
In a small bowl, combine the sour cream, egg and baking soda. stir well.
Pour the sour cream mixture over the dry ingredients and mix well until thoroughly combined and no dry flour pockets remain.
If your skillet is not oven-proof then transfer the chicken filling to an 8x8 casserole dish or baking pan.
Using two spoons, (take one spoon and scoop a bite size amount of dough, about 2 teaspoons, onto the spoon. Use the back of the second spoon to push the dough off onto the chicken filling.) scoop bite size pieces of biscuit dough on top of the filling.
Repeat until all the dough has been used, dividing the biscuit bites to cover the entire chicken filling.
Place in the preheated oven for 20 minutes or just until the biscuits have cooked and the top is lightly browned.
Serve, and enjoy!
Notes
*This is one of my easy pantry staple recipes I like to have on hand by just keeping a bag of vegetables in the freezer. Alternatively, I will use fresh vegetables instead if I have them. Our favorite vegetables to use are 1/2 onion, small head broccoli, 1/2 red bell pepper, 1 carrot, all cut into bite size pieces.
• See blog post for variations on thickening the sauce or chicken substitutes.
Nutrition Information:
Yield:
6
Serving Size:
1
Amount Per Serving:
Calories:

591
Total Fat:

42g
Saturated Fat:

14g
Trans Fat:

1g
Unsaturated Fat:

25g
Cholesterol:

151mg
Sodium:

1343mg
Carbohydrates:

16g
Fiber:

8g
Sugar:

6g
Protein:

36g
*Nutrition information is automatically calculated and may not always be accurate.
Latest Recipes: