Lemon Ricotta Filled Crepes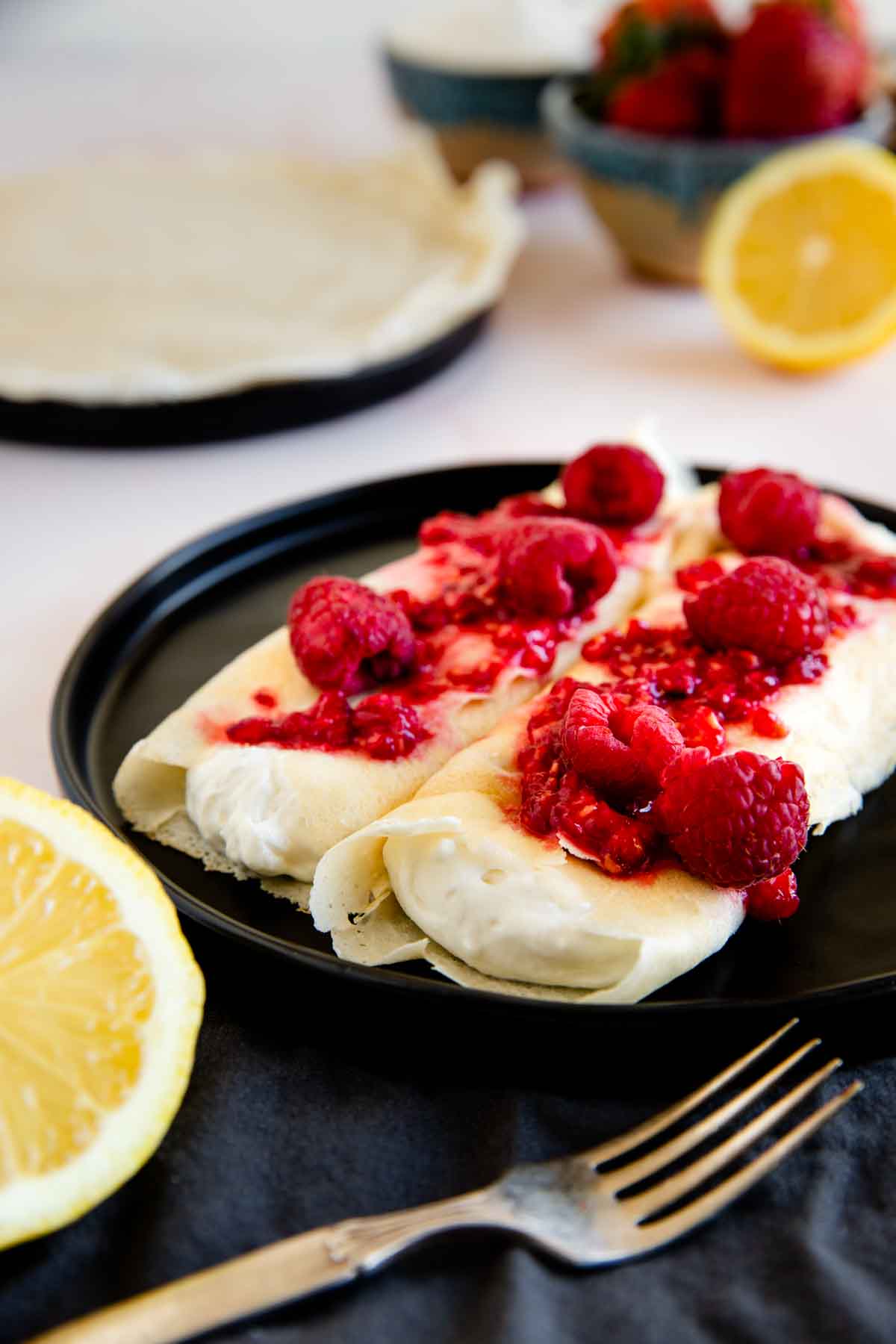 Lemon Ricotta Filled Crepes are a favorite weekend breakfast in our house. Smooth and creamy, counter-balanced with bursts of lemon flavor and topped with your favorite summer berries. Though surprisingly simple, these easy blintzes feel like an elegant treat!
Ingredients You'll Need:
Crepes
You can buy pre-made crepes, but I like to whip up a batch of these gluten free french crepes that come together in minutes by just making the batter in the blender. You don't even need to let the batter sit, or you can make the batter the day before and just cook them the morning you want to use them.
Cream Cheese:
Any fat content works. Neufchatel type cream cheese will be slightly grainer, but not very noticeable in this recipe.
Ricotta Cheese.
I have used both whole milk and part skim ricotta for this recipe. Either works just fine!
Lemon Juice & Zest
Fresh is best! If you have a fresh lemon then of course use the juice from that. You will want to mince your zest to keep it light and dispersed throughout the filling.
Vanilla
Pure vanilla extract makes a huge difference in flavor. If you only use imitation, then reduce the amount to 1 teaspoon.
Berries & Sugar
You can use your favorite seasonal fruit. Don't have fresh berries? Frozen berries work as well but are generally flavorful.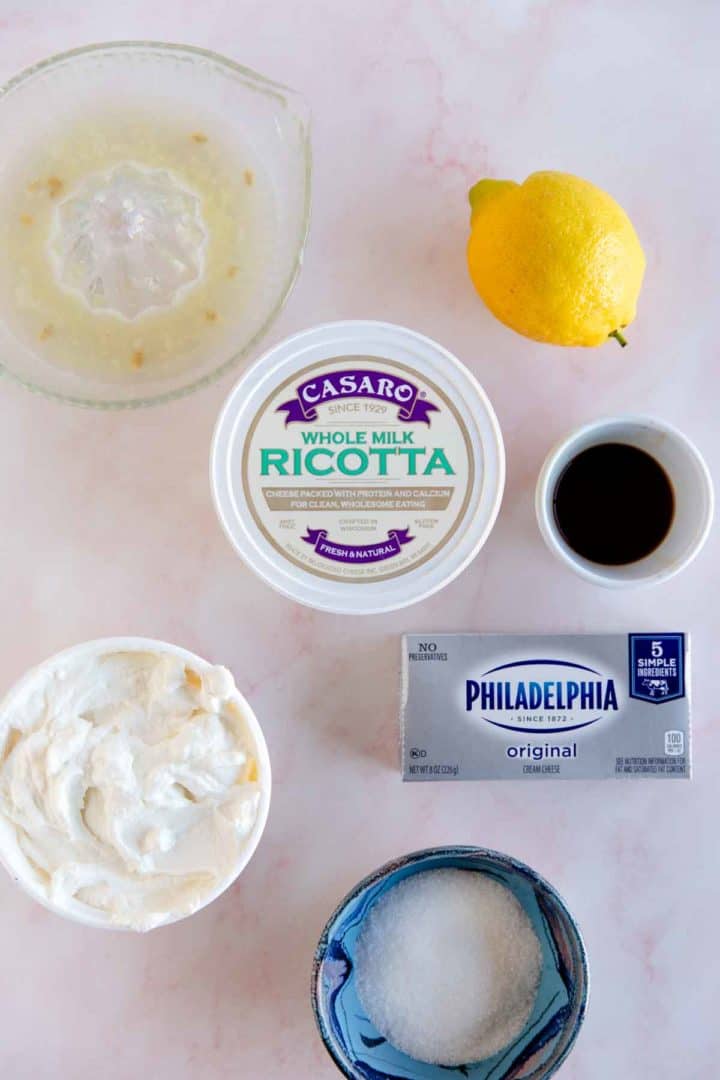 How to Make Sweet Ricotta Crepe Filling
This sweet ricotta crepe filling is very simple to make and comes together in just 5 minutes!
In a large bowl beat the cream cheese until smooth
Add ricotta, sugar, vanilla, lemon and zest.
Mix until smooth!
Yes, that is really it!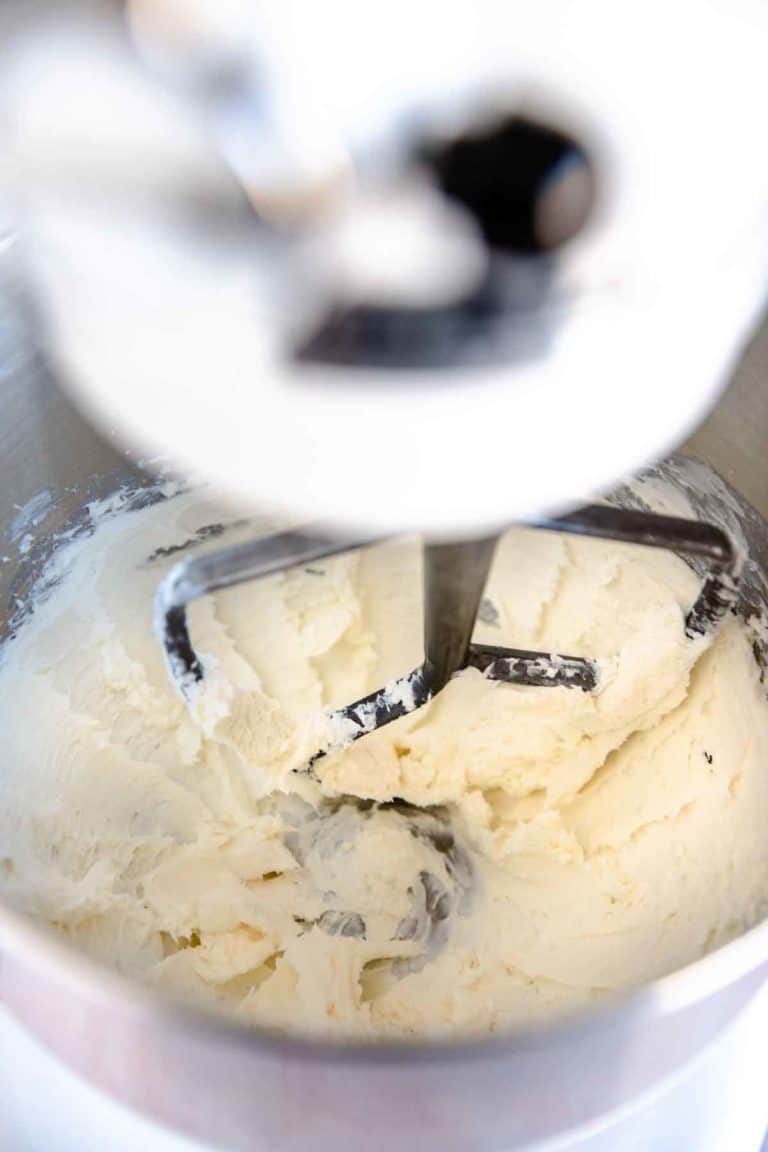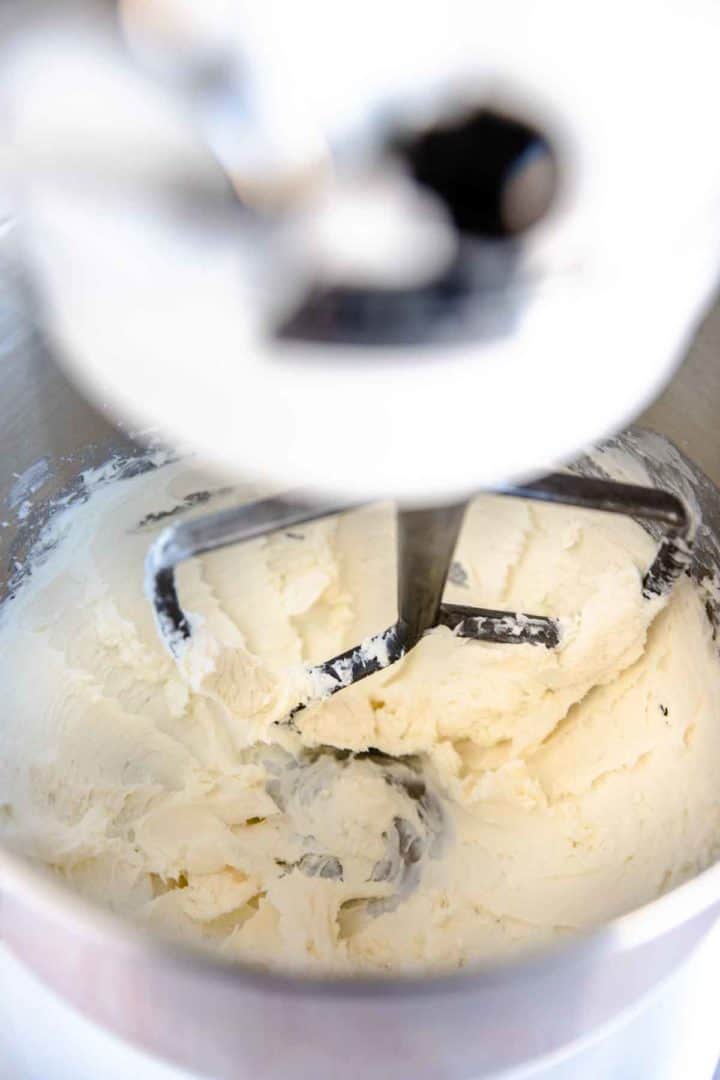 Variations:
Gluten Free Blintzes
Growing up, we always called these filled crepes blintzes, and they were such a treat in our house. The difference between traditional blintzes and a filled crepe, is that blintzes are typically fried after being filled and rolled. We always skipped the frying for simplicity and never missed it. However If you want to keep these traditional with frying, then here are the steps.
Heat 1 inch of canola oil in a deep skillet over medium high heat until temperature reaches about 360° F. (or a small piece of crepe placed in the hot oil floats to the top and lots of little bubbles form around it.)
Fill the crepes with just ¼-⅓ cup filling so you can roll them up with the ends closed. Fold each end up towards the filling, then roll it closed like a burrito.
Place the finished rolled crepes, seam side down, into the hot oil 2-3 at a time, depending on pan size.
Let cook for about 2 minutes until golden and fried on one side.
Flip and cook the other side until golden.
Remove the cream cheese blintzes from the hot oil and place on a paper towel lined baking sheet to absorb any grease drips.
Serve with a sprinkle of powdered sugar and fresh berries!
Cottage Cheese Blintzes
If you are a fan of cottage cheese then you might like this fun variation. Use a small curd cottage cheese and simply swap it out for the ricotta and cream cheese. Instead of using a mixer just gently stir by hand. If needed add 1-2 additional Tablespoons of sugar.
Though the lemon ricotta filled crepes are smooth and creamy, using cottage cheese instead definitely makes these healthier while still feeling decadent.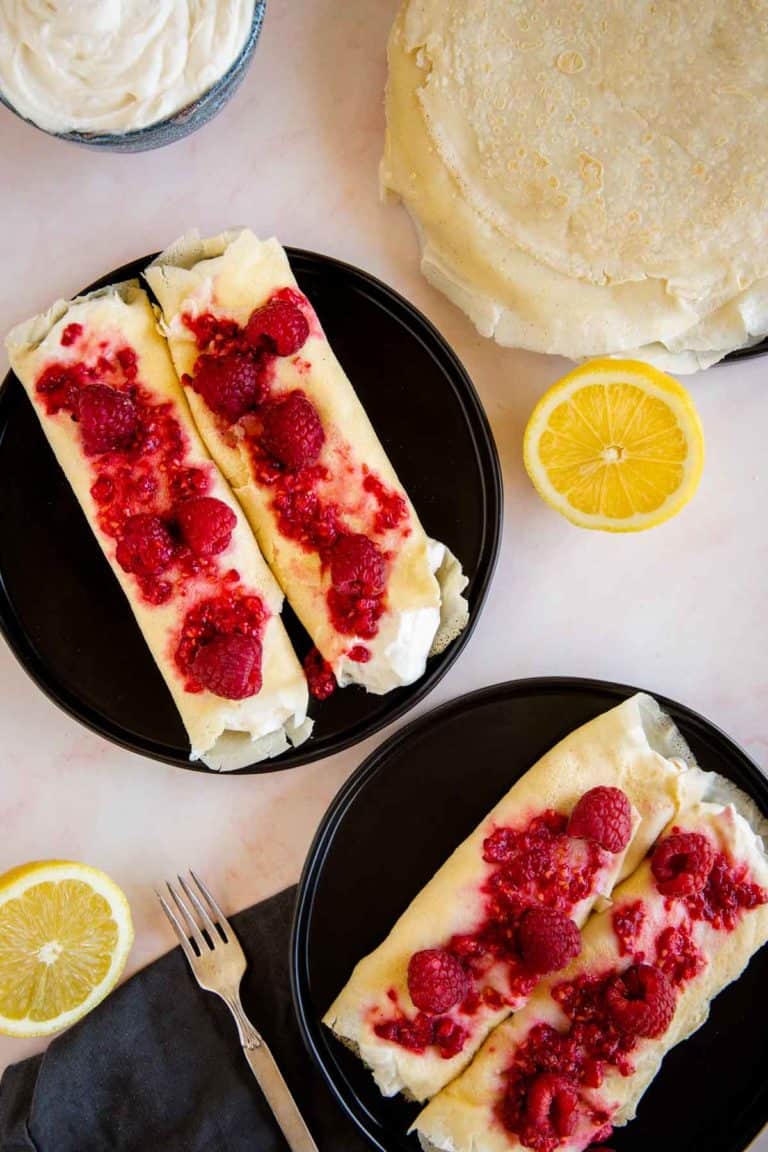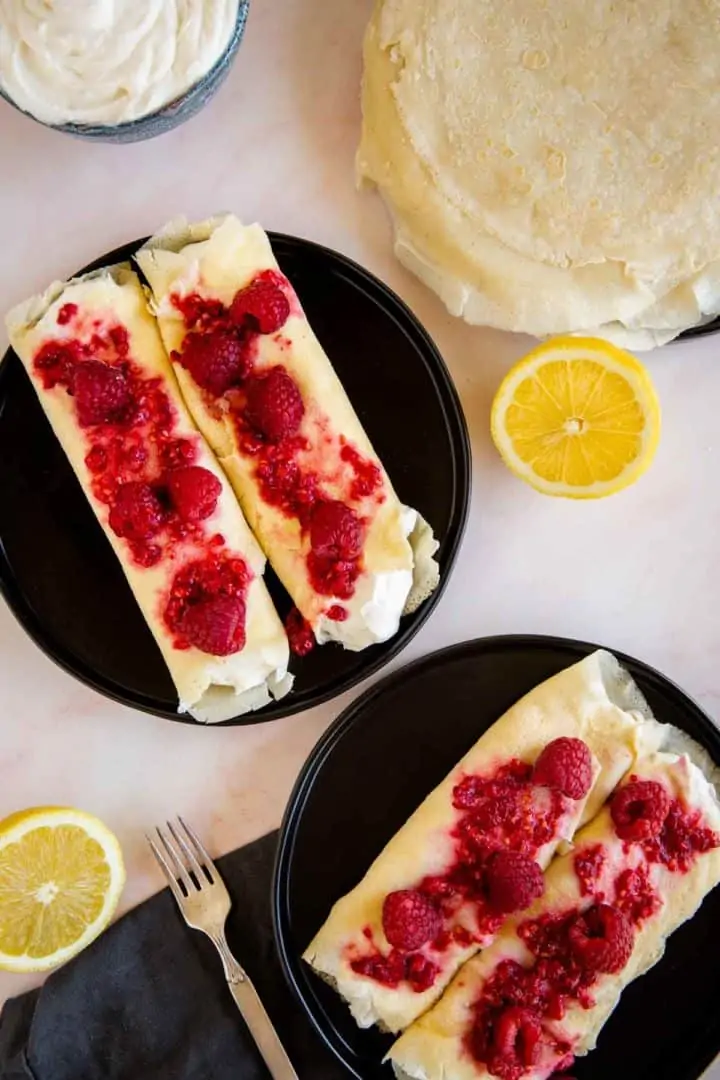 Toppings for Filled Crepes
Filled Crepes and cheese blintzes can be topped with a variety of toppings, my favorite is a variety of summer fruit. If you are making these in the winter you can cook harder fruit like pears and apples or use frozen fruit. Here are some favorites!
Strawberries and blueberries
Raspberries
Fresh sliced peaches or nectarines (my personal fave!)
Diced cooked apple with maple and cinnamon
Sliced mandarin oranges with chocolate shavings
Storage:
Ricotta crepe filling can be made up to 48 hours in advance and stored, covered, in the fridge until ready to use. Simply stir before filling crepes.
Filled, rolled crepes can be frozen in a single layer for up to 1 month. The simplest way to freeze the filled crepes is to use slightly less filling so you can roll them tighter and lay them in a 9×13 baking dish. Cover with 2 layers of plastic wrap, and a layer of foil and freeze. Thaw overnight in the fridge to have for brunch the next day.
To freeze fried blintzes you will only want to partially fry them to firm the crepes but not make them too dark. Place the finished, partially fried blintzes on a baking sheet leaving space between so they don't touch. Place in the freezer and let them freeze fully. After they are frozen then you can wrap them individually and store in a resealable freezer bag. When ready to use, just heat the oil and fry them until hot through, no need to thaw!
Don't forget to pair these with our favorite easy gluten free crepes! For more brunch inspiration try these reader favorites.
Yield: 4
Lemon Ricotta Filled Crepes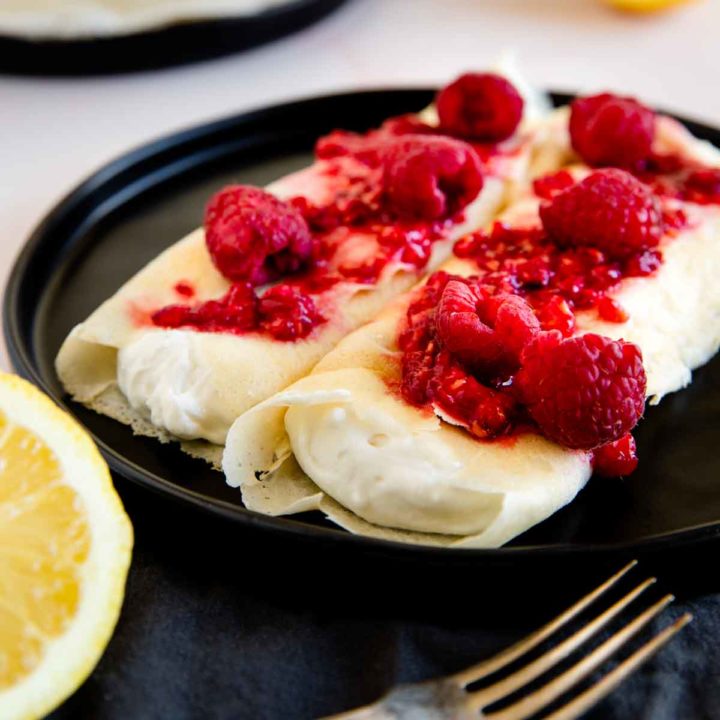 Lemon Ricotta Filled Crepes are a favorite weekend breakfast in our house. Smooth and creamy, counter-balanced with bursts of lemon flavor and topped with your favorite summer berries. Though surprisingly simple, these easy blintzes feel like an elegant treat!  
Ingredients
8oz Cream Cheese, Softened
32oz Ricotta cheese
1/4 Cup Sugar
1 Tablespoon Vanilla
3 Tablespoons Lemon Juice
1 teaspoon Lemon Zest, Minced (Optional)
2 Cups Berries
1 Tablespoon Sugar
Instructions
Prepare crepes as instructed. If making ahead of time then layer parchment between the crepes to keep them from sticking as they cool.
In a large bowl, Use a mixer and beat the cream cheese until smooth, about 1 minute.
Add the ricotta cheese, sugar, vanilla, and lemon juice and mix until combined and no lumps remain. You may need to scrape down the sides of the bowl to make sure all the cream cheese gets incorporated.
Sprinkle the remaining 1 Tablespoon of sugar over top the berries. Stir, then let stand for 5 minutes until berries begin to release their juice.
To Fill the Crepes:
Place a crepes on your serving plate and spoon out a line of filling (about 1/3 Cup) down the center of the crepe.
gently roll the crepe closed.
repeat with remaining crepes and serve topped with berries!

Notes
Fried Blintzes:
Traditional blintzes are fried after rolling them. If you wish to fry your blintzes, then begin by heating 1 inch of canola oil over medium high heat in a deep skillet.
When rolling the crepes, use less filling so that you can fold the ends in before rolling them closed, like a burrito.
After the oil is hot then gently place 2 blintzes at a time in the hot oil, seam side down.
Fry until golden and beginning to crisp, 2-3 minutes, then flip and repeat for the other side.
Gently transfer to a paper towel to let any excess grease drip off then serve with the fresh berries and a sprinkle of powder sugar!
Nutrition Information:
Yield:
4
Serving Size:
2
Amount Per Serving:
Calories:

616
Total Fat:

38g
Saturated Fat:

23g
Trans Fat:

0g
Unsaturated Fat:

12g
Cholesterol:

128mg
Sodium:

406mg
Carbohydrates:

39g
Fiber:

3g
Sugar:

23g
Protein:

30g
*Nutrition information is automatically calculated and may not always be accurate.