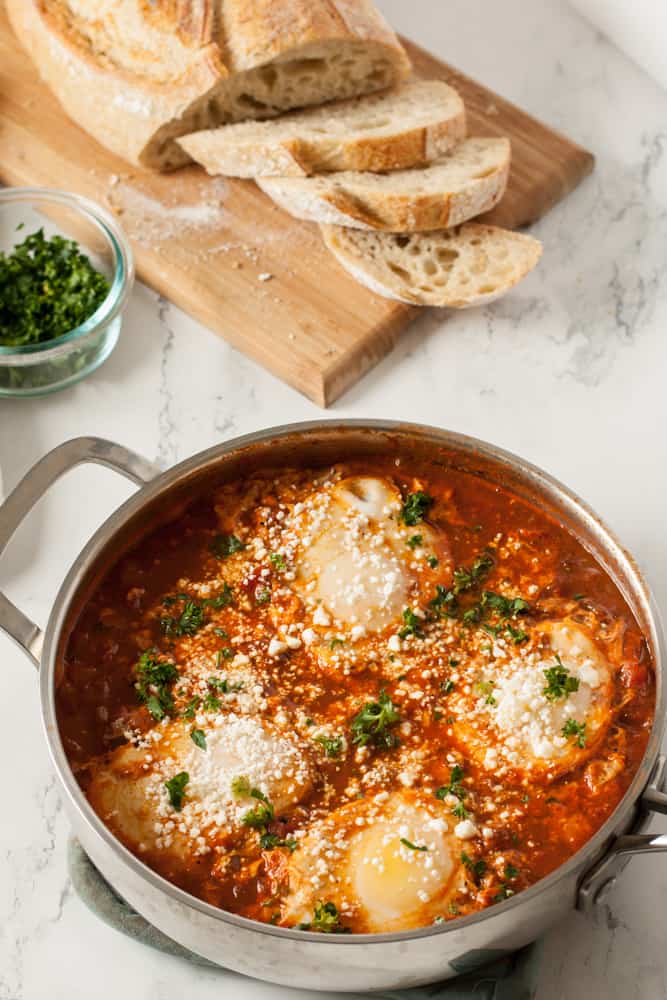 This traditional and simple Shakshuka recipe is the perfect breakfast to break out of the mold a bit, invite a couple friends over and turn it into brunch.
Weekends make for the perfect opportunity to up your breakfast game and experiment a little bit. I had never even heard of Shakshuka (also spelled Shakshouka) until a couple years ago when a friend served it while our family was staying over, and ever since then I have been in love!

The origin of Shakshuka is a bit iffy as some say it originates from Ethiopia, and others say it is Morroccan or from Israel. Wherever it is from, it is delicious and can be adjusted to personal spice level to suit your desires.

Traditional Shakshuka starts with a tomato base and, depending on the recipe, has a variety of peppers sauteed in, from spicy peppers to plain old green bell peppers.

I love the flavors of many spicy dishes but can only tolerate a moderate spice amount. I tried to keep the spice level in this traditional Shakshuka recipe pretty mild, and you can adjust the quantity of jalapeños to your liking if you prefer more heat.

As much as the sauce makes this recipe, the bread you choose to go with helps to set this dish apart. Many Shakshuka recipes are served with Naan. Although Naan is delicious and works fine, I personally recommend choosing a crustier type of bed that holds up to the dipping and adds some texture. If you can find some, I would suggest choosing an artisan sourdough type of bread. If you can't do gluten, then of course choose a gluten free bread as the sauce portion of this recipe is naturally gluten free.

This recipe serves 6, so if you are only feeding a couple people you will have leftovers unless you halve the recipe; why cook twice when you have leftovers that can be delicious!? I recommend only cooking however many eggs you will eat immediately then saving just the remaining sauce. The sauce reheats very well the next morning and then you can cook any additional eggs to go with.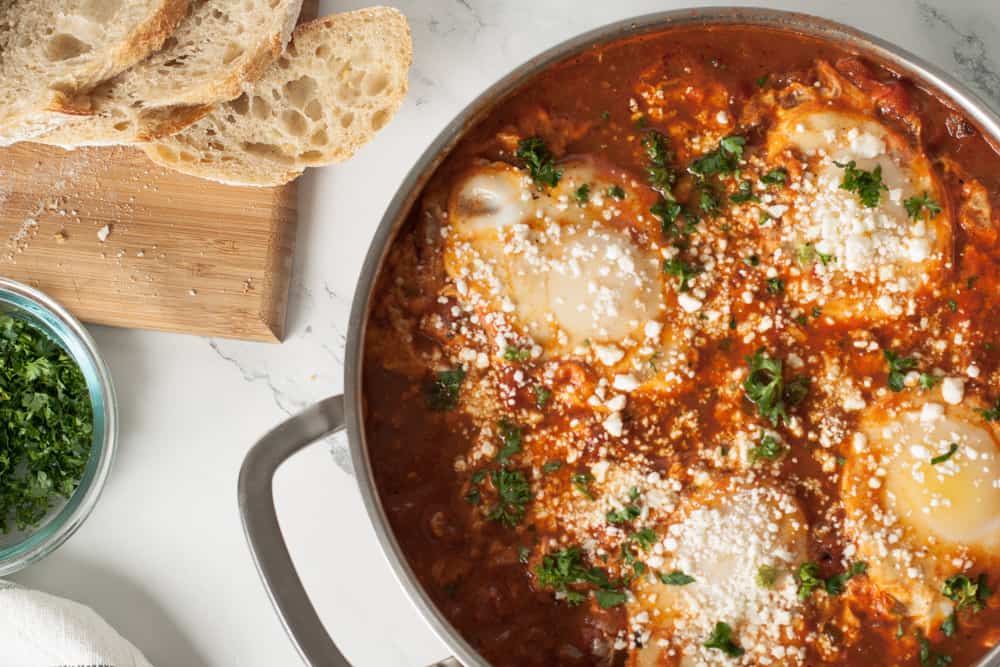 I'd love to hear what your thoughts were on this recipe or what your experience (or not!) with Shakshuka is. This was definitely a "pull me out of our breakfast rut" kind of recipe for us, and one I now keep on our brunch list!

Happy Cooking!

Erica
Need More Recipe Inspiration? Try These Reader Favorites:
Yield: 6
Traditional Shakshuka Recipe
Bursting with flavor and just the right amount of spice this Traditional Shakshuka (also called Shakshouka) recipe is the perfect weekend brunch! The sauce is naturally gluten free and vegetarian making this ideal for a variety of dietary needs!
Additional Time
5 minutes
Ingredients
1 Tbsp. Olive Oil
1 1/2 Jalapeños, Minced
1 Medium Yellow Onion, Chopped
28oz can Whole, Peeled Tomatoes
15oz Can Petite Diced Tomatoes
1 Tbsp. Paprika
1 1/2 tsp. Cumin
1 Tbsp. Ground Coriander
1/2 C. Water
1 tsp. Sugar
1 1/2 tsp. Coarse Sea Salt
6 Eggs
1/2 C Feta, to serve
1/4 C Chopped Parsley, to serve
6 Slices Crusty Bread (artisan sourdough) or Naan to serve
Instructions
Heat olive oil over medium heat in a large wide saucepan.
Add onion and jalapeno then sauté until onion begins to soften, about 5 minutes.
Add Garlic, paprika, cumin & coriander and cook 1 minute more until spices are fragrant and toasted.
Add remaining ingredients.
Using a pastry blender or fork, lightly crush whole tomatoes to create bite size segments.
Simmer on stovetop for about 15 minutes until mixture begins to thicken slightly.
Crack eggs on top of tomato sauce (being careful not to overlap eggs) and cover with lid.
Let simmer 5-10 minutes until eggs are cooked to the consistency you like.
Remove from heat and dish sauce and 1 egg together, then top with feta and parsley
Serve with crusty bread and enjoy!
Notes
This dish reheats very well if you only cook the amount of eggs you need initially. When reheating just re-simmer the sauce until hot through and poach additional eggs fresh.
Nutrition Information:
Yield:
6
Serving Size:
1 egg with sauce
Amount Per Serving:
Calories:

159
Total Fat:

8g
Saturated Fat:

4g
Trans Fat:

0g
Unsaturated Fat:

4g
Cholesterol:

197mg
Sodium:

500mg
Carbohydrates:

12g
Fiber:

4g
Sugar:

8g
Protein:

10g
*Nutrition information is automatically calculated and may not always be accurate.