Chicken and Brussel Sprouts Casserole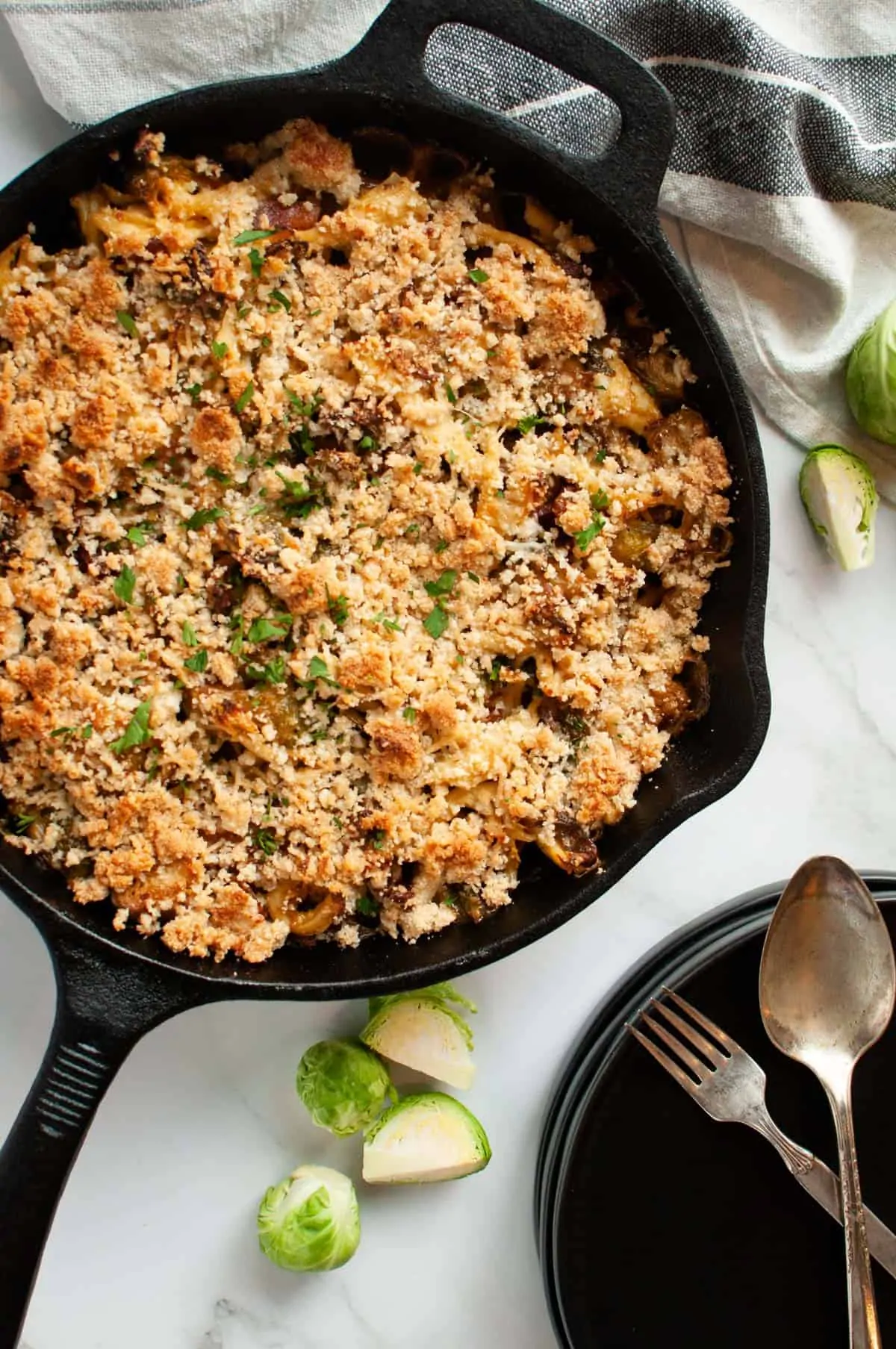 Chicken and brussel sprouts casserole is a family favorite in our home. Often requested by the kiddos, this dish is loaded with flavor from the bacon and cheese sauce, and is topped with a gluten free crumb topping to add just the right amount of texture!
This brussel sprout bake recipe is a wonderful gluten free mac n' cheese substitute that also gives you plenty of protein and veggies in the mix as well. If my kids request a dish, and it gives them veggies, then I know it needs to be in our regular meal plan rotation.
When the fall season and the holidays arrive, then there is often plenty of leftover turkey on hand. This recipe uses shredded chicken, but you can just as easily substitute leftover turkey in its place.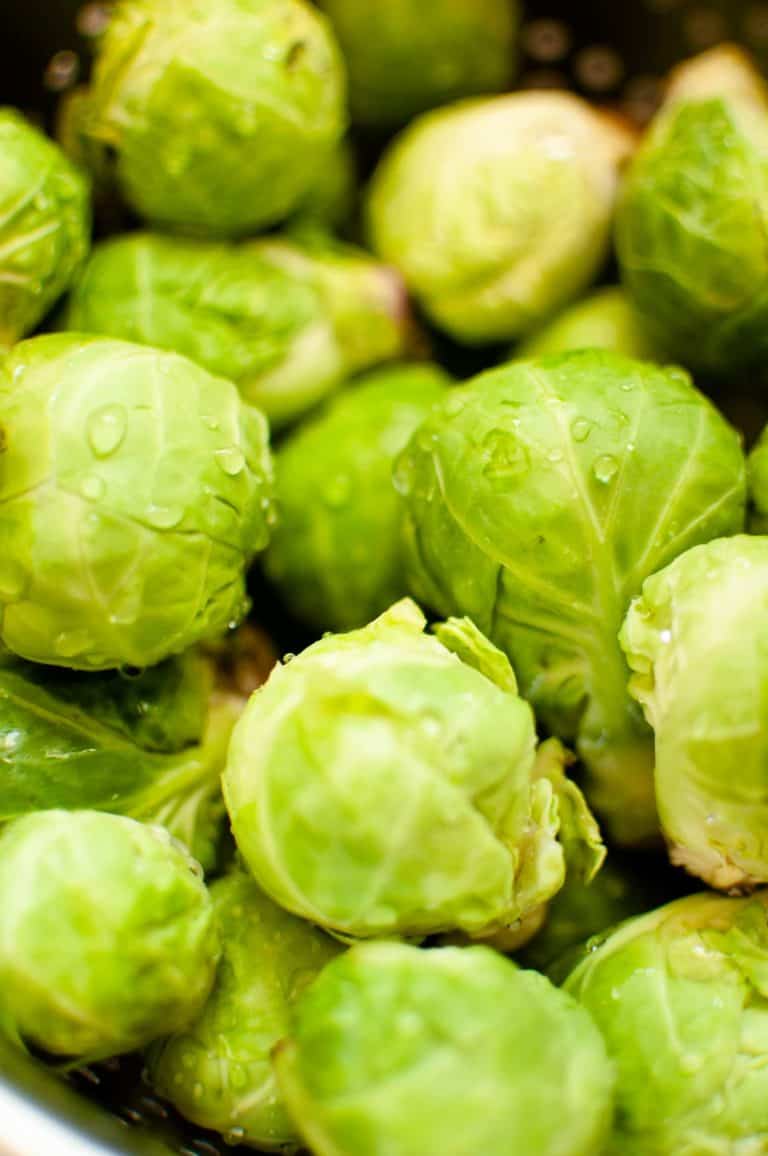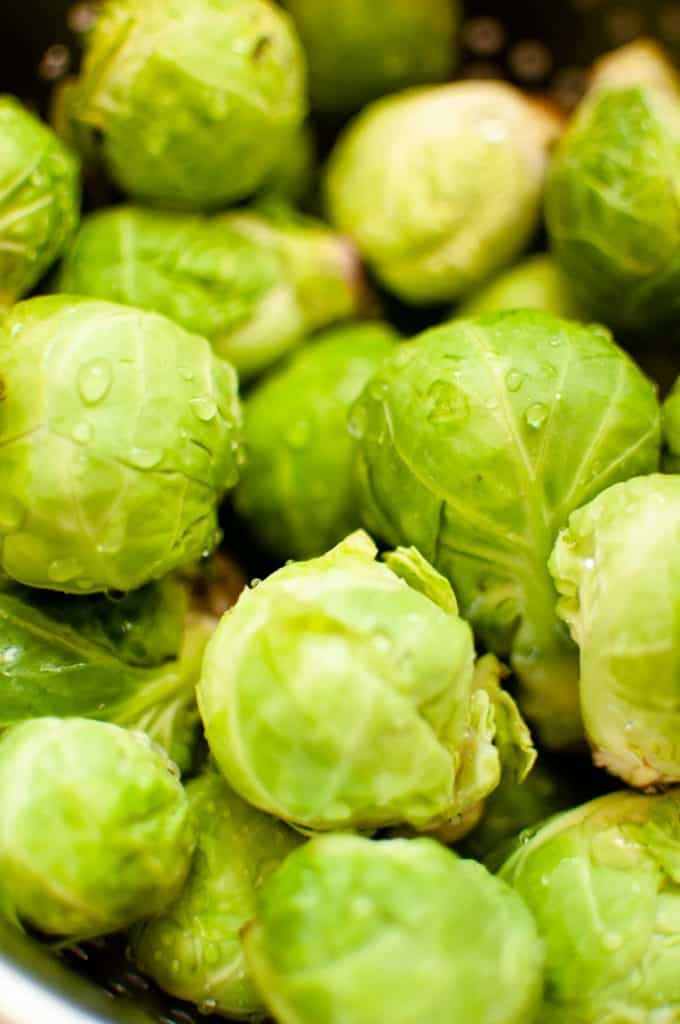 Brussel Sprouts Au Gratin:
One of my favorite features of this dish is the crumb topping. To keep it gluten free, I use a mixture of almond flour, parmesan cheese and butter, that is then sprinkled on top before baking. This makes for a lovely brussel sprouts au gratin while eliminating the gluten and keeping all the flavor!
All Your Brussel Sprout Questions Answered!
What is the Best Way to Eat Brussel Sprouts?
•You know it! This chicken and brussel sprouts casserole recipe is our all time favorite way to eat them. 😊
•We also adore roasted brussel sprouts. Just drizzle your trimmed brussel sprouts with a bit of olive oil and your favorite seasonings then roast them. These make the perfect side to accompany any dish.
• Brussel sprouts are also lovely shredded into salads as a topping and paired with your favorite salad dressing.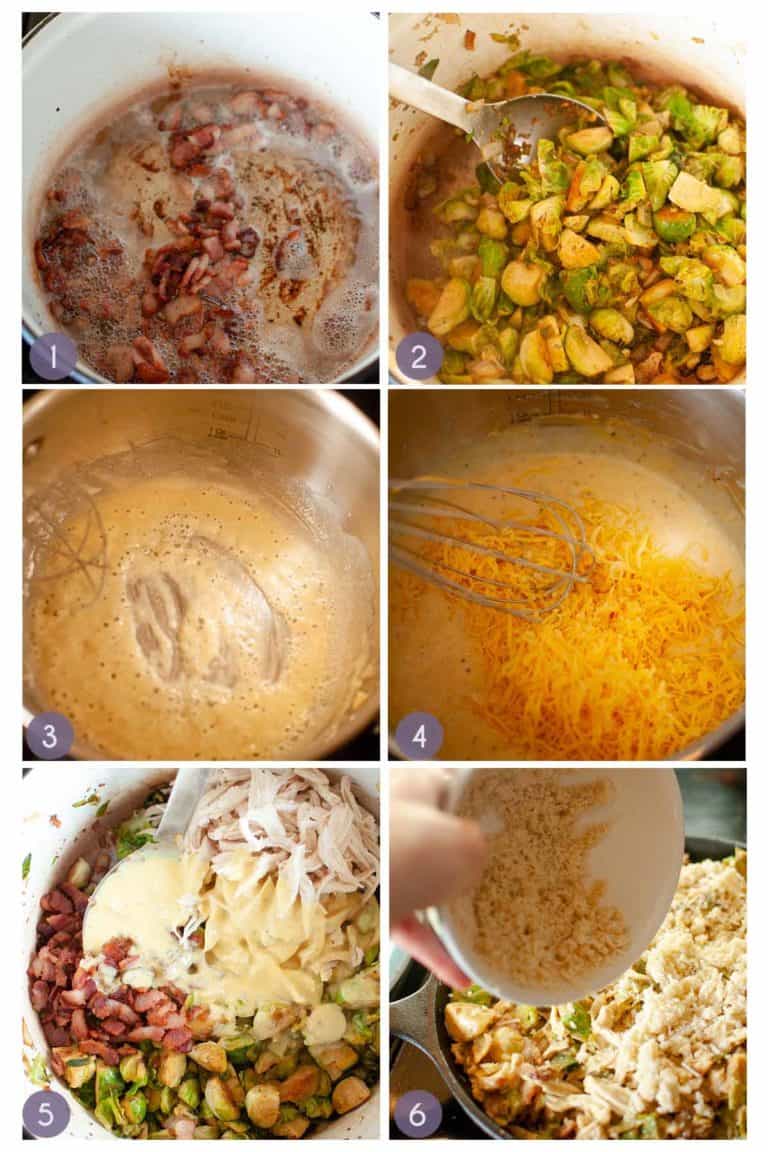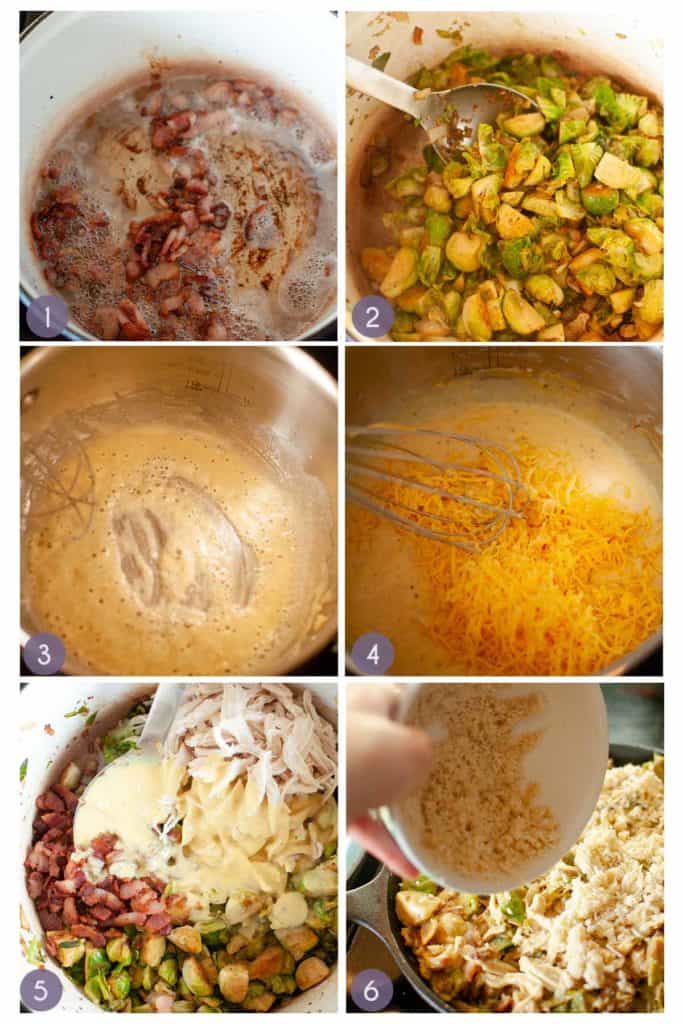 Are Brussel Sprouts Low in Carbohydrates?
Let's answer this one by asking how many net carbs are in brussel sprouts? According to healthline.com, one half-cup (78g) of brussel sprouts contains just 6 grams of net carbs! So yes, they are wonderful for filling you up and getting lots of nutrients with a small amount of carbs. Many people who do the keto diet love brussel sprouts for this reason. In fact, if you want to make this brussel sprouts au gratin recipe keto, then you would just need to use whipping cream in place of the milk and instead of thickening the cheese sauce with gluten free flour you can choose to omit the flour entirely or thicken the sauce by whisking in ¼ teaspoon of xanthan gum. That's it!
How to Cut Brussel Sprouts:
Begin preparing your brussel sprouts by peeling off the first outer layer that is often dirty and more wilted.
Proceed by placing your brussel sprouts in a colander and washing them.
Next, use a sharp knife to trim off the tough ends where the brussel sprout was attached to the stalk.
From here, you can prepare them according to your recipes specifications.
I usually half or quarter my brussel sprouts lengthwise to get the best flavor coating and make them bite size.
What Pairs Well With Brussel Sprouts?
Some of my favorite flavor pairings with brussel sprouts are:
Balsamic vinegar
Dijon Mustard
Roasted Garlic
Brown Sugar
Soy Sauce
Pomegranate
Cheese
Bacon
Good ol' Salt and Pepper
In addition to the above listed brussel sprout flavor pairings, brussel sprouts are a lovely side dish to accompany this ribeye steak recipe, or to use as part of your roasted vegetables in this lovely "Roasted Vegetable Buddha Bowl with Tahini Dressing" recipe.
Do you have a favorite flavor pairing that you like to use with your brussel sprout dishes? I'd love to hear if you tried this dish or what your favorite way to cook brussel sprouts is.
As always, happy cooking!
Need More Recipe Inspiration? Try These Reader Favorites:
Yield: 6
Chicken and Brussel Sprouts Casserole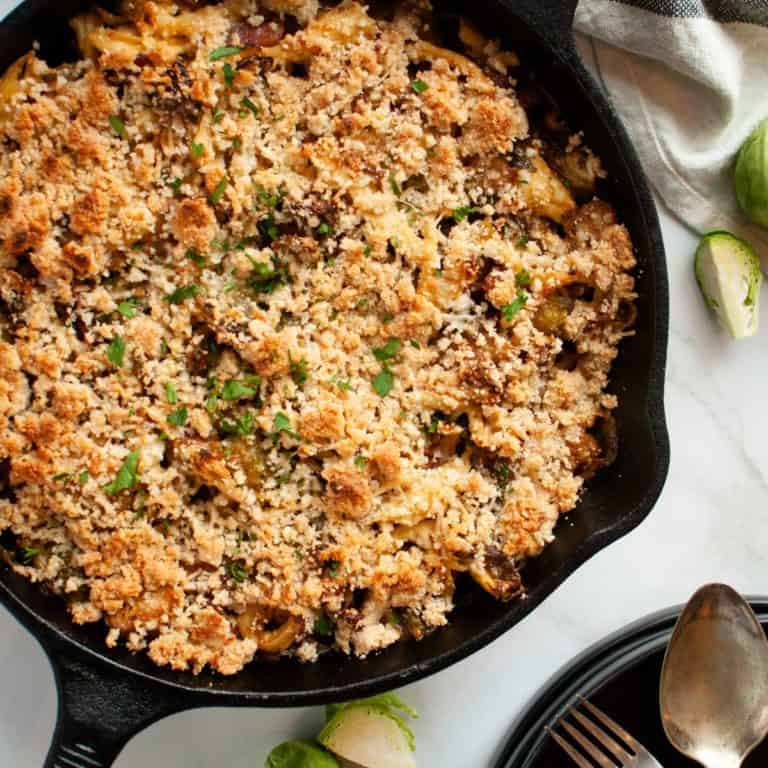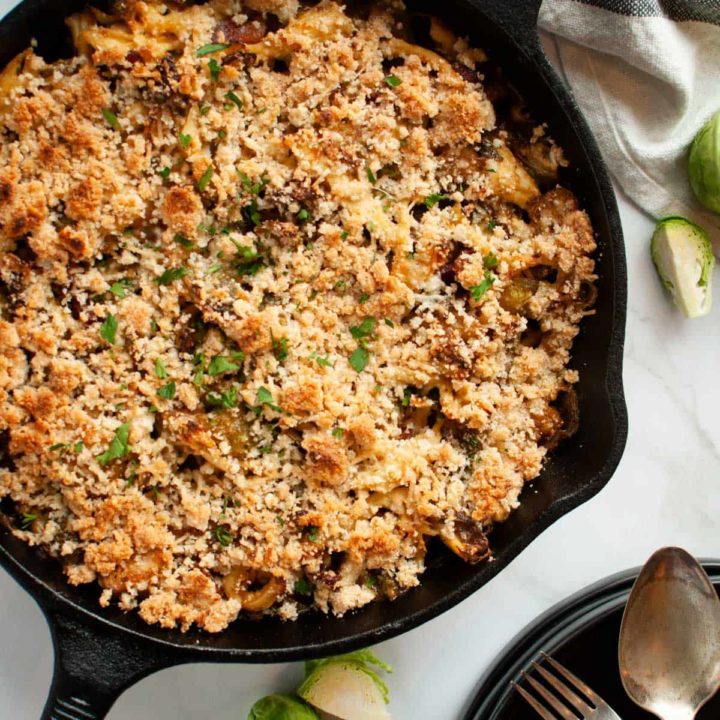 Chicken and Brussel Sprouts Casserole is a family favorite in our home. Often requested by the kiddos, this dish is loaded with flavor from the bacon and the cheese sauce, and is topped with a gluten free crumb topping to add just the right amount of texture!
Ingredients
1 lb. Cooked, Shredded Chicken Breast (or Leftover Turkey)
5 Cups Brussel Sprouts
1/2lb Bacon, Chopped
1/2 Small Onion, Finely Chopped
4 Cloves Garlic, Minced
2 Tablespoons Soy Sauce (Gluten Free or Tamari)
Cheese Sauce:
2 Tablespoons Butter
2 Tablespoons Flour* (Gluten Free)
1 1/2 Cups Whole Milk*
1/2 teaspoon Salt
1/4 teaspoon Pepper
1/4 teaspoon Turmeric
1/4 teaspoon Mustard Powder
1/4 teaspoon Paprika
1 Cup Sharp Cheddar Cheese, Grated
Topping:
1/2 Cup Almond Flour
1/2 Cup Parmesan Cheese, Grated
1 Tablespoons Butter, Melted
Instructions
Heat oven to 425° F.
Begin Cooking the chopped bacon over medium heat in a deep skillet or dutch oven oven
While the bacon is cooking, prepare the brussel sprouts by removing outer skin and cutting off the stem. Slice each brussel sprout in quarters lengthwise. Set aside.
Once the bacon is cooked, set it aside on a paper towel to drain. If there is a large amount of grease in the bottom of the pan, pour it out so only a light coating remains.
Add the chopped onion and garlic to the hot pan, and let cook 2-3 minutes until translucent.
Add the brussel sprouts to the hot pan.
Stirring every couple minutes, sautée the brussel sprouts until just beginning to soften, about 5 minutes. Then add the soy sauce or tamari
While the brussel sprouts are cooking, prepare the cheese sauce.
For the Cheese Sauce:
Melt the butter in a medium saucepan over medium heat.
Once the butter is melted then add the gluten free flour*, whisking to incorporate.
Slowly whisk in the milk a little at a time until smooth and mixture is slightly thickened.
Whisk in the salt, pepper, turmeric, mustard powder and paprika.
Finally, stir in the grated cheddar cheese and whisk until smooth and melted. set aside.
In the large pan with the cooked brussel sprouts, stir in the shredded, cooked chicken and the cooked bacon bits.
Pour the prepared cheese sauce over brussel sprout mixture and stir to combine.
If the pan that you cooked your brussel sprouts in is not oven safe, then transfer casserole filling to an oven proof pan for browning the topping.
Prepare the crumb topping.
Topping:
Combine the almond flour, grated parmesan and melted butter in a small bowl.
Stir to combine.
Sprinkle topping evenly over brussel sprout casserole filling and place casserole in the preheated oven
Bake for approximately 15 minutes until the top is golden and brown.
Serve and enjoy!
Notes
* To make this recipe Keto: When making the cheese sauce, substitute cream in place of the milk and omit the flour. If you want the sauce thicker, you can add a 1/4 tsp of xanthan gum to the cheese sauce at the end, just be sure to whisk constantly while sprinkling it in to prevent clumps.
Nutrition Information:
Yield:
6
Serving Size:
1 Cup
Amount Per Serving:
Calories:

622
Total Fat:

40g
Saturated Fat:

16g
Trans Fat:

1g
Unsaturated Fat:

21g
Cholesterol:

141mg
Sodium:

1535mg
Carbohydrates:

20g
Fiber:

5g
Sugar:

6g
Protein:

47g
*Nutrition information is automatically calculated and may not always be accurate.