Gluten Free Sausage Gravy (Easy Biscuits & Gravy Recipe)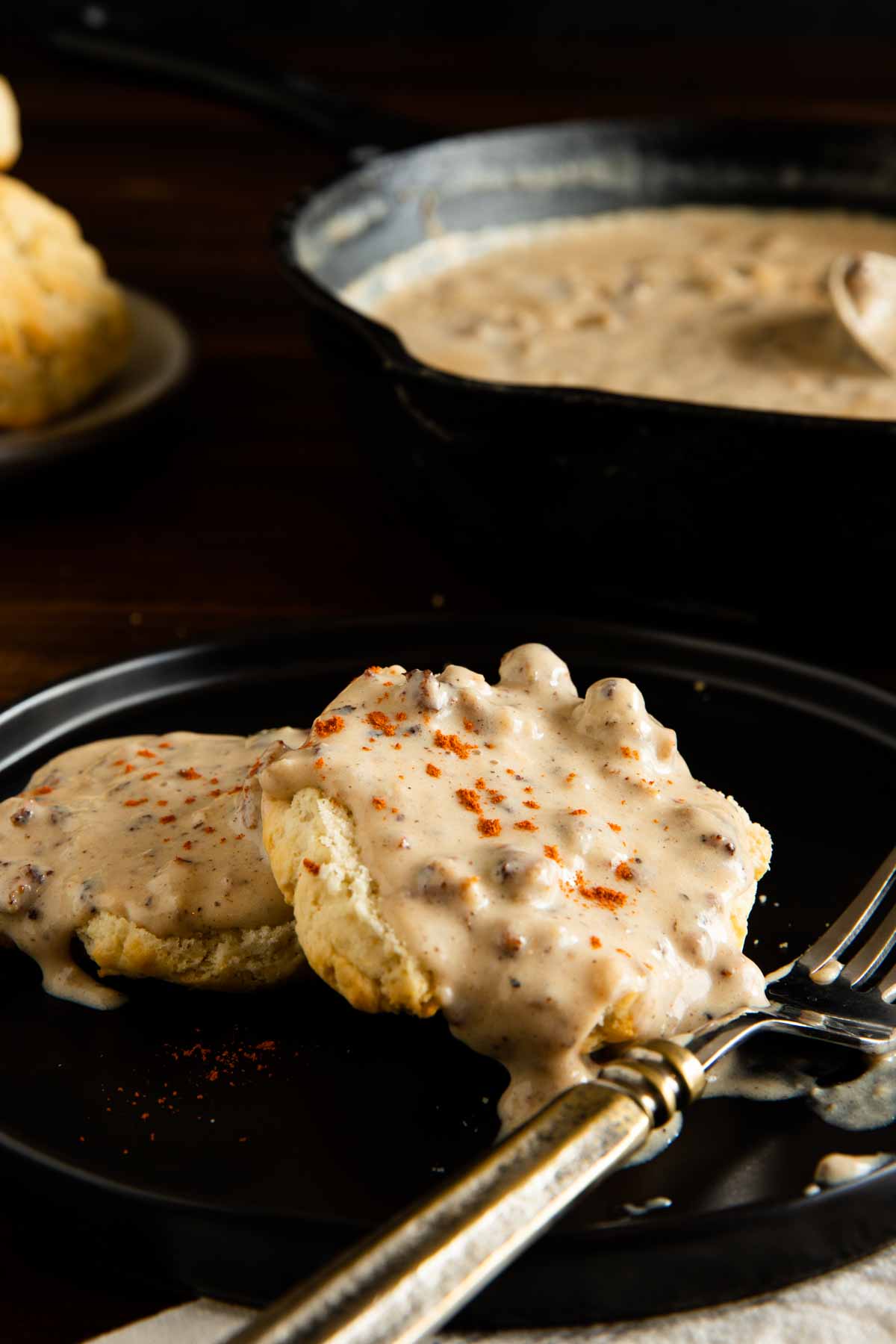 This gluten free sausage gravy is absolutely perfect for a weekend brunch of biscuits and gravy. Pop your biscuits in the oven while you make the gravy, and this delightful breakfast is ready in less than 30 minutes!
When our daughter Nora was diagnosed with Celiac disease, she was so sad to learn that biscuits and gravy had gluten. The good news? Gluten free biscuits and gravy aren't very hard to make, and from the taste you wouldn't even know they are gluten free! Once I converted this recipe we all were thrilled to enjoy biscuits and gravy as a brunch option again!
Ingredient Notes:
What is the Best Substitute for Flour in Gravy?
I use Bob's Red Mill 1 to 1 Baking Blend for my gluten free flour and find it works perfectly for thickening my gravies. I have used other blends that don't contain xanthan as well and they seem to work just fine. I have not tried gluten free flour blends that are oat or nut based, so though they make work to thicken the gravy, they may provide a different texture or flavor than a rice based flour blend.
Some people use cornstarch as a gluten free way to thicken gravies. Since this is a white gravy I do not recommend using cornstarch as it will make your gravy gelatinous and leave you with a very different gravy than traditional white gravy.
Sausage:
Double check that your brand of sausage is gluten free, though many are. We personally love to use Jimmy Dean bulk sausage for the gluten free sausage gravy. Depending on the spice level of your sausage, you may want to omit the pepper called for in the recipe, or add more if you like your gravy on the spicier side.
Biscuits
You can choose to use whichever gluten free biscuit recipe you love, though we always pair this recipe with my easy baking powder biscuits. These biscuits mix quickly in one bowl and don't even require rolling out! In addition to how fluffy they are, this makes them the perfect biscuit for mixing up quickly and having in the oven while you make the gravy.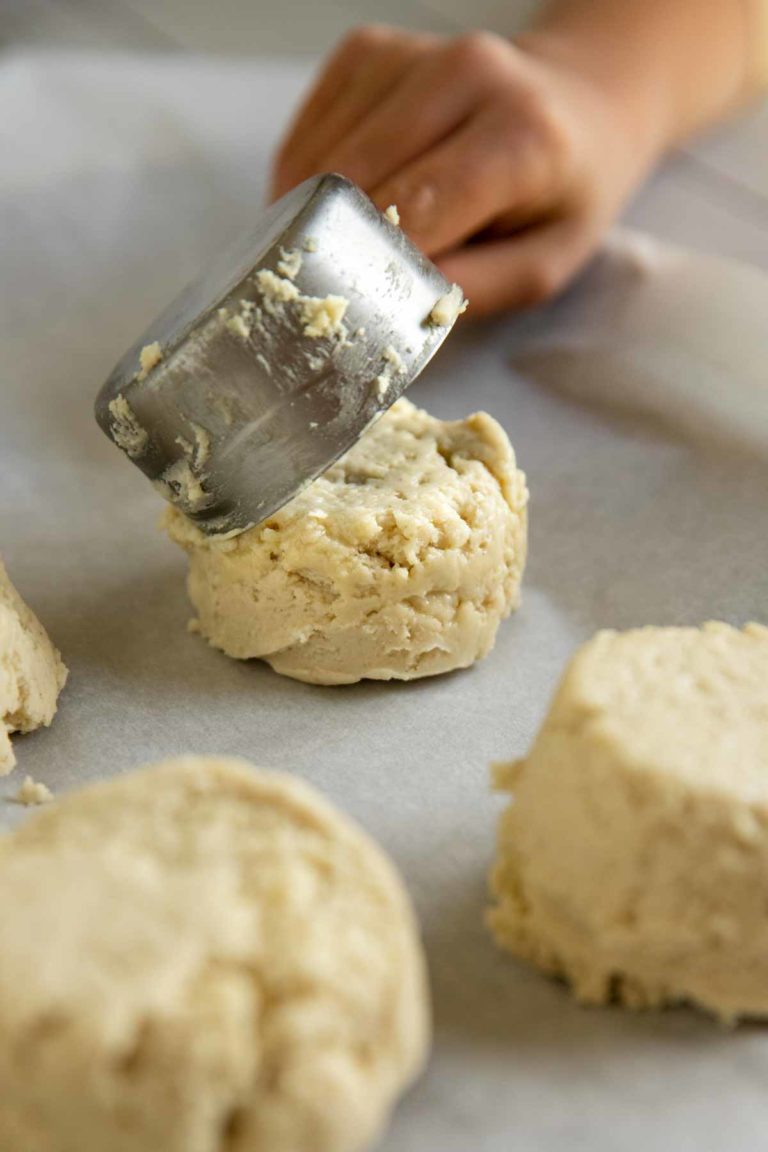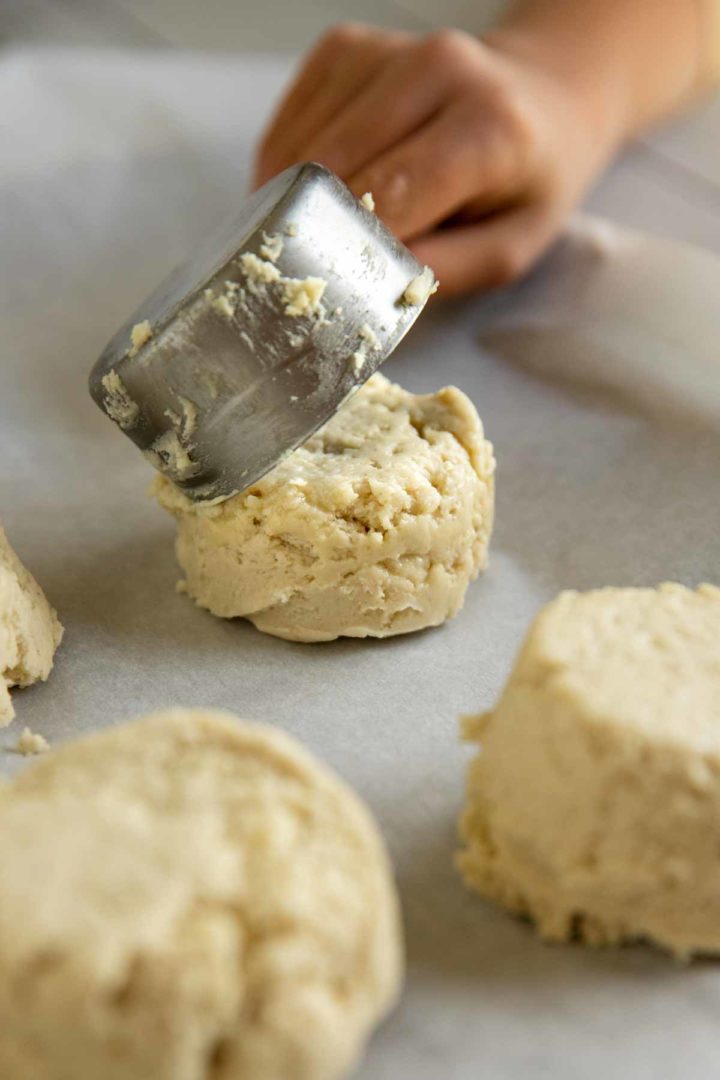 Step By Step: Biscuits and Gravy From Scratch
Begin by mixing up your biscuits and popping them in the oven to cook
While your biscuits cook, brown the sausage in a large skillet.
Set the sausage aside and add your flour to the pan
Whisk in oil and cook for 1-2 minutes, while stirring, until flour and fat breaks down into liquid.
Slowly pour in milk, while whisking constantly.
Let simmer until gravy begins to thicken, then add spices and sausage.
If gravy thickens too much then add additional milk for desired consistency.
Serve over hot biscuits and enjoy!
Storage
Biscuits can be stored covered at room temperature for up to 2 days. Reheat before next use.
The sausage gravy is easiest to just cover and store in the fridge in it's skillet.
To reheat the gravy, just place the skillet of sausage gravy over low heat and bring to a simmer, while stirring.
Freezing
Milk based gravies don't freeze the best, so the best freezer option for biscuits and gravy is to prepare the biscuits and freeze the shaped biscuits before baking. This makes preparing biscuits and gravy relatively quick and keeps your gravy hot and fresh.
If you choose to freeze milk based sausage gravies then the milk may separate a bit upon thawing and reheating. The flavor will still be delicious but sometimes separation occurs or the gravy needs a bit of re-thickening, so fresh is best!
Serve With
If you are in full on brunch mode, then serve these with a fried egg on top for the ultimate biscuit and gravy brunch!
Need More Recipe Inspiration? Try These Reader Favorites:
Have You Tried This Recipe? It is very helpful to both me, and anyone else who wants to try this recipe, if you could go ahead and leave a star rating and any comments you have. Thank you!
Yield: 6
Gluten Free Sausage Gravy and Biscuits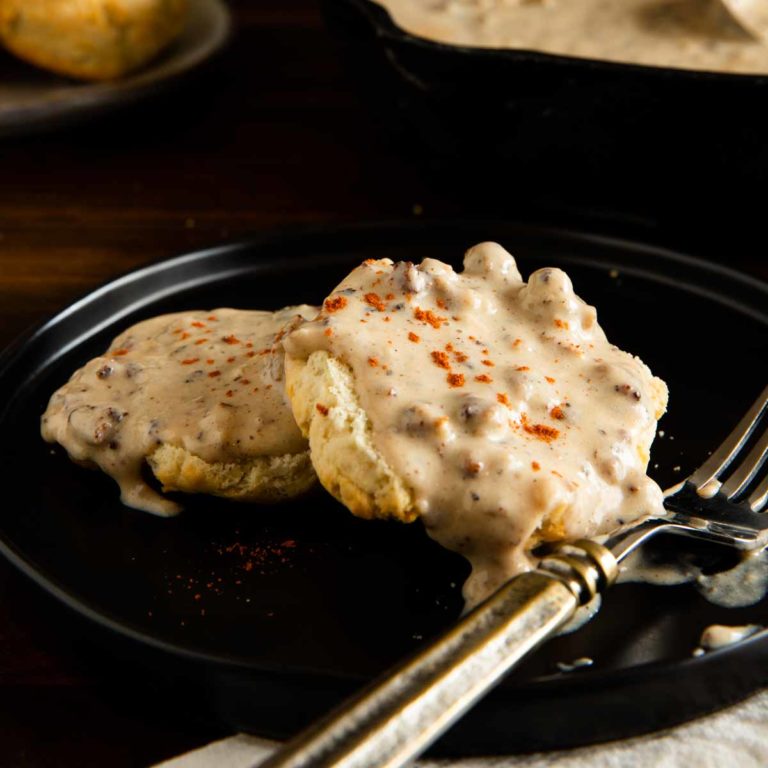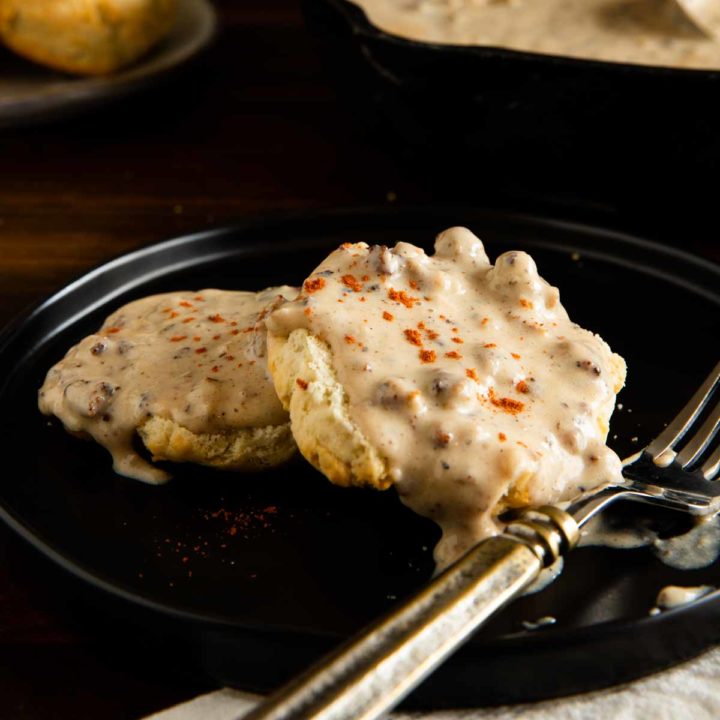 This gluten free sausage gravy is absolutely perfect for a weekend brunch of biscuits and gravy. Pop your biscuits in the oven while you make the gravy, and this delightful breakfast is ready in less than 30 minutes!
Ingredients
1 lb Bulk Sausage
1/4 Cup Gluten Free Flour
2 Tablespoons Olive Oil
3-4 Cups of Milk
3/4 teaspoon Salt
1/4 teaspoon Paprika
1/4 - 1/2 teaspoon Pepper (depending on spice level of sausage)
Instructions
Prepare the biscuits and start them baking.
While biscuits are baking, cook the sausage over medium-high heat in a large skillet.
Once the sausage is cooked, scoop the sausage out of the pan and set it aside on a plate lined with paper towels, leaving about 2 tablespoons of sausage grease in the bottom of the pan.
Reduce the pan heat to medium and add the gluten free flour to the sausage grease, lightly toasting the flour while stirring.
Using a whisk, add the oil to the flour and stir until the heat causes the flour/oil mixture to melt down and brown.
While constantly whisking, slowly pour in 3 cups of milk, scraping up any sausage bits and mixing in the flour.
Simmer on medium-low, while whisking, until the gravy begins to thicken slightly and coat the back of a spoon.
Add in the spices and cooked sausage.
As the gravy simmers it continues to thicken, add an additional 1/2-1 Cup of milk to thin the gravy to desired consistency.
Remove from heat and serve over the sliced, fresh biscuits.
If desired, serve with a fried egg on top.
Enjoy!
Notes
*I use Bob's Red Mill 1 to 1 Baking Blend for my gluten free flour
*Any bulk sausage works, we personally love Jimmy Dean sausage. If your sausage is on the spicier side then you may want to omit the pepper.
Nutrition Information:
Yield:
6
Serving Size:
1
Amount Per Serving:
Calories:

567
Total Fat:

38g
Saturated Fat:

12g
Trans Fat:

0g
Unsaturated Fat:

22g
Cholesterol:

58mg
Sodium:

1302mg
Carbohydrates:

38g
Fiber:

1g
Sugar:

2g
Protein:

18g
*Nutrition information is automatically calculated and may not always be accurate.